"Show Me Your Papers Before You Pee"
Jim Burroway
March 19th, 2013
Cathi Herrod, of the Center for Arizona Policy (an official state affailiate of Focus On the Family) is shopping a proposal around to Arizona state legislators:
Now there is a "bathroom bill" before the state Legislature — "show me your papers" before you pee. Read it:

A PERSON COMMITS DISORDERLY CONDUCT IF THE PERSON INTENTIONALLY ENTERS A PUBLIC RESTROOM, BATHROOM, SHOWER, BATH, DRESSING ROOM OR LOCKER ROOM AND A SIGN INDICATES THAT THE ROOM IS FOR THE EXCLUSIVE USE OF PERSONS OF ONE SEX AND THE PERSON IS NOT LEGALLY CLASSIFIED ON THE PERSON'S BIRTH CERTIFICATE AS A MEMBER OF THAT SEX.

The targets are transgender residents of Arizona. They would be committing a crime (a misdemeanor) by using the wrong bathroom with the wrong birth certificate. (Moms and dads would be allowed to bring opposite sex kids into the bathroom with them.)
Acording to Arizona Repiblic's Brahm Resnik , "The new bathroom bill, SB 1432, is a 'strike-everything' bill inserted in the shell of another bill that had the same number."  The original SB 1432 was supposed to deal with the licensing of massage therapists. A hearing is set for 2:00 p.m. tomorrow before GOP State Rep. John Kavanagh's House Appropriations Committee.
Jeez, I live in a total freak-show of a state.
Update: From the Arizona House of Representative's web site:
Overview:

SB 1432 requires the Arizona State Board of Massage Therapy (Board) to appoint an Executive Director (Director), outlines the Director's powers and duties and establishes the Board's fund.

Summary of the Proposed Strike-Everything Amendment to SB 1432

The proposed strike-everything amendment to SB 1432 is an emergency measure that adds a person who intentionally enters a specified area designated for the opposite sex to the disorderly conduct statutory classification, with exemptions.

History:
Arizona Revised Statutes Title 13, Chapter 29 establishes offenses against public order.  Specifically, statute outlines offenses classified as disorderly conduct, which include a person committing any of the following:

Engaging in fighting, or violent disruptive behavior,
Making unreasonable noise,
Using abusive or offensive language to provoke an immediate physical retaliation by another,
Preventing the transaction of business of a lawful meeting or gathering,
Refusing to obey a lawful order to disperse issued to maintain public safety, or
Recklessly handling, or discharging a deadly weapon.

Provisions:

States a person commits disorderly conduct if they intentionally enter a public restroom, bathroom, shower, bath, dressing room or locker room, and a sign indicates that the room is exclusively for the use of one sex, and that person is not legally classified as a member of that sex on their birth certificate.
Classifies the disorderly conduct violation as a Class 1 misdemeanor (6 months/$2,500).
Provides an exemption from the violation for persons that:

Enter as part of their job responsibilities,
Enter to give aid or assistance to another,
Is a child in need of assistance, or
Are physically disabled.

Contains an emergency clause.
Makes a conforming change.
The amended Section 1.  Section 13-2904 as proposed is shown here.
Email of the Day
Jim Burroway
June 4th, 2012
"So the men turned from there and went toward Sodom, but Abraham still stood before the Lord. Then Abraham drew near and said, "Will you indeed sweep away the righteous with the wicked? … Abraham answered (the Lord) and said, "Behold, I have undertaken to speak to the Lord, I who am but dust and ashes."

Genesis 18:22 – 23 ESV

Abraham stands humbly as well as boldly before the Lord as the 'man in the middle' interceding for Sodom and Gomorrah to not be destroyed. He stood before the Lord and interceded with 6 bold requests for 50, 45, 40, 30, 20, and 10 righteous people out of a whole city. The Lord notes His faithful intercession and decides he would spare this evil land if there were only 10 righteous. The question is:

Will you stand in the gap before the Lord to preserve and protect the righteous in America?
This one is from the Center for Arizona Policy, and official state policy council of Focus on the Family. It just goes to show that not all of my daily emails are unintentionally humorous.
Who Is Behind Arizona's Marriage Amendment?
Jim Burroway
August 6th, 2008
This woman: Cathi Herrod, president of the Center for Arizona Policy. CAP is an official state policy council of Colorado Springs-based Focus On the Family.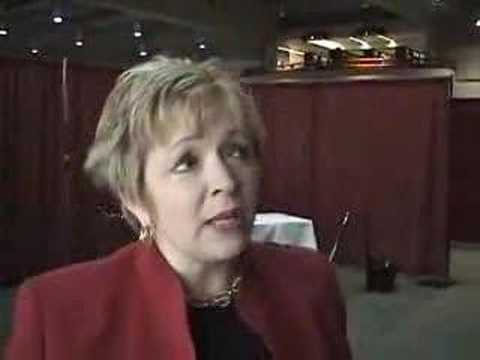 This is the lobbyist who Arizona Senate President Timothy Bee (R-Tucson) denounced from the Senate dias — just before he crumpling himself under the pressure and casting the deciding 16th vote to put yet another anti-marriage amendment before the voters. Arizonans already said no to a previous attempt in 2006. Herrod didn't like that answer, so she's trying again for 2008.
Here's shorter video featuring Cathi Herrod. Notice the message discipline. You can help to defeat Arizona's Prop 102 here.
[Hat tip: Tucson Observer]
Kolbe Ends Support For Bee
Jim Burroway
July 5th, 2008
Last week, after Arizona Senate President Tim Bee (right) buckled under the threats and pressure from Cathi Herrod's Center for Arizona Policy and cast the cowardly deciding vote to place the anti-marriage amendment on the ballot, we asked where former Rep. Jim Kolbe stood in all this. Kolbe (left) was Tim Bee's honorary chairman for Bee's campaign for Congress in Arizona's eighth district, which was the the seat that Kolbe once held as an out gay Congressman for ten years.
Today, we may have something of an answer:
"I will not be actively campaigning for Bee," the former Republican congressman said during a telephone interview with the Herald/Review on Thursday.

… Tom Dunn, a spokesman for the Bee campaign, also confirmed Kolbe's decision. "For personal reasons, Mr. Kolbe is no longer associated with our campaign," Dunn said. Neither Kolbe nor Dunn provided specific reasons for the former congressman dropping out of campaigning for Bee.
I don't understand why Kolbe needs to be so coy about this, but I'm glad that he's distancing himself from Bee nevertheless.
In 2006, the eighth Congressional district defeated Prop 107, that year's proposed anti-marriage amendment, by more than ten percentage points: 45.4% to 54.6%. That was a significantly wider margin than the statewide tally of 48.2% to 51.8%.
Update: While Kolbe is silent on why he broke with Bee, Daniel Scarpinato is setting the obvious conclusions to print in this morning's Arizona Daily Star (registration required):
According to Dunn, the switch came within the last week. Also in the last week: Bee, president of the state Senate, was the decisive vote on sending a measure to the ballot asking voters to define marriage in the Arizona Constitution as solely between one man and one woman.

And Kolbe, the only openly gay Republican in Congress before his retirement in 2006, had expressed disagreement with Bee on the issue shortly after it was announced in January that Kolbe would be the honorary chairman for Bee's campaign. For his part, Bee dodged questions about the measure all year — and avoided bringing it up for a vote until the final hours of a 166-day legislative session. Up to that point, Kolbe had been active in the campaign throughout the spring and summer, hosting a fundraiser for Bee in Washington just last month.

… The support of Kolbe — a highly popular moderate during his 22-year tenure representing Southern Arizona — was a major highlight of Bee's long-awaited campaign kickoff in January. Kolbe had refused to endorse the GOP nominee for his seat in 2006, Randy Graf. And we all remember how that ended.
For those outside of Arizona who don't know, Graf lost badly what had been a reasonably reliable Republican seat to Democrat Gabrielle Giffords.
Meanwhile, Bee and Cochise County Republicans are trying to pretend that all is well.
More Reactions to AZ Anti-Marriage Amendment Fiasco
Jim Burroway
June 30th, 2008
I like the way "Tedski" at the Arizona political blog Rum Romanism and Rebellion thinks, probably because I myself in almost perfect agreement with his reaction to Arizona Senate President Tim Bee's disgraceful performance in the closing hours of the legislative session:
On the other hand, there was the leadership that he applied to the gay marriage referendum. He went back and forth on this one. For example, he was one of the main sponsors of the legislation, but delayed the vote in the hopes that time would run out and it would never actually be presented. This back and forth was so public that it didn't fool anyone. He even pulled a Marion McClure on this, giving an impassioned speech that seemed to be against the bill then casting the deciding vote for the darned thing.

Apparently, he then disappeared into his office to "compose" himself for about an hour.

Now, that's leadership.
My take on Bee's performance is here. Is this the man we're supposed to send to Congress? If he can't stand up to Cathi Herrod at the Center for Arizona Policy, how can we expect him to stand up to lobbyists in Washington?
By now it should be obvious to anyone paying attention that his political career is toast. Good thing he has his brother's Bee Line school bus service to go back to.
Tedski closes with this:
Say, what does Bee's campaign chair, Jim Kolbe, think of all this?
Yeah! That what I want to know!
Appraising Arizona
Jim Burroway
November 8th, 2006
Update 11/9/06: There are still 341,000 mail-in ballots to be counted, and these ballots probably won't be counted for several days. With Arizona's Proposition 107, the so-called "Protect Marriage Amendment", stlll teetering inthe balance, I've updated this post to reflect that uncertainty.
A few weeks ago, Arizona was derided for ranking dead last in Morgan Quitno's annual reference book, Education State Rankings, 2006-2007. While Arizona was derided as the "dumbest state in the union", its citizens displayed a remarkable level of simple common sense in the 2006 mid-term elections by defeating Proposition 107, the so-called "Protect Marriage Amendment."
The results are in still tricking in, but Prop 107 appears to have been defeated. Current results show it going down by 32,226 votes out of 1,151,012 votes cast (48.6% "yes" vs. 51.4% "no"). However, there are still some 341,000 ballots left to be counted so the final result can still change. But win or lose, this is a good day to be an Arizonan. I couldn't be more proud.
Even though it may be early, LGBT and allies around the country are cheering this as a historic triumph. I imagine that gay-advocacy offices from coast to coast were looking over the data to see if this reversal can be repeated elsewhere. And we all hope that this represents a harbinger for things to come. At the very least, political scapegoating of gays and lesbians is not the reliable tactic it used to be.
But I'm afraid its too easy to look at Arizona's potential defeat of Proposition 107 and assume it's some sort of high-water mark for anti-gay extremists. What happened here was the result of a very unique set of circumstances, a combination of luck, organization, and Western common sense. Many factors lead to the proposition's apparent defeat, and as I see it these factors boil down to:
a hapless organization supporting the proposition,
a brilliant, well-researched and disciplined campaign against the proposition,
A "de-gayed" message that focused on the proposition's impact on heterosexual couples,
and the unique climate and circumstances of the LGBT community in Arizona.
Let's look at what happened in detail.
A Hapless Organization Supporting Prop 107
Prop 107 was authored and supported by the Center for Arizona Policy (CAP), which often lobbies the state legislature on social conservative issues. Len Munsil was CAP's president when they proposed the measure and began ushering it through the process of getting it on the ballot. As the measure was going through the petitioning process he resigned to run for governor, and this prompted suspicions that Prop 107 was nothing but a ploy to energize the conservative base and propel him to the governor's office. (In fact, he was soundly defeated 63%-35%, losing in all seventeen counties)
When Len Munsil resigned, the task of ushering Prop 107 fell to his replacement, Cathi Herrod, who struggled to get the measure on the ballot. They had difficulties with lining up petition circulaters, difficulties with getting the minimum number of signatures, and dificulties getting the petitions gathered and turned in on time.
But in the end, CAP managed to get it done and their next task was to sell the measure to Arizona voters. And again, they ran into difficulties.
The truth is, Prop 107 never polled very well in Arizona, and CAP never mounted a wide-ranging campaign in response to the polls. They apparently assumed it would pass simply because Arizona is a very conservative state and, well, these measure always passed everywhere else.
CAP's message was unfocused and aimed largely at the choir. Most members of CAP appear to have an evangelical background, and their message was presented using the cultural language of evangelicals. Because they did little outreach outside of evangelical, fundamentalist, or Catholic circles, they were never able to connect with Arizona voters outside of their own little Amen-corner. The guest editorial columns they submitted to Arizona newspapers were often illogical, inconsistent, and poorly written. What's more, Arizona doesn't have much in the way of mega-churches, and except for CAP and the Alliance Defense Fund, there are very few organized anti-gay organizations. This means CAP had few allies to help carry their message to a larger audience.
A Brilliant, Well-Researched and Disciplined Campaign Against Prop 107
Soon after the anti-marriage onslaught of 2004, a small group of Arizona activists got together to discuss what to do if an anti-marriage amendment was proposed for Arizona. They didn't know when it would happen but they felt that it was only a matter of time. They began a post-mortem on campaigns in other states and identified several strengths and weaknesses. With that data, they began to formulate a strategy for responding to an amendment in Arizona. In other words, they didn't wait for Prop 107 to show up. They were strategizing before CAP began their efforts.
Arizona Together was the result of all that work, and their first big break came when CAP decided to go for the Cadillac of anti-marriage proposals, basing it on the Ohio amendment that passed in 2004. CAP's proposal read:
To preserve and protect marriage in this state, only a union between one man and one woman shall be valid or recognized as a marriage by this state or its political subdivisions and no legal status for unmarried persons shall be created or recognized by this state or its political subdivisions that is similar to that of marriage. [emphasis mine]
When Arizona Together saw they second half of the amendment's wording, they knew it was their best shot at defeating it. Based on what was happening in Ohio, Michigan, and other states to heterosexual couples because of their amendments, Arizona Together knew that the unintended consequences of banning gay marriages and anything similar to it would be their opening. And Arizona Together was ready, with polling data, market research, a superb fundraising campaign (almost all of their funding was raised in the state), a massive outreach strategy that went far outside the usual LGBT and progressive political organizations, and a clearly defined and disciplined message.
A "De-Gayed" Message
The disciplined message that Arizona Together sent out didn't rely on arguments about marriage equality or gay rights. Instead, they focused their arguments on what the ballot measure's passage would mean for straight people:
Rep. Kyrsten Sinema, D-Phoenix, chair of the campaign to defeat Proposition 107, conceded that the strategy of the media campaign was to show straight couples who would lose their domestic partner benefits. That's because the initiative would not only have constitutionally barred gay marriage but also precluded governments from adopting policies that allow employees to add their domestic partners — whether of the same or opposite sex — to their health insurance or to gain any other benefits.

Sinema, who is bisexual, justified that by saying that out of an estimated 112,000 unmarried couples living together in Arizona, only about 18,000 are gay. She said the $2.1 million campaign was necessary to convince Arizona voters that this is more than just an issue affecting gays.
I attended a message training session last summer where this was hotly debated. Many were upset that the LGBT community was invisible in Arizona Together's campaign messages. Some felt that we were passing up a good opportunity to educate the public about LGBT issues and concerns. But Arizona Together representatives pointed out that supporters of gay marriage have an easy bumper sticker message with "one man and one woman", while our issues are too complex to be told in the short span of a campaign season.
They also had focus-grouped research that said that people vote according to their own personal concerns and priorities, and less so from an altruistic sense of helping others. When messages about equality and fairness were put before focus groups, the messages fell flat. But when concrete examples were presented about what happened to straight couples in Ohio and elsewhere, they sat up and took notice.
For example, Arizona Together pointed out that Arizona is a retiree haven. And many of these retirees are widows and widowers who meet, fall in love and move in together. But they often don't marry because pension plans often force a spouse to give up his or her pension upon remarriage. With Prop 107, they had a lot to lose, especially those who take advantage of Tucson's domestic partner registry which makes city services and fees based on marriage status available to domestic partners. For senior on fixed incomes this can be important. Also, Tucson's domestic partner registry guaranteed hospital visitation and medical decision-making rights. This too would have disappeared with Prop 107 along with the registry.
This message seems to have taken root among Arizona's retirees. Older Americans tend to be very strongly supportive of same-sex marriage bans, but according to exit poll results posted at CNN, 45% of Arizona's voters aged sixty-five or older voted against Prop 107. This compares to only 35% in Virginia and 29% in Wisconsin who voted against their marriage amendments.
So, while it may be a great victory if the amendment go down in defeat, it would be a terrible mistake to take it as a victory for the LGBT community. It wasn't. Prop 107 was failed or nearly failed because of what it would do to unmarried heterosexual couples. Gays and lesbians were largely invisible in the debate.
The Unique Climate and Circumstances of the LGBT community in Arizona
Arizona is a classically western state which famously values the idea of rugged individualism. Arizonans, while deeply conservative, prefer their governments small, their freedoms large, and their neighbor's noses very far away. Mr. Conservative himself, Barry Goldwater, was a supporter of gay rights. Arizona's conservatism often has a distinctly libertarian feel.
Arizona's gay community largely fits in well with that spirit. Phoenix and Tucson both have very large and active gay communities, but neither city has much of a "gayborhood." In Phoenix, most gay businesses are scattered around the north-central part of the city, but the concentration of LGBT residents in that area is quite low, especially compared to "gayborhoods" in most other cities. Tucson has no recognizable gay neighborhood at all; its gay citizens are spread pretty evenly throughout the city.
What this means is that while Arizona is about average in terms of the proportion of gay people, almost all of its LGBT citizens live among straight neighbors. This means that Arizonans in general are more likely to know someone who is gay than citizens in many other states.
Think about it: if the bulk of Arizona's gays lived in just a few neighborhoods, if there were Arizona Castros, WeHos and Chelseas, then that means that there would be fewer straight people with constant casual contact with the nice gay couple down the street. This geographic integration, I think, is an important part of why Prop 107 failed. An awful lot of straight Arizonans know their gay neighbors, and they are apparently reluctant to vote on something that would be harmful to their neighbors.
Conclusion
It was a great thing that Arizona has apparently defeated Prop 107. If the result doesn't hold, then its passage is likely to be razor-thin. In any case, I'm immensely proud of my adoptive state, and I am especially proud my own neighbors.
I hope that the Arizona Together' success can be repeated elsewhere when our opponents look for someone to scapegoat. But I think it is important to recognize the possibility that what happened here may be unique. If CAP had offered a "cleaner" amendment without the domestic partnership prohibitions, if CAP had reached out beyond its own base, if Arizona's gay community were less integrated, if Arizona Together hadn't gotten its act together before CAP began their efforts — if any of this had been different, we might not be celebrating today. As it is, the margin of Prop 107's defeat so far is not large. But it may be large enough.
See Also:
Center for Arizona Policy Concedes
Were Arizona's Same-Sex Marriage Ban Opponents Deceptive?
Arizona Is Still Going Strong
De-Gaying The Marriage Debate?
Gay Marriage Is Still Illegal In Arizona