A Rare Loss In Arizona for Herrod
Jim Burroway
February 26th, 2014
Cathi Herrod heads the Focus On the Family-affiated Center for Arizona Policy (CAP), and she's become quite accustomed to having her entire legislative agenda breeze through the legislature year after year. But today's veto of SB 1072 by Gov. Jan Brewer represents an exceptionally rare moment of sanity for the state of Arizona and a highly unusual setback for Herrod:
Today's veto of SB 1062 marks a sad day for Arizonans who cherish and understand religious liberty.

SB 1062 passed the legislature for one reason only: to guarantee that all Arizonans would be free to live and work according to their faith.

Opponents were desperate to distort this bill rather than debate the merits. Essentially, they succeeded in getting a veto of a bill that does not even exist.

When the force of government compels one to speak or act contrary to their conscience, the government injures not only the dignity of the afflicted, but the dignity of our society as a whole.

SB 1062 made certain that governmental laws cannot force people to violate their faith unless it has a compelling governmental interest–a balancing of interests that has been in federal law since 1993.

The religious beliefs of all Arizonans must be respected and this bill did nothing more than affirm that. It is truly a disappointing day in our state and nation when lies and personal attacks can over shadow the truth."
You can see the devastating chaos that bill would have caused had it become law here and here.
Maine Says No To Discrimination, Arizona (Naturally) Says Yes
Jim Burroway
February 20th, 2014
In a mostly party-line 89-52 vote, the Maine House defeated a bill that would have created a special exemption for those who wish to claim a right to discrimination based on religious beliefs.
While the exemption was supposedly aimed at allowing discrimination against LGBT people and same-sex couples, the bill itself did not provide such narrow grounds for claiming an exemption. Instead, the bill sought to exempt anyone from anti-discrimination laws or any other law or regulation if it would "Constrain or inhibit conduct or expression mandated by a person's sincerely held religious tenet or belief." That would include any kind of act, whether its discrimination against a gay couple or an African-American family or a single woman. Two Democrats, Rep Stan Short (Pittsfield) and Steve Stanley (Medway) voted for the measure. Five Republicans — Reps. Michael G. Beaulieu (Auburn), Richards Campbell (Orrington), Aaron Libby (Waterboro), Sharri MacDonald (Old Orchard Beach), Joyce Maker (Calais) — voted to kill the bill.
While Maine's lawmakers showed their sanity in turning down the bill, Arizona's lawmakers are working diligently to preserve their state's reputation for being among the most hostile and retrograde in the nation. House Bill 2153 would provide a similarly broad exemption for religious people by allowing them to "act or refusal to act in a manner substantially motivated by a religious belief, whether or not the exercise is compulsory or central to a larger system of religious belief." As Dan Savage describes it in a post titled "It Could Soon Be Legal For Satanists to Discriminate Against Christians in Arizona":
That's not the law's intent, of course. Arizona's proposed new law, like the ones in Kansas and Idaho, is about legalizing discrimination against gays and lesbians. But in an effort to hide the anti-gay prejudice behind their "religious liberty" bill, Arizona lawmakers have worded it so vaguely that it empowers anyone of any faith to discriminate against anyone for any reason—provided, of course, that the person doing the discriminating remembers to cite their sincerely held religious beliefs as a justification.
It also adds a new element of discrimination into the law: atheists would have no grounds to claim protection for refusing to serve gay people in a restaurant or rent to Latinos or hire Jews. This law and others like it carve out a special privilege available to religious people only.
An identical bill sailed through Arizona's Senate last Wednesday in a 17-13 party-line vote. And true to form, the Arizona House passed the measure in another 33-27 vote. Republicans Rep. Kate Broohy McGee (Phoenix), Heather Carter (Cave Creek), and Ethan Orr (Tucson) voted no.  It will now land on Republican Gov. Jan Brewer's desk by nightfall.
Mother Jones reports that these rash of bills are hitting state legislatures in rapid succession:
Republicans lawmakers and a network of conservative religious groups has been pushing similar bills in other states, essentially forging a national campaign that, critics say, would legalize discrimination on the basis of sexual orientation. Republicans in Idaho, Oregon, South Dakota, and Tennessee recently introduced provisions that mimic the Kansas legislation. And Arizona, Hawaii, Ohio, Oklahoma, and Mississippi have introduced broader "religious freedom" bills with a unique provision that would also allow people to deny services or employment to LGBT Americans, legal experts say.
The Arizona and Idaho bills were brought forward by state policy organizations associated with CitizenLink, a Focus On the Family affiliate. Others, like the Kansas bill, were crafted by the American Religious Freedom Program, which is part of the Ethics and Public Policy Center.
The sponsor of the Tennessee bill withdrew it yesterday, while lawmakers in Idaho, Kansas, South Dakota turned back measure in their states. This came on the same day that the Kansas Senate president announced that her chamber would not consider a discrimination exemption bill that had passed the House earlier. The Kansas version was perhaps the broadest bill of all, as it would have covered all government employees including first responders.
Bisbee AZ Authorizes Civil Unions
Jim Burroway
April 3rd, 2013
The tiny southeastern Arizona town of Bisbee — pop: 6,000; unofficial motto: "Keep Bisbee freaky;" located just four miles from the Mexican border —  has adopted an ordinance to legalize civil unions for same-sex couples. The terms of the city's civil unions are extremely limited: while it covers joint property ownership, property inheritance, guardianship and adoption rights, it only applies within the city's boundaries, which effectively makes it no different from a number of domestic partnership registries in Tucson, Phoenix, and other Arizona cities. Bisbee City Attorney John MacKinnon acknowledged that in the end, the ordinance's impact will apply only to things within the city's control, such as personnel policies.
But it's the term "civil unions" which has caught Arizona's conservatives off guard. Who knew that they would suddenly become all riled up over the sanctity of civil unions?
And just hours before the meeting, Arizona Attorney General Tom Horne, at the urging of state lawmakers from Cochise County, sent a letter warning Bisbee that his office would take legal action against the city if council members approved the ordinance.

Horne said Bisbee does not have the authority to offer civil unions and that "the impact goes beyond (city) boundaries."

MacKinnon, referring to Horne and the state, said: "They chose to interpret it broadly. We believe this was a desire to make a political statement."

MacKinnon said he was proud to bring the issue to the council. "I think for too long many of us have been silent while we have witnessed discrimination against some in this community," he said. "It's time to stand up."
In fact, state law does not address domestic partnerships or civil unions. Arizona voters in 2006 refused to adopt Prop 108, a constitutional amendment which would have banned domestic partnerships and civil unions in addition to same-sex marriage. In 2008, conservatives placed Prop 102 on the ballot to ban same-sex marriage only. That proposition passed by a margin of 56% to 44%.
However, there is a possibility that Bisbee's civil unions ordinance may be successfully challenged in court. The ordinance addresses, for example adoption rights, which are regulated by state law. These clauses are moot in the city of Bisbee since there are no adoption agencies in the city. But even if there were, those agencies would be regulate by state law, which cannot be superseded by a city ordinance. Horne has promised to challenge the law in court. The Center for Arizona Policy, an official state policy council for Focus On the Family, has also promised to sue, and threatened additionally to bankrupt the city.
And you can safely bet your life savings that the neanderthal state legislature will quickly act to patch any other legal holes they can find to ban local governments from recognizing same-sex relationships altogether. After all, it's one of two things our state government loves to do more than anything else in the world. The other is panicking over made-up stores about kidnapping, headless corpses and other wild imaginings from the anti-immigration crowd.
In 2010, Bisbee was named the gay-friendliest city in Arizona. You can read more about  Bisbee here.
"Show Me Your Papers Before You Pee"
Jim Burroway
March 19th, 2013
Cathi Herrod, of the Center for Arizona Policy (an official state affailiate of Focus On the Family) is shopping a proposal around to Arizona state legislators:
Now there is a "bathroom bill" before the state Legislature — "show me your papers" before you pee. Read it:

A PERSON COMMITS DISORDERLY CONDUCT IF THE PERSON INTENTIONALLY ENTERS A PUBLIC RESTROOM, BATHROOM, SHOWER, BATH, DRESSING ROOM OR LOCKER ROOM AND A SIGN INDICATES THAT THE ROOM IS FOR THE EXCLUSIVE USE OF PERSONS OF ONE SEX AND THE PERSON IS NOT LEGALLY CLASSIFIED ON THE PERSON'S BIRTH CERTIFICATE AS A MEMBER OF THAT SEX.

The targets are transgender residents of Arizona. They would be committing a crime (a misdemeanor) by using the wrong bathroom with the wrong birth certificate. (Moms and dads would be allowed to bring opposite sex kids into the bathroom with them.)
Acording to Arizona Repiblic's Brahm Resnik , "The new bathroom bill, SB 1432, is a 'strike-everything' bill inserted in the shell of another bill that had the same number."  The original SB 1432 was supposed to deal with the licensing of massage therapists. A hearing is set for 2:00 p.m. tomorrow before GOP State Rep. John Kavanagh's House Appropriations Committee.
Jeez, I live in a total freak-show of a state.
Update: From the Arizona House of Representative's web site:
Overview:

SB 1432 requires the Arizona State Board of Massage Therapy (Board) to appoint an Executive Director (Director), outlines the Director's powers and duties and establishes the Board's fund.

Summary of the Proposed Strike-Everything Amendment to SB 1432

The proposed strike-everything amendment to SB 1432 is an emergency measure that adds a person who intentionally enters a specified area designated for the opposite sex to the disorderly conduct statutory classification, with exemptions.

History:
Arizona Revised Statutes Title 13, Chapter 29 establishes offenses against public order.  Specifically, statute outlines offenses classified as disorderly conduct, which include a person committing any of the following:

Engaging in fighting, or violent disruptive behavior,
Making unreasonable noise,
Using abusive or offensive language to provoke an immediate physical retaliation by another,
Preventing the transaction of business of a lawful meeting or gathering,
Refusing to obey a lawful order to disperse issued to maintain public safety, or
Recklessly handling, or discharging a deadly weapon.

Provisions:

States a person commits disorderly conduct if they intentionally enter a public restroom, bathroom, shower, bath, dressing room or locker room, and a sign indicates that the room is exclusively for the use of one sex, and that person is not legally classified as a member of that sex on their birth certificate.
Classifies the disorderly conduct violation as a Class 1 misdemeanor (6 months/$2,500).
Provides an exemption from the violation for persons that:

Enter as part of their job responsibilities,
Enter to give aid or assistance to another,
Is a child in need of assistance, or
Are physically disabled.

Contains an emergency clause.
Makes a conforming change.
The amended Section 1.  Section 13-2904 as proposed is shown here.
Email of the Day
Jim Burroway
June 4th, 2012
"So the men turned from there and went toward Sodom, but Abraham still stood before the Lord. Then Abraham drew near and said, "Will you indeed sweep away the righteous with the wicked? … Abraham answered (the Lord) and said, "Behold, I have undertaken to speak to the Lord, I who am but dust and ashes."

Genesis 18:22 – 23 ESV

Abraham stands humbly as well as boldly before the Lord as the 'man in the middle' interceding for Sodom and Gomorrah to not be destroyed. He stood before the Lord and interceded with 6 bold requests for 50, 45, 40, 30, 20, and 10 righteous people out of a whole city. The Lord notes His faithful intercession and decides he would spare this evil land if there were only 10 righteous. The question is:

Will you stand in the gap before the Lord to preserve and protect the righteous in America?
This one is from the Center for Arizona Policy, and official state policy council of Focus on the Family. It just goes to show that not all of my daily emails are unintentionally humorous.
Who Is Behind Arizona's Marriage Amendment?
Jim Burroway
August 6th, 2008
This woman: Cathi Herrod, president of the Center for Arizona Policy. CAP is an official state policy council of Colorado Springs-based Focus On the Family.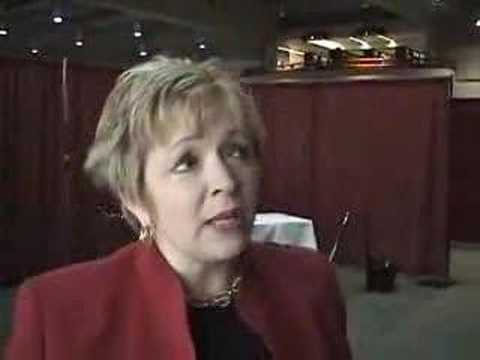 This is the lobbyist who Arizona Senate President Timothy Bee (R-Tucson) denounced from the Senate dias — just before he crumpling himself under the pressure and casting the deciding 16th vote to put yet another anti-marriage amendment before the voters. Arizonans already said no to a previous attempt in 2006. Herrod didn't like that answer, so she's trying again for 2008.
Here's shorter video featuring Cathi Herrod. Notice the message discipline. You can help to defeat Arizona's Prop 102 here.
[Hat tip: Tucson Observer]
Anti-Gay Politics, Arizona Style
Jim Burroway
July 1st, 2008
The Tucson Observer has published a first person account of the final hours of the Arizona Senate's passage of the anti-marriage amendment. In this Legislative Update by Representative Steve Farley (D-Tucson) you really get a sense of the boorish, contemptible behavior of a Republican majority with no regard for their own rules. And you also get a sense of how spineless Senate President Timothy Bee was throughout all of this.
After the budget was finished Thursday night, Rep. Andy Biggs (R-Mesa) made an attempt to adjourn sine die and end the session right away. Unfortunately, he got the wording wrong, so Majority Leader Tom Boone (R-Peoria)–who had other plans in mind for a number of unfinished bills–made a substitute motion to recess which canceled out Biggs' motion when the vast majority of the body, unsure what to do, stood in support of Boone.
That paved the way for us to come back the next day for a horrible day of legislating where a whole lot of bad things happened, none worse than the resurrection of the anti-marriage amendment.
You may recall that we have spent much of the session fighting Republican efforts to place a constitutional amendment on the November ballot to outlaw Gay marriage, which is already illegal. Rep. Kyrsten Sinema (D-Phoenix) carried out an ingenious strategy to derail the House version of the bill several months ago.
As a referendum, it is not subject to veto by the Governor — it goes directly to the voters if approved by both houses of the Legislature. Right-wingers in the House have been conspiring with the Center for Arizona Policy ever since to find a way to bring another version to the floor.
On May 12, that new version, SCR1042, passed out of the House by one vote when Rep. Marian McClure (R-Green Valley) changed her vote to Yes, under pressure from her partners running for the Corporation Commission–Bob Robson (R-Chandler) and Bob Stump (R-Peoria). They all have been led to believe that the anti-marriage amendment will bring more hard-right voters to the polls in November, and they will benefit from it. It would appear it doesn't matter to them how many LGBT people get hurt on their way to higher office.
Despite withering pressure from the hard right lobbyists, the bill never made it to the floor. Senate President Tim Bee (R-Tucson) apparently came to understand that a yes vote on the amendment would compromise the image of moderation and bipartisanship he has built up over the years, so he refused to bring it forth while at the same time saying to members of his own caucus that he would bring it forth in time.
His caucus members brought it forth for him on Wednesday when they voted to force it to the floor, but it did not receive the votes to carry at that time because the 16th vote was in a cabin in northern Arizona — Senator Karen Johnson (R-Mesa). She is not running for re-election, and had declared early in the session that her last day would be June 21. She left and planned not to return.
What she didn't plan on was members of her church–including her bishop for Arizona–surrounding her cabin at all hours of the day and night praying for her that she be moved into returning to Phoenix to vote for the amendment.
The pressure worked, and she arrived at the Capitol on Friday, when the bill would be brought back up for reconsideration. Senator Tom O'Halleran (R-Sedona) was rumored to be gone as well, but he stayed to vote Yes. Sixteen votes in favor, including Tim Bee, were present, but we found out that two of them, Senator Pam Gorman (R-Anthem) and Karen Johnson, had plane flights out of town that evening and would be gone by 7pm.
So we forces of reason had our mission — drag things out until those two were gone, then adjourn sine die. For reasons way too complicated to explain in this already voluminous missive, we had to filibuster in the House and in the Senate, without making it appear we were actually filibustering. Rep. Sinema served as field general, and she picked four of us to do the talking, based on the fact that we always did a lot of talking and we didn't want others to catch on to what we were doing.
The four were Reps. Prezelski (D-South Tucson), Ableser (D-Tempe), Ulmer (D-Yuma), and me. We asked a whole lot of questions in caucus (at one point we stretched out discussion of two of the bills to 40 minutes), in Committee of the Whole, and in explaining our votes in third read and final passage. We were so convincing that certain other members of our own caucus who were not in on the plan began to openly mock us for talking too long and told us to sit down and shut up. In the end we were able to extend debate past 7pm.
Our colleagues in the Senate were doing the same thing on the floor, but things were not going so well. Republicans began suspending Senate rules left and right to deprive the Democrats of talking time, and in one case suspended an entire calendar of bills that had already been passed, a move that had the effect of killing them. People called each other names and nearly got into shoving matches. Senators cried, while other senators openly laughed at those who cried.
Decorum broke down almost completely as the torchbearers for the "moral majority" followed a scorched-earth policy in their single-minded quest to take away rights from LGBT people. After 7pm, it became clear that Gorman and Johnson had no intention to leave to make their planes, and by 7:20, the filibuster could hold out no longer.
The vote was called for through a series of rule suspensions, and voting finally proceeded. Senator Carolyn Allen (R-Scottsdale) left in disgust before the vote. Senator Paula Aboud (D-Tucson), the only open lesbian in the Senate, talked about the power of the love between her and her partner, and asked the other senators, "Why are you afraid of our love? Are you afraid of me? Do I scare you?" Every Republican (besides Carolyn Allen) voted yes, then turned their backs and left the floor in the middle of Aboud's speech.
After all had voted except President Bee, the tally stood at 15 in favor. Weighing in last, Bee explained his vote. He hammered the Center for Arizona Policy and its tactics, calling the issue divisive and saying that the lobbyists in favor of the amendment had "confronted members in hostile ways and coerced them."
Many of us watching held our breath, wondering if Bee would step up courageously to do the right thing–not the easy thing. Would he vote No, and show that he puts policy above politics? Would he reject the Republican strategists who were convinced the anti-marriage amendment would help spur conservative voters to vote for him in his congressional race against Gabrielle Giffords?
His voice moved swiftly lower–almost to a whisper–as he concluded, "But my constituents want to vote on this, so I will vote Aye."
With that, Tim Bee cast the deciding 16th vote, and in effect personally placed the anti-marriage amendment on the ballot once again, ensuring that the divisiveness will continue into the electorate at large.
This concluded the session like a punch to the gut. Exhausted and dispirited, we adjourned sine die shortly thereafter without doing much else. Bills that were in process died, including a vital bill to enact new tax credits for attracting huge solar energy plants to Arizona–plants and factories we are currently losing to California and Oregon in increasing numbers. But apparently, outlawing Gay marriage again was much more important than rebuilding our economy through renewable energy.
After lambasting CAP's political tactics, Bee turned around and blamed his constituents for his cowardly vote. His constituents don't deserve being scapegoated like this. They already voted on this in 2006 and gave a resounding "no" — 47.5% to 52.5%. That was wider than the statewide margin of 48.2% to 51.8%. And the Congressional district that he wants to represent come November also said "no" by a wider margin still: 45.4% to 54.6%. What part of "no" does Bee not understand?
More Reactions to AZ Anti-Marriage Amendment Fiasco
Jim Burroway
June 30th, 2008
I like the way "Tedski" at the Arizona political blog Rum Romanism and Rebellion thinks, probably because I myself in almost perfect agreement with his reaction to Arizona Senate President Tim Bee's disgraceful performance in the closing hours of the legislative session:
On the other hand, there was the leadership that he applied to the gay marriage referendum. He went back and forth on this one. For example, he was one of the main sponsors of the legislation, but delayed the vote in the hopes that time would run out and it would never actually be presented. This back and forth was so public that it didn't fool anyone. He even pulled a Marion McClure on this, giving an impassioned speech that seemed to be against the bill then casting the deciding vote for the darned thing.

Apparently, he then disappeared into his office to "compose" himself for about an hour.

Now, that's leadership.
My take on Bee's performance is here. Is this the man we're supposed to send to Congress? If he can't stand up to Cathi Herrod at the Center for Arizona Policy, how can we expect him to stand up to lobbyists in Washington?
By now it should be obvious to anyone paying attention that his political career is toast. Good thing he has his brother's Bee Line school bus service to go back to.
Tedski closes with this:
Say, what does Bee's campaign chair, Jim Kolbe, think of all this?
Yeah! That what I want to know!
Arizona Anti-Marriage Amendment Still Held In the House
Jim Burroway
May 2nd, 2008
As we reported earlier, the Arizona House of Representatives has not yet formally passed the proposed anti-marriage constitutional amendment. The measure requires approval from the House and the Senate before it can be sent on to the voters.
At issue is what exactly the proposed amendment would ban. The new proposal reads, "Only a union of one man and one woman shall be valid or recognized as a marriage in this state." Opponents say that the word "union" could be applied to more than just marriage, opening up the state to lawsuits over domestic partnerships.
Peter Gentala, general council for the Center for Arizona Policy (CAP, Focus On the Family's official state policy council for Arizona), said proponents have no plans to target domestic partnerships with this new effort. Lambda Legal warns however that a similar measure in California resulted in years of litigation there, and that CAP used the language of Arizona's current law to argue against the state expanding benefits to domestic partners in Arizona.
The measure has been placed on the House calender every day since last week's preliminary approval, and every day the delay has been delayed. This means there is still time to let your representative know what you think about the proposal.
Remember: there are two representatives for each legislative district. If you don't know who your representatives are, the Equality Arizona web site can find them for you and provide you with their phone numbers and contact information. You can call then directly, or you can even send a message via Equality Arizona.