The Daily Agenda for Saturday, May 10
Jim Burroway
May 10th, 2014
TODAY'S AGENDA:

A Rush to the Clerk's Office?: Arkansas. Maybe. Pulaski County (Little Rock, AK) Circuit Court Judge Christopher Piazza ruled yesterday that the state's ban on same-sex marriage violated the Equal Protection clause of the U.S. Constitution. The state Attorney General's office has filed a request to stay the ruling pending an appeal to the state Supreme Court. But until that stay is granted, same-sex marriage is perfectly legal, even though most of the state's county clerk offices will  remain closed until Monday. There is one exception though: the Carroll County Clerk's Office, located in the tiny gay enclave of Eureka Springs in the northwest corner of the state, will be open today from 9:00 a.m. to 1:00 p.m. There are no blood tests, and no waiting periods And with Eureka Springs being just a short drive from Missouri, Oklahoma and Kansas, there's no residency requirements.
Pride Celebrations This Weekend: Darwin, NT; Kraków, Poland; New Hope, PA; São Paulo, Brazil; Tallahassee, FL.
AIDS Walks This Weekend: Buffalo, NY; Des Moines, IA.
Other Events This Weekend: Purple Party, Dallas, TX; BeachBear Weekend, Ft. Lauderdale, FL; Houston Splash, Houston, TX; Big Horn Rodeo, Las Vegas, NV; Miami Gay and Lesbian Film Festival, Miami, FL.
TODAY'S AGENDA is brought to you by:

Rodney Scheel was only 21 when he opened his first gay bar in Madison, Wisconsin in December 1972, which went through "its share of experimental phases- bar, restaurant, piano bar, dance club, and home-away-from-home for many of the newly-liberated Gay men and Lesbians and their friends of that era." The Back Door, located just across the railroad tracks from the University of Wisconsin, remained in business until 1979. Scheel would go on to found a number of gay bars in Madison, including the popular leather/levi bar Rod's at the Hotel Washington. The area where the Back Door once stood has been redeveloped into student housing.
TODAY IN HISTORY:
Book Burning in Berlin: 1933. After raiding the Institute for Sexual Research and looted its vast library and archives (see May 6), the Nazi-affiliated German Student Association (Deutsche Studentenschaft) proclaimed a nationwide "Action against the Un-German Spirit", which culminated in the "cleansing" ("Säuberung") by fire on May 10, 1933 of an estimated 25,000 volumes of "un-German" books. Book burnings took place throughout Germany, and the bulk of the books burned in Berlin came from the ISR. About 40,000 people watched in the Opernplatz as propaganda chief Joseph Goebbels declared "No to decadence and moral corruption!" LGBT advocacy, which had developed as a strong scientific and social institution in Germany over the past several decades, was shut down virtually overnight.
TODAY'S BIRTHDAY:
Max Lorenz: 1901-1975. The Düsseldorf native's powerful performances as a heroic tenor (heldentenor, in German) in Wagner's operas is probably what saved his life in Nazi Germany — or at the very least, the life of his Jewish wife, whom he married in 1932 despite his homosexuality. The very next year, he established his dominance at the Bayreuth Festival, the annual Wagner festival began by Richard Wagner himself, just as the Nazis came to power. Later, when Lorenz was caught "in flagrante" with a young man at Bayreuth, Hitler forbade his future performances at the prestigious festival. Winifred Wagner, the festival's director, answered that she would would close the festival because without Lorenz, "Bayreuth can't be done." Such was Hitler's love for Wagner's operas that he backed down and let Lorenz perform. In 1943, when the SS stormed Lorenz's home while he was away to take his wife and mother-in-law off to the concentration camps, Hermann Göring personally intervened and placed the entire family under his personal protection.
Lorenz's career lasted almost three decades. He was particularly renowned for his performances as Siegfried (in Siegfried and Götterdämmerung), Tristan (in Tristan und Isolde) and as Walther (in Die Meistersinger von Nürnberg) After the war, Lorenz became an Austrian citizen, but his reputation was sullied by the assumption that he had been a Nazi. He died in Salzburg in 1975.
Steve Gunderson: 1951. The first openly gay Republican to serve in Congress, the Wisconsin representative was outed on the floor of the House of Representatives by a fellow Republican, the virulently anti-gay Rep. Bob Dornan of California. The confrontation occurred during a debate on a measure that would have prohibited any school which received federal funding from "promoting homosexuality as a positive lifestyle." Gunderson objected to some of the defects in how the measure was written, saying it "has the effect of prohibiting school counseling and guidance. It has the effect of prohibiting AIDS education."
Dornan rose to object, saying that Gunderson has "a revolving door on his closet. He's on, he's out, he's in, he's out, he's in. I guess you're out because you went up and spoke to a huge homosexual dinner, Mr. Gunderson." Dornan later complained to reporters, "We have a rep on our side who is a homo who goes in and out of the closet. I have just had it with him saying he takes second place to no one in this House … (in) upholding Christian principles."
That "homosexual dinner" was the annual Human Rights Campaign Fund dinner in Baltimore two weeks earlier, where Gunderson told the gathering about the beach house in Rehoboth that he shared with "Rob" and "our two dogs." Gunderson also talked about how he and Rob had been touched by the AIDS crisis in the past year. "Two of our closest friends died from AIDS, and while for Rob and I this was the first personal loss from this tragic disease, it makes its impact no less painful to each of us. He also urged gays and lesbians to come out of the closet, saying that "unless a son or brother is gay, a daughter or sister is lesbian, most families will not encounter challenges to their traditional values."
Despite Gunderson's urging that more gays and lesbians come out of the closet, Gunderson refused to confirm or deny his sexuality to reporters in the immediate aftermath of Dornan's outburst, saying that he wouldn't dignify Dornan's comments with a response. But in 1994, refusing to deny it was all that was really needed. Rep. Barny Frank (D-MA) sympathized somewhat: "This is not an easy situation he finds himself in. In a perfect world none of this would be necessary."
Gunderson won re-election later that year, and he became the lone Republican to vote against the Defense of Marriage Act two years later. He chose not to seek re-election in 1996. In January 2010, Gunderson was appointed by President Barack Obama to the President's Commission on White House Fellows. He is currently the President and CEO of the Council on Foundations, a Washington, DC-based nonprofit membership association of approximately 2,000 grantmaking foundations and corporations.
Michele Van Gorp: 1977. Born in Warren, Michigan, Michele Van Gorp played women's collegiate basketball at Purdue University for her freshman and sophomore years, then transferred to Duke University, where she led Duke to the school's first NCAA final for women's basketball. She was drafted into the Women's National Basketball Association (WNBA) in 1999. After playing for a year with the Portland Fire, she was traded to the Minnesota Lynx, where she gained a reputation as one of the league's toughest defenders.
Van Gorp was the only open lesbian in the WNBA from 2002 (when Sue Wicks retired) until 2005, when Sheryl Swoopes and Latasha Byears came out. She missed much of the 2004 season due to a stress fracture in her left foot, and she ended up retiring from the WNBA in 2005. She is currently back at her alma mater, working with the Duke women's basketball program.
If you know of something that belongs on the agenda, please send it here. Don't forget to include the basics: who, what, when, where, and URL (if available).
And feel free to consider this your open thread for the day. What's happening in your world?
The Daily Agenda for Friday, May 9
Jim Burroway
May 9th, 2014
TODAY'S AGENDA:
Pride Celebrations This Weekend: Darwin, NT; Kraków, Poland; New Hope, PA; São Paulo, Brazil; Tallahassee, FL.
AIDS Walks This Weekend: Buffalo, NY; Des Moines, IA.
Other Events This Weekend: Purple Party, Dallas, TX; BeachBear Weekend, Ft. Lauderdale, FL; Houston Splash, Houston, TX; Big Horn Rodeo, Las Vegas, NV; Miami Gay and Lesbian Film Festival, Miami, FL.
TODAY'S AGENDA is brought to you by:

There was a rather tight cluster of gay bars in Los Angeles' Silver Lake neighborhood, where Santa Monica Blvd joins up with Sunset. Connie's Place was just up the block a little ways (see the ad for Mar 26), and several other gay bars extended for at least two blocks down Sunset. I haven't been able to find anything about the Joker Inn — when it opened, when it closed, or what kind of clientele it attracted. The bar is gone, but gay men are still turning up at the address which is part of the larger adult bookstore Circus of Books.
TODAY IN HISTORY:
Three Hanged for Sodomy: 1726. In July of 1725, Gabriel Lawrence, 43 and "a Papist" — that alone was also a crime in 18th century England — was indicted "for committing, with Thomas Newton, aged 30 years, the heinous and detestable sin of Sodomy, not to be named among Christians." He was among 40 who were arrested at the famous "molly house" of Margaret Clap, a "place of rendezvous for Sodomites." Newton, who testified against the defendants in exchange for immunity, described the place: "For the more convenient establishment of her customers, she had provided beds in every room of the house. She usually had 30 or 40 of such Persons there every Night, but more especially on a Sunday. I was conducted up one pair of Stairs, and by the Perswasions of Bavidge (who was present all the Time) I suffer'd the Prisoner to commit the said Crime. He has attempted the same since that Time, but I never would permit him any more." Newton testified against Lawrence, taking upon himself the role of innocent victim even though he, too, was at the "molly house" and arrested.
Newton claimed that he didn't know that Claps's establishment was a molly house. He must have been pretty dumb, because he apparently spent a lot of time there. He not only testified against Lawrence, but also against two others at the house: William Griffin, 43, and Thomas Wright, 32, who "often fetched me to oblige company that way." All three defendants were found guilty and sentenced to death. On May 9, 1726, Lawrence, Griffin, and Wright were hanged at the infamous gallows known as "the Tyburn Tree," not far from the present-day location of the Marble Arch. Margaret Clapp was fined, made to stand at the pillory at Smithfield, and sent to prison for two years.
[Sources: Ian McCormick. Secret Sexualities: A Sourcebook of 17th and 18th Century Writings
 (London: Routledge, 1977): 72-74.
"Trial of Gabriel Lawrence." Old Bailey Proceedings Online (April 1726): record t17260420-64.
Historian Rictor Norton has also posted trial records for Lawrence, Griffin and Wright at his web site.]
Ignorance Is Bliss: 1870. Dressed as Lady Stella Clinton and Miss Fanny Winifred Park, Ernest Boulton, 22, and Frederick William Park, 23 both scandalized and titillated Londoners when they attended a performance at the Strand Theatre and were arrested by police. A search of their homes turned up more than a dozen dresses, petticoats, bodices and bonnets. Their landlady described their dresses as very extreme. They were charged with conspiracy to commit sodomy.
The two defendants appeared in court in drag. The whole thing baffled the Attorney General, who testified on May 9, 1871 that the lack of detailed British knowledge on the topic was actually one of the country's virtues. He thought it "fortunate [that] there is little learning or knowledge upon this subject in this country; there are other countries in which I am told learned treatises are written as to the appearance to be expected in such cases. Fortunately Doctors in England know very little about these matters." Ignorance reigned, and it was to Boulton and Park's benefit. Sure, they dressed funny, engaged in "disgraceful behaviour," and wrote piles of letters describing their exploits — an entire day was spent reading them into the record — but none of that counted as evidence of a conspiracy to commit sodomy. And since wearing dresses itself wasn't against the law, the jury found them not guilty.
[Source: Ivan Crozier. "Nineteenth-Century British psychiatric writings about homosexuality before Havelock Ellis: The missing story." Journal of the History of Medicine and Allied Sciences 68, no. 1 (Jan 2008): 65-102.]
Wichita Voters Repeal Gay Rights Ordinance: 1978. Anita Bryant's success in defeating a gay rights ordinance in Miami at the ballot box the year before (see Jun 7) inspired voters in St. Paul to repeal their ordinance the following spring by more than a two-to-one margin (see Apr 25). Two weeks later, the fight moved to Wichita, Kansas, where an ordinance banning discrimination in housing, employment and public accommodations due to "sexual or affectional preferences" was the subject of a special repeal election. After Miami voters repealed their anti-discrimination ordinance, Wichita organizers quickly gathered 31,000 signatures, more than three times the needed number, to place the ordinance up for a vote. The City Council decided to short-cut the process, and in a 3-2 vote agreed to place the issue on the ballot for a special May 9 election.
Rev. Richard A. Angwin, who headed the St. Paul repeal effort, traveled to Wichita fresh off of his St. Paul victory and told a Wichita audience that the Minnesota vote proved that "from the conservative Bible-belt of Dade County, Florida, to the liberal progressive north of Minnesota, that the American people are not willing to accept homosexuality as a legitimate intrusion into human rights ordinances." He also argued that gay people were second-class citizens. "I think anyone who is immoral is a second-class citizen," he said. "But I don't say it out of hatred. I love the murderer, but I'm still going to limit his behavior in society."
Wichita voters apparently agreed. They repealed Wichita's anti-discrimination ordinance by a nearly five-to-one margin: 47,246 to 10,005. Forty-four percent of the city's 128,888 registered voters turned out, making it the largest turnout for a city election in a decade. Rev. Ron Adrian, president of Concerned Citizens for Community Standards which campaigned for the repeal, was elated. He had only expected a two-to-one victory margin. "I think God's using this vote to openly rebuke the pro-homosexual forces," he said.
Robert Lewis, co-director of the Homophile Alliance, was initially bitter about the results. "Obviously there are a lot of bigots in Wichita," he told reporters. But later, after cooling off at a local gay bar, Lewis put a better face on the defeat. "It's like a New Year's Eve party here. You would never know gay rights had been defeated. Gay people in Wichita are feeling much better about themselves as a result of this campaign."
Two days later, it was revealed that Miami-based Protect America's Children, which was linked to another tax exempt organization called "Anita Bryant Ministries," had poured $20,000 into the Wichita and St. Paul battles. At $74,000 in today's dollars, it represented big money for city elections in 1978. Their next target was a special election in Eugene, Oregon, to repeal its gay rights ordinance, scheduled for May 23.
Dana Goes International: 1998. The music world is shocked when judges at that year's Eurovision Song Contest in Birmingham, England choose openly MtF Dana International as their champion. Ultra-Orthodox Jews and Israeli conservatives were shocked and demanded that next year's telecast not be held in the winning country, as tradition holds, due to the "shame" of her being transsexual. Dana countered, "My victory proves God is on my side. I want to send my critics a message of forgiveness and say to them: try to accept me and the kind of life I lead. I am what I am and this does not mean I don't believe in God, and I am part of the Jewish Nation."
Here is how Dana International's win looked on German television: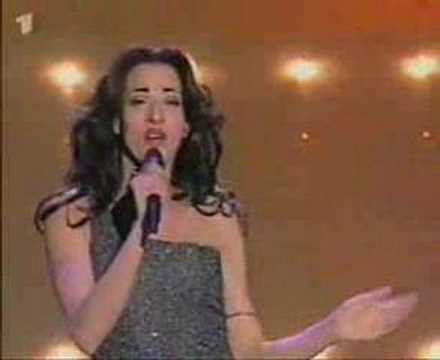 President Barack Obama Announces Support for Marriage Equality: 2012. Through much of his presidency, Barack Obama had long opposed the abolition of same-sex marriages via state and federal constitutional amendments, and during his 2008 primary campaign against then-Sen. Hillary Clinton, he distinguished his position from hers by calling for the full repeal of the Defense of Marriage Act in its entirety. (Her position was to repeal the provision barring federal recognition of same-sex marriages while keeping Section 2, which allows states to ignore other states' marriages.) In 2011, his Justice Department announced that they would no longer defend DOMA in Federal Court, arguing that heightened scrutiny was called for in examining the law's constitutionality, and that DOMA fails under that standard. But on the critical question of whether Obama supported same-sex marriage itself, he famously said that he was "still evolving" on the issue.
That evolution was completed when, during an interview with ABC News, Obama revealed that he now supported the rights of same-sex couples to marry"
I have to tell you that over the course of several years as I have talked to friends and family and neighbors when I think about members of my own staff who are in incredibly committed monogamous relationships, same-sex relationships, who are raising kids together, when I think about those soldiers or airmen or marines or sailors who are out there fighting on my behalf and yet feel constrained, even now that Don't Ask Don't Tell is gone, because they are not able to commit themselves in a marriage, at a certain point I've just concluded that for me personally it is important for me to go ahead and affirm that I think same sex couples should be able to get married.
Obama's announcement came three days after Vice President Joe Biden told David Gregory on NBC's Meet the Press that he was "absolutely comfortable with the fact that men marrying men, women marrying women and heterosexual men and women marrying one another are entitled to the same exact rights."
Obama's announcement made him the first sitting President to announce his support for marriage equality for same-sex couples. Conventional wisdom had held that such a position would be political suicide for national office, but Obama proved that wrong in November when he became the first presidential candidate to win an election on a platform calling for marriage equality. That same election also saw voters in three states — Maryland, Maine and Washington — make history by approving same-sex marriage at the ballot box, and voters in Minnesota turned back an attempt to write discrimination into its state constitution for only the second time in history. In the year following Obama's announcement, the number of states providing marriage equality nearly doubled from six to eleven, after legislators in Rhode Island and Delaware passed legislation legalizing same-sex marriages.
TODAY'S BIRTHDAY:
80 YEARS AGO: Alan Bennett: 1934. The English performer and playwright is best known for The Madness of George III and the film adaptation, The Madness of King George. He received an Academy Award nomination for the screenplay. In August 1960, he achieved instant fame as a comedy actor at the Edinburgh Festival by appearing in a satirical review with Dudley Moore, Jonathan Miller and Peter Cook. His first play, Forty Years On, debuted in 1968. His critically acclaimed The History Boys won three Lawrence Olivier Awards in 2005 and Six Tony Awards on Broadway in 2006. His memoir, Untold Stories
, appeared in 2005. He thought it would be published posthumously because he was undergoing treatment for cancer when he wrote it. The cancer went into remission, but the book went ahead anyway. In the biographical sketches, Bennett wrote openly for the first time about his homosexuality, although he said that he was "reluctant to be enrolled in the ranks of gay martyrdom, reluctant, if the truth be told, to be enrolled in any ranks whatsoever."
If you know of something that belongs on the agenda, please send it here. Don't forget to include the basics: who, what, when, where, and URL (if available).
And feel free to consider this your open thread for the day. What's happening in your world?
The Daily Agenda for Thursday, May 8
Jim Burroway
May 8th, 2014
TODAY'S AGENDA:
Pride Celebrations This Weekend: Darwin, NT; Kraków, Poland; New Hope, PA; São Paulo, Brazil; Tallahassee, FL.
AIDS Walks This Weekend: Buffalo, NY; Des Moines, IA.
Other Events This Weekend: Purple Party, Dallas, TX; BeachBear Weekend, Ft. Lauderdale, FL; Houston Splash, Houston, TX; Big Horn Rodeo, Las Vegas, NV; Miami Gay and Lesbian Film Festival, Miami, FL.
TODAY'S AGENDA is brought to you by:
TODAY'S BIRTHDAYS:
Tom of Finland: 1920-1991. Born Touko Laaksonen, Tom of Finland was famous for his stylized homoerotic and fetish art. Over a forty year career, he produced some 3,500 drawings in his unique exaggerated style. If Barbie dolls proportions represent an anatomically impossible ideal for women, Tom of Finland's hypermasculine characters were portrayed in similarly fantastical idealizations of manly men, although Tom didn't see it that way. "All my drawings are grounded in reality," he said. "I use models, whom I initially photograph and then later refer to when I draw. People complain that I exaggerate. My fantasies often take over, of course, but I want to offer the viewer something that he can't get in a photograph."
His style was partly influenced by beefcake and physique magazines which skirted on the edges of U.S. censorship codes in the 1950s and 1960s. But as the codes were struck down in the 1960s over First Amendment issues, his drawings became more explicit and more overtly sexual. They became the definitive style guide for leathermen through his portrayal of policemen, lumberjacks, sailors and bikers, and they've inspired such artists as Robert Mapplethorpe (see Nov 4), Freddie Mercury (see Sep 5) and the Village People.
He died of a stroke brought on by emphysema on November 7, 1991. Several examples of his "dirty drawings " — his unabashed description for them — have been acquired by New York's Museum of Modern Art.  This past winter, works by Tom of Finland and "physique" photographer Bob Mizer (see Mar 27) were featured in a special exhibit at the Los Angeles Museum of Contemporary Art. On September 8 of this year, his native Finland will honor him with a set of postage stamps which have been described as " considerably more erotic than those usually seen on any nation's envelopes."  A documentary film of his life is in the works and is slated for a 2015 release.
Darren Hayes: 1972. The singer-songwriter was the front man of Savage Garden. Their 1997 album by the same name peaked at #1 in Australia, #2 in the U.K., #3 in the U.S. Their biggest American hit was "Truly Madly Deeply." Their follow-up album yielded another #1 hit in the U.S. with "I Knew I Loved You." In 2002, he launched his solo career, and by 2005 it was clear that Savage Garden was through.
Hayes married his "childhood sweetheart" in 1997. They divorced in 2000 after he told her that he was gay. After years of public speculation about his sexuality, Hayes came out on July 18, 2006, when he announced that he had entered a civil partnership with his boyfriend, Richard Cullen, a month earlier. In April, 2007, he told The Advocate, "First of all, it took me a long time to even accept that I was gay. And then it took me a long time to be happy that I was gay." That summer he headlined London's Gay Pride at Trafalgar Square. You can see his video for "It Gets Better" here. His fourth solo album, Secret Codes and Battleships, was released in 2011. He and Cullen upgraded their partnership in 2013 to full marriage soon after same-sex marriage resumed in California.
If you know of something that belongs on the agenda, please send it here. Don't forget to include the basics: who, what, when, where, and URL (if available).
And feel free to consider this your open thread for the day. What's happening in your world?
The Daily Agenda for Wednesday, May 7
Jim Burroway
May 7th, 2014
TODAY'S AGENDA:
Pride Celebrations This Weekend: Darwin, NT; Kraków, Poland; New Hope, PA; São Paulo, Brazil; Tallahassee, FL.
AIDS Walks This Weekend: Buffalo, NY; Des Moines, IA.
Other Events This Weekend: Purple Party, Dallas, TX; BeachBear Weekend, Ft. Lauderdale, FL; Houston Splash, Houston, TX; Big Horn Rodeo, Las Vegas, NV; Miami Gay and Lesbian Film Festival, Miami, FL.
TODAY'S AGENDA is brought to you by:
TODAY IN HISTORY:
CA Senate Committee Calls UC Berkeley Hotbed of Communists and Homosexuals: 1966. Major bursts of anti-war demonstration on most American college campuses were still in their infancy, but already the "Free Speech Movement" had planted its foothold at the University of California at Berkeley. Following demonstrations and sit-ins against a campus-wide ban on political activity in the fall of 1964, UC Berkeley president Clark Kerr rescinded the ban when classes resumed following Christmas break in 1965. This led state legislators to charge that because of Kerr's accommodation of the student's First Amendment rights, the campus was now "seething with Communists and homosexuals," according to a report released by the State Senate Committee on Un-American Activities. According to an Associated Press report:
The five-member committee accused Ker of a "hostile attitude" toward its work, and said he not only didn't help in seeking out communist activities on campus "but actual took steps that tended to prevent its being given."

…To back up its charge that homosexuality is rampant at Berkeley, the committee cited a story in the Daily Californian, the student newspaper, which reported that 2700 of the school's 27,000 students were homosexual.

Jim Branson, editor of the campus newspaper, said that the statistics was provided by Harold Call (see Sep 20), president of the Mattachine Society of San Francisco, a group devote to protecting the rights of homosexuals.

The committee charged that under Kerr, "the campus sank to a new low," and reported campus dances with lewd themes and blatant promiscuity and the presentation of "disgusting, debased spectacles."
The committee held Kerr responsible for allowing "left-wing domination of the campus scene." Kerr, in turn, said that the university "by its nature is dedicated to freedom in a society. It can become, consequently, an arena for dissent." He also told reporters that for four years he had been asking the committee to provide the names of Communists connected with the university, but the committee failed to respond.
The Berkeley campus would continue to be a lightning rod, both for left-wing political dissent and for right-wing discontent. It also became a topic of the 1966 gubernatorial campaign when then-actor Ronald Reagan, in his first run for public office, called for Kerr's dismissal on May 12. Later that fall, Reagan announced that if he were elected governor, he would appoint former CIA director John McCone to investigate campus unrest at Berkeley. On January 20, 1967, during Gov. Reagan's first meeting with the UC Board of Regents, the board fired Kerr as U.C. President.
Jesse Helms Rails Against "Militant-Activist-Mean Lesbian": 1993. But of course, in Helms's imagination what other kind of lesbian was there? President Bill Clinton had nominated Roberta Achtenberg, a San Francisco civil rights lawyer, as Assistant Secretary for Housing and Urban Development. As San Francisco City Supervisor, she supported efforts to bar the Boy Scouts from using the city's school facilities because of its exclusion of gays scouts and leaders. Helms blew his stack over that. "She's not your garden-variety lesbian," he told the Associated Press. "She's a militant-activist-mean lesbian, working her whole career to advance the homosexual agenda. Now you think I'm going to sit still and let her be confirmed by the Senate? . . . If you want to call me a bigot, go ahead."
Helms was a bigot, but Achtenberg was confirmed. She remained on the job until 1995 when she left to run against Willie Brown for mayor of San Francisco. Obviously, she didn't make it. Achtenberg is currently serving on the U.S. Commission on Civil Rights. Helms is currently dead.
TODAY'S BIRTHDAY:
Pyotr Ilyich Tchaikovsky: 1840-1893. The great Russian composer's brother, Modeste, was comfortable with being gay, but Pyotr was not, at least not until much later in life. But he had to undergo a short, disastrous marriage before he arrived at the conclusion that his sexual orientation was insurmountable. Meanwhile, he became Russia's most celebrated composer, with Swan Lake, Eugene Onegin, The Nutcracker, and his Fourth Symphony and Sixth Symphony (Pathétique) probably his finest works. He composed the 1812 Overture to celebrate Russia's defeat of Napoleon at the outskirts of Moscow. Tchaikovsky confessed that the work, complete with live canon shots, would be "very loud and noisy, but I wrote it with no warm feeling of love, and therefore there will probably be no artistic merits in it." He warned one Russian conductor, "I shan't be at all surprised and offended if you find that it is in a style unsuitable for symphony concerts." The 1812 Overture, it turned out, became one of his most popular works.
His death in 1893 was attributed to cholera, although there have been a persistent legend that his died by suicide. One story has it that a sentence of suicide was imposed in a "court of honor" by Tchaikovsky's fellow alumni of the St. Petersburg Imperial School of Jurisprudence because of his homosexuality. Another has it that his suicide was ordered by Tsar Alexander III himself. There doesn't appear to be much evidence for either theory. But against the backdrop of those unfounded rumors, many have taken Pathétique, which Tchaikovsky premiered just a few days before his death, as his final statement. According to an eyewitness at the premiere:
Tchaikovsky began conducting with the baton held tightly in his fist … in his usual manner. But when the final sounds of the symphony had died away and Tchaikovsky slowly lowered the baton, there was dead silence in the audience. Instead of applause, stifled sobs came from various parts of the hall. The audience was stunned and Tchaikovsky stood there, motionless, his head bowed.
Some have come to regard Pathétique as Tchaikovsky's requiem, with its second performance coming three weeks later at his memorial concert in St. Petersburg.
If you know of something that belongs on the agenda, please send it here. Don't forget to include the basics: who, what, when, where, and URL (if available).
And feel free to consider this your open thread for the day. What's happening in your world?
The Daily Agenda for Tuesday, May 6
Jim Burroway
May 6th, 2014
TODAY'S AGENDA is brought to you by:
When the Show Biz Supper Club opened in 1968 as San Diego's first night club featuring drag performers, it quickly earned a reputation as a high class joint with talented dancers and singers, and polished production values. That not only made it a hit in the gay community, but it also became something of a tourist attractions with buses running between the club and Mission Valley for its three nightly shows. The club finally closed its doors in 1982 after a fourteen year run. The owners, Clint Johnson and Greg Pool, then turned the space into B.J.'s, San Diego's first Country and Western gay bar, which later moved to a different location.
TODAY IN HISTORY:
The Word "Homosexuality" Coined: 1868.On this date, an Austrian-born Hungarian by the name of Karl-Maria Kertbeny (or Károly Mária Kertbeny, see Feb 28) wrote a letter in which he used, for the first time in recorded history, a new word of his creation: Homosexualität.
The letter was to German gay-rights advocate Karl Heinrich Ulrichs (see Aug 28). Ulrichs was, more precisely speaking, an urning-rights advocate. Ulrichs defined urning as a "male-bodied person with a female psyche," who is sexually attracted to men and not women. In fact, he had complex taxonomy to describe the many combinations and permutations of gender, gender role, attractions, and degrees of affection. In addition to urning, there was dioning (a heterosexual masculine man), uranodioning (a male bisexual), mannlinge (very masculine man with an attraction toward effeminate men), manuring (effeminate man who was attracted towards women), and virilisiert mannlinger (a "straight-acting" gay man) — and that was just for men. There was also a list of counterpart words for women. It was all very complicated to try to keep track of.
In English, the terminology was very simple — in fact, too simple. The word invert described gay men and women as embodying an inversion of sex-role behavior. But that term depended on a description of sex role behavior rather than sexual attraction, which meant that masculine men and feminine women who were attracted to the same sex fell outside of the definition.
And this is what set Kertbeny's homosexualität apart. For the first time, here was a simple word that went straight to the heart of the matter: the object of sexual or romantic desire was separated from the gender role — but not the gender itself — of the subject as part of the definition. This eventually allowed for the discussion of everyone who was attracted to the same gender, men and women, masculine and feminine.
Homosexualität made its first known public appearance the following year, when Kertbeny anonymously published a pamphlet calling for the repeal of Prussia's sodomy laws. Other German advocates picked up the word, and it eventually made its English appearance as "homosexuality" in 1894 when Richard von Krafft-Ebing's 1886 Psychopathia Sexualis was translated into English. Adoption in English was slow however. The famous English sexologist Havelock Ellis (see Feb 2) hated it on linguistic grounds: its mixture of Greek-based ("homo") and Latin-based ("sexual") roots were anathema to him. In his groundbreaking first volume of Studies in the Psychology of Sex published in 1897, Ellis clung to his favored term inversion, writing in a footnote on the first page of the text, "'Homosexual' is a barbarously hybrid word, and I claim no responsibility for it. It is, however, convenient, and now widely used." But even as he saw the writing on the wall he resisted and suggested an alternative: " 'Homogenic' has been suggested as a substitute," he added.
His suggestion of homogenic never caught on, and even he declined to adopt it. Invert remained a common term, but its usage continued to diminish until it finally met its demise in the 1920′s. That's when when the psychoanalytic theories of Sigmund Freud, who preferred the word "homosexuality" and its counterparts "heterosexuality" and "bisexuality" became popular in the English-speaking world. We've been homos (or bi's, as the case may be) ever since.
Nazis Storm the Institute of Sex Research: 1933. The great German sexologist Magnus Hirschfeld (see May 14) established the Institute of Sex Research in 1919. Located in Berlin's Tiergarten it became a major center for gay rights advocacy and research, with a massive research library archive. The Institute included medical, psychological, and ethnological divisions, provided marriage and sex counseling.
But when the Nazis came to power in January of 1933, the Institute quickly became a target of official ire. On May 6 of that year while Hirchfeld was on a lecture tour of the U.S., students of the Deutsche Studentenschaft began parading in front of the Institute. That night, Nazis attacked it and looted the archives. Four days later, those archives served as the fuel for the famous book-burning rally, where some 20,000 books and journals, and 5,000 images, were destroyed. The Institute's groundbreaking work came to an abrupt end. Hirschfeld remained in exile, first in Paris and later in Nice, where he died of a heart attack in 1935.
TODAY'S BIRTHDAY:

Rudolph Valentino: 1895-1926. Known as the original Latin Lover, Italina-born Rodolpho Guglielmi di Valentina D'Antonguolla's appearances in films like The Four Horsemen of the Apocalypse, The Sheik, Blood and Sand, The Eagle and Son of the Sheik established him as one of moviedom's earliest male sex symbols. When he died suddenly at the age of 31, his public viewing prompted near-rioting among his female fans. Valentino had married twice — once in an unconsummated marriage to the lesbian actress Jean Acker (see Oct 23), and then to Natacha Rambova, the artistic director for an early film they both worked on. That marriage also ended in divorce.
Neither marriage did much to quell rumors of Valentino's "effeminacy," which critics believed they detected in his sensitive and stylish portrayals on the silver screen. One Chicago Tribune editorial blasted his androgynous image as the "Pink Powder Puff." Wrote the writer, "When will we be rid of all these effeminate youths, pomaded, powdered, bejeweled and bedizened, in the image of Rudy–that painted pansy?" The evidence behind those rumors remains both skimpy and controversial. Oh well, his birthday is noteworthy regardless of whether he was gay or not. I mean, just look at him!
If you know of something that belongs on the agenda, please send it here. Don't forget to include the basics: who, what, when, where, and URL (if available).
And feel free to consider this your open thread for the day. What's happening in your world?
The Daily Agenda for Monday, May 5
Jim Burroway
May 5th, 2014
TODAY'S AGENDA is brought to you by:
TODAY IN HISTORY:
Marriage In Hawaii, Almost: 1993. In the case of Baehr v Lewin, Nina Baehr sued the state of Hawaii over the state's refusal to issue her and her partner a marriage license. That refusal, according to their lawsuit, amounted to illegal discrimination. On May 5, 1992, the Hawaii Supreme Court ruled that her argument had merit. They didn't rule Hawaii's ban illegal, but remanded the case to a lower court, and placed the burden on the state to prove that it had a compelling interest under strict scrutiny for denying same-sex partners a marriage license.
The case would drag on for another six years with little doubt about where the state Supreme Court would go if the case made its way back there again. And so on 1998, voters approved Amendment 2 to the state constitution, which made Hawaii the first state to amend its constitution to address same-sex marriage. But unlike other state constitutional amendments that would follow, Hawaii's Amendment 2 didn't ban same-sex marriage outright. It granted Hawaii's legislature the power to reserve marriage to opposite-sex couples, which it later did by passing a law that banned same-sex marriage.
In February of 2011, Gov. Neil Abercrombe signed into law a bill granting civil unions to the state's same-sex couples. That law took effect on January 1, 2012. A bill to allow same-sex marriage was introduced into the legislature in January 2013, but it quickly died without legislative action. After the U.S. Supreme Court struck down parts of the Defense of Marriage Act, a move which made civil unions unquestionably inferior to marriage at the federal level, Gov. Abercrombe called the state legislature back for a special session to take up a marriage equality bill. After a contentious hearings, the Senate and House finally approved the bill and Gov. Ambercrombe signed it into law, the state that started the first steps toward marriage equality twenty years earlier became the fifteenth state to make it available to same-sex couples in December.
TODAY'S BIRTHDAY:
Del Martin: 1921-2008. When young Dorothy Taliaferro was six years old, she experienced her first act of discrimination when she was denied a magazine delivery route just because she was a girl. That alone made her a life-long feminist, and it was that awareness that informed everything she did as an activist.
Her adult life started out rather conventionally. She studied journalism, married James Martin when she was nineteen, had a daughter, and divorced four years later. So much for conventionality. By 1950, Del was living in Seattle, writing for a construction trade magazine, where she met Phyllis Lyon (see Nov 10). In 1953, the couple moved to San Francisco, moved into a home together, established a joint bank account, and embarked on more than a half-century together as a couple.
But being a lesbian couple in the 1950s was a lonely experience for them. In their search for lesbian friends, Martin and Lyon, along with six other women, founded the Daughters of Bilitis in 1955, which became the first major lesbian organization in the United States (see Oct 19). The DOB grow from a small Bay-area club to a national organization dedicated to "the education of the variant; education of the public at large; participation in research projects; and investigation of the penal code as it pertains to the homosexual." In 1956, the DOB began publishing a monthly newsletter, The Ladder, with Lyons acting as its first editor and Martin contributing a groundbreaking essay in the very first issue. The DOB struggled to stake out its place in the emerging homophile movement. Martin chaffed when, as happened all too often, DOB was dismissed as the "women's auxiliary" of the Mattachine Society. At the Mattachine's 1959 convention in Denver, Del addressed the delegates and defended the need to keep DOB as a separate, women's-only organization:
What do you men know about lesbians? In all of your programs and your Mattachine Review you speak of the male homosexual and follow this with — oh yes, and incidentally there are some female homosexuals, too. … ONE magazine has done little better. For years they have relegated the lesbian interest to a column called "Feminine Viewpoint." So it would appear to me that quite obviously neither organization (the Mattachine Society nor ONE) has recognized the fact that lesbians are women and that the twentieth century is the era of emancipation of women…
In 1964, Del and Phyllis helped to found the Council on Religion and the Homosexual, bringing together national religious leaders and gay and lesbian activists for a discussion of gay rights (see Jan 1). In the late sixties, Del and Phyllis became active in the National Organization for Women, with Martin becoming the first open lesbian elected to the gruop's board of directors. As Martin saw it, lesbian issues were feminist issues, and she consistently lambasted examples of chauvinism among the male leaders of the gay rights movement. In 1970, Martin wrote a scathing article for The Advocate titled, "Goodbye, My Alienated Brothers," which became a clarion call for a separate lesbian movement that was completely independent from the male-dominated gay movement. "Goodbye to the male homophile community," she wrote. "'Gay is good,' but not good enough …We joined with you in what we mistakenly thought was a common cause." But her commitment to lesbian causes didn't end all cooperation with other gay activists. A year later, she flew to Washington D.C. for the annual American Psychiatric Association meeting to speak on a panel of "nonpatient" homosexuals, where Martin accused psychiatrists of becoming "the guardians of mental illness rather than promoting the mental health of homosexuals as a class of people in our society."
In the next decade, Martin's activism turned to domestic violence with the 1976 publication of her groundbreaking book Battered Wives
. That book, which is still in print, helped to launch battered women's shelters across the country. She also co-founded the Coalition for Justice for Battered Women and chaired NOW's Task Force on Battered Women and Household Violence. In the 1980s, Martin and Lyons became involved in advocacy on behalf of ageing gays and lesbians. They both served as delegates for the 1995 White House Conference on Ageing, where they represented the interests of older lesbians and prodded the conference into including sexual orientation in a nondiscrimination declaration. The couple also became heavily involved with Bay area Democratic politics. In 2008, Martin and Lyons became the first same-sex couple to be married after the California's Supreme Court ruling legalizing marriage equality. Del passed away two months later.
If you know of something that belongs on the agenda, please send it here. Don't forget to include the basics: who, what, when, where, and URL (if available).
And feel free to consider this your open thread for the day. What's happening in your world?
The Daily Agenda for Sunday, May 4
Jim Burroway
May 4th, 2014
TODAY'S AGENDA:
Events This Weekend: Curaçao Pride, Curaçao; AIDS Walk Las Vegas, NV; Miami Gay and Lesbian Film Festival, Miami, FL; Hot Rodeo 2014, Palm Springs, CA; Prague Rainbow Spring, Prague, Czech Republic; São Paulo Pride, São Paulo, Brazil; Sitges International Bear Meeting, Sitges, Spain; Tokyo Pride, Tokyo, Japan.
TODAY'S AGENDA is brought to you by:

From the Wisconsin GLBT History Project:
The Mint Bar had one of the longest histories of a gay bar in the Milwaukee area. Opening in 1949 on State Street in downtown, 20 years before Stonewall, the bar was an early beacon for gay men in Milwaukee. In 1971, when the GPU News began publishing its monthly GPU News, the bar immediately began advertising, calling itself a "male bar". It was managed for many years by Angel (Angelo Aiello), until his death in 1978, when his wife Betty Aiello took over.
In 1986, the area around that block of State Street was slated for redevelopment, and the Mint Bar was forced to relocate to 819 S. 2nd Street. It celebrated its 40th anniversary there in 1989, but already it was seen as an anachronism by younger gays and lesbians. Soon after, it became Angelo's, then it was sold to Bob Deitz and Jim Jones, who renamed it BJ's Mint Bar, then simply BJ's before closing in 1993, only to resurrect itself as another gay bar. It's now Fluid.
TODAY'S BIRTHDAYS:
Keith Haring: 1958-1990. Inspired by graffiti art in New York, Keith Haring's bold lines, vivid colors, and simple, active figures became an iconic presence throughout the 1980′s. He was a huge proponent of public art, and that led to commissions and collaborations from around the world. The very out, HIV-positive gay man even found common ground in his collaboration with the visionary Baptist preacher/folk artist Howard Finster.
From his AIDS diagnosis in 1988 until his death in 1990 at the age of thirty-one, his artwork also became the de facto art of AIDS through the work of the Keith Haring Foundation. In 2008, Rizolli published a 522-page monograph
supplemented with a wealth of material including drawings, studio photo, and journal entries. His journals
, which he kept from the age of nineteen until his death, were re-issued in 2010 by Penguin Classics.
Lance Bass: 1979. The 'N Sync alum grew up in Mississippi in a Southern Baptist family where, as many southern gay boys do, he learned to sing in the church choir. He further honed his bass voice (no pun intended) in his high school's award-winning show choir and in a state-wide choir, where he just happened to work with Justin Timberlake's vocal coach. When Timberlake left The Mickey Mouse Club in 1994 and joined up with Lou Perlman to put together a boy band, it was Timberlake's vocal coach who recommended Bass after the original bass singer dropped out. 'N Sync went on the record three multi-platinum studio albums which yielded eleven top forty pop singles including number one hits "Bye Bye Bye" and "It's Gonna Be Me."
After 'N Sync went on permanent "temporary hiatus," Bass took a turn at training at Star City, Russia to qualify for a seat on a Soyuz capsule for a trip to the International Space Station in 2002. He completed the grueling training which earned him a certification from NASA and the Russian Space Agency, only to lose that chance to go into space when his commercial sponsors withdrew their support over financial and liability concerns. In 2006, Bass came out in a cover story for People magazine. A year later, he followed up with his autobiography, Out of Sync
.
If you know of something that belongs on the agenda, please send it here. Don't forget to include the basics: who, what, when, where, and URL (if available).
And feel free to consider this your open thread for the day. What's happening in your world?
The Daily Agenda for Saturday, May 3
Jim Burroway
May 3rd, 2014
TODAY'S AGENDA:
Events This Weekend: Curaçao Pride, Curaçao; AIDS Walk Las Vegas, NV; Miami Gay and Lesbian Film Festival, Miami, FL; Hot Rodeo 2014, Palm Springs, CA; Prague Rainbow Spring, Prague, Czech Republic; São Paulo Pride, São Paulo, Brazil; Sitges International Bear Meeting, Sitges, Spain; Tokyo Pride, Tokyo, Japan.
TODAY'S AGENDA is brought to you by:

Portland, Oregon's The Other Inn opened in 1964 as the city's first documented leather bar. It's first owner, Jim Frantz, later sold it to Mama Bernice, a former barmaid at another gay bar, who took the leather boys under her wing as her "little bluebirds." Her daughter later ran the Dirty Duck. Portland's Gay Community Center moved into a space on the second floor above the bar and neighboring laundry in 1972. The entire block was razed in 1982 and replaced with a parking lot for many years before being redeveloped into an office tower.
TODAY IN HISTORY:
Sr. Francis Bacon Accused of "His Most Abominable and Darling Sin": 1621. On May 3, 1621, Sir Simonds D'Ewes published his political biography of Sir Francis Bacon, in which he accuses the great lawyer, scholar and "father of empiricism" of "his most abominable and darling sin." D'Ewes continued, "I should rather bury in silence than mention it, were it not a most admirable instance of how men are enslaved by wickedness and held captive by the devil." D'Ewes accused Bacon of "keeping still one Godrick, a very effeminate-faced youth, to be his catamite and bedfellow… deserting the bed of his Lady." That same year, Bacon resigned as Lord Chancellor over accusations that he accepted payment from litigants, which, while against the law, was a widespread and accepted practice at the time. He quickly confessed to accepting payments, a confession that may have been prompted by threats to charge him with the capital offense of sodomy.
Medical Report of a Gay Civil War Veteran: 1921. Dr. Clarence P. Oberndorf, a New York City psychoanalyst, spoke at the Annual Meeting of the Medical Society of the State of New York in Brooklyn about one of his patients, a 74-year-old Civil War veteran who suffered from depression, saying "For sixty years I have been leading a double life." He became aware of his feelings for other men at a very early age. "He preferred rough, coarse men, like longshoremen, husky and full of vitality. These he sought at intervals, while his acquaintances knew him as a refined gentleman interested in art and literature." He never married. "In my younger days," he remarked, "I used to grieve because of my affliction, but in later years I have become indifferent."
Oberndorf's goal was not to cure homosexuality per se. "Where treatment is undertaken for passive homoerotism in the male," — active homosexuals, or "tops," were not considered truly homosexual in the early 20th century — "psychoanalysis may powerfully influence the attitude of the patient toward his malady by removing some of the urgent neurotic fears which accompany the inversion. After analysis such an invert at least feels himself more reconciled to his passive homoeroticism than previously. I have had male passive homoerotics seek treatment with just such stipulations — not to be cured but to be made more content with their lives."
[Source: Clarence P. Oberndorf. "Homosexuality." New York Medical Journal 22, no. 4 (April 1922): 176-180. Available online here.]
MCC Wins Federal Grant to Resettle Gay Refugees: 1981. The Rev. Elder Freda Smith, vice moderator of the Metropolitan Community Church, announced that the gay church had been awared a $380,000 grant from the Reagan Administration to resettle gay Cuban refugees who were currently being housed in four reception centers across the country. Rev. Smith said the church had already resettled nearly 500 gay Cubans who had arrived during the previous year during the Mariel boatlift that brought 127,000 refugees to southern Florida. The gay refugees had additional motives for joining the boatlift: "Gays are looked down in Cuba because homosexuality runs against the macho attitudes in the country," Rev. Smith added.
Rev. Smith said that federal officials authorized the grant because the MCC was better equipped to resettle gay refugees than other groups. "We are an idea whose time has come," she said. She also reveald that the church itself would front another $100,000 toward the effort.
If you know of something that belongs on the agenda, please send it here. Don't forget to include the basics: who, what, when, where, and URL (if available).
And feel free to consider this your open thread for the day. What's happening in your world?
The Daily Agenda for Friday, May 2
Jim Burroway
May 2nd, 2014

Chris and I are back on the road again this morning, on our way from our home in Tucson Arizona to pick of our car from Sewell Ford in Odessa, Texas, where we left it more than a week ago with a broken-down transmission after only 55,000 miles. The folks at Sewell got it fixed under warranty more quickly than I thought they would and even faster than they thought they would — they had said that it might take a week before they could even look at it. But the service rep called Monday and said it was ready to be picked up. So we're heading out again for the nine hour drive to get the car, drop off the rental car, and return back to Tucson by Sunday night. We'll be sticking to the boring Interstates in a bid to make good time. Ya'll behave while I'm gone. See you Monday.
TODAY'S AGENDA:
Events This Weekend: Curaçao Pride, Curaçao; AIDS Walk Las Vegas, NV; Miami Gay and Lesbian Film Festival, Miami, FL; Hot Rodeo 2014, Palm Springs, CA; Prague Rainbow Spring, Prague, Czech Republic; São Paulo Pride, São Paulo, Brazil; Sitges International Bear Meeting, Sitges, Spain; Tokyo Pride, Tokyo, Japan.
TODAY'S AGENDA is brought to you by:

The Continental Baths were more than just a bathhouse. It also featured the night club where Bette Midler, Barry Manilow, and Wayland Flowers got their start. Other featured big name performers included Cab Calloway, Nell Carter, John Davidson, Gloria Gaynor, Andy Kaufman, Gladys Knight & the Pips, Manhattan Transfer, the New York Dolls, Pointer Sisters, Johnnie Ray, Martha Raye, Rip Taylor, Tiny Tim, Sarah Vaughan, and, exactly forty years ago tonight, cabaret singer Jane Olivor in a fundraising benefit for the National Gay Task Force.
TODAY IN HISTORY:
Disloyalty vs. Security Risk: 1950. So if you've been following along on the Daily Agendas (for example, Feb 28, Mar 14, Mar 23, Apr 18, Apr 26) you would have a pretty good feel for the incredible anti-gay hysteria that was sweeping the country in 1950. The twin scares — the Lavender Scare and the Red Scare — cemented in everyone's mind the argument that gay people in federal employment, particularly in the State Department and in the armed forces, represented a security risk which, in the words of the GOP chairman, were "as dangerous as the actual Communists" (see Apr 18). On May 2, columnist James Marlow took the opportunity to provide a couple of hypothetical situations to explain to readers the difference between being disloyal and being a security risk:
1. Jones, completely loyal, is a good worker, sober on the job. But at night, sometimes or often, he gets drunk and talks too much. In the non-sensitive agriculture department that might not make much difference, as long as Jones did his work and kept out of trouble when drunk. In the commerce department, if Jones held a sensitive job, he might be considered a security risk: he might blab secrets when drunk.

The commerce department could do one of two things: fire Jones on the ground that he was "unsuitable" for government work; or transfer him to a non-sensitive job. But state department officials say that if Jones worked there and was considered a security risk, he'd be fired. (The say emphatically they keep no known security risks or disloyal persons on the payroll, although Senator McCarthy, Republican of Wisconsin, says the place is full of them.)

2. Smith is found to be a homosexual. He's completely loyal but because of his secret sex habits may some day run into an individual or group which would blackmail him. In the state department, he'd be considered a security risk and out, officials there say.

Officials of other government agencies, sensitive and non-sensitive, told this writer they would get rid of a homosexual on the grounds that he was "unsuitable" for government employment, not because he was a security risk.
"Dr. H. Anonymous" Addresses the APA: 1972. For several years, gay activists Barbara Gittings (see Jul 31) and Frank Kameny (see May 21), among others, saw the American Psychiatric Association's classification of homosexuality as a mental illness as the single greatest impediment to equal rights for gays and lesbians. As long as the APA labeled gay people as sick, the government had an excuse to refuse to hire them, immigration authorities could refuse to allow them into the country, and thousands of therapists could continue to inflict harmful and questionable treatments to try to "cure" their patients (see, for example, see Jan 18, Jan 20, Mar 29, Jun 3, Jul 26, Oct 30, Dec 8, and our award-winning investigation, What are Little Boys Made Of?).
For Gittings and Kameny in particular, getting the APA to change its stance was a pressing priority. After years of protesting APA conventions as outsiders (see May 14), they finally were given permission in 1972 to organize a panel on homosexuality for that year's convention in Dallas. The panel's topic was to be "Lifestyles of Non-Patient Homosexuals." Gittings and Kameny were part of the panel, and they had recruited three other prominent psychiatrists, Judd Marmor, Robert Siedenberg and Kent Robinson. But they also felt it was important to include a professional psychiatrist who was gay. Finding one who would agree to speak was virtually impossible. Everyone they asked turned them down, except one: John Fryer (see Nov 7), and he would only do it in disguise. He wore a mask, wig, and a suit several sizes too big (which was not easy to find since Fryer was already a big man to begin with), and he spoke into a microphone which distorted his voice. And with all of those precautions in place, American psychiatrists, for the first time, heard a fellow psychiatrist by the name of "Dr. H. Anonymous" describe what it was like to be gay in a profession that considered him sick. His speech was short, but to the point:
Thank you, Dr. Robinson. I am a homosexual. I am a psychiatrist. I, like most of you in this room, am a member of the APA and am proud to be a member. However, tonight I am, insofar as in it is possible, a "we." I attempt tonight to speak for many of my fellow gay members of the APA as well as for myself. When we gather at these conventions, we have a group, which we have glibly come to call the Gay-PA. And several of us feel that it is time that real flesh and blood stand up before you and ask to be listened to and understood insofar as that is possible. I am disguised tonight in order that I might speak freely without conjuring up too much regard on your part about the particular WHO I happen to be. I do that mostly for your protection. I can assure you that I could be any one of more than a hundred psychiatrists registered at this convention. And the curious among you should cease attempting to figure out who I am and listen to what I say.

We homosexual psychiatrists must persistently deal with a variety of what we shall call 'Nigger Syndromes.' We shall describe some of them and how they make us feel.

As psychiatrists who are homosexual, we must know our place and what we must do to be successful. If our goal is academic appointment, a level of earning capacity equal to our fellows, or admission to a psychoanalytic institute, we must make certain that no one in a position of power is aware of our sexual orientation or gender identity. Much like the black man with the light skin who chooses to live as a white man, we cannot be seen with our real friends — our real homosexual family — lest our secret be known and our dooms sealed. There are practicing psychoanalysts among us who have completed their training analysis without mentioning their homosexuality to their analysts. Those who are willing to speak up openly will do so only if they have nothing to lose, then they won't be listened to.

As psychiatrists who are homosexuals, we must look carefully at the power which lies in our hands to define the health of others around us. In particular, we should have clearly in our minds, our own particular understanding of what it is to be a healthy homosexual in a world, which sees that appellation as an impossible oxymoron. One cannot be healthy and be homosexual, they say. One result of being psychiatrists who are homosexual is that we are required to be more healthy than our heterosexual counterparts. We have to make some sort of attempt through therapy or analysis to work problems out. Many of us who make that effort are still left with a sense of failure and of persistence of "the problem." Just as the black man must be super person, so must we, in order to face those among our colleagues who know we are gay. We could continue to cite examples of this sort of situation for the remainder of the night. It would be useful, however, if we could now look at the reverse.

What is it like to be a homosexual who is also a psychiatrist? Most of us Gay-PA members do not wear our badges into the Bayou Landing, [a gay bar in Dallas] or the local Canal Baths. If we did, we could risk the derision of all the non-psychiatrist homosexuals. There is much negative feeling in the homosexual community towards psychiatrists. And those of us, who are visible, are the easiest targets from which the angry can vent their wrath. Beyond that, in our own hometowns, the chances are that in any gathering of homosexuals, there is likely to be any number of patients or paraprofessional employees who might try to hurt us professionally in a larger community if those communities enable them to hurt us that way.

Finally, as homosexual psychiatrists, we seem to present a unique ability to marry ourselves to institutions rather than wives or lovers. Many of us work twenty hours daily to protect institutions that would literally chew us up and spit us out if they knew the truth. These are our feelings, and like any set of feelings, they have value insofar as they move us toward concrete action.

Here, I will speak primarily to the other members of the Gay-PA who are present, not in costume tonight. Perhaps you can help your fellow psychiatrist friends understand what I am saying. When you are with professionals, fellow professionals, fellow psychiatrists who are denigrating the "faggots" and the "queers," don't just stand back, but don't give up your careers either. Show a little creative ingenuity; make sure you let your associates know that they have a few issues that they have to think through again. When fellow homosexuals come to you for treatment, don't let your own problems get in your way, but develop creative ways to let the patient know that they're all right. And teach them everything they need to know. Refer them to other sources of information with basic differences from your own so that the homosexual will be freely able to make his own choices.

Finally, pull up your courage by your bootstraps and discover ways in which you and homosexual psychiatrists can be closely involved in movements which attempt to change the attitudes of heterosexuals — and homosexuals — toward homosexuality. For all of us have something to lose. We may not be considered for that professorship. The analyst down the street may stop referring us his overflow. Our supervisor may ask us to take a leave of absence. We are taking an even bigger risk, however, not accepting fully our own humanity, with all of the lessons it has to teach all the other humans around us and ourselves. This is the greatest loss: our honest humanity. And that loss leads all those others around us to lose that little bit of their humanity as well. For, if they were truly comfortable with their own homosexuality, then they could be comfortable with ours. We must use our skills and wisdom to help them — and us — grow to be comfortable with that little piece of humanity called homosexuality.
The panel was a sensation. Despite the august credentials held by the other psychiatrists, their contributions to the discussion were all but ignored. Dr. Anonymous's speech was the only thing people talked about. The "Dr. Anonymous" speech proved to be a critical turning point. The following year, Dr. Robert Spitzer, who was editor of the Diagnostic And Statistical Manual, met quietly with the Gay-PA and began the process of removing homosexuality from the authoritative manual. That process was completed by the end of the year (see Dec 15)
But on that day, the end goal still seemed to be very far away. But Fryer, despite his initial hesitation, was elated. The next day as he was flying back to Boston from Dallas, Fryer wrote in his diary:
The day has passed — it has come and gone and I am still alive. For the first time, I have identified with a force which is akin to my selfhood. I am not Black. I am not alcoholic. I am not really addicted. I am homosexual, and I am the only American psychiatrist who has stood up on a podium to let real flesh and blood tell this nation it is so.
[You can see Dr. Fryer's handwritten speech here and his diary entry here.]
TODAY'S BIRTHDAY:
Lesley Gore: 1946. She was still a junior in high school in 1963 when her single, "It's My Party" shot to number one, was nominated for a Grammy, and sold over one million copies. She followed that with a string of top forty hits: "Judy's Turn to Cry", "She's a Fool," "You Don't Own Me," and another Grammy nominated hit, "Sunshine, Lollipops and Rainbows." Her fame led to a cameo in the beach party movie, The Girls on the Beach, which also included an early appearance by the Beach Boys, and she played the villain, Pussycat, one of Catwoman's acolytes, in the Batman TV series. In 1980, she won an Academy Award, with her brother Michael, for the song  "Out Here On My Own" for the Fame soundtrack. In 2005, Gore revealed in an interview that she was a lesbian, and had been living with her partner since 1982.
If you know of something that belongs on the agenda, please send it here. Don't forget to include the basics: who, what, when, where, and URL (if available).
And feel free to consider this your open thread for the day. What's happening in your world?
The Daily Agenda for Thursday, May 1
Jim Burroway
May 1st, 2014
TODAY'S AGENDA:
Events This Weekend: Curaçao Pride, Curaçao; AIDS Walk Las Vegas, NV; Miami Gay and Lesbian Film Festival, Miami, FL; Hot Rodeo 2014, Palm Springs, CA; Prague Rainbow Spring, Prague, Czech Republic; São Paulo Pride, São Paulo, Brazil; Sitges International Bear Meeting, Sitges, Spain; Tokyo Pride, Tokyo, Japan.
TODAY'S AGENDA is brought to you by:

The River Club was among the earliest clubs to advertise in the Los Angeles Advocate in 1968. Located near the entrance to Griffith Park and across the Golden State Freeway from the delightful riparian entertainments of the Los Angeles River, it was popular among Latinos, due mainly to its being far from the barrios and the prying eyes of friends and neighbors. It also attracted a smaller number of African-Americans for similar reasons, although there were also other bars that catered to that community closer to home. The River Club's reputation as a friendly place for people of color made it an attractive location for Asians in the mid-1970s, and it maintained its international character right up until it closed in the early 1980s. The bar is gone and replaced with an apartment complex.
TODAY'S BIRTHDAY:
140 YEARS AGO: Romaine Brooks: 1874-1970. The American painter worked mostly in France, where she was surrounded by the brilliant colors of Fauvism and the decompositional attitudes of cubism, but her work hearkened back to the style of James Whistler. She was born Beatrice Romaine Goddard, and in 1903 she married John Ellingham Brooks. He was gay, but he couldn't take her gender-bending manner of dress and hairstyle. Their marriage lasted only a year, but she wound up keeping his name. The following year, she discarded the bright colors of her works which were so fashionable and adopted the darker, more subdued colors which would become her trademark.
Brooks took a string of unconventional lovers, including the American heiress Winnaretta Singer and Lord Alfred Douglas (Oscar Wilde's former lover), and the Russian ballerina Ida Rubinstein, who Brooks painted more than any other subject. Her paintings were almost all portraits, and very nearly all of them of women. By 1925, she had been featured in several successful solo exhibitions in Paris, London and New York, but after that year she produced only four more paintings. She briefly took up line drawing in 1930, but dropped that by 1935. Her longtime partner, Natalie Barney, also became her manager and continued to arrange shows for her. But after the Second World War, Brooks became increasingly reclusive and paranoid. By 1969, Brooks's paranoia led her to stop communicating with Barney entirely. Brooks died in 1970 at the age of 96.
Michael Dillon: 1915-1962. The first transman to undergo sex-reassignment surgery, he started life as Laura. His mother died just ten days after his birth. He was raised by two aunts in Kent, England, studied at Oxford, and began working at a research lab in Gloucestershire. He had long decided that he was not truly the woman others thought he was, so in 1939 sought treatment from a doctor who was experimenting with teststerone. But before getting the testosterone pills from his doctor, the doctor insisted that Dillon see a psychiatrist, who violated Dillon's confidentiality by blabbing about him all over town.
Dillon quit his professional job and fled to Bristol where he took a job at a mechanic's garage. The hormones, by then, were having their effect and he was able to present himself as a man. In 1939 when Dillon was in the hospital for hypoglycemia, he came to the attention of a plastic surgeon, a specialty that was still exceedingly rare at the time. That surgeon agreed to perform a double mastectomy, provided the necessary paperwork so Dillon could correct his birth certificate, and put him in touch with another plastic surgeon, Harold Gilles, who was already being regarded as "the father of plastic surgery."
Giles was in high demand to reconstruct penises for injured soldiors and he had also begun working with intersex people with ambiguous genitalia. He was willing to perform Dillon's phalloplasty, but he already had a long line of wounded soldiers in front of him. So while Dillon was waiting for his surgery, he enrolled in medical school under his new legal name and became a physician.
When Dr. Giles was finally ready to perform the first of at least thirteen surgeries between 1946 and 1949, he entered an official diagnosis of acute hypospadias, a rare birth defect of the penis, in order to conceal the fact that he as performing the world's first FtM reassignment surgery. Whenever Dillon returned to college following surgery, he attributed his limp and infections to war injuries. He also published a book, Self: A Study in Ethics and Endocrinology
, one of the first books to describe what would later be called transsexuality and transgenderism.
Dillon didn't discuss his own history in Self; that would come out in 1958 when his aristocratic roots would betray him, when Debrett's Peerage listed him as the legitimate heir to his brother's baronetcy, while another guide, Burke's Peerage, mentioned only a sister — referring to Dillon before he transitioned. By then Dillon was a ship's doctor, and his ship was docked in Baltimore when the news of his sex reassignment broke. Reporters threatened to tear off his clothe4s to see the evidence of his surgery. Dillon fled to India where he began studying Buddhism, entered  a monastery and took the name Lobzang Jivaka. His problems weren't over however, as his fellow monks and superiors refused to recognize him as male. He nevertheless wrote two books on Buddhism before dying on May 15, 1962 at the age of 47.
Tad Mosel: 1922-2008. It's a sad commentary on where television has gone that its first decade of widespread existence is often looked upon as its golden age. That's when people were still trying to figure out how to make the new medium work as an art form. Productions were on a shoestring budget, and in the very early years most programs went out live, forcing the actors and crew to stay alert and think on their feet. That immediacy made for compelling television that's not often seen today.
Mosel was born in Steubenville, but the family moved to New York City shortly after his father's grocery business failed following the stock market crash. His early exposure to Broadway in 1936 opened the young Mozel's eyes to the theater. After serving in World War II, he studied at Amherst, did graduate work at Yale Drama School, and earned a Masters at Columbia. He quickly found a place in television in 1949, shortly after commercial broadcasting began in New York City, with his first teleplay on Chevrolet Tele-Theater. He considered that job a diversion, nothing more than an opportunity to make a little money — very little money because no "self-respecting writer" would dare write for TV — before returning to the theater. As he recalled in 1997,
Even drunken screenwriters wouldn't write for television. So who was there left? It was us. It was kids who would work for 65 cents. And so with a very patronizing attitude you thought, "Well, if I could make a few bucks doing that, it would give me time to write the great American play." It didn't take too much experience to realize that television was a medium all in itself, and that it was a career all in itself, and it was a thrilling one. But we stumbled into it by being snobs if I may say so. They would give anyone a chance. I look back on it, and I think, "Weren't we lucky to be there?" Because it was pure luck that we were there.
He went on to become a major script writer for television drama, with plays appearing on Goodyear Television Playhouse (1953-54), Medallion Theater (1953-1954), Philco Television Playhouse (1954) and Producer's Showcase (1955), Studio One (1957-58), and CBS's prestigious Playhouse 90 (1957-1959). He returned to theater in 1960 with All the Way Home, which opened to critical acclaim and earned him a 1961 Pulitzer. The play was also adapted for television and film in 1963. He continued writing screenplays until retiring in the 1980s. He died at age 86 of cancer in 2008. His partner of more than 40 years, graphic designer Raymond Tatro, had died thirteen years earlier.
If you know of something that belongs on the agenda, please send it here. Don't forget to include the basics: who, what, when, where, and URL (if available).
And feel free to consider this your open thread for the day. What's happening in your world?
The Daily Agenda for Wednesday, April 30
Jim Burroway
April 30th, 2014
TODAY'S AGENDA:
Events This Weekend: Curaçao Pride, Curaçao; AIDS Walk Las Vegas, NV; Miami Gay and Lesbian Film Festival, Miami, FL; Hot Rodeo 2014, Palm Springs, CA; Prague Rainbow Spring, Prague, Czech Republic; Sitges International Bear Meeting, Sitges, Spain; Tokyo Pride, Tokyo, Japan.
TODAY'S AGENDA is brought to you by:

The Greenwich Village club opened sometime before 1960 as Trude Heller's Versailles Club, but the name seems to have been quickly shortened to that of the very out and very loud lesbian who owned the joint. One former performer remembered:
She required rockers to rock—no ballads. She'd go crazy with rage whenever we sang a ballad. I'd look down from the stage and see her getting angry, then she'd run over to the light switch and start flicking it on and off, screaming, "C'mon! C'mon! Let's twist already! Let's twist the night away! Come on, baby, let's do the f**kin' twist!…All she wanted was action and for the place to rock.
In the 1970s, Trude's featured live music sets with disco dancing inbetween with go-go dancer of both sexes dancing all night long. The music also changed with the times, featuring more funk and cabaret. Featured bands throughout Trude's two-decade reign included Joey Dee and the Starlighters, the Allman Joys (featuring a houng Duane and Gregg Allman), Otis Redding, Sam the Sham and the Pharaohs, Manhattan Transfer, the Mumps, and an early Beastie Boys. Celebrities also came calling, including George Hamilton, George Peppard, Prince Rainier and Princess Grace, Marlon Brando, Bob Hope, Andy Warhol, David Nivens, Rudolf Nureyev, Salvador Dali (with a pet ocelot as his date), and even the ultimate loner Greta Garbo. It appears that the club finally closed sometime in the early 1980s. Today the address houses a sandwich shop called Lenny's.
TODAY IN HISTORY:
"Ellen" Comes Out: 1997. Ellen DeGeneres had already come out as a lesbian publicly two weeks earlier with a Time magazine cover story titled, "Yep, I'm Gay." But Ellen Morgan, her clumsy, nervous, and eager-to-please character on her weekly sitcom, Ellen was as closeted as ever, although hints were dripping out throughout season four. Ellen's character finally came tumbling out in her characteristically awkward fashion when she met Susan, a lesbian television producer who assumed that Ellen was also gay. Although Ellen denied it, much of the episode dwelled on her trying to come to terms with the fact that she really, really liked Susan — in that way. When Ellen was told that Susan was about to leave town, Ellen rushed to the airport and, after much hemming and hawing, finally said it: "I'm gay" — while inadvertently saying it directly into the public address microphone that carried her announcement throughout the terminal.
Getting the episode to air was easier than you might think. Network executives had become antsy about the series' lackluster ratings and lack of focus, and DeGeneres wasn't much interested in fixing the problem by relying on the standard sitcom formulas of dating and relationships. One producer suggested that maybe Ellen could get a puppy, an indication of how desperate the producers were to think that a puppy was all that was missing. That plot element was discarded, but the suggestion lived on in the episode's title, "The Puppy Episode." ABC and Disney agreed to their next plan, which was for Ellen to come out as lesbian. After rejecting the first script for not going far enough — "If we're going to do it, let's do it," Disney executive Dean Valentine reportedly said — they began production on the episode on March 7.
Word spread, and the backlash soon followed. The studio received one bomb threat, and DeGeneres was followed to work by a "suspicious man" at least once. The American Family Association called for an advertiser boycott, as they always do, leading Chrysler to refuse to buy advertising time for the "Puppy Episode," along with did J.C. Penney. (DeGeneres would become the advertising face for J.C. Penney in 2012, prompting yet another AFA boycott.) Wendy's dropped Ellen from its sponsorship altogether, and ABC affiliate WBMA in Birmingham, Alabama refused to air the episode. Jerry Falwell displayed his monumental ingenuity by calling DeGeneres "Ellen Degenerate," to which DeGeneris responded, "I've been getting that since the fourth grade." Laura Dern, who played Susan, was unable to find work for a year and a half because of the episode.
"The Puppy Episode" however was the highest-rated episode of Ellen ever, drawing some 42 million viewers. It won two Emmys, a Peabody, and a GLAAD Media Award. Ellen was renewed for another season, but each subsequent episode was prefaced with a parental warning. Ratings dropped, perhaps because of the backlash, perhaps because of the warning, but also perhaps because so many episodes wound up dealing with gay-specific issues which were of little interest to the larger audience. At any rate, Ellen was cancelled after the end of Season 5.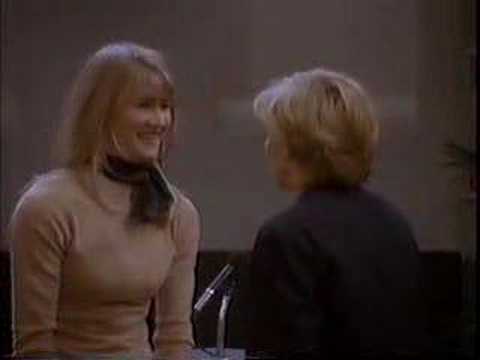 15 YEARS AGO: London Gay Pub Bombed: 1999. It was the start of a bank holiday weekend in Britain, and the venerable Admiral Duncan pub in Soho was packed with people getting an early start. Londoners that Friday evening were only somewhat wary following two unsolved bombings earlier that month in Brixton (April 17) and East London (April 24). Fortunately, nobody died in either bombing, although sixty one were injured, including a two year old toddler with a four inch nail embedded in his brain. Police narrowed the search to neo-Nazi David Copeland based on a CCTV image from the Brixton blast. Brixton was targeted because of its black population, while the East London neighborhood was largely inhabited by South Asian immigrants. Some feared that the next target might be Jewish, or possibly gay. One gay pub in Soho had put up a poster warning customers to be vigilant for any suspicious activity, but most people thought that his motivations were more racist than homophobic. That theory was quickly dispelled at 6:37 p.m. when a nail bomb that had been left in a bag at the Pub's entrance went off. Jonathan Cash, who would later write a play about the bombing, described it this way:
"The loudest, most alien sound I have ever heard ripped through the pub and smashed into my head. I don't know how long it went on – a couple of seconds, perhaps – then the most enormous crunch of something structural and solid. I felt no pain, just terror. My eyes were ringing, my nose filled with sulphurous dust and, in the blink of an eye, I saw unrecognisable shapes flying past towards the doors. With the dust and smoke, I could see little more than six inches in front of me. Somehow I was on the floor. Then I heard the screaming. I didn't make any sound. Or perhaps I did. I can't remember."
Andrea Dykes, 27, who was four months pregnant, was killed instantly, along with two friends, Nick More, 31 and John Light, 32. About seventy were injured, including Dykes's husband, Julian, who remained in a coma for three weeks. Four of the injured required amputations.
Police tracked Copeland down later that night and arrested him. He told them that he had hoped that his bombings would inflame racial tensions and create a backlash that would generate popular support for the radical-right British National Party. On June 30, 2000, a court sentenced Copeland to six life sentences, and in 2007 the High Court ruled that he should remain in prison for at least 50 years, guaranteeing that he will remain put away until at least the age of 73. There is now a memorial chandelier with an inscription and a plaque at the Admiral Duncan to remember those where were killed and injured.
TODAY'S BIRTHDAY:
Alice B. Toklas: 1877.Born in San Francisco, she met Gertrude Stein (see Feb 3) on the very first day that she arrived in Paris, on September 8, 1907. They remained inseparable for the next thirty-nine years until Stein's death in 1946. Together, they hosted one of the more illustrious salons that attracted the best writers and painters of the Paris avant-garde, including American expats Ernest Hemingway, Thorton Wilder, and Paul Bowles. Stein and Toklas were early patrons of Pablo Picasso and Henri Matisse, and they were also patrons of some rather unsavory characters before and during World War II. Their support for the Vichy government went far beyond considerations of wartime survival. They could have easily escaped to Switzerland, but their friendship with the anti-Semitic Bernard Faÿ and open admiration for Vichy leader Marshal Philippe Pétain (Stein translated a collection of Pétain's speeches into English to bring them to a wider audience) gave them privileges denied ordinary French citizens, let alone those who were both Jewish and gay.
Toklas was Stein's partner in every way: cook, lover, editor, critic and muse. Stein gave her own autobiography the tongue-in-cheek title of The Autobiography of Alice B Toklas, while Toklas's 1954 memoir was titled The Alice B Toklas Cookbook. It was, technically I suppose, a cookbook — there are three hundred recipes, including the famous brownie recipe titled "Haschich Fudge" — but it's was more accurately a memoir of the many dinners that Toklas and Stein hosted for their famous friends over the years. In 1963, Toklas really did write an autobiography, What Is Remembered, but it ends abruptly with Stein's death in 1946, much as Toklas's own life did in many ways. Their relationship being legally unrecognized, Stein's relatives plundered the couples' art collection and left Toklas in poor financial and physical health. She died in poverty in 1967 at the age of 89, and was buried next to Stein in the Peré Lachaise Cemetery in Paris.
If you know of something that belongs on the agenda, please send it here. Don't forget to include the basics: who, what, when, where, and URL (if available).
And feel free to consider this your open thread for the day. What's happening in your world?
The Daily Agenda for Tuesday, April 29
Jim Burroway
April 29th, 2014
TODAY'S AGENDA is brought to you by:

San Francisco's Polk Street in the 1960s had been lined with rather conventional bars and restaurants, but as the gay bars began to move in, the businesses which had been there catering to the straight crowd saw their business dry up. In 1970, a restaurant at 1695 Polk remodeled and re-opened as On the Q.T., with a name that gave a nod to the dual life that many gay people were living at the time. It began as a piano bar/cabaret and fine restaurant. It remained there until 1979, when it closed, moved to 1312 Polk Street, re-opened as QT II, and became one of San Francisco's better known hustler bars.
TODAY IN HISTORY:
The San Francisco Streetcar Murder: 1961. It was late on a Friday night, actually shortly after midnight on Saturday morning, when William P. Hall, 27, was waiting near his San Francisco home for a streetcar on the J line at 19th and Church Street alongside Dolores Park. He was on his way to a dinner date with a theater manager at a North Beach pizza parlor when a car pulled up and three youths, Larry Magee 16, of 116 Tiffany Avenue, Robert Hall, 17 (and no relation to William Hall), and William Castillo, 17, both of 680 Castro Street, piled out. "Are you a queer?", one of them asked. Hall replied "What if I asked you that question?" And that's when the trouble really began.
Hall was a well-liked teacher in Marin County, but that night he was accosted by four young men "looking to roll a queer," as they later admitted. They beat him mercilessly until his was unconscious, took his wallet containing $2.85, and left him lying on the trolley tracks. They then went piled back to the car, driven by Michael Kilkenny, 16, of 710 Castro Street, (and who police later said was the mastermind of the whole idea) and fled the scene. They then went looking in Buena Vista Park for other homosexuals to roll that night, although they later told police they didn't find any. Car trouble finally ended the spree for the night.
A few minutes after they left Hall on the J line, a streetcar came along and was unable to stop in time before Hall was "ground to death beneath the wheels," according to one news report. The motorman first told police that he thought he might have seen Hall feebly waving his arms as the streetcar approached, but later he said he wasn't sure if Hall had moved. Firemen worked for nearly an hour to jack the streetcar up, but Hall died from his injuries before he could be freed.
About a week later, an anonymous tip led police to arrest the four youths, who, according to a San Francisco News-Call-Bulletin report, were quite proud of what they did:
"They said they considered Hall's death justifiable homicide," said Inspector Robert McLellan, who with Inspector William Guthrie helped crack the baffling case. "They seem to regard the beating up of whomever they consider sex deviates as a civic duty."

The officers made clear Hall certainly was not in that unfortunate category.

"This is the first time we ever took anything," one youth said, admitting the beating they gave Hall was not the first they had administered. "Most of the time, one of these guys comes up and says something suggestive. Then we jump him." This boy said he knew of as many as 50 youths in his neighborhood who have taken part in similar attacks.
A later news report added:
"I know one fellow," volunteered Magee, "who has 28 or 29 queers to his credit. They're all over the city. This is becoming a homosexual town. They're even coming into the Mission District. You can't even go out to Dolores Park any more."

And what qualifies a teenager to diagnose anyone as a sex deviate?

"Well," Magee replied, "we ask 'em."
All four teens had juvenile police records which included battery, burglary, disturbing the peace, and auto theft. Kilkenny's father defending his son as "very studious" and "an upright young man." But Castillo's father was more forthcoming. "He's a bum," he said, tearfully, while blaming Kilkenny for being a bad influence. On September 8, all four teens were found guilty of first degree murder and robbery, charges which carried automatic life sentences.
[Sources: "'Queer Hunting' Among Teenagers." Mattachine Review 7, no. 6 (June 1961): 6-15.
Del McIntire (pseudonym). "Tangents." ONE 9, no. 7 (July 1961): 17-19.
"Four Youths Guilty in Streetcar Slaying." Mattachine Review 7, no. 10 (October 1961): 24.]
"I Am Proud Of My Gay Son": 1972. Frustration had been growing in New York City's gay community over the lack of news coverage of the gay rights movement since the Stonewall rebellion nearly three years before. When journalists and politicians gathered for the Fiftieth Annual Inner Circle dinner and comedy roast at the New York Hilton, members of the Gay Activists Alliance saw a perfect opportunity for a protest. But when they entered the ballroom during the intermission to distribute leaflets and briefly take the stage, they were thrown out. A fight ensued in the hallway, where, according to several city officials who witnessed the melee, Michael Maye, president of the city's Uniformed Firefighters Association, threw twenty-one year old Morty Manford down an escalator, then kicked and stopped him. (Despite the numerous witnesses, Maye was later acquitted of the assault.)
Manford's parents were outraged by the attack, and in April 29, Jeanne Manford's letter appeared in the New York Post announcing her unquestioned support for her son:
A Fair Chance

I would like to commend The Post for its coverage last week of the tragic incident that took place at the Inner Circle dinner, when hoodlums who work for our city were allowed to beat up the young men of the Gay Activists Alliance and walk away while our police stood by watching. It might be that these "men" have themselves some deep rooted sexual problems or they would not have become so enraged as to commit violence in beatings.

I am proud of my son, Morty Manford, and the hard work he has been doing in urging homosexuals to accept their feelings and not let the bigots and sick people take advantage of them in the ways they have done in the past and are continuing to do.

I hope that your honest and forthright coverage of the incident has made many of the gays who have been fearful gain courage to come out and join the bandwagon. They are working for a fair chance at employment and dignity and to become a vocal and respected minority. It is a fight for recognition such as all minority groups must wage and needs support from outsiders as well as participants in the movements.

Jeanne Manford
Two months later, Jeanne would walk alongside her son during the New York City Gay Pride Parade, carrying a hand-lettered sign that read, "Parents of Gays United in Support of Our Children." She later recalled that as they walked along the parade route spectators cheered and "young people were hugging me, kissing me, screaming, asking if I would talk to their parents. Very few of them were out to their parents for fear of rejection." That when Jeanne and her husband, Jules, got the idea of starting a local support group for parents of gays and lesbians. That support group grew to become the internationally-renowned Parents, Families and Friends of Lesbians and Gays (PFLAG), with 350 chapters more than 200,000 members in the U.S. Jeane Manford passed away in 2013 at the age of 92.
If you know of something that belongs on the agenda, please send it here. Don't forget to include the basics: who, what, when, where, and URL (if available).
And feel free to consider this your open thread for the day. What's happening in your world?
The Daily Agenda for Monday, April 28
Jim Burroway
April 28th, 2014
TODAY'S AGENDA is brought to you by:

Uncle Charlie's began in two Manhattan locations in the mid 1970s: Uncle Charlie's North was at 1049 Lexington Avenue near 75th street in the Upper East Side, and Uncle Charlie's South was at 581 3rd Avenue at 38th Street in the Murray Hill neighborhood. The north location eventually closed (it is now a specialty stationary story), and South was joined by Uncle Charlie's restaurant across the street and down a block at 542 3rd Avenue. Uncle Charlie's Downtown opened on Greenwich Avenue at around 1980. I don't know when Uncle Charlie's South or the restaurant closed, but South today is home to a sushi bar, and the restaurant location became a Mediterranean bar and restaurant. Uncle Charlie's Downtown closed in 1997 and became an Irish pub. Uncle Charlie's is still around (although I'm not quite sure of its provenance) as a gay piano bar.
TODAY IN HISTORY:
Gay Bar Bombed in Greenwich Village: 1990. A home-made pipe bomb exploded shortly after midnight early Saturday morning at Uncle Charlie's Downtown Bar, a popular video-bar in Greenwich Village. Damage to the building was described as minor, but at least three patrons were injured. Frizzell Green, said he was in the bar when the blast went off in a trash can, about five or six feet away from him. At first, police investigators told reporters that they didn't consider the bombing to be bias-related. Gay rights activists disagreed, and organized a march on Saturday evening. Three to five hundred people gathered at Uncle Charlie's and walked the ten blocks to the Sixth Precinct, blocking traffic and chanting "Hey, hey, ho, ho! Homophobia has got to go!"
The bombing went unsolved for five years, until February 1995 when Federal prosecutors charged El Sayyid A. Nosair with the attack. Nosair, one of the leaders of a fundamentalist Islamic terrorist group, was already serving a prison sentence for assault and possession of an illegal firearm in connection with the murder of radical Jewish Rabbi Meir Kahane. Bizarrely, the jury acquitted him of murder, leaving the judge in December 1991 to sentence Nosair to 7⅓ to 22 years in prison, the maximum allowed by law. So when Federal officials charged him again in 1995 for bombing the gay bar and conspiring to blow up other New York landmarks including the World Trade Center, he was found guilty of seditious conspiracy with other defendants, including the blind sheik, Omar Abdel Rahman, and sentenced to life imprisonment. At last report, Nosair was serving his sentence at the federal Supermax facility in Florence, Colorado.
TODAY's BIRTHDAY:
Ryan Skipper: 1981-2007. Ryan would be celebrating his thirty-third birthday if Joseph Beardon and William Brown, Jr., hadn't stabbed him more than 20 times, slit his throat, stole his car, left his body on a dark rural road in Wahneta, Florida, and bragged to friends that they killed him because he was "a faggot" on March 14, 2007. Jurors in Beardon and Brown's trial were visibly shaken when they saw the autopsy photos. The coroner testified that it was the cut to the throat that killed him. The cut was 3.5 inches deep, tearing through skin, tissue, muscles and, more fatally, an artery. Ryan quickly bled to death within minutes. Bearden and Brown tried to clean the car so they could sell it. But it was too badly soaked with blood to be cleaned and they didn't have a copy of the car's title to sell it, so they abandoned it on a dock on Lake Pansy in Winter Haven and set it on fire. The flames only caused minor damage, and investigators were able to retrieve both of their fingerprints from the car.
Prosecutors had sought the death penalty for Bearden, but jurors found him guilty of second-degree murder instead of first-degree murder as charged. He was also found guilty of theft of a motor vehicle, accessory after the fact, tampering with evidence, and dealing in stolen property. He was sentenced to life in prison. A few months later, Brown was found guilty of first degree murder, robbery, arson, and tampering with evidence. He was sentenced to life in prison without parole for the first degree murder conviction, another life term for the armed robbery with a deadly weapon, fifteen years for arson, and a five for tampering with evidence.
If you know of something that belongs on the agenda, please send it here. Don't forget to include the basics: who, what, when, where, and URL (if available).
And feel free to consider this your open thread for the day. What's happening in your world?
The Daily Agenda for Sunday, April 27
Jim Burroway
April 27th, 2014
TODAY'S AGENDA:
Pride Celebrations This Weekend: Philadelphia, PA (Black Pride); Potsdam, Germany; Tokyo, Japan.
Other Events This Weekend: Rodeo in the Rock, Little Rock, AR; AIDS Walk, Miami, FL; Side By Side International LGBT Film Festival, Moscow, Russia; White Party, Palm Springs, CA.
TODAY'S AGENDA is brought to you by:

According to Outhistory.org:
In the early 1960s, the Golden Horseshoe became Seattle's first regular-hours bar where men could dance openly with men. In exchange for this "privilege," the owners had to pay the police $50 per week, plus $15 a night for a cop to monitor the door on Fridays and Saturdays. Police pay-offs were common in this time period, a means of fending off harassment and keeping the bars open. In the late '60s, a group of bar owners joined forces with the FBI to expose the pay-off system; scores of Seattle police were dismissed and some were sent to prison.
At one time, Seattle's Pioneer Square neighborhood was the center of gay nightlife before it all moved to Capitol Hill. More recently, the Golden Horseshoe's former location housed an art gallery.
TODAY IN HISTORY:
"A Closer Union Than That Of Most Marriages": 1892. Mary Grew was the daughter of the Baptist preacher Henry Grew of Boston, who, after moving to Hartford, co-founded the Hartford Female Seminary and the Hartford Peace Society, which became a part of the larger New England Anti-Slavery Society. The elder Mary followed her father in his abolitionist footsteps. In 1840, she accompanied her father to the World Anti-Slavery Convention in London. But the convention's most severe debates centered not on slavery, but whether women should be permitted to participate in the conference. The elder Grew sided with the conference organizers who demanded that women be excluded. Mary's exclusion, which was supported by her own father, opened her eyes to the need to join the cause of women's suffrage.
Grew dedicated her life to feminism and abolitionism, the latter cause shifting to civil rights for African-Americans following the civil war. Her lifelong companion, Margaret Burleigh, also joined Grew in both causes. They shared a home and bed together until Burleigh's death in December, 1891. The following April, Grew responded to a sympathy note from fellow suffragist Isabel Howland, herself involved in a relationship with another woman. That may explain Grew's opening lines in her thank you note:
Your words respecting my beloved friend touch me deeply. Evidently you understood her fine character; & you comprehend & appreciate, as few persons do, the nature of the relation which existed, which exists, between her & myself. Her only surviving niece, Miss Ella Jones, also does. To me it seems to have been a closer union than that of most marriages. We know that there have been other such between two men, & also between two women. And why should there not be. Love is spiritual, only passion is sexual. …

Why do we speak of those who have "gone up higher," as though they were of the past? They live more really, more fully, than ever before; & they love us with a firmer, tenderer, nobler love. …

And I have the comfort & confident hope that my time on earth is nearing its end; for I am eighty-seven years old. I try to wait patiently. I do not feel wholly separated from her who was so large a part of my life.
[Source: Jonathan Ned Katz. Gay/Lesbian Almanac: A New Documentary (New York: Harper & Row, 1983): 230-231.]
Eisenhower Signs Executive Order Banning Gays from Federal Employment: 1953. By the time Dwight D. Eisenhower began his first term as president, an anti-gay witch hunt had been going on steadily for three years. When Undersecretary of State John Peurifoy, testifying before the US Senate Committee on Expenditures in the Executive Department, revealed that 91 employees "in the shady category" had resigned since 1947 (see Feb 28). Republican Senators took that admission to allege that President Harry Truman's administration's employment of "sexual deviants with police records" was recklessly endangering the country's national security. The Republican Party's national chairman sent a warning to 7,000 party members that, "Perhaps as dangerous as the actual Communists are the sexual perverts who have infiltrated our government in recent years." (See Apr 18).
So when Eisenhower took office, he was keen to demonstrate that he wouldn't be soft on the pansies. Three months after taking office, he signed Executive Order 10450 mandating that all federal employees who were determined to be guilty of "sexual perversion," among other offenses, be fired. As The Los Angeles Time described it, the "tough new loyalty-security program (is) designed to rid the government of homosexuals, alcoholics and 'blabbermouths,' as well as employees deemed subversive and disloyal. The Executive Order deemed all of those categories "security risks," regardless of whether they were actually disloyal or not. It didn't matter how low or innocuous their position was; their mere presence in a government office was deemed a threat. ONE magazine, the first national gay magazine in the U.S., worried about the order's far-reaching consequences:
Every item in the new standards can be used to hound and harry not only every homosexual in government and in basic industry, but all his friends, acquaintances, and associates, be they homosexual, homosexually inclined, bi-sexual, or heterosexual. Further, every name breathed as fact or as rumor, whether they be National Security employees or not, goes into the National Security files for cross-referencing to Armed Services Files and the local records of the Communities in which they live, towards another day of total mobilization, or a National Registration Act, whichever is first.

For the homosexual, to be loyal is not enough. The homosexual is required to be 100% anti-homosexual as well. He must agree, by taking a loyalty oath, to subvert the Constitution of the United States (which is not his to subvert) and testify against himself. Then, as a homosexual, he must testify against his own decency and integrity thereby making possible acts of aggression against every person he has ever known. Then, having destroyed himself as a person not only to the community but to his own conscience, he is to be tossed aside as a basic security risk by one or all of the five standards of the Security Program.

The homosexual's life is no longer a private matter to himself. It has become political by Presidential order.
More than 640 federal employees would lose their job because of allegations of homosexuality over the next year and a half. Unknown numbers of others resigned quietly. State and local governments and government contractors followed suit, tossing countless more innocent Americans out of their jobs.
Unintended consequences are funny things though. In 1957, a young astronomer by the name of Dr. Franklin Kameny was fired from the Army Map service because of his homosexuality (see Dec 20). After all of his court appeals were denied, he founded the Washington, D.C. Mattachine Society. In 1965, Kameny and Daughters of Billitis organizer Barbara Gittings (see Jul 31) organized demonstrations in front of the White House (see Apr 17, May 29), the Civil Service Commission (see Jun 26), Philadelphia's Independence Hall (see Jul 4), and the Pentagon (see Jul 31), all to demand an end to the federal employment ban. This demand remained a key component of the whole gay rights movement from the 1950′s through the 1970′s.
The Civil Service ban on gays and lesbians would continue for the next two decades. In 1973, a federal judge ruled that a person's sexual orientation alone had no bearing on an individual's ability to perform his or her job, and it could not be the sole reason for termination from federal employment. But even with that ruling, the U.S. Civil Service Commission held out until 1975 before finally notifying Kameny that they had changed their policies and were now allowing gay people to work in federal jobs (see Jul 3).
[Additional source: Anonymous ("R. Noone") "You are a public enemy." ONE 1, no. 5 (May 1953): 5-7.]
If you know of something that belongs on the agenda, please send it here. Don't forget to include the basics: who, what, when, where, and URL (if available).
And feel free to consider this your open thread for the day. What's happening in your world?
The Daily Agenda for Saturday, April 26
Jim Burroway
April 26th, 2014

I've been absent since a week ago Tuesday, on vacation to visit my inlaws, Chris's parents, in Abilene, Texas. When we travel to Abilene from Tucson, we generally avoid the Interstates as much as possible, preferring to travel the back roads and more scenic drives. This time, our route took us through Alamogordo, Ruidoso and Roswell, New Mexico, and then through Brownsfield, Post, Snyder and Sweetwater, Texas before picking up I-20 for the last short leg to Abilene. I don't know, I just find this kind of traveling far more relaxing and interesting than the mind-numbing conformity of the Interstates.
Another advantage (and disadvantage) of traveling that way is the spotty cellular and Wi-Fi coverage along those routes. Which means that much of the trip was blessedly free of Facebooking, Tweeting, emailing, and blogging. And it was also irritatingly void of those things at the same time. That online disconnect continued when we arrived at Chris's parents house because their broadband internet is wired directly to their lone desktop computer and they see no need for Wi-Fi. Cell coverage was fine, but by then I was actually beginning to enjoy the disconnect. Not that we were completely disconnected — we still had CNN on TV to keep us informed on all of the late breaking developments. (The plane is still missing! The ferry is still sinking!) But Chris's parents had just screened in their back porch, and it was just more enjoyable to hang out there with the parents and Chris's brother, drink a few beers, crack a few jokes at each other's expense, and play a few rounds of cards.
We stayed through the weekend and left Monday morning for our own little adventure to west Texas. San Angelo, Rankin, and Chris's hometown of Ft. Stockton, and then down to Marathon, Alpine, and Marfa, where we holed up at the beautiful and historic El Paisano Hotel. That's the hotel James Dean, Rock Hudson and Elizabeth Taylor stayed in while filming Giant. I missed grabbing the James Dean room by mere minutes. Oh well. Our room overlooking the courtyard was great, and the food and drinks at the bar were a welcome diversion. Good thing, too, because the Internet there was all caterwobbly, blazing for about two minutes then dead for six, then awesome for about a minute and a half and so on. So my disconnect continued, but by then I didn't care. The next day, we took as spin back through Alpine, Lajitas, and Presidio, to take in the beautiful Big Bend country, Elena Canyon, and the Rio Grande valley, then back up through Marfa to Ft. Davis to walk around the grounds of the historic fort.

But our real adventure began late Tuesday night, back in Marfa. I left the hotel to go a few blocks to a convenience store to pick up some snacks for Wednesday's eight hour drive back to Tucson. Got the stuff, got in the car, reversed out of the space, went out of the parking lot, turned right onto the highway, and that's when the transmission promptly blew up. On a three year old Ford with only 55,000 miles on it. No forward, no reverse. Just a terrible noise like rocks in a tin can and a vaguely burning smell. Shit. Fuck. All that and more. I pushed the car to the side of the road, screamed and cussed some more like a crazy person, trudged back to the hotel, and told Chris what happened. I called Ford on the phone. They arranged for a tow truck to meet us Wednesday morning for the 89-mile tow back to the nearest Ford dealership in Ft. Stockton.

Mike from Barbee's Wrecker Service met us that morning, and his cheerfulness and chattiness kept our minds off the drama (and off the broken air-conditioner in his cab) for the two hour tow. He told us about his wife, his kids, his speeding tickets, his 73 guns, his octogenarian neighbor rancher who called and wants Mike to help him break a horse, his mother-in-law's golf cart which he — okay she doesn't know this yet, so don't say anything — which he souped up with a Honda engine and off-road tires. Right after he finished his modifications, he took it out for a spin and promptly got a speeding ticket. Mike knows a shortcut, the Old Alpine Highway. Have you heard of it? Of course, says Chris, we used to go parking on that road. Mike veers off onto a washboard gravel road, and Chris's memories come flooding back. And now the two of them are swapping Ft. Stockton tales, about tornados, Rooney park, rollover accidents, the abandoned onion barns and stockyard by the railroad tracks. And there I am, sandwiched between them watching the dilapidated plastic dashboard bounce about three inches whenever the truck hits a mild rut.
We get to Ft. Stockton, to a rather small dealership with, I don't know, maybe five guys total working there. Bad news, says the Stockton Ford guy. They're a really small operation and it'll probably take about three weeks to fix the car. And guess what? Ft. Stockton's so small it doesn't have a rental car agency. But I gotta be back in Tucson for work now. I can't sit around for three weeks waiting for a car to be fixed. So I call up Ford on the phone again and explain the situation. Their solution? They want to tow me to the next closest Ford dealership, which is 73 miles away in Kermit. "Where's Kermit?" I ask. Stockton Ford guy rolls his eyes and mouths to me, "They're smaller than Ft. Stockton." Obviously, that won't work. What about Odessa? Ford on the phone says their policy is to only tow to the nearest Ford dealership, and that's Kermit, only 73 miles away. Odessa is 87 miles. It's Kermit or nothing, Ford on the phone insists. That stupid, I say. There's no point in going to Kermit when they can't do anything more than Ft. Stockton. Finally Ford on the phone works it out where they pay for 73 of the miles to Odessa if I pick up the remaining 14. Whatever. Fine. Two more hours in a hot, dusty tow truck with the ever cheerful Mike keeping our minds off our misery — the old Coleman Hotel fire, his father's pancreatic cancer, buddies coming back from Iraq, a former co-worker who escaped from the Zetas, what do you think of that Obamacare, you guys been together for eleven years? That's awesome, man! — and we make it to Odessa, where I can rent a car from Enterprise, say thank you and goodbye to Mike, and begin the journey home seven hours later and a hundred miles further away from where we planned to start off.
We don't make it to Tucson Wednesday night as planned, obviously. And since we need to make up time, it's now Interstate all the way. I call in to work and tell them I'll need another day.  We decide to push on to El Paso that night and get a room there. No doing. All the hotels are full. (Seriously!!! El Paso! I know, right?) Another hour later, we finally get the last room in Las Cruces, New Mexico. Hot, sweaty, hungry, tired, and we're bitching at each other. There's no Mike keeping us entertained and distracted anymore. We grab a burrito, shower and go to bed.
We sleep in late the next morning because now we've got all day to make a four-hour drive to Tucson so what's the rush, right? A nice leisurely breakfast, check out, and we're loading the trunk when Chris points to the front of the car and says, "Tire's flat." Damn, sure enough. Luckily, there's exactly one Enterprise office in Las Cruces. We air up the tire and make it to Enterprise. Unluckily, they already rented out their cars for the day and our tire's getting very low again. So Enterprise guy directs us to a busy tire shop about a mile away, where tire guy removes two nails, patches up the tire, and sends us on our way about three hours later.
We got back home to Tucson later that evening, almost exactly 24 hours after we originally planned. And now we can look forward to another unplanned trip back to Odessa to return the rental car and pick up our car in another couple of weeks.
So that was how I spent my spring vacation. I'm somewhat sorry I was so out of touch, but not really. Everyone should go on disconnect from time to time. But I'm back now. Anything happen while I was gone?
TODAY'S AGENDA:
Pride Celebrations This Weekend: Philadelphia, PA (Black Pride); Potsdam, Germany; Tokyo, Japan.
Other Events This Weekend: Hill Country Ride for AIDS, Austin, TX; AIDS Walk, Kansas City, MO; Rodeo in the Rock, Little Rock, AR; AIDS Walk, Miami, FL; Side By Side International LGBT Film Festival, Moscow, Russia; White Party, Palm Springs, CA; Splash, South Padre Island, TX.
TODAY'S AGENDA is brought to you by:

Mary's opened in 1972 as a gay bar in Houston's Montrose area, at around the time Montrose was just beginning to develop its identity as a gayborhood. It quickly established a rather wild reputation: "[T]he bar was known for having it's own set of rules, one of which made it 'illegal' to wear underwear. And newcomers who violated the rule would have their underwear stripped from them and thrown to the rafters, past the trapeze that was normally manned by a naked bartender or patron." As the years wore on, the bar also became something of a community center: "On a Friday night you could experience your favorite fetish out back, and on Monday you could attend a rally to support AIDS funding." The bar changed ownership in 2003, and experienced a long, slow decline. It's iconic outside mural was painted over in 2006, and the bar finally closed in 2009. The building now houses the Blacksmith coffee shop.
TODAY IN HISTORY:
State Department Continues Homosexual Purge: 1950. Two months earlier, Deputy Undersecretary of State John E. Peurifoy revealed in testimony before the Senate Appropriations Committee that the State Department had gotten rid of 91 employees accused of being homosexual (see Feb 28). After that news exploded onto newspaper editorial pages across the country (see Mar 23, for example), Peurifoy was appointed ambassador to Greece and Carlisle H. Humelsine took over his post at the State Department. In testimony made public on April 26, 1950, Humelsine told the House Appropriations Committee that the State Department's purge was continuing, with the number forced out rising to 148 since 1947 and eleven more under investigation.
"There is no doubt whatsoever in my mind and there is no doubt as far as the State Department is concerned, that a homosexual is a security risk," Humelsine told the panel. "We treat homosexuals as security risks. We are not attempting to run a campaign of going after people because of the fact that they have an illness. I think homosexuality is a type of illness. A homosexual, in my opinion, is just as sick as a person who has a cancer or some other disease. But it is absolutely apparent to us that these people are also security risks and we want them off our rolls. And we are going to get them off our rolls."
Australian Judge Sentences Nine for Homosexuality: 1950. And The Advertiser was there to record all of the details, including the names and addresses of the eight men who pleaded guilty to various charges of "homosexual offences." Two were sentenced to twelve months for "unnatural offence with each other," another got eight months for "unnatural office with another man," and five got four months for "gross indecency with another man." A ninth man was ordered to pay a " two year bond of £25 with two £25 sureties, not to associate with homosexuals or persons of bad character."
On passing sentence, the judge remarked, "It must have come as a shock to the citizens of Adelaide to learn that there were centres of homosexuality in this city. Such practices have always been regarded as abhorrent to public decency and have been treated in the Criminal Law Consolidation Act as serious crimes. Whatever psychology may say about this class of offender, my duty is to carry out the law and to impose sentences which will act as a deterrent to others, who are minded to commit homosexual crimes. …In the majority of the cases,  the sentences will be light. They will not however be taken as precedents for the future. If, after the warning of the present sentences, the offences are found to recur much heavier penalties will ensue."
If you know of something that belongs on the agenda, please send it here. Don't forget to include the basics: who, what, when, where, and URL (if available).
And feel free to consider this your open thread for the day. What's happening in your world?
The Daily Agenda for Friday, April 25
Jim Burroway
April 25th, 2014
TODAY'S AGENDA:
Pride Celebrations This Weekend: Philadelphia, PA (Black Pride); Potsdam, Germany; Tokyo, Japan.
Other Events This Weekend: Hill Country Ride for AIDS, Austin, TX; AIDS Walk, Kansas City, MO; Rodeo in the Rock, Little Rock, AR; AIDS Walk, Miami, FL; Side By Side International LGBT Film Festival, Moscow, Russia; White Party, Palm Springs, CA; Splash, South Padre Island, TX.
TODAY'S AGENDA is brought to you by:
Named for the nearby Forrest Theater, the restaurant and bar was bought in 1944 by Barney Zeeman, a pianist and former dance band leader in the 1920s and 1930s. By the 1960s, the Forrest began advertising itself in gay magazines and travel guides.  Zeeman died in 1976, and the Forrest continued to operate as a gay bar in various incarnations through the early 1980s. The location is now a leather bar known as the Bike Stop.
TODAY IN HISTORY:
Miami Police Reveals It Keeps Tabs on 3,000 Homosexuals: 1962. Florida Gov. C. Farris Bryant convened a conference in Miami for area law enforcement officers to discuss the "serious and growing problem of homosexuality and other sexual perversions in the state." The governor's spokesman, Vernon Williams, addressed the conference, saying "The governor feels a diligent effort is required on the part of all agencies to curb the growth of homosexuality. But it s not our intention to start a witch hunt." Williams had no need to announce a new witch hunt, as authorities in Miami and much of Florida had waged a rather long-standing campaign against gay people for much of the prior decade. Williams pointed to those campaigns and said that homosexuals were found "in the ranks of university professors, Sunday school teachers, and Scout leaders, among other professions."
Williams wasn't the only one discussing the results of various witch hunts. Closer to home, Dade County sheriff Thomas Kelly told the gathering that Metro police maintained a list of 3,000 local persons "suspected of being practicing homosexuals." He told the gathering that the list was comprised of people "from 8 to 80," and that they "tend to stay in groups and had many contacts throughout the county. … I feel that these people are sick."
Gay Protesters Arrested At Philadelphia's Dewey's Malt Stand: 1965. Dewey's was a chain of malt and sandwich shops with as many as eighteen locations sprinkled throughout Philadelphia. Many of them were open twenty-four hours a day, and the one on the 200 block of 13th Street known throughout Philly as the "fag Dewey's" was popular with the LGBT crowd, especially after the bars closed. But "a large number of homosexuals and persons wearing non-conformist clothing" began to filter into the 17th Street Dewey's management decided to keep the undesirables out of that location. On April 25, two teen boys and one teen girl were refused service. But instead of getting up and walking out, they remained seated and refused to leave. They were arrested along with Clark Polak, a gay rights leader and publisher of Philly's gay magazine Drum, and all of them were charged with disorderly conduct.
The Janus Society, an early Philadelphia gay rights group, had joined with several other east cost gay activist groups to form the East Cost Homophile Organization (ECHO), which, in a 1964 conference, agreed to engage in more direct actions, including protests, to confront provocations against the gay community. That agreement had already spawned two planned protests in April: the first ever pickets for gay rights in Washington D.C. at the White House (see April 17) and in New York at the United Nations (see April 18). The Dewey's sit-in was the perfect opportunity to put ECHO's new-found commitment to direct action to work in Philadelphia by organizing a five-day protest and leafleting campaign. Over 1,500 pieces of literature were distributed in front of the malt stand while gay rights leaders negotiated with the restaurant's management. On May 7, protesters staged another sit-in. Management called police, but this time police decided that they had no authority to force the protesters to leave. After an hour, management gave in and agreed to "an immediate cessation to all indiscriminate denials of service." It is believed to be the first documented instance of a sit-in in support of LGBT rights.
St. Paul Voters Overturn Gay Rights Ordinance: 1978. In 1977, a proposed state anti-discrimination law failed to pass the Minnesota legislature. That defeat, which occurred just three weeks before voters in Dade County, Florida voted down a similar measure that had been approved by the Miami-Metro government, emboldened anti-gay activists at St. Paul's Temple Baptist Church to turn their attention to that city's three-year-old gay rights ordinance. Pastor Richard Angwin, in launching the petition drive to put the ordinance's repeal on the ballot, stated frankly, "I don't want to live in a community that gives respect to homosexuals."
Anita Bryant, fresh off her victory in Miami-Dade, joined the fray along with her husband, Robert Green. A week before the vote, Anita Bryant failed to show up at a rally, telling some reporters that she didn't feel well. Some suspect that the pie-throwing incident in Des Moines the previous fall may have unnerved her when she changed her story, saying that she was afraid she'd be assassinated. Local gay rights activist Jack Baker (see Mar 10) scoffed at the idea. "We'd be silly to shoot her," he said. "She's the best thing that ever hit the gay community." Green showed up in her place and urged the crowd of 10,000 to stand against the forces of "moral breakdown of this nation," saying "the devil is really working overtime." Turnout was heavy for the special election, and St. Paul voters voted to repeal the the gay rights ordinance, 54,090 to 31,690. Soon after the election results were announced, over a thousand marchers demonstrated through the streets of St. Paul.
If you know of something that belongs on the agenda, please send it here. Don't forget to include the basics: who, what, when, where, and URL (if available).
And feel free to consider this your open thread for the day. What's happening in your world?
The Daily Agenda for Thursday, April 24
Jim Burroway
April 24th, 2014
TODAY'S AGENDA:
Pride Celebrations This Weekend: Philadelphia, PA (Black Pride); Potsdam, Germany; Tokyo, Japan.
Other Events This Weekend: Hill Country Ride for AIDS, Austin, TX; AIDS Walk, Kansas City, MO; Rodeo in the Rock, Little Rock, AR; AIDS Walk, Miami, FL; Side By Side International LGBT Film Festival, Moscow, Russia; White Party, Palm Springs, CA; Splash, South Padre Island, TX.
TODAY'S AGENDA is brought to you by:

The Old Plantation was one of a dozen gay bars operated by Frank Caven and Charley Hott, two entrepreneurs from Dallas, Texas, who operated gay bars and night clubs from El Paso to Tampa. Three of the clubs — in Dallas, Houston and Tampa — carried the Old Plantation name and logo. The Tampa location opened in 1978 and remained there until the late 1980s, when it became Village Station, which in turned closed down in the early 2000s.
TODAY IN HISTORY:
University of South Florida President Denies Hiring Homosexuals: 1963. Dr. John Allen, who became University of South Florida's first president when it was established in 1957, strongly denied charges that the school "harbored homosexuals" on its faculty. He also denied that the Tampa-based school was "soft on communism," was anti-religious, or that controversial writings by "'beatnik" authors were typical of the literature found in the school's reading program.
All of those charges were levied against USF and other Florida state colleges and institutions by the Johns Committee, Florida's homegrown version of the McCarthy Red and Lavender Scares from a decade earlier. Named for its first chairman, state Senator and former acting Governor Charley Johns, the Johns committee was established in 1956 to investigate so-called communist links to the NAACP and the Southern Christian Leadership Conference. In 1957, the Florida legislature broadened the committee's mandate to investigate gays in the state's colleges and universities, and reiterated that mandate again in 1961. Florida's leaders of higher education proved eager to demonstrate that Florida's sons and daughters were safe in their institutions, with many throwing their campuses open to heavy-handed investigators calling individual students and teachers out of class for interrogations.
The results of those investigations were made public in a report in 1963, in which Johns claimed credit for "flush(ing) 71 homosexual public school teachers and 30 homosexual deans and professors of universities," with an additional sixty-three cases against teachers still pending. Dr. Allen responded, quite forcefully, that his school was certainly not infested with homosexuals. The committee, he pointed out, established only one clear case of a gay teacher among the entire 500 person-staff, which was only "one-fifth of one per cent," as he put it. That person resigned immediately. Charges had been levied against two others which could not be supported, and reports indicated that they "later left the university for other reasons."
The Johns Committee, already facing calls for its dismantlement, was in the midst of a legislative budget battle to fund its continued work for another year. Committee supporters triumphed in the state Senate three weeks later, allocating $155,ooo (nearly $1.2 million in today's dollars) "to finance an even greater study of communism and homosexualism" over the next two years. That budget was more than double the $75,000 the committee was seeking. But the Johns Committee would finally overreach barely a year later with its publication of the famous "Purple Pamphlet," which was denounced as "pornographic" by politicians across the state (see Mar 17). In response to the outcry, the Legislature finally pulled the committee's funding in 1965.
[Sources: "Johns Offers to Step Out, Lauds Probe." Lakeland (Fla) Ledger (April 19, 1963): 1. Available online via Google Newspaper Archive here.
"Johns Committee Charges Denied by College Head." Sarasota Herald-Tribune (April 25, 1963) 4. Available online via Google Newspaper Archives here.
"Study Communism, Homosexualism: Senate Allots $155,000 To Legislative Probers." Ocala (Fla) Star-Banner (May 10, 1963): 3. Available online via Google Newspaper Archives here.]
New Orleans Police Institutes Massive Gay Roundup: 1981. In a 1982 article published in the Columbia Journalism Review, Randsell Pierson wrote a very informative piece wondering aloud, "Can the Straight Press get the gay story right?" Pierson had interviewed several closeted gay reporters at the New Orleans Times-Picayune who all said that they feared pitching gay-related stories to their editors for fear of being identified as gay. That silence, Pierson said, helped to explain why homosexuality was still illegal in 25 states and the District of Columbia. Lapses in coverage of gay issues was surprising, and among the many examples that Pierson offered up was this one:
Over a period of three days on the weekend of April 24, 1981, New Orleans police rounded up and jailed more than 100 gay men and women in a series of raids in the French Quarter. Those arrested were charged with "obstructing sidewalks" in front of gay bars. The arrests prompted a vigorous political response from the local gay community, which charged that the police were trying to drive gays out of the French Quarter. A protest meeting attended by 700 gays helped to persuade Mayor Ernest Morial and Police Chief Henry Morris to promise to investigate charges of police harassment. All charges against the arrested gays were subsequently dropped.

Two of the city's three television stations — WDSU (NBC) and WVUE )ABC) — followed the breaking story and sent film crews to the protest meeting held on the Tuesday following the weekend arrests. The Times-Picayine/States-Item waited five days after the first arrests to report on the story. The account, buried in section 5, said nothing about the protest meeting, which would seem to have been the logical peg, and failed to include in its tally the arrests a group of thirty-nine gay men picked up the previous Sunday. Reporter Allan Katz, who wrote the story, says: "They wanted somebody to do something in a hurry. You would think that because the story was four days old before they assigned it to a reporter they didn't consider it a major story. About the only time in my experience we really try to relate to gay news is when something really controversial comes up." Apparently, the arrest of more than 100 men and women in a city not under martial law was not considered "really controversial."
[Source: Randsell Pierson."Uptight on Gay News: Can the Straight Press Get the Gay Story Straight? Is Anyone Even Trying?" Chapter 59 in Larry Gross & James D. Woods (eds.) The Columbia Reader on Lesbians & Gay Men in Media, Society, and Politics
(New York: Columbia University Press, 1999): 368-376.]
If you know of something that belongs on the agenda, please send it here. Don't forget to include the basics: who, what, when, where, and URL (if available).
And feel free to consider this your open thread for the day. What's happening in your world?
The Daily Agenda for Wednesday, April 23
Jim Burroway
April 23rd, 2014
TODAY'S AGENDA:
Pride Celebrations This Weekend: Philadelphia, PA (Black Pride); Potsdam, Germany; Tokyo, Japan.
Other Events This Weekend: Hill Country Ride for AIDS, Austin, TX; AIDS Walk, Kansas City, MO; Rodeo in the Rock, Little Rock, AR; AIDS Walk, Miami, FL; Side By Side International LGBT Film Festival, Moscow, Russia; White Party, Palm Springs, CA; Splash, South Padre Island, TX.
TODAY'S AGENDA is brought to you by:

Atlantic City was a significant gay destination in the 1970s before the new round of casinos began to arrive in 1978. The M&M Lounge was part of the New York Avenue strip of gay bars and resorts. Over time, the M&M became a full service resort with a full service hotel, disco, piano bar, cabaret theatre, and a bathhouse. The location today is nothing but a parking lot.
TODAY IN HISTORY:
Hate Crimes Statistics Act Signed Into Law: 1990. Following strong support from the Administration and Congress, President George H.W. Bush signed the Hate Crimes Statistics Act into law in a ceremony at the Old Executive Office Building which, for the first time, included LGBT advocates, along with representatives from the ACLU, NAACP, and other groups that had criticized Bush's record on civil rights. The LGBT representatives were invited only after agreeing not to turn the signing ceremony into an opportunity to protest the Bush administration's AIDS policies. The law, which requires the Justice Department to institute a program to systematically collect hate crime statistics based on race, religion, ethnic background and/or sexual orientation, was the first federal law to specifically identify gays, lesbians and bisexuals. The Justice Department and FBI have been issuing annual Hate Crime reports since 1992. All reports from 1995 on are available on the web.
Sen. Rick Santorum's "Man On Dog" Interview: 2003. In an interview printed in USA Today, Sen. Rick Santorum (R-PA) was in the midst of blaming the Catholic Church's sexual abuse scandals on liberals and the "right to privacy lifestyle" (which Santorum made abundantly clear that he did not accept), when he cast his eye toward the pending U.S. Supreme Court case Lawrence v. Texas which would strike down sodomy laws later that summer. Santorum defended sodomy laws and launched his most infamous polemic against gay families:
AP: OK, without being too gory or graphic, so if somebody is homosexual, you would argue that they should not have sex?

SANTORUM: We have laws in states, like the one at the Supreme Court right now, that has sodomy laws and they were there for a purpose. Because, again, I would argue, they undermine the basic tenets of our society and the family. And if the Supreme Court says that you have the right to consensual sex within your home, then you have the right to bigamy, you have the right to polygamy, you have the right to incest, you have the right to adultery. You have the right to anything. Does that undermine the fabric of our society? I would argue yes, it does. It all comes from, I would argue, this right to privacy that doesn't exist in my opinion in the United States Constitution, this right that was created, it was created in Griswold — Griswold was the contraceptive case — and abortion. And now we're just extending it out. And the further you extend it out, the more you — this freedom actually intervenes and affects the family. You say, well, it's my individual freedom. Yes, but it destroys the basic unit of our society because it condones behavior that's antithetical to strong healthy families. Whether it's polygamy, whether it's adultery, where it's sodomy, all of those things, are antithetical to a healthy, stable, traditional family.

Every society in the history of man has upheld the institution of marriage as a bond between a man and a woman. Why? Because society is based on one thing: that society is based on the future of the society. And that's what? Children. Monogamous relationships. In every society, the definition of marriage has not ever to my knowledge included homosexuality. That's not to pick on homosexuality. It's not, you know, man on child, man on dog, or whatever the case may be. It is one thing. And when you destroy that you have a dramatic impact on the quality —

AP: I'm sorry, I didn't think I was going to talk about "man on dog" with a United States Senator, it's sort of freaking me out.
The AP reporter wasn't the only one freaking out. Dan Savage wrote a New York Times op-ed calling Santorum out for his blatant bigotry. Noting that Sen. Trent Lott had lost his post as Senate majority leader over remarks praising staunch segregationist Sen. Stromm Thurmond's (R-SC) 1948 presidential bid, Santorum was assured of escaping this outrage with no sanctions. "Unlike the former majority leader, Mr. Santorum didn't slip up and say something in plain English that every good Republican knows must only be said in code. Unlike Republican appeals to racist voters, Republican appeals to homophobic voters are overt."
But a month later, Santorum's comments were largely forgotten, except among the LGBT community. Lamenting that "the Santorum scandal didn't have legs," a 23-year-old reader of Dan Savage's "Savage Love" column suggested holding a contest to "'include' (Santorum) in our sex lives–by naming a gay sex act after him." Savage agreed, and invited readers to send in their suggestions. By June, the votes were counted, and a definition was promulgated:
Hey, everybody: We have a winner. Savage Love readers, by a wide margin, want Sen. Rick Santorum's name to stand for… THAT FROTHY MIXTURE OF LUBE AND FECAL MATTER THAT IS SOMETIMES THE BYPRODUCT OF ANAL SEX! It was a landslide for that frothy mixture; the runner-up, farting in the face of someone who's rimming you, came in a distant second. So congratulations to WUTSAP, who nominated that frothy mixture, and a big thank you to the thousands who voted.
The definition was created, but it still wasn't obvious that Santorum's name would be equated with the aforementioned byproduct. Four months after Santorum's infamous comments and two months after the definition was created, the neologism was still struggling to catch on. It wasn't until the end of the year when a new web site was created that SpreadingSantorum ended up becoming the most successful Google bomb in history. And with that, a callow comment which almost faded into history has become the name by which Santorum will be known for the rest of his life.
If you know of something that belongs on the agenda, please send it here. Don't forget to include the basics: who, what, when, where, and URL (if available).
And feel free to consider this your open thread for the day. What's happening in your world?
The Daily Agenda for Tuesday, April 22
Jim Burroway
April 22nd, 2014
TODAY'S AGENDA is brought to you by:
TODAY IN HISTORY:
State Department Fires One Homosexual Every Two Days On Average: 1953. In testimony before a Senate Appropriations Subcommittee hearing, Undersecretary of State Donald B. Lourie testified that the State Department was firing upwards of five employees a week on grounds that they were security risks. Of those, he said, about one every two days were fired on grounds of homosexuality. Sen. Joseph McCarthy (R-WI), who had been leading a three year Red and Lavender Scare campaigned, commended Lourie and Scott McLeod, department security chief, for "doing a good job." He added, "I think it's unfortunate that the public doesn't know what a painstaking job of housecleaning is being done." Sen. Allen Ellender (D-LA) asked why the State Department seemed to have so many more homosexuals on its payroll than other departments. Lourie replied that maybe they wanted "to get away from home" and go abroad to countries where homosexuality is "condoned." Lourie didn't explain which countries in 1953 condoned homosexuality.
"Conquering AIDS" Op-Ed in the New York Times: 1983. The epidemic was coming on its two year anniversary, and as of April 13, 1983, 1,339 people had been diagnosed with AIDS, with 505 known deaths recorded. Nearly half of them were in New York City. Dr. Kevin M. Cahill, director of the tropical disease center at Lenox Hill Hospital, became alarmed at the lack of action, both on the part of federal officials as well as New York's City Hall under Mayor Ed Koch. Cahill attributed that lack of urgency to "politicians (who) handled the epidemic with unaccustomed wariness. Almost without exception, public leaders evaded the epidemic issue, avoiding even the usual expressions of compassion and concern. The victims' sexual orientation apparently made involvement risky, and the politicians directed their courage and energies elsewhere." Cahill wondered why the medical community was "strangely absent" as the disaster escalated:
When a fatal infection struck down veterans attending an American Legion convention, health professionals across America joined in the search for a solution. When women using tampons became ill with toxic-shock syndrome, medical centers immediately focused their enormous talents on that problem. But when the victims were drug addicts and poor Haitian refugees and homosexual men, no major research programs were announced. Until it became clear that the disease could spread to the general population through blood transfusions, organized medicine seemed part of a conspiracy of silence.
Cahill applauded the "many instances of individual courage" by physicians, nurses and technicians who took up the fight with "a quiet dignity and decency that deserves special respect."
TODAY'S BIRTHDAY:
John Waters: 1946. The auteur of such film classics as Pink Flamingos
(1972), Female Trouble
(1974), Desperate Living
(1977), Polyester
(1981), and Hairspray
 (1988) grew up in the Baltimore suburb of Lutherville, the son of respectable upper-middle class Catholics and the product of a private education at Baltimore's Calvert School, Calvert Hall College High School, and Boys' Latin School of Maryland. He got his first 8mm camera from his grandmother for his sixteenth birthday. After quickly abandoning a short stay at NYU, Waters returned to Baltimore and began making low budget films with his childhood friend Glenn Milstead (later known as Divine, see Oct 19), Mink Stole, Cookie Mueller, Edith Massey, and several others that made up his company, the Dreamlanders. His influences included such figures as Walt Disney, B-movie producer Edward D. Wood, Jr., Frederico Fellini, Ingmar Bergman, Rainer Werner Fassbinder, and Andy Warhol.  His campy films with outlandish characters pushed the envelope of propriety and taste, out-exploiting exploitation films, out-trashing trashy films, and sailing under the budgets of Drive-in "B" movie fair.
His Trash Trilogy — Pink Flamingos, Female Trouble, and Desperate Living became art house favorites and set him up for his first mainstream crossover hit, Polyester, starring Divine, former teen heartthrob Tab Hunter (see Jul 11) and Ricki Lake. From then on, his films became somewhat less controversial — Divine would never again be seen eating dog shit — but they remained the same off-beat celebrations of the bizarre and outrageous as his earlier work. Only now, he could attract bigger name actors like Johnny Depp (Cry Baby
, 1990), Kathleen Turner and Sam Waterston (Serial Mom
, 1994), Melanie Griffith (Cecil B. Demented
, 2000), and Tracy Ullman and Johnny Knoxville (A Dirty Shame
, 2004). In 2003, Hairspray was adapted as a hit Broadway musical which won eight Tonys, eight Drama Desk Awards, and four Laurence Olivier Awards. That Broadway musical was then adapted for the 2007 film remake
, starring Michelle Pfeiffer Christopher Walken, Zac Efron, Queen Latifah, with John Travolta in drag for Divine's role as Edna Turnblad.
If you know of something that belongs on the agenda, please send it here. Don't forget to include the basics: who, what, when, where, and URL (if available).
And feel free to consider this your open thread for the day. What's happening in your world?
The Daily Agenda for Monday, April 21
Jim Burroway
April 21st, 2014
TODAY'S AGENDA is brought to you by:

One Sheridan Square had an illustrious history before it became The Haven in the late 1960s. In 1930, it was the first racially-integrated nightclub, Café Society. Modeled after the popular cabarets in Europe, Café Society featured such performers as Pearl Baily, Count Basie, Ella Fitzgerald, Anita O'Day, Leadbelly, Sarah Vaughn, and Dina Washington. Billie Holliday first sang "Strange Fruit" there, after which she simply left the stage without an encore, leaving the words to sink in with the audience.
Café Society closed in the 1950s, and One Sheridan Square became a restaurant, a theater, and, eventually The Haven. On September 7, 1970, the Village Voice's Lucian K. Truscott IV described The Haven in an article about New York's after-hours clubs:
The largest and most active club is the Haven on Sheridan Square. The scene is drugs and kids. In that order. It's a teen club for the super-hippie teeny-bopper who doesn't drink, is beyond grass and acid, and is looking for kicks. The Haven may reflect the times in music or in the clothes worn by its patrons, but its scene is an old one. It's cool. Very, very cool. So cool, in fact, that I saw a kid cool-out — that's overdose — in front of the Haven two Friday nights ago. And not a kid in the crowd of 300 gathered on Sheridan Square turned to take notice.

… It used to be Salvation until its owner was found floating face-up in the East River and the new name and management took over.  It's an after-hours "club," chartered by the state of New York as a "social club." It still looks like Salvation, but there's no liquor — perhaps because its clientele is too young to drink anyway — and the rates are cheaper. The admission at the door is $2 or $3, depending on the night and whether you can get in. I've tried three times and got in once. One I was a "member," and the other two times I wasn't, the membership policy of this chartered "Social Club" being rather loose and irregular. … The Haven, as entertainment, is a drag. The Haven, as a scene, is something more than that.
The Haven, which was reportedly controlled by the Gambino crime family, closed down in 1971 after it and several other gay and straight bars were raided by the New York Joint Strike Force Against Organized Crime. In contrast to the NYPD raid on the Stonewall Inn that touched off the seminal 1969 riot, this time officers reassured patrons that they weren't the targets and simply asked them leave peacefully. Gay activists, in turn, used the raids as an opportunity to call for reform of the liquor and zoning laws with the goal of driving out mob-controlled gay bars and allowing legitimate gay bar owners to operate in the area. One Sheridan Square today is home to the Axis Theatre Company.
TODAY IN HISTORY:
Three Homosexuals Order A Drink: 1966. Gay bars were made illegal in New York, due to a State Liquor Authority regulation against serving customers who were "disorderly," a term that was invariably used against anyone who was gay. Inspectors routinely revoked bars' licenses which allowed gay people to congregate, citing New York City's statutes against "indecent behavior." As a result, the better bars routinely refused to serve anyone suspected of being gay.
Furthermore, New York Police routinely launched entrapment campaigns in which they would place good-looking undercover officers in bars who would hit on suspected gay people, propose a sexual encounter, and arrest them and shut down the bar. Vice officers were under a monthly quota, which resulted in a lot men being arrested on flimsy evidence. All of this together drove the gay bar trade to the less reputable bars, often owned or operated by the Mafia who paid off police officers for protection.
To highlight the problem, members of the Mattachine Society — President Dick Leitsch and members Craig Rodwell and John Timmons — contacted reporters at The New York Times, The Village Voice, and The New York Post to say that they planned to stage a "sip in" at a bar in the Village. The idea behind the sip-in was to go into a bar, announce that they were homosexual and order a drink. If they were served, the reporters would report on it, and the bar would either serve them and risk their liquor license, or refuse to serve them and they would then sue to bar. As Leitsch later recalled:
Well, first of all, we were going to go to this bar on 8th Street (the Ukrainian-American Village Restaurant). They had a sign in their window saying, if you're gay, go away. And we thought that would be very dramatic and we'd go there and ask for service and see what happened. We notified the press and being gay, we got there late. And the New York Times had already gotten there and said, what about this gay demonstration? And the manager said, what? So he closed the place for the day.

When we got there, there's a sign on the door saying, closed today. And so then we decided we had to go Julius' because Julius' had been raided like 10 days before. The bar would have a sign in the window saying, this is a raided premises, and very often they'd put a uniformed cop on the stool inside the door, and he sat there until the trial came up.

So we knew that Julius' would not serve us because they have this thing pending. And so when we walked in, the bartender put glasses in front of us, and we told him that we were gay and we intended to remain orderly, we just wanted service. And he said, hey, you're gay, I can't serve you, and he put his hands over the top of the glass, which made wonderful photographs. The whole thing ended up in court, and the court decided well, yes, the Constitution says that people have the right to peacefully assemble and the state can't take that right away from you. And so the Liquor Authority can't prevent gay people from congregating in bars.
The May 5 edition of the Voice carried the headline, "Three Homosexuals In Search of a Drink," and featured a photo of the three Mattachine members seated at the bar with the bartender's hand covering their drinks. After stories appeared in the Times and the Post, the Liquor Authority was forced to abandon its anti-gay operations. But NYPD raids would continue for at least three more years, culminating in that fateful raid at the Stonewall Inn in 1969.
Julius' bar, which dates back to 1864, is still in business, billing itself as Greenwich Village's oldest bar and New York's oldest gay bar.
Wall Street Journal Coverage of  the Ex-Gay Movement: 1993. The article opens with a description of an ex-gay meeting at the Foursquare Pentecostal Church in Hayward, California, near San Francisco, where a 31-year-old former missionary talked about his despair over the difficulties of trying to change:
He confesses: "It's not working, and I don't know why." The others, regulars at this Friday-night support group, are sympathetic; they know the temptations of the flesh and the damnation they figure awaits those who succumb. "It's a matter of will," says one. "You have to make the choice." Maybe, suggests another, it is demonic possession.

The erstwhile missionary's eyes grow watery. He has begged God to free him, has surrounded himself with Christians and spent a month in an in-patient treatment program. But nothing has worked, and thinking about it just makes it worse — especially at these meetings. "I'm having sex, I'm having fun, and I don't feel bad about it," he confesses. "Not getting AIDS is all I care about."
Having sex, having fun and not feeling bad about it are not options here. Another of those interviewed was John Evans, who, with Ken Philpot and Frank Worthen, founded Love In Action (which would later move to Memphis). Evans had already left the ex-gay movement when his best friend, Jack McIntyre, killed himself over his failure to change. McIntyre had spent four years in Love In Action before winding up in the psychiatric ward at Marin General Hospital:
There, in 1977 at age 46, he recorded his thoughts in a letter: "No matter how much I prayed and tried to avoid the temptation, I continually failed. . . . I love life, but my love for the Lord is so much greater, the choice is simple. . . . To continually go before God and ask for forgiveness and make promises you know you can't keep is more than I can take. I feel it is making a mockery of God and all He stands for in my life."

In room 104, he gave himself Communion, swallowed a lethal nightcap of Valium and Dalmane — tranquilizers and sleeping pills — and lay down on a couch to a quiet death.
By 1993, Exodus International claimed 65 affiliated ministries, but Evans said, "They're destroying people's lives. If you don't do their thing, you're not of God, you'll go to hell. They're living in a fantasy world." Among those in that fantasy world was John Paulk, who was also interviewed for the Journal:
Mr. Paulk had been a prostitute, a female impersonator named Candi and an alcoholic who tried to kill himself before he decided to become straight and marry an ex-lesbian he met in church last year. "I had no sexual interest in women at all," he says. "But when you begin a relationship with a woman that you believe God has led you to, then you develop attraction to that person. To say that we've arrived at this place of total heterosexuality — that we're totally healed — is misleading."
In 1993, Paulk was a cautious "success story" for the  ex-gay movement. He would later run Focus On the Family's Gender and Homosexuality division, and he was elected to two terms as chairman of Exodus International. In 1998, he helped to found Love Won Out, a traveling ex-gay roadshow and infomercial conducted jointly by Focus and Exodus. Love Won Out staged a half a dozen conferences per year in cities across North American for the next thirteen years. That same year, he and his ex-lesbian wife, Anne, became the face of the ex-gay movement in a massive publicity campaign that culminated in their landing on the cover of Newsweek. In 2000, Wayne Besen photographed Paulk as he was leaving a gay bar in Washington, D.C. (see Sep 19). After a brief hiatus, Paulk returned to ex-gay ministry, and continued working at Focus On the Family and speaking at Love Won Out conferences for the next three years.
In 2003, the Paulks left Focus and moved to Oregon, where John started a catering business while Anne continued writing books and speaking on the ex-gay circuit. But in 2013, John recanted his ex-gay beliefs and issued a formal apology to the "countless people (who) were harmed by things I said and did in the past." Later that year, he and Anne divorced. Meanwhile, Anne helped to form a break-away group of former Exodus ministries following Exodus president Alan Chambers's acknowledgment that change in sexual orientation was not possible. She now serves on the board of directors of that dissident group, Restored Hope Network.
[Source: Michael J. Ybarra. "Going Straight: Christian groups press gay people to take a heterosexual path." Wall Street Journal, Eastern edition (April 21, 1993): A1.]
If you know of something that belongs on the agenda, please send it here. Don't forget to include the basics: who, what, when, where, and URL (if available).
And feel free to consider this your open thread for the day. What's happening in your world?