Merry Christmas! Dems Duck DADT
This commentary is the opinion of the author and may not necessarily reflect those of other authors at Box Turtle Bulletin.
Jim Burroway
December 26th, 2008
How's this for a Christmas present? The Roll Call is reporting that Congressional Democrats have decided to delay taking up the repeal of "Don't Ask, Don't Tell" for at least two years — that would be after the mid-term elections:
Key Democrats — even openly gay lawmakers — are quietly conceding to letting another two years go by before trying to overturn "Don't Ask, Don't Tell," the controversial 1993 law banning openly gay people from serving in the military. Most fear that moving too quickly on such a divisive issue could backfire, and most would rather tread lightly, at least in the early months of President-elect Barack Obama's administration.

Former Secretary of State Colin Powell and Speaker Nancy Pelosi (D-Calif.) both have said the time is right to revisit the policy that Powell, then-chairman of the Joint Chiefs of Staff, helped implement. But Pelosi, for one, refused to say whether she planned to bring legislation to the floor next year to overturn the law…

Democratic lawmakers regularly beg off questions about the contentious policy, arguing that other issues are far more important — such as winding down the war in Iraq or bolstering the economy. They also remember the political uproar when then-President Bill Clinton used the beginning of his presidency to try to overturn an outright ban on gays serving in the military. That effort tied his administration in knots in his first months in office, and Democrats fear a repeat performance."
The country has chanced a lot in the past fifteen years since DADT was put into effect. But the Dems haven't. They're just as cowardly as they always were, this time spooked by a fifteen-year-old ghost.
The Democratic party holds a commanding presence in the House, and a very strong one in the Senate. If they wait two years, we're looking at after the mid-term elections — when the ruling party typically loses seats.  After that, we'll hear the predictable counsel that DADT will not be doable with the more conservative Congress. This is the strongest position the Democratic party is likely to be in for some time.  As one famous politician who had no fear of shaking things up often asked, if not now, when?
And where is the HRC on this? Oh, I see. They're fully on board with the timid wait-and-see approach. Are they representing our interests here? Or the Democratic Party's?
It's time we had leadership that's not afraid of its own shadow. Our opponents certainly haven't made their gains by moving with such timidity.
[via Queerty]
NY Dems: Thanks for the Money but Forget the Promises
Timothy Kincaid
November 28th, 2008
Democrats in New York have taken the State Senate for the first time in 40 years, to a significant extent due to a flood of contributions from gays and lesbians wanting marriage equality. Now it looks as though this was not money well spent.
Since the election, three Democratic Senators have been holding up the assention of the Senate leader, threatening to vote with Republicans unless there is a written promise not to bring marriage equality up for a vote. Now it seems that other Senate Democrats are finding that "it's not the right time" to support their gay constituents (NY Times):
After a pledge from New York Democratic leaders that their party would legalize same-sex marriage if they won control of the State Senate this year, money from gay rights supporters poured in from across the country, helping cinch a Democratic victory.

But now, party leaders have sent strong signals that they may not take up the issue during the 2009 legislative session. Some of them suggest it may be wise to wait until 2011 before considering it, in hopes that Democrats can pick up more Senate seats and Gov. David A. Paterson, a strong backer of gay rights, would then be safely into a second term.
I know that there are stong allies of equality in the NY Democrat Party. And I hope that they will remind their associates that the duty of an elected official is to his constituents and that promises – even those made by politicians – are not empty words to be disgarded when inconvenience rises.
If that doesn't work, maybe gay money (and gay-friendly money) can fund primary challenges in coming elections.
Michelle Obama Speaks At LGBT Delegates Lunch in Denver
Jim Burroway
August 27th, 2008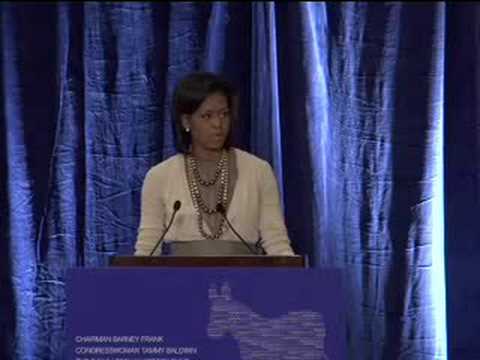 Congratulations Amanda Simpson
Jim Burroway
May 2nd, 2008
I have the distinct pleasure of knowing Tucson's own Amanda Simpson. She is not only a truly amazing, dynamic woman, but she's a genuine trailblazer as well. She's as been a local activist and former member of the City of Tucson Commission on GLBT Issues, and she was the first transgender nominee to run for the Arizona House of Representatives.
So I was tickled pink to learn that she was selected to be an at-large delegate to this year's Democratic National Convention in Denver, Colorado. She will be there as a delegate for Sen. Hillary Clinton, and she "will fully support and work to elect" whoever wins the nomination.
Please indulge me as I give a personal shout out to Amanda. Congratulations!
Maryland Senator Muse Champions Bigotry
This article is the opinion of the author and does not necessarily reflect the opinions of other authors at Box Turtle Bulletin
Timothy Kincaid
March 15th, 2008
Those who are regular readers know my frustration with the Democratic Party in Maryland. They have allowed one anti-gay legislator to dictate the level of discrimination that the state will impose on its gay citizens.
Let me be clear. Most Republicans in the state are far worse, many seeking to ban equality through revision to the state constitution. And some even oppose letting couples in a long term relationships make medical decisions for each other.
On the Senate floor yesterday, Republicans said that allowing an unmarried couple who have been partners only a short time to trump parents or children in crucial life-and-death medical decisions struck them as irresponsible.

"How far are we going to go?" asked Sen. Alex X. Mooney (R-Frederick). "Let's not put domestic partners above the family. Let's put them after."
But that isn't all that surprising from the Party that brought us Sally Kern. Such attitudes, however, are supposed to not prevail in the Democratic Party. Yet it is the Democratic Party leadership that has placed power in the hands of a man who blocked the chance of Senators to even consider marriage equality or civil unions.
Religious objections proved the determining factor in a key, evenly split Senate committee that a marriage or civil unions bill needed to clear before getting to the floor. The swing vote was C. Anthony Muse, a Prince George's County Democrat who was lobbied intensely by gay rights advocates and lawmakers to pass a civil unions bill. But Muse, pastor of an evangelical Christian church in Upper Marlboro, said he ultimately was bound by biblical teachings that say only men and women should marry. The bills are likely to languish without a vote.
There will be a vote taken on some piece-meal rights such as health care decisions or inheritance. But Muse was not content in allowing gay people to make determinations about their own health without taking the opportunity to champion bigotry.
yesterday, he voted for several Republican-sponsored changes to the medical decision-making measure, including one that would have barred public schools from teaching about domestic partnerships. The changes were rejected. Muse said he is unsure how he will vote when the Senate takes a final vote on the bill next week.
I do not doubt that Senator Muse has experienced discrimination in his lifetime. But that does not excuse him for doling it out to those citizens that he dislikes.
And it's time for the Democratic Party in Maryland to recognize that those minority legislators, be they gay or black or whatever, who campaign against the rights of other minorities, be they gay or black or whatever, are engaging in bigotry and have no place in any position of authority.
Senator Muse needs to feel the consequences of his homophobia. And as long as the Maryland Democratic Party continues to allow Muse to stand in the way of equality, they will receive no respect from me.
See also:
Blade Asks What Happened In Maryland
Maryland Passes Limited Rights for Gay Couples
Maryland Balances Budget by Taxing Gay Widows
Maryland Senator Muse Champions Bigotry
Maryland AG Endorses Marriage Equality
Maryland Legislator Calls Anti-Gay Bluff
Maryland Introduces Bill to Legalize Same-Sex Marriage – Are Democrats Committed to Equality?
Maryland Marriage Poll
Rights of Gay Maryland Couples Threatened by One LegislatorDem
This commentary is the opinion of the author and may not reflect the opinions of other authors at this site.
Timothy Kincaid
March 7th, 2008
The Baltimore Sun is reporting that gay couples in Maryland may have to settle, at least for a while, for far less than marriage equality.
Although the state's legislature is overwhelmingly Democrat, it appears that not only is marriage considered an impossible goal, so too is civil unions or really anything other than small package of selected benefits. And it is all due to one man:
[Sen. C. Anthony ] Muse, a Prince George's County Democrat, opposes same-sex marriage but had considered supporting civil unions. He said yesterday that while civil unions are "off the table," he's concerned about providing equal rights. He said a more narrowly tailored bill could have the support in the full Senate to pass.
Although there are between 340 and 425 benefits provided by the state that could be provided on an equal measure, gay couples can at best expect a trickle.
Lawmakers expect that the alternative measure would combine three existing bills conferring some rights and benefits, such as hospital visitation rights, to same-sex couples into one bill. They plan to build upon that with other protections.
Muse, an evangelical minister, seems to base his objections to civil equality on his own religious beliefs. While this is not uncommon in Republican politics (to the dismay of fiscal conservatives, federalists, and libertarians), the Democrat Party prides itself – and rightly so – in placing equality of citizens as a higher priority than the observation of religious exclusionary traditions.
But as of yet I have not heard of any repercussions to Sen. Muse's obstinate religously motivated political actions coming from either the state or national Democrat party. Muse seems to be free to dictate discrimination, and it does not appear to me that any Democrats in positions of leadership are willing to stand up to him and call him on his bigotry.
I have no doubt that there are a great many of our readers that are Democrats. Further, I am convinced that members of the gay community are far far more dedicated and contribute more time and money per capita to Democrats than nearly any other constituents.
It is a disgusting betrayal of trust that this state be dominated by Democrats who are willing to give their gay citizens merely the barest pitance. I think it may be time for loyal gay Democrats to contact their friends in Maryland leadership and in the national Democrat leadership and ask why Sen. Muse has been given veto power on providing any measure of equality to gay couples.
Perhaps a good question might be why Sen. Muse continues to sit on that committee.
And if the State or National Party is unwilling to stand up for gay citizens, perhaps the next fundraising appeal should receive the following response from gay party members:
Of course, in words I support the Party. And naturally some day, when the populace is in total agreement about the Democrat Party and such an act isn't controversial, I'll send you a check for $1,000. But in the meanwhile, here's a check for two cents. Oh, and I'll be sure to tell everyone just what a great person I am for giving you anything at all.
We deserve better, people. Let's demand it.
C. ANTHONY MUSE
Democrat, District 26, Prince George's County
James Senate Office Building, Room 304
11 Bladen St., Annapolis, MD 21401
(410) 841-3092, (301) 858-3092
1-800-492-7122, ext. 3092 (toll free)
e-mail: anthony.muse@senate.state.md.us
fax: (410) 841-3410, (301) 858-3410
Maryland Democratic Party
188 Main Street Suite 1
Annapolis, MD 21401
410-269-8818 (main)
410-280-8882 (fax)
webdem@mddems.org
Democratic National Committee
430 S. Capitol St. SE
Washington, DC 20003
Main Phone Number: 202-863-8000
(For questions about contributions, please call 877-336-7200)
email here
Political Party Condescends to Gays
This commentary reflects the opinions of the author, and is not necessarily those of the other contributors of Box Turtle Bulletin.
Timothy Kincaid
February 8th, 2008
A lawsuit has revealed some rather discouraging details about the relationship between the Republican Party and the gay community. The Peter Pace controversy highlights the ways in which the Party was condescending and dismissive of gay Americans.
In March 2007, Major General Peter Pace, the Chairman of the Joint Chiefs of Staff, was asked about the continued relevance of the anti-gay Don't Ask – Don't Tell policy which discriminates against gay service members.
"I believe homosexual acts between two individuals are immoral and that we should not condone immoral acts," Gen Pace told the Chicago Tribune.

"As an individual, I would not want [acceptance of gay behavior] to be our policy, just like I would not want it to be our policy that if we were to find out that so-and-so was sleeping with somebody else's wife, that we would just look the other way, which we do not. We prosecute that kind of immoral behavior," he said.
This sort of statement was met with shock. Some, such as Carl Levin the ranking Democrat on the Senate Armed Services Committee issued a strong rebuke:
"I strongly disagree with the chairman's views that homosexuality is immoral."
However, this was not the universal response. Both leading presidential candidates for the Republican nomination were less forceful, one ignored questions while the other said that it was up to "others to conclude" whether homosexuality is immoral. Both positions were later repackaged – as a result of public outrage – but the initial response was a total lack of concern.
This dismissal of the blatant insult was also shared at the Party level.
A series of emails released as part of a lawsuit, and analyzed by the Washington Blade, demonstrates a willingness to condescend to gay constituents. The Republican Party sought the weakest response possible and contemplated releasing the response solely to the gay press while seeking to keep it quiet from the mainstream press. They didn't want to offend their religious voters by suggesting that gay people might not be inherently immoral.
OH WAIT, I MISTYPED
It was not the Republican Party that was condescending. It was the Democratic Party.
The ranking member of the Armed Services Committee that condemned Pace's statements was Republican John Warner from Virginia.
The Presidential candidate who ignored the question was Barack Obama. The one who said it was up to others to conclude whether homosexuality was immoral was Hillary Clinton.
And it was the Democrat Party that sought a weak response provided solely to gay press.
As the Blade reports
LaVera e-mailed Karen Finney, DNC's director of communications: "Brian [Bond] is concerned that we might take hits if we don't comment on it — not so much on the merits of the 'don't ask, don't tell' but on Pace's language about immorality, etc. Personally, I'm concerned that we'll create too many problems if [DNC Chair Howard] Dean condemns the sitting Chairman of the Joint Chiefs during a time of war. I think it's better to do a statement from a DNC spokesperson saying Pace's rhetoric isn't constructive."

In the protracted e-mail exchange obtained by the Blade, LaVera and Daughtry advocate for sending a statement only to reporters working for gay press and keeping any mention of it off the DNC web site. They also oppose sending the statement to mainstream news wires. That way, the DNC can have it both ways — placating the gays with a toothless statement while ensuring that any faintly pro-gay statements don't gain traction or visibility in mainstream media. The DNC leadership wouldn't want to go out on a limb and actually stand up for the dignity of gay service members who had just been called "immoral," because that might offend one of those religious voters that Dean and Daughtry are so desperate to please.
Please don't misunderstand me. I am not trying to suggest that the Republican Party as a whole is better on gay issues than the Democratic Party. That is clearly not the case.
However, I believe that we have, as a community, been willing to accept crumbs and scraps while paying for tenderloin. The gay community has been disproportionately generous with our money, our time, and our loyalty. And we receive so little in return. We would have seen the actions above if taken by Republicans as evidence of animus while we make excuses for Democrats who talk nicey-nice to our faces while treating us like the ugly red-headed stepchild of which they are ashamed.
I recognize the importance of political pragmatism. We gain nothing by supporting fringe candidates or by ignoring that some progress is better than none.
But I think that it is time for us to be upfront. It is time for us to tell our candidates, "I may be voting for you, but you stink on my issues." It's time to stop pretending that second-class is worthy of praise. We need to tell candidates, be they Republican or Democrat, that anything less than equality is discrimination, condescension, and morally bankrupt.
It's now time for candidates of all stripes to come to realize that partial bigotry is bigotry, that partial inequality is inequality. They may get our vote, but they do not deserve our respect.
Maryland Introduces Bill to Legalize Same-Sex Marriage – Are Democrats Committed to Equality?
Timothy Kincaid
January 25th, 2008
Legislators in both the State Senate and the House have introduced bills to remove the gender requirement in state marriage law.
More than a fourth of state lawmakers have signed up to sponsor a bill that would legalize same-sex marriages in Maryland, the measure's proponents announced today.
Although the bills have substantial support, they are unlikely to succeed. The leadership in both houses oppose the bills.
Gov. Martin O'Malley and House Speaker Michael E. Busch have said that they prefer civil unions. Senate President Thomas V. Mike Miller opposes both same-sex marriage and civil unions.
Maryland's legislature is predominantly Democrat with a 33 to 14 advantage in the State Senate and 103 to 36 in the House. The leaders of both chambers are Democrats, as is the Governor.
The efforts today can probably best be viewed as an inter-party squabble, an effort on the part of some Democrats to force the hand of their leadership.
Although in control, the Maryland Democrat Party has done nothing to advance the rights of gay couples. They sat back after the state Supreme Court declared that gay persons are not equal under the Maryland Constitution and decided that it was just too soon and they are just too busy to find some measure of protection that they could put in place.
This will be an interesting case to watch.
The AP is currently reporting on the frustration that many gay individuals are feeling over the lack of courage on the part of Democrat Presidential candidates to stand up for equality. They quote Bay Windows editor Susan Ryan-Vollmar.
"They've merely settled on what the Democrats have staked out as a safe, consensus position, just far enough ahead of where the party was in 2004 to give a sense of progress but not so far as to threaten Middle America," Ryan-Vollmar wrote. "That's not leadership, it's poll-tested and party-approved pandering, pure and simple."
And some gay writers are starting to question whether Barack Obama's flirting with the anti-gay black vote by embracing ex-gay Donnie McClurkin was all that accidental in light of his endorsement by Rev. Kirbyjon Caldwell. Even his language used on Martin Luther King's birthday which was often described as supportive of gay people spoke of "embracing" gays but not necessarily supporting their cause. Those of us familiar with anti-gay religious dogma are weary of "embracing" and "loving" that is not coupled with support for civil equality.
Meanwhile, the Democratic National Committee is being sued for anti-gay discrimination. Documentation released seems to suggest that the DNC may assume that it own the gay vote while showing contempt for the gay voters. (Queerty has a good synopsis)
As we told you earlier, a poll of Marylanders by the Baltimore Sun demonstrated that they overwhelmingly support civil unions or marriage for gay couples. So the legislature leaders cannot claim that the will of the people is not behind couple recognition.
In is into this sense of uncertainty that this bill is being introduced. And the Maryland marriage vote may well become a 'put up or shut up' moment. If the Democrats in the Maryland legislature defeat marriage equality without putting in place civil unions, gay men and women may become so disheartened that they question how much energy they wish to place in advancing candidates of a Party that takes them for granted. Gays may begin to ask if being "a bit better than the Republicans" is enough.
See also:
Blade Asks What Happened In Maryland
Maryland Passes Limited Rights for Gay Couples
Maryland Balances Budget by Taxing Gay Widows
Maryland Senator Muse Champions Bigotry
Maryland AG Endorses Marriage Equality
Maryland Legislator Calls Anti-Gay Bluff
Maryland Introduces Bill to Legalize Same-Sex Marriage – Are Democrats Committed to Equality?
Maryland Marriage Poll
My Question For The NBC Democratic Debate
Daniel Gonzales
January 10th, 2008
This question is for candidates who support civil unions for gay couples but not full marriage:

Given the landmark Supreme Court case Brown v Board Of Education which declared that separate is inherently unequal, how do you justify your position of giving gay Americans something less than full marriage?
Submit your own question here.