Wolfe and Rosen Decline DNC Fundraiser
Jim Burroway
June 23rd, 2009
Two more very prominent LGBT Democrats have announced that they will not attend Thursday's Democratic Fundraiser as a way of voicing their frustrations with the Democratic party. The first one is Chuck Wolfe, president of the Gay and Lesbian Victory Fund. The Washington Blade reports that "an informed source" confirmed that Wolfe will not attend. The biggest surprise, to me at least, was the announcement that Hilary Rosen also has decided not to attend.
Wolfe and Rosen join at least eleven others who have announced they won't attend the fundraiser. Those declining to attend include Civil Rights Project Director of Gay and Lesbian Advocates and Defenders (GLAD) Mary Bonauto, San Diego City Commissioner and former co-chair of the Obama LGBT Leadership Council Stampp Corbin, Executive Director of the National Gay and Lesbian Task Force Rea Carey, Utah businessman Bruce Bastion, Vermont Senate President Pro Tem Peter Shumlin, political strategist David Mixer, blogger Andy Towle, Executive director of the Empire State Pride Agenda Alan Van Capelle, former Clinton administration aide Richard Socarides, HRC National Field Director Marty Rouse, and Wall Street realtor Corey Johnson. says that:
Many of those who will attend say that they respect and support the intentions of the boycott, and they are going to "carry a message dierctly to the senior DNC leadership." One is Joan Garry, the former Executive Director of the Gay and Lesbian Alliance Against Defamation (GLAAD) who says:
"…the controversy is about more than a group of people withdrawing from a fundraiser and it's about more than impatience. I fear that the language of the DOJ brief is causing a crisis of confidence, and I believe the administration needs to address those words head on because words really do matter," she said.

…When asked to comment on the decisions of others not to attend the event, Garry replied, "the important piece of the puzzle is to be engaged in whatever way makes the most sense for you."
At least two organizations have announced that they won't support the fundraiser, although some of those organizations' board members and other officials will be there representing themselves. The organizations that have announced they won't be part of the fundraiser include the Stonewall Democrats and the Servicemembers Legal Defense Network. Two SDLN board members however will attend. None of the board members for the National Black Justice Coalition will attend, although that doesn't appear to be the result of an official NBJC decision.
More Groups Send Their Regrets To DNC Fundraiser
Jim Burroway
June 22nd, 2009
There haven't been any more individuals announce their refusal to attend this week's DNC fundraiser since Mary Bonauto made her announcement last week. But two more groups have said that they will not participate. The Servicemembers Legal Defense Network Executive Director Aubrey Sarvis issued this statement on the SLDN web site:
SLDN will be outside boycotting the Democratic National Committee (DNC) LGBT event in Washington this Thursday. SLDN will be calling upon the President to end his silence on "Don't Ask, Don't Tell." We will be wearing and handing out buttons with the number 265, representing the number of service members who will have been discharged this week since President Obama was sworn in. We do not, nor would we want to, dictate how members of our board or our Military Advisory Council make their political views known. However, I understand that two board members are attending the DNC event. I also understand they will be making their own spirited and creative statements once inside the room.
And On Top magazine has learned that none of the board members of the National Black Justice Coalition will attend, although that doesn't appear to be the result of an official NBJC decision:
A leaked email of GLBT dignitaries confirmed for the DNC event includes the name of Alexander Robinson, the NBJC's former executive director who stepped down on June 1. Barlett, who is also a Connecticut state representative, confirmed no NBJC board member would attend the controversial event, but added that was not a formal endorsement of a DNC boycott.

"I don't know of any board members that are intending on going," Barlett said.
Stonewall Democrats announced last week that they would drop their support for the DNC fundraiser. That's in addition to eleven prominent LGBT activists who have also said they won't attend. Those activists are Civil Rights Project Director of Gay and Lesbian Advocates and Defenders (GLAD) Mary Bonauto, San Diego City Commissioner and former co-chair of the Obama LGBT Leadership Council Stampp Corbin, Executive Director of the National Gay and Lesbian Task Force Rea Carey, Utah businessman Bruce Bastion, Vermont Senate President Pro Tem Peter Shumlin, political strategist David Mixer, blogger Andy Towle, Executive director of the Empire State Pride Agenda Alan Van Capelle, former Clinton administration aide Richard Socarides, HRC National Field Director Marty Rouse, and Wall Street realtor Corey Johnson.
The LGBT Community Finds Its Voice. It Turns Out It's In Its Wallet.
Jim Burroway
June 19th, 2009
LGBT advocates have continued to express their outrage over the Justice Department's DOMA brief. That brief has sparked a rebellion among LGBT Democrats who have continued to pull out of next week's DNC fundraiser organized by the LGBT Leadership Conference and featuring Vice-president Joe Biden. Eleven LGBT leaders have announced that they will not attend the fundraising event. Even the Stonewall Democrats have withdrawn their support.
That has set the White House on a mad rush to try to quell the rebellion. Two top Obama aides, Deputy Chief of Staff Jim Messina and Political Director Patrick Gaspard, will hold an emergency conference call on Monday afternoon with the LGBT caucus of the Democratic National Committee (DNC). The reported purpose of the call is to provide "important updates on the Administration's LGBT agenda and how we move forward." That move is in addition to news from earlier today that the Justice Department will meet with LGBT groups to discuss how it deals with DOMA cases going forward.
This follows President Barack Obama's hastily called Oval Office photo-op on Wednesday to sign a Presidential Memorandum directing federal agencies to adopt policies to treat their LGBT employees on equal footing with their other employees — although health and retirement benefits aren't included because they are barred by federal law. The White House has also directed the Census Bureau to determine changes in its procedures to allow same-sex unions to be counted.
The White House has finally gotten the message that they have stumbled badly. After months of silence and footdragging on LGBT issues, they have now come to understand that they are on the verge of losing one of their most reliable constituencies. And so over the past three days, we've seen an unprecedented string of minor initiatives. None of these small steps are earth-shattering; all of them could have been thrown together at any time in the administration's first 100 days. But the fact that they are coming out now tells us that the pressure exerted by the LGBT community this week has had an effect. It also tells us that only through continued unrelenting pressure will the White House and Congress to take our concerns seriously.
I'm glad the pressure is working and we appear to have the White House's attention. We now need to grab Congress's attention as well. We need to make House Speaker Nancy Pelosi and Senate Majority Leader Harry Reid to feel the same heat as we've applied to President Obama.
And we also need to put our money where it will really make a difference. Right now the best place is firmly in our own bank accounts and not in the DNC's. They say money talks, but people really notice the silence when it's gone missing.
GLAD's Mary Bonauto Pulls Out Of Fundraiser
Jim Burroway
June 19th, 2009
Now we're up to eleven. Mary Bonauto, the Civil Rights Project Director of Gay and Lesbian Advocates and Defenders (GLAD),  has announced that she will not be attending the Democratic fundraiser next week:
It would be counterproductive at this point for me to attend the dinner.  I see and understand the anger of many in the community.  At GLAD, we're angry, too.  We're angry because we see and live and feel the discrimination every day.  Many states and our national government enforce existing anti-gay laws or simply fail to see discrimination against lgbt people as both personally devastating and a stain on our nation's commitment to equal justice under law
Bonauto was lead counsel in Goodridge v. Dept. of Public Health, which resulted in the Massachusetts Supreme Judicial Court declaring that prohibiting civil marriage for same-sex couples is unconstitutional. Bonauto joins ten others who have publicly announced that they will not attend the event.
And Then There Were Ten
Jim Burroway
June 18th, 2009
We now have ten people who have cancelled their appearance at next week's Democratic fundraiser over the Obama administration's brief defending DOMA. The latest ones are:
Stampp Corbin, San Diego City Commissioner and former co-chair of the Obama LGBT Leadership Council during the presidential campaign:
Mr. President, your DOMA mistake awakened a sleeping giant. He is mad as hell and is not going to take it anymore. You better get LGBT affirming legislation moving quickly or the coffers of the LGBT community will be slammed shut on the fingers of your administration and the DNC. You and the DNC may find themselves asking about our donations "if not now, when" as we have been asking about our rights for the last few months.

That\'s simply the way I see it.
Also National Gay and Lesbian Task Force's Rea Carey and Corey Johnson (I missed that one earlier).
They join Utah businessman Bruce Bastion, Vermont Senate President Pro Tem Peter Shumlin, political strategist David Mixer, blogger Andy Towle, Executive director of the Empire State Pride Agenda Alan Van Capelle, former Clinton administration aide Richard Socarides, and HRC National Field Director Marty Rouse in boycotting the fundraiser.
Andrew Sullivan is cheering them on. But, he says, our anger should not stop with Obama:
We need to swamp Pelosi with phone-calls.

We need to target Reid for his inaction. We have to pressure Barney Frank and Tammy Baldwin not to excuse the disdain that the Obama administration is showing toward gay equality, and their cynical use of our votes, money and passion to enforce real and potent discrimination against us and our families. And we have to refuse to attend White House signing ceremonies like yesterday's farce. Really: until they are serious, we should not be coopted and placated with pathetic sops. I am not a Clintonite. I worked my ass off to get this man to power. On many issues, I support him and will continue to do so.

But I am a proud, self-respecting gay man with HIV. And I am not going to take this crap for much longer on civil rights. Fight back. Act Up.
Stonewall Democrats Drop Support For DNC Fundraiser
Jim Burroway
June 18th, 2009
The National Stonewall Democrats are pulling their support for next week's DNC fundraiser. In an email obtained by Politico.com, the board of Stonewall Democrats cite the recent dust-up over the DOMA brief, as well as being cut off from a key customary party sponsorship:
[W]e are incredibly disappointed that the DNC has made a decision to withhold any financial support to National Stonewall Democrats this year but is in turn asking us to help raise money for the DNC in a difficult financial environment. The DNC has historically supported National Stonewall through sponsorship of the annual Capitol Champions event. This year, we did not receive any support. …

We'd be remiss to also not mention that the recent legal brief of the Obama Administration defending DOMA is incredibly hurtful. The members of the Board and our membership put our hopes, our dollars and our time into ensuring the election of Barack Obama because we believed that he supported us. To now have his Administration refer to our relationships in the same terms used by our long time enemies such as Pat Robertson, Jerry Falwell and James Dobson hurts on so many levels.
Stonewall Democrats says it's not "boycotting" the fundraiser, but they won't encourage members to attend. Politico.com has the full email, along with a rather contrite response from the DNC.
Two More Boycotting DNC Fundraiser
Jim Burroway
June 18th, 2009
Two more LGBT advocates have announced that they will be skipping the Democratic Party fundraiser in protest of the Justice Department's brief defending the "Defense of Marriage Act." The first yesterday to pull out was Bruce Bastion, a Utah businessman and a major DNC donor. He announced that not only would he not attend next week's fundraiser, but he won't be donating anymore to the DNC as a whole:
"I will continue to support certain congressmen, congresswomen and senators whom I believe will continue to fight for our rights, but I don't think blanket donations to the Democratic Party right now are justified, at least not in my book," he said. Bastian, a major donor to many LGBT groups, said he sent an e-mail to the DNC on Wednesday saying he wouldn't attend the event "because of the remarks on DOMA." He found the filing "very offensive."
That was followed by another announcement earlier this morning that Vermont Senate President Pro Tem Peter Shumlin has also decided to forgo the fundraiser:
"One thing I have learned dealing with marriage equality in Vermont is that we all have a responsibility to stand up for the civil rights of all Americans," Shumlin said Wednesday.

"This memo from the Justice Department is more Bush than Bush," he added. "It takes the only minority group left in America that national politicians can publicly discriminate against and still see their numbers go up in the polls and it reinforces the horrible stereotypes about our friends and neighbors."

…As an early and strong supporter of Barack Obama I am shocked and disappointed at the level of insensitivity that the Department of Justice has shown towards gay and lesbian couples and their families," Shumlin wrote to [DNC Treasurer Andrew] Tobias.
This brings to seven the number of advocates who have announced they are pulling out of the fundraiser. The others are political strategist David Mixer, blogger Andy Towle, Executive director of the Empire State Pride Agenda Alan Van Capelle, former Clinton administration aide Richard Socarides, and HRC National Field Director Marty Rouse.
NY Times: Obama's Non-Health "Benefits" Timed To Stave Off Fundraising Disaster
Jim Burroway
June 17th, 2009
Late yesterday, we learned that President Barack Obama was going to sign a presidential memorandum (rather than a more permanent presidential order) granting partner benefits for same-sex partners of federal employees. Then we learned that because of the so-called "Defense of Marriage Act" — which the Obama administration chose to defend in court with an insulting DOJ brief — bars the extension of health and retirement benefits to same-sex partners. Which means that the presidential memorandum will only address things like relocation expenses.
New York Times is reporting that the only reason the Obama administration is doing this is to help salvage next week's fundraiser:
But administration officials said the timing of the announcement was intended to help contain the growing furor among gay rights groups. Several gay donors withdrew their sponsorship of a Democratic National Committee fund-raising event next week, where Vice President Joseph R. Biden Jr. is scheduled to speak.
This does not appear to be mollifying anyone as far as I have been able to learn. The rebellion continues, with at least five prominent LGBT advocates saying that they are pulling out of the fundraiser.
LGBT Insurrection Against The Democratic Party
Jim Burroway
June 15th, 2009
[Update: Three more LGBT advocates have declined to attend the DNC fundraiser in Washington next week. See below.]
President Barack Obama has repeatedly said that he won't make a move to end "Don't Ask, Don't Tell," the ban on LGBT people serving openly in the military, because ultimately it is up to Congress to change the law. His spokespeople have repeated this in answer to questions about why he hasn't issued a stop loss order in order to halt the ongoing discharges of qualified gays and lesbians from the armed forces. They have, in effect, thrown the ball completely into the Congress' court.
Now we have word from Senate Majority Leader Harry Reid that the reason the repeal of DADT has gone no where in the Senate is because no one has sponsored the legislation in the Senate. What's more, he threw the hot potato right back into the President's hands:
Senate Majority Leader Harry Reid speaking at a press conference Monday said he has no plans to introduce a bill to repeal "don't ask, don't tell" in the Senate.

"I haven't identified any sponsors," he said. "My hope is that it can be done administratively."

A Democratic aide later clarified that Reid was speaking about the possibility of using an executive order to suspend discharges or perhaps halting enforcement of the policy by changing departmental regulations within the Department of Defense.
Which, of course, won't happen because the President is waiting on Congress, which in turn is waiting on the President.
This shouldn't be that hard. This isn't 1993, when DADT was signed into law by a Democratic Congress and a Democratic President. It is now 2009, when 69% of the American public believes that DADT should be repealed. When's the last time two-thirds of Americans were united on anything else? What's more, even 58% of Republicans and 60% of weekly churchgoers thing it's time for DADT to go.
With public support like this, the age old question — If now now, when? — becomes less of a rallying cry and more of a taunt. Seriously, if not now, when?  We don't need a "fierce advocate" for this one. All we need is for someone to grow a pair — and they don't have to be very big ones.
But that's not likely to happen. John Berry, the White House director of the Office of Personnel Management and the highest ranking gay official in the Obama administration, spoke with the Advocate's Kerry Eleveld about progress on LGBT rights. He predicted that the Matthew Shepard Hate Crimes bill would pass the Senate sometime this week. But what about repealing DADT and DOMA, or enacting a fully inclusive Employment Non-Description Act? Well, he says, they want to do it sometime "before the sun sets on this administration."
This nebulous timetable is meaningless. If it doesn't happen well before the 2010 mid-term elections, then we will be dependent on Obama winning a second term. After all, the next Presidential campaign will effectively begin in 2011. And there's no guarantee that Obama will win that second term.
Which means either it happens now, or the Democratic party will essentially hold LGBT rights hostage for 2012.
With that news, coupled with the recent Department of Justice brief defending the Defense of Marriage Act which insults the integrity and intelligence of LGBT people everywhere, leading LGBT Democratic political veterans are beginning to register their disgust with the Democratic Party. Heck, even the Human Rights Campaign, often derided for its soft touch with political leaders, sent a sternly worded letter to Obama concerning the DOMA brief.
Meanwile, the DNC will hold a fundraiser next week in Washington, dubbed the LGBT Leadership Council Dinner. The featured speaker at the fundraiser will be Vice President Joe Biden. Openly gay Congressional representatives Barney Frank, Tammy Baldwin, and Jared Polis will be in attendance.
But some key gay activists are beginning to turn down their invitations to this event. Confirmed now-shows so far include political strategist David Mixner and blogger Andy Towle. [Update: Additional withdrawals include Alan Van Capelle, Executive Director of the Empire State Pride Agenda and Foundation, former top Clinton administration aide Richard Socarides, and HRC National Field Director Marty Rouse] Michelangelo Signorile has suggested that we "cut off the money flow." Sean Bugg agrees, while Mike Rogers (a.k.a. "the most feared man in Washington") puts an even finer point on it:
As long as tens of millions are being spent by the Pentagon to enforce Don't Ask, Don't Tell, gays should say to politicians "you have our money, go get it back from Secretary Gates."
New DNC Chair No Friend of LGBT Rights
Jim Burroway
January 5th, 2009
Now that the Rick Warren furor is subsiding, new concerns are raised over the prospects that Virginia governor Timothy Kaine will become the new chair of the Democratic National Committee. Kaine has been described as "mixed" on gay issues — and this description is relative to the already low expectations of Virginia politics. Kaine offered nothing but the most timid token opposition Virginia's draconian marriage amendment.
Michael in Norfolk, a lawyer, has some additional gripes against Kaine, regarding a state employee who was fired for being gay just one week after the anti-marriage amendment passed:
Kaine did sign Executive Order 1 (2006) purporting to protect gay state employees upon taking office, thereby extending the policy of incoming U.S. Senator Mark Warner who Kaine succeeded as governor. But in terms of making sure that the Executive Order is enforced in a competent and timely manner, Kaine has been 100% missing in action. Moreover, the alleged investigation by the governmental department supposedly charged with enforcing the Executive Order of a complaint filed by a client against the Virginia Museum of Natural History has by the agency's own prior statements already taken 440+ days longer than it should have. And still no determination is in sight.
That beeping noise you hear? It may well be a bus backing up to run over us again.
Merry Christmas! Dems Duck DADT
This commentary is the opinion of the author and may not necessarily reflect those of other authors at Box Turtle Bulletin.
Jim Burroway
December 26th, 2008
How's this for a Christmas present? The Roll Call is reporting that Congressional Democrats have decided to delay taking up the repeal of "Don't Ask, Don't Tell" for at least two years — that would be after the mid-term elections:
Key Democrats — even openly gay lawmakers — are quietly conceding to letting another two years go by before trying to overturn "Don't Ask, Don't Tell," the controversial 1993 law banning openly gay people from serving in the military. Most fear that moving too quickly on such a divisive issue could backfire, and most would rather tread lightly, at least in the early months of President-elect Barack Obama's administration.

Former Secretary of State Colin Powell and Speaker Nancy Pelosi (D-Calif.) both have said the time is right to revisit the policy that Powell, then-chairman of the Joint Chiefs of Staff, helped implement. But Pelosi, for one, refused to say whether she planned to bring legislation to the floor next year to overturn the law…

Democratic lawmakers regularly beg off questions about the contentious policy, arguing that other issues are far more important — such as winding down the war in Iraq or bolstering the economy. They also remember the political uproar when then-President Bill Clinton used the beginning of his presidency to try to overturn an outright ban on gays serving in the military. That effort tied his administration in knots in his first months in office, and Democrats fear a repeat performance."
The country has chanced a lot in the past fifteen years since DADT was put into effect. But the Dems haven't. They're just as cowardly as they always were, this time spooked by a fifteen-year-old ghost.
The Democratic party holds a commanding presence in the House, and a very strong one in the Senate. If they wait two years, we're looking at after the mid-term elections — when the ruling party typically loses seats.  After that, we'll hear the predictable counsel that DADT will not be doable with the more conservative Congress. This is the strongest position the Democratic party is likely to be in for some time.  As one famous politician who had no fear of shaking things up often asked, if not now, when?
And where is the HRC on this? Oh, I see. They're fully on board with the timid wait-and-see approach. Are they representing our interests here? Or the Democratic Party's?
It's time we had leadership that's not afraid of its own shadow. Our opponents certainly haven't made their gains by moving with such timidity.
[via Queerty]
NY Dems: Thanks for the Money but Forget the Promises
Timothy Kincaid
November 28th, 2008
Democrats in New York have taken the State Senate for the first time in 40 years, to a significant extent due to a flood of contributions from gays and lesbians wanting marriage equality. Now it looks as though this was not money well spent.
Since the election, three Democratic Senators have been holding up the assention of the Senate leader, threatening to vote with Republicans unless there is a written promise not to bring marriage equality up for a vote. Now it seems that other Senate Democrats are finding that "it's not the right time" to support their gay constituents (NY Times):
After a pledge from New York Democratic leaders that their party would legalize same-sex marriage if they won control of the State Senate this year, money from gay rights supporters poured in from across the country, helping cinch a Democratic victory.

But now, party leaders have sent strong signals that they may not take up the issue during the 2009 legislative session. Some of them suggest it may be wise to wait until 2011 before considering it, in hopes that Democrats can pick up more Senate seats and Gov. David A. Paterson, a strong backer of gay rights, would then be safely into a second term.
I know that there are stong allies of equality in the NY Democrat Party. And I hope that they will remind their associates that the duty of an elected official is to his constituents and that promises – even those made by politicians – are not empty words to be disgarded when inconvenience rises.
If that doesn't work, maybe gay money (and gay-friendly money) can fund primary challenges in coming elections.
Michelle Obama Speaks At LGBT Delegates Lunch in Denver
Jim Burroway
August 27th, 2008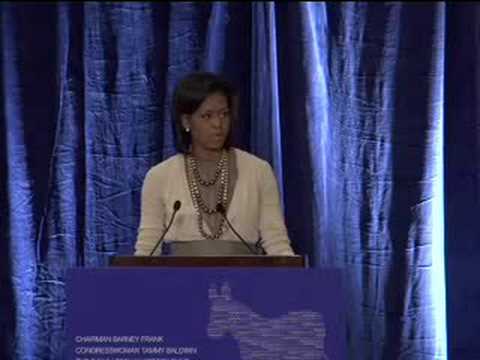 Congratulations Amanda Simpson
Jim Burroway
May 2nd, 2008
I have the distinct pleasure of knowing Tucson's own Amanda Simpson. She is not only a truly amazing, dynamic woman, but she's a genuine trailblazer as well. She's as been a local activist and former member of the City of Tucson Commission on GLBT Issues, and she was the first transgender nominee to run for the Arizona House of Representatives.
So I was tickled pink to learn that she was selected to be an at-large delegate to this year's Democratic National Convention in Denver, Colorado. She will be there as a delegate for Sen. Hillary Clinton, and she "will fully support and work to elect" whoever wins the nomination.
Please indulge me as I give a personal shout out to Amanda. Congratulations!
Maryland Senator Muse Champions Bigotry
This article is the opinion of the author and does not necessarily reflect the opinions of other authors at Box Turtle Bulletin
Timothy Kincaid
March 15th, 2008
Those who are regular readers know my frustration with the Democratic Party in Maryland. They have allowed one anti-gay legislator to dictate the level of discrimination that the state will impose on its gay citizens.
Let me be clear. Most Republicans in the state are far worse, many seeking to ban equality through revision to the state constitution. And some even oppose letting couples in a long term relationships make medical decisions for each other.
On the Senate floor yesterday, Republicans said that allowing an unmarried couple who have been partners only a short time to trump parents or children in crucial life-and-death medical decisions struck them as irresponsible.

"How far are we going to go?" asked Sen. Alex X. Mooney (R-Frederick). "Let's not put domestic partners above the family. Let's put them after."
But that isn't all that surprising from the Party that brought us Sally Kern. Such attitudes, however, are supposed to not prevail in the Democratic Party. Yet it is the Democratic Party leadership that has placed power in the hands of a man who blocked the chance of Senators to even consider marriage equality or civil unions.
Religious objections proved the determining factor in a key, evenly split Senate committee that a marriage or civil unions bill needed to clear before getting to the floor. The swing vote was C. Anthony Muse, a Prince George's County Democrat who was lobbied intensely by gay rights advocates and lawmakers to pass a civil unions bill. But Muse, pastor of an evangelical Christian church in Upper Marlboro, said he ultimately was bound by biblical teachings that say only men and women should marry. The bills are likely to languish without a vote.
There will be a vote taken on some piece-meal rights such as health care decisions or inheritance. But Muse was not content in allowing gay people to make determinations about their own health without taking the opportunity to champion bigotry.
yesterday, he voted for several Republican-sponsored changes to the medical decision-making measure, including one that would have barred public schools from teaching about domestic partnerships. The changes were rejected. Muse said he is unsure how he will vote when the Senate takes a final vote on the bill next week.
I do not doubt that Senator Muse has experienced discrimination in his lifetime. But that does not excuse him for doling it out to those citizens that he dislikes.
And it's time for the Democratic Party in Maryland to recognize that those minority legislators, be they gay or black or whatever, who campaign against the rights of other minorities, be they gay or black or whatever, are engaging in bigotry and have no place in any position of authority.
Senator Muse needs to feel the consequences of his homophobia. And as long as the Maryland Democratic Party continues to allow Muse to stand in the way of equality, they will receive no respect from me.
See also:
Blade Asks What Happened In Maryland
Maryland Passes Limited Rights for Gay Couples
Maryland Balances Budget by Taxing Gay Widows
Maryland Senator Muse Champions Bigotry
Maryland AG Endorses Marriage Equality
Maryland Legislator Calls Anti-Gay Bluff
Maryland Introduces Bill to Legalize Same-Sex Marriage – Are Democrats Committed to Equality?
Maryland Marriage Poll