Anti-Gay Dem Party Chair Doubles Down
Jim Burroway
March 17th, 2011
Bexar County (San Antonio) Democratic Party Chair and yesterday's LaBarbera Award winner Dan Ramos held a news conference this morning to announce that he was not resigning over comments he made last week likening gay people to "the "f*cking Nazi Party." Not only that, but Ramos doubled down:
Bexar County Democratic Chairman Dan Ramos reiterated that he believed that gays were like "white termites who have infiltrated the party much like termites infiltrate your house," and were co-conspirators with direct involvement in the theft of over $200,000 from party coffers.

…"I've always tried to be politically correct, however the gays, through the Stonewall Democrats, have taken over the party. Hell, my opponent in the election, Choco Meza, she's a lesbian," Ramos said. (Meza is not a lesbian.)

Ramos also referred to State Democratic Chairman Boyd Richie as a "racist bastard" and an "idiot" who's been too busy to help the local party. "Gay people have been advising Richie," he said, "and he slipped when he asked me to resign."
Update: Oh, goody. We have video: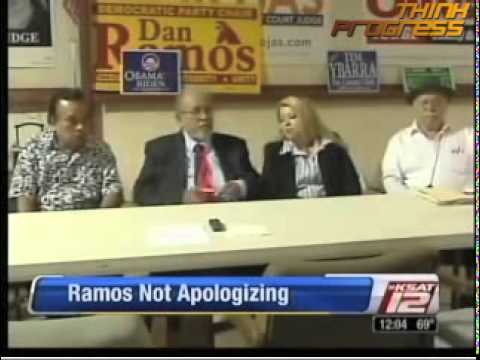 Democratic Operative Deploys Gay-Baiting Campaign
Jim Burroway
March 14th, 2011

Unconscionable. It doesn't take a rocket scientist to know what "unmarried" is code for. From Think Progress:
Less Government Now appears to be tied to Scott Maddox, a Democratic operative who unsuccessfully ran for Agricultural Commissioner last year, and has been used to bolster tea party candidates in an attempt to split the GOP vote. Tampa has non-partisan mayoral elections, but Ferlita, a current county commissioner, is a Republican.
Maryland's equal marriage bill does NOT pass
Timothy Kincaid
March 11th, 2011
In a legislative body with 98 Democrats and 43 Republicans, in a state that already recognizes same-sex marriages conducted next door, supporters of the Maryland marriage equality bill were unable to round up 71 votes. (WaPo)
The effort to legalize gay marriage in Maryland died for the year Friday after supporters said they could not find enough votes to pass the measure in the House.

House leaders avoided a final vote on the bill and returned it to the House Judiciary Committee after it became apparent they did not have the 71 votes needed for approval. The bill to make Maryland the sixth state to allow gay marriage had already passed the Senate, and the governor said he would have signed it.
Iowa house passes anti-marriage constitutional amendment
Timothy Kincaid
February 1st, 2011
From OneIowa
The Iowa House today, by a vote of 62-37, passed an amendment (House Joint Resolution 6) that would deny any form of legal recognition for gay couples. The amendment seeks to prohibit not only the freedom to marry for gay couples, but also civil unions or domestic partnerships.

The bill now moves on to the Iowa Senate, where Senate Majority Leader Mike Gronstal has vowed to fight attempts to pass the amendment. If passed through both legislative bodies in two consecutive General Assemblies, the issue could be on the ballot as soon as 2013.
As the Democrats hold a majority in the Senate and have already demonstrated their support for Gronstal on the issue, barring some bizarre turn of events, this amendment will not pass the Senate.
House passes standalone DADT repeal
Timothy Kincaid
December 15th, 2010
The House of Representatives has just voted to repeal the Military's anti-gay Don't Ask, Don't Tell policy by a vote of 250 to 175.
Democrats:
235 Yes
15 No
5 Not Voting
Republicans:
15 Yes
160 No
4 Not Voting
Unlike the defense bill, there are no other issues on which to hang one's vote, and appeals to "not the right time" have the same moral weight as the more blatant "My constituents don't like gay people." This is purely a vote on whether gay people should be accorded the same rights as other Americans, and history should take careful note of the names of those who sided with inequality.
Belated good news from Hawaii
Timothy Kincaid
October 12th, 2010
This is a few weeks old, but it's important. (AP)
Hawaii Democrats have chosen former U.S. Rep. Neil Abercrombie in their bid to take back the governor's office after eight years of Republican control.

Abercrombie defeated longtime political rival ex-Honolulu Mayor Mufi Hannemann in a bitterly contested campaign that focused on character and leadership experience.

Abercrombie will face Republican nominee Lt. Gov. James "Duke" Aiona in the November campaign to succeed GOP Gov. Linda Lingle in President Barack Obama's birth state.
Polls have shown Abercrombie as a likely winner in the very Democratic state. His biggest threat was Hannemann, a Mormon, who campaigned on an anti-gay platform.
Hannemann's supporters released an ad during the primary which criticized Abercrombie for supporting the civil unions bill which was vetoed by Republican Governor Linda Lingle, "In the battle of HB444, we learned the importance of electing people with our traditional Christian values."
I think that it is likely that should Abercrombie be elected in November will open the way for the Hawaii state legislature to revisit their support of gay couples. And I think that this time they may opt for full marriage equality.
GayTM On the Fritz: Gay Political Donations Down
The opinions expressed in this post are those of the author and do not necessarily reflect those of other authors at Box Turtle Bulletin.
Jim Burroway
September 24th, 2010
Perhaps one measure of the gay community's scorn for the Democratic Party's failure to deliver on its promises — as evidenced by this week's cynical tossing of the "Don't Ask, Don't Tell" football coupled with the administration's ridiculous filing in the Log Cabin Republican lawsuit against DADT — the OpenSecretsBlog reports that LGBT groups' contributions to political campaigns are drastically down when compared the the last mid-term elections in 2006:
[I]n an election cycle full of controversy over hot button issues such as adoption, "don't ask, don't tell" and California's Proposition 8 ban on gay marriage, donations to federal candidates from gay and lesbian interest groups are lagging. So far during the 2010 election cycle, people and political action committees associated with this special interest area have donated $744,040 to federal candidates, with 96 percent of funds going to Democrats. That's compared to more than $2 million contributed to federal candidates during the 2006 congressional elections and $1.8 million contributed during the 2008 presidential election cycle.

The Human Rights Campaign has donated a huge majority of the industry's funds going to federal candidates this cycle, contributing $625,272 to primarily Democratic candidates.
That means that the HRC has contributed almost 85% of all the LGBT dollars to federal campaigns. I don't know what percentage of the total contribution the HRC contributed in 2006, but I doubt that it amounted to $1.6 million. There has long been a perception that the Democratic party has been eager to take the gay dollar but unwilling to seriously address the gay community's concerns, whether they be the ongoing firing of qualified personnel from the U.S. military, discrimination against gay and (especially) transgender people in the workplace, or the unwillingness to take a coherent stand on marriage. LGBT people and organizations are, as a result, naturally and justifiably outraged this year, with many demanding that the "GayTM" be shut down.
While undoubtedly the economy has contributed to this falloff in donations, but that's not the entire story. LGBT donations are down by about half; other sources for donations are off, they haven't fallen as drastically as this. I'm glad that most of the major LGBT organizations have decided to close the GayTM. Their money wasn't being well spent, given the pathetic and cynical behavior of the political establishment that so many of us have worked so long and hard to support. For any organization that as to evaluate how effective every dollar they spend is toward accomplishing their goals, it doesn't take a rocket scientist to know that their dollars can be better spent elsewhere.
I fully support the call to sit on your dollars during this election cycle. If you have money to donate, there are many more worthy causes in your own local community that could use your help in this down economy. At least there, your hard-earned dollars have a better chance of actually doing some good. And if you are interested in contributing to political candidates, there is still the option of donating directly to specific candidates that you know have stood by the LGBT community. (For me locally, for example, I would single out my Congressman, Rep. Raúl Grijalva (D-AZ). He was among the extremely few Arizona officeholders who actively and publicly campaigned against Prop 102, the constitutional ban on same-sex marriage, which passed in 2008.)
I also think this report documents how unbelievably out of touch the HRC is with the community it claims to represent. It looks like we don't just need an overhaul of the political establishment that takes our money without delivering results, but also the advocacy group that takes our dollars and doesn't hold anyone accountable. To those of us who have donated to the HRC in the past, it's a good time to ask: have you gotten your money's worth?
The difference in social policy between a Democrat and a moderate Republican
Timothy Kincaid
September 15th, 2010
In reading about the candidates vying for Mark Kirk's old district, I ran across as clear a description between the social positions of a "Democrat" and a "moderate Republican" as I think I've seen:
The two candidates are facing off in the 10th Congressional District, portraying themselves as deficit and tax hawks who are more moderate on social issues.

Yet Dold and Seals noted their differences on abortion and gay rights.

Dold said he supports abortion rights, with restrictions. Dold backs parental notification for minors and opposes late-term abortions and tax money being spent on the procedure.

"Let me be clear, I'm pro-choice, while I may be more moderate than (Seals) is on this issue," Dold said.

Seals said he supports abortion rights without Dold's caveats and cited his endorsements from organizations such as Planned Parenthood.

Seals argued that limits on taxpayer-funded abortion and parental notification laws would force some women "to go to a back alley to care of this."

On gay marriage, Seals supports it, calling it a "civil rights issue." He also backs repealing military restrictions on openly gay soldiers.

Dold doesn't support gay marriage, but said same-sex couples should have similar legal protections. Dold said he will support repealing the "Don't Ask, Don't Tell" policy if military generals agree it won't impact combat operations.
Yes, there are many Democrats that do not support marriage equality and some Republicans that do. But I think that these two positions probably reflect what the voter who self-categorizes as "Democrat" or "moderate Republican" finds most comfortable.
Voters are really really (not) concerned about "protecting marriage"
Timothy Kincaid
August 12th, 2010
The latest Pew Research Center survey is in and they've found that when it comes to same-sex marriage, voters could not care less. Literally. Of the thirteen categories of concern, same-sex marriage was at the very bottom, in both parties.
The reason we haven't heard the politicians screaming about Judge Walker's ruling is because they have figured out that their constituents aren't interested, don't want to talk about it, and are probably suspicious about anyone who wants to rant about gays instead of the economy.
Hawaii Senate to vote Friday on civil unions
Timothy Kincaid
January 20th, 2010
The Hawaiian Senate has set a date to vote on the civil unions bill postponed from 2009. (
Honolulu Star Bulletin
)
"It is my understanding that it will be put on the Order of the Day (agenda) Thursday and put it up for a vote on Friday," said Sen. Brian Taniguchi, chairman of the Judiciary Committee.
This bill was essentially killed in the last days of the last session by amending it to include the unnecessary wording, "It is not the Legislature's intent to revise the definition or eligibility requirements of marriage." That strategic effort bought the legislature nearly another year to do nothing.
Because the bill had a start date as of the first of the year, there is some question as to whether it would be valid or would require another amendment. Some senators appear to be pretending that such a technical amendment would be reason to vote against the bill.
However, the award for bald disingenuousness, for unbridled cynicism, for smarmy condescension goes to former Senate President Robert Bunda:
"It is totally about solemnizing civil unions, and I think what gay people are really seeking is same-sex marriage," Bunda said.

"I hope we just defer the whole thing. We have more important issues, like the budget."
Yes, Mr. Bunda, we want equality. But that hasn't been presented as an option, has it? And you would oppose such a bill were it to come up, wouldn't you, cuz treating all citizens equally just isn't important enough.
And, in the meantime, I still have not heard back from the DNC as to why they have said absolutely nothing to encourage the virtually entirely Democratic legislature to pass the civil unions bill. Good thing I wasn't holding my breath.
My email to the DNC re: civil unions in Hawaii
Timothy Kincaid
January 18th, 2010
Today I emailed the DNC:
This week the legislature in Hawaii will be considering Civil Unions legislation. As the HI legislature is virtually all Democratic, can you please direct me to the statements in which the DNC has encouraged the Hawaiian legislature to uphold the standard of the Party and vote for equality? I don't seem to be able to find them online.
I wonder if I'll get a response. They may be too busy honoring Dr. King's dream for equality and civil rights.
Hawaii Civil Unions bill starts up again
Timothy Kincaid
January 16th, 2010
Hawaii's recognition of gay couples has led a wild and erratic path. If the state's relationship with it's gay citizens were a romantic affair, it could be summed up in one word: drama!
When Hawaii's Supreme Court determined in 1993 that denying marriage to same-sex couples was discriminatory, it shocked America. Although some gay folks had been fighting for decades for the ability to protect their families and honor their commitments, to most people – gay or straight – this was unexpected and foreign.
However, the court did not demand immediate implementation. It granted a period in which the state could build a case justifying the discrimination and showing that it was not unconstitutional. But in 1996 the court rejected the state's justification and declared that denying marriage to same-sex couples was unconstitutional in the state. But they held off requiring implementation until appeal was heard.
And during the five year delay the anti-gay marriage industry was started. In 1996, the federal government passed the Defense of Marriage Act which, for the first time, asserted that the federal government would not recognize the rights of states to control marriage and family law (many "state's rights advocates" found that their anti-gay biases were far stronger than their professed principles).
And in 1998 in Hawaii, the first "protect marriage" constitutional amendment was passed. But, unlike those which would follow, this amendment does not define marriage; rather, it defines who is entitled to define marriage:
The legislature shall have the power to reserve marriage to opposite-sex couples.
And the legislature had already done so.
However, in an effort to offer some pretense of equality in hope of avoiding being required to honor same-sex marriages, in 1997 the legislature had created a reciprocal beneficiary scheme. It wasn't much consolation.
A reciprocal beneficiary can be comprised of any two people unable to marry (brother/sister for example) who fill out a form. The regulations that this registration impacts are minimal and the attorney general declared that the most significant benefit, workplace medical insurance, was not required to be recognized by private business.
Thus, while Hawaii has had "recognition" since 1997, it is not of much use and not often elected.
Due to the unique nature of the Hawaii amendment, there is no bar on the legislature passing marriage equality or civil unions legislation. And civil unions bills have been introduced with little reception for years.
But in 2009 a bill was introduced which received support. House Bill 444 would provide all of the rights, benefits, and privileges of marriage but under a civil union structure. The union would be conducted (rather than simply filing a clerical form) by clergy or a judge, similar to marriage. Civil unions would be limited to same-sex couples and exclude family members.
The hopes for the bill were high. It passed the House Judiciary Committee on February 5, 2009 by a vote of 12-0. It passed the full House on February 12, 2009 by a vote of 33-17. Then it went to the Senate.
Where it sat in a divided Senate Judiciary Committee.
Finally on May 7, 2009, one day before the end of the legislative session, the full Senate voted to pull the bill from the committee. But this was not to vote on HB 444; rather, it was to amend HB 444 to clarify that Hawaii was most definitely not granting marriage to same-sex couples and that this was a second-class status and to also amend the bill to allow opposite-sex couples to enter civil unions.
By amending the bill so close to the end of the session, there was no chance that the House could respond to the revised version and therefore the bill was killed for a year. Senators afraid of voting were granted a reprieve until the following year's session.
Now that reprieve is over. (Washington Post)
When Hawaii legislators reconvene on Wednesday, all eyes will be focused not on teacher furloughs that has resulted in the nation's shortest school year or the state's $1 billion budget deficit, but legislation that would allow same-sex couples to form civil unions.
Supporters are cautiously optimistic of the bill's passage. But anti-gay activists are planning a big rally for Sunday in hopes that their display of animus towards their gay neighbors and support for institutionalized discrimination will intimidate potential supports into betraying their ideals during an election year.
The Hawaii legislature is comprised almost exclusively of Democrats. The Senate has 23 Democrats and 2 Republicans, and the House split is 45-6. This is an internal Party decision.
And if the bill is passed, it will then go the Republican Governor Linda Lingle who, while encouraging the legislature to delay the bill until some other time, has refused to say whether she will sign or veto the legislation.
The DNC Boycott: Count Me In
This commentary is the opinion of the author and may not reflect the opinions of other authors at Box Turtle Bulletin.
Jim Burroway
November 10th, 2009
Frustration is boiling over concerning the Democratic Party's ongoing neglect of LGBT issues. The latest insult to injury? The Democratic National Committee and Organizing for America set emails to Mainers urging them to vote, but didn't ask them to vote against Question 1. In fact, the email didn't mention Question 1 at all. The DNC then sent another email urgently asking Mainers to get involved right away in … wait for it … New Jersey! 
When John Averosis at AmericaBlog contacted the DNC about the emails, he got the classic run-around. They first denied targeting Mainers to help with the New Jersey gubernatorial election, and then admitted that they lied about it.
This is just the latest in a long list of grievances and slights that have been building up since last November. That's why several bloggers led by Avarosis and Joe Sudbay at AmericaBlog are banding together for a "Don't Ask, Don't Give" campaign to urge doners to stop donating to the DNC:
It's really more of a "pause," than a boycott. Boycotts sounds so final, and angry. Whereas this campaign is temporary, and is only meant to help some friends – President Obama and the Democratic party – who have lost their way. We are hopeful that via this campaign, our friends will keep their promises.

So please sign the Petition and take a Pledge to no longer donate to the DNC, Organizing for America, or the Obama campaign until the President and the Democratic party keep their promises to the gay community, our families, and our friends.
This was launched yesterday. I haven't taken the pulse of the other contributors at BTB, so I can't speak for them. But I support this wholeheartedly. One of the DNC's most loyal constituencies — and among the most reliable sources for cash and sweat equity — has been taken for granted for far too long. The goals of the "pause" are pretty simple:
We are asking voters to pledge to withhold contributions to the Democratic National Committee, Organizing for America, and the Obama campaign until the Employment Non-Discrimination Act (ENDA) is passed, Don\'t Ask Don\'t Tell (DADT) is repealed, and the so-called Defense of Marriage Act (DOMA) is repealed -– all of which President Obama repeatedly promised to do if elected.

…Candidate Obama promised during the campaign to be the gay community\'s "fierce advocate." He and the Democratic party have not kept their promise.
Longtime LGBT activist David Mixner is on board with the boycott, along with Andy Towle, Michael Goff, Dan Savage, Pam Spaulding, Robin Tyler, Paul Sousa, Bil Browning, Jane Hamsher and Michaelangelo Signorile. Interestingly, even the Human Rights Campaign appears to have tacitly endorsed the boycott, in an email response to David Dayen at Firedog Lake:
"Individual donors should always make their own careful assessments of how to spend limited political contributions. We all need to focus on the legislative priorities identified by AmericaBlog and with whatever tactic individuals decide to employ, the ultimate objective needs to be securing the votes we need to move our legislative agenda forward."
You can sign the petition and take the pledge here, and you can spread the word to your friends and family here.
DNC Fundraiser Raises $1 Million Despite Protests
Jim Burroway
June 26th, 2009
According to The Advocate, about 25 protesters met DNC invitees as they gathered for the LGBT Leadership Caucus's DNC Fundraiser Thursday night:
Despite the controversy, about 180 people showed up to hear Vice President Joe Biden speak for a price tag of $1,000 to $30,400 per plate. The event brought in nearly $1 million, up from about $750,000 last year, according to a Democratic Party source.

But the scene was not one of total discord between inside and outside. Some DNC staffers working the event were also wearing red, white, and blue "265" buttons as a reminder of the number of gay and lesbian service members who have been discharged from the military since President Barack Obama took office.

When Vice President Joe Biden took the stage, he told the crowd that he had specifically asked to speak at the event and that his wife, Dr. Jill Biden, had also requested to address a Gay Lesbian Straight Education Network event earlier this month.

"I am not unaware of the controversies swirling around this dinner," Biden said, "swirling around the speed — or lack thereof — that we\'re moving on issues that are of great importance to you and, quite frankly, to me and to the President and to millions of Americans."
Update: The Washington Blade has video coverage: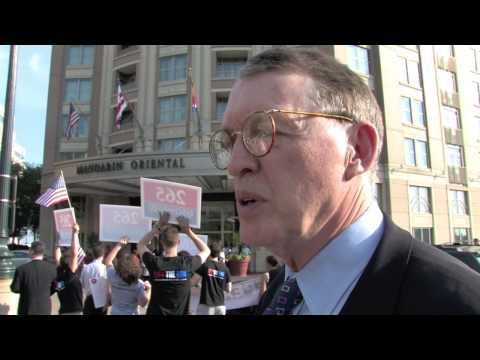 Howard Dean Will Miss DNC Fundraiser
Jim Burroway
June 24th, 2009
Because he remembered a "family commitment." This is huge. He was supposed to be one of the four hosts.