San Antonio passes non-discrimination ordinance
Timothy Kincaid
September 5th, 2013
There's nothing particularly controversial about the ordinance being considered today by the San Antonio City Council. It's virtually identical to ordinances in hundreds of cities around the country – and around Texas.
But for some reason, conservative Republicans and anti-gay activists decided to make this vote their Alamo. So heavy hitters from U.S. Sen. Ted Cruz to the candidates vying for the Republican nomination for governor all put in their two cents about how bigotry should be a perfectly legal reason for San Antonio's residents to fire and evict their gay neighbors.
And they lost. Badly. (StarTrib)
The 8-3 City Council vote in favor of the ordinance was a victory for gay rights advocates and for Democratic Mayor Julian Castro, a top surrogate of President Barack Obama. Castro has called the ordinance overdue in the nation's seventh-largest city, where there is a stronger current of traditionalism and conservatism than other major Texas cities that already have similar gay rights protections.
It may well be that, like the Battle of the Alamo, conservatives are counting on shock and horror to propel a powerful backlash. I think they are seriously misunderstood the political climate. Even in Texas.
Anti-Gay Dem Party Chair Doubles Down
Jim Burroway
March 17th, 2011
Bexar County (San Antonio) Democratic Party Chair and yesterday's LaBarbera Award winner Dan Ramos held a news conference this morning to announce that he was not resigning over comments he made last week likening gay people to "the "f*cking Nazi Party." Not only that, but Ramos doubled down:
Bexar County Democratic Chairman Dan Ramos reiterated that he believed that gays were like "white termites who have infiltrated the party much like termites infiltrate your house," and were co-conspirators with direct involvement in the theft of over $200,000 from party coffers.

…"I've always tried to be politically correct, however the gays, through the Stonewall Democrats, have taken over the party. Hell, my opponent in the election, Choco Meza, she's a lesbian," Ramos said. (Meza is not a lesbian.)

Ramos also referred to State Democratic Chairman Boyd Richie as a "racist bastard" and an "idiot" who's been too busy to help the local party. "Gay people have been advising Richie," he said, "and he slipped when he asked me to resign."
Update: Oh, goody. We have video: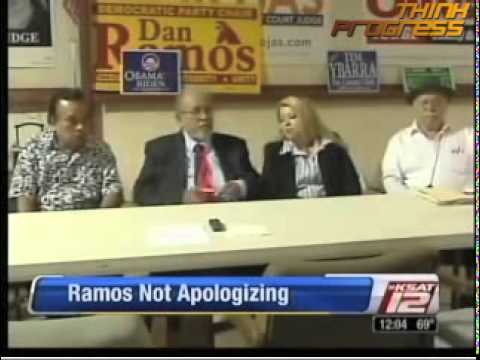 LaBarbera Award: Dan Ramos
Jim Burroway
March 16th, 2011
Bexar County (San Antonio, TX) Democratic Party Chairman let loose with some seriously demented statements last week to the San Antonio Current:
While the LGBT community has long found support within the national Democratic Party in its search for equal rights for gay, lesbian, and transgendered individuals, Ramos called the gay-rights movement a "very sinister movement" that is out of touch with San Antonio's values.

In an interview with the Current today, Ramos blamed homosexuals in the party for both undermining his authority and for the poor election results in Bexar County in 2010. "They are all connected to the gay Democratic Party, the so-called Stonewall Democrats. Just like termites they managed to get some of their people in key positions," he said.

The party faithful has been largely divided over Ramos since he was elected to office in May, 2010, but his chief detractors are all homosexuals, Ramos said.

Ramos said he opposes homosexuality on religious grounds and doesn't believe gay-friendly Democrats like Stonewall reflect the values of Bexar County voters. "I liken them to the Tea Party — the Tea Party and the f*cking Nazi Party — because they're 90 percent white, blue-eyed, and Anglo, and I don't give a f*ck who knows that. Just like the blacks … they're American, but you can't get your way just because you're black."
On January 31, 2010, Ramos appeared before the Stonewall Democrats asking for the group's endorsement in his quest for Party Chair. At the time, he said "I do not condone discrimination." It is unclear whether he received Stonewall Dem's backing.
Democrats statewide have angrily denounced Ramos and are demanding his resignation. Unfortunately, state party leaders are powerless to remove him. A bill has been introduced in the state legislature to remedy that situation. Meanwhile, Ramos has called a press conference for tomorrow morning, but he hasn't revealed the topic. According to the Dallas Voice, a spokesman for the Bexar County Democratic Party's steering committee speculates that Ramos has "been in the trenches for a long time and he's not going to go without a fight."
Prop 8 Rallies Planned
Jim Burroway
August 4th, 2010
As Timothy mentioned yesterday afternoon, we received word that a decision in Perry v. Schwarzenegger is expected this afternoon between 1:00 and 3:00 pm (PDT). Already, Prop 8 supporters have already filed a request for stay of judgment pending appeal, in case Judge Walker strikes down Prop 8. If granted, this would prevent any marriages taking until the Court of Appeals hears the case.
Meanwhile, a large number of rallies are planned in California and across the U.S., forty so far and counting. Rex Wockner is keeping up to date with the latest additions.
Tags:
Arizona
,
Atlanta GA
,
Austin TX
,
Bakersfield CA
,
Boston MA
,
Boulder CO
,
California
,
Champaign IL
,
Chicago IL
,
Cleveland OH
,
Colorado
,
Concord CA
,
Dallas TX
,
Denton TX
,
Denver CO
,
Fresno CA
,
Georgia
,
Hollingsworth v. Perry
,
Houston TX
,
Illinois
,
Long Beach CA
,
Los Angeles CA
,
Madison WI
,
Marriage
,
Martinez CA
,
Massachusetts
,
Mountain View CA
,
Napa CA
,
New York
,
New York NY
,
Ohio
,
Orange County CA
,
Palm Springs CA
,
Phoenix AZ
,
Pittsburgh CA
,
Porterville CA
,
Proposition 8 (CA)
,
Rancho Cucamonga CA
,
Richmond CA
,
Sacramento CA
,
San Antonio TX
,
San Diego CA
,
San Francisco CA
,
San Jose CA
,
San Luis Obispo CA
,
San Mateo CA
,
Santa Barbara CA
,
Santa Rosa CA
,
Texas
,
Ukiah CA
,
Vallejo CA
,
Walnut Creek CA
,
West Hollywood CA
,
Wisconsin
COMMENTS (3)
|
LINK