NYC aggressively attacks HIV using PrEP and PEP
Timothy Kincaid
November 25th, 2015
There are about 3,000 new diagnoses of HIV infection each year in New York City. And the City has decided that this is far too much. (Gay City News)
The plan, which was first proposed by leading AIDS groups in 2014, relies largely on using anti-HIV drugs in HIV-positive and HIV-negative people to reduce the number of new HIV infections in New York State from the current roughly 3,000 a year to 750 annually by 2020.
The tools are there. With pre-exposure and post-exposure prophylaxis, along with antiretroviral medication for HIV positive persons, the transmission of the virus is preventable. Even in the heat of the moment. Even if drugs or alcohol are impeding rational decision making. Even if a condom breaks.
Moving on the Plan to End AIDS, the City Council will spend $6.6 million to fund pre-exposure and post-exposure prophylaxis programs and efforts to aid people with HIV in staying on anti-HIV drugs so they remain non-infectious.
While $6.6 million is a large number, it is nearly negligible in the City's budget. And if this allocation can cut HIV transmissions by three-quarters in five years, it is an investment that is well spent.
Gay Man's Murder Sparks Massive Rally
Jim Burroway
May 21st, 2013
Thousands of New Yorkers marched in Manhattan yesterday to protest the killing of Mark Carson, who was gunned down late Friday night after being taunted with homophobic slurs. The march began at the LGBT Community Center and proceeded to the corner of West 8th Street and Sixth avenue, where Carson was killed. Christine Quinn, New York's first openly gay City Council speaker, led the march with Edie Windsor, the 83-year-old widow whose Defense of Marriage Act challenge is currently before the U.S. Supreme Court. Nearly every major candidate for mayor and many city council members were there as well, as was one of Carson's aunts, Flourine Bompars:
"He was a loving and caring person who is also loved and will be truly missed. And the family would also to have justice be served so that Mark's death is not in vain," Carson's aunt, Flourine Bompars, said at the rally..
Elliot Morales, 32, was arrested and charged with Carson's murder. He is being held without bail.
Carson's death is part of a disturbing trend in New York. So far this year, there have been 24 bias-motivated crimes, compared to 14 as of this time last year. Carson's murder was the fifth anti-gay attack in two weeks:
In the first incident on May 5, Nick Porto and his partner, Kevin Atkins, were beaten near Madison Square Garden after a group of men wearing Knicks shirts called them anti-gay slurs. Porto spoke at the rally Monday.

On May 7, a man was assaulted by someone hurling anti-gay slurs in Union Square, according to the Anti-Violence Project.

On May 8, a man was attacked by two people shouting anti-gay slurs as he left Pieces, a gay bar on Christopher Street, according to the Anti-Violence Project.

And early on May 10, two men tried to get into an after-hours billiards hall on West 32nd Street but were not let in, police said. They were then approached by a group of approximately five others who proceeded to shout anti-gay slurs and beat the men, police said.
Police have promised to increase their presence in the Christopher Street area and in nearby neighborhoods through Gay Pride at the end of June. New York City Schools Chancellor Dennis Walcott has announced that the city's 1,700 public schools will hold emergency assemblies about hate crimes bullying by the end of the school year.
Gay Man Shot To Death In NYC Hate Crime
Jim Burroway
May 20th, 2013
Shortly after midnight Friday night, Mark Carson, 32, was gunned down in New York's West Village by an assailant shouting anti-gay epithets. Police identified the shooter as Elliot Morales, 33. Morales and two other men were apparently looking for a fight in Greenwich Village:
Sources said Carson and his 31-year-old friend were dressed in tank tops and cut-off shorts with boots. Look at these f—–s," one of the suspect's crew barked at the pair. "What are you, gay wrestlers?"

The two groups exchanged words, but Carson and his pal decided it was better to walk away. But as they turned the corner, the suspect and one of his cohorts confronted the pair again and taunted them by shouting "f—-t" and "queer," Police Commissioner Raymond Kelly said.

One of the bigots got nervous and ran away as the suspect asked the two gay men, "Do you want to die here?" Kelly said. Suddenly, the suspect whipped out a silver .38-caliber revolver and shot Carson in the face. The shooter ran away as Carson collapsed on the sidewalk.
As Carson was rushed to the hospital where he was pronounced dead on arrival, police arrested Morales just four blocks away:
Around 4 a.m., a police officer, responding to a radio alert of the shooting, came across the alleged gunman and apprehended him. The suspect turned over a silver Taurus .38-caliber six-shot revolver, according to police.

Police later identified the suspect as Elliot Morales, 33. Police said the suspect had forged identification and they used facial recognition technology to determine his true identity.

Morales faces a charge of second-degree murder as a hate crime, authorities said.

The identities of the suspect's two companions — at least one of whom Kelly said left the suspect before the shooting — are still not known.
According to the New York Times, Morales has served more than ten years in prison for robbery, and had refused to answer any questions for several hours, until he was finally identified through facial recognition. He was arraigned on Sunday in Manhattan Criminal Court, and ordered held without bail. Police have also questioned the other two men who were with Moralies, but they say that the two men were questioned as witnesses, not suspects. Their identities have not been released.
Morales and the other two had apparently spent at least part of that night targeting gay men in the Village for a confrontation:
According to Mr. Kelly, the gunman was in the neighborhood with two other men shortly before midnight when he urinated in front of the Annisa bar and restaurant on Barrow Street at West Fourth Street.

The man then went inside and angrily confronted the bartender with antigay slurs, the police said, pulling up his gray hooded sweatshirt, and revealing a silver revolver in a shoulder holster. He threatened the bartender that if he called the police, he would be killed, the police said.

The man and two companions then headed south on the Avenue of the Americas and ran into Mr. Carson and another man at West Eighth Street, the police said.
Police Commissioner Kelly describe the murder as a hate crime:
Kelly said that the killing appeared to be "a hate crime, a bias crime." There were no words that would aggravate the situation, and the victim did not know the perpetrator, he said.

According to Kelly, there have been 22 bias-motivated events this year. That's up "significantly" from 13 this time last year.
Local LGBT leaders had been concerned about the increasing anti-gay violence taking place over the past several weeks. Last Wednesday, leaders staged an anti-hate crimes protest rally outside of Madison Square Garden. Hundreds turned out for a vigil at the scene of the murder Sunday night. The LGBT Center will hold a march to the crime scene on Monday afternoon.
It's Pride Week…
Jim Burroway
June 26th, 2011
New Yorkers were celebrating the passage of marriage equality on Friday night, on the eve of that city's massive Pride celebration commemorating a raid on a gay bar on Christopher Street in 1969. Local police got in on the fun by staging a modern day raid on a gay bar on West 28th Street:
An unannounced inspection that several agencies carried out at a gay bar in Manhattan on Friday night occurred at nearly the same time that patrons were celebrating the passage of legislation in Albany legalizing same-sex marriage.

…"I was on the roof deck, smoking a cigar and having drinks with friends, and all of a sudden, the police showed up and started shining flashlights in everyone's face and offending everyone," said Thomas J. Shevlin, a financial markets researcher and the treasurer of the Stonewall Democratic Club.

…Along with flashlights being shined in people's faces, lights were turned off and patrons were forced to empty their pockets "without probable cause," Mr. Shevlin said.
And then there's this in Chicago:
In what could be a hate crime, dozens of tires on floats headed for Chicago's Pride Parade were cut with knifes just hours before the Parade Sunday.

Chuck Huser, owner of long-time Pride float provider Associated Attractions at 4834 S. Halsted on Chicago's South Side, said the floats were fine when he left 8 p.m. Saturday night, but when he returned 5 a.m. Sunday to start preparation for drivers to depart, he found two tires punctured each on more than 30 floats.

"This is catastrophic," he told Windy City Times at 8 a.m. June 26. "This has never happened before, and we have been doing this since 1989."
And finally, some truly tragic news of a fatal accident that led to the cancellation of Anchorage's Pride parade:
A convertible carrying the grand marshal in Saturday's gay PrideFest parade struck and killed a man just as the event began in downtown Anchorage, police said. Police late Saturday identified the victim as 50-year-old James L. Crump of Anchorage. Crump worked as a registered nurse for the city's Health and Human Services department and was walking in the annual parade, police said.

…"It's a pure accident," Frank said. "(The driver) just panicked and kept hitting the accelerator and it kept jumping forward."
When Marriage Equality Was Announced
Jim Burroway
June 25th, 2011
This is what it looked like in front of New York's famous Stonewall Inn. (Video courtesy of Cathy Renna.)
A very important, very timely endorsement
Timothy Kincaid
May 4th, 2011
A New York newspaper has endorsed the push for marriage equality in New York State:
Homosexuality is a human reality. Most New Yorkers have a friend, colleague or relative gay. It's time to give these people the opportunity to develop family and community building. Our government should not be in the business of telling people who fall in love or marry.

We expect our senators to act boldly this time, to put their religious beliefs and political interests aside, and really work for all New Yorkers. Our children and grandchildren will remember this legacy and will be grateful.
A bit old hat, really. And is it all that surprising that a NY newspaper endorses same-sex marriage?
But this endorsement is different. Because it actually reads:
La homosexualidad es una realidad humana. La mayoría de los neoyorquinos tienen un amigo, colega o pariente gay. Es hora de darles a estas personas la oportunidad de desarrollar familia y construir comunidades. Nuestro gobierno no debe estar en el negocio de decirle a la gente de quien enamorarse o con quien casarse.

Esperamos que nuestros senadores actúen valientemente esta vez, que pongan sus creencias religiosas e intereses políticos a un lado, y que realmente trabajen para todos los neoyorquinos. Nuestros niños y nietos recordarán este legado y se lo agradecerán.
and comes from El Diario La Prensa, the largest and oldest Spanish-language daily newspaper in New York City. And it comes a week before State Senator Rubin Diaz holds his rally of Hispanic evangelicals to demand that gay couples remain disadvantaged.
Diaz has tried to appeal to identity politics in his fight for inequality, seeking to equate Hispanic ethnicity with anti-gay animus and give it a sheen of defensibleness based on culture. El Diario's editorial destroys that illusion.
Gay Men Targeted in NYC
Jim Burroway
April 29th, 2011
The New York Post reports that "teams of thugs" are targeting gay men as they leave the bars in New York's West Village. Police report that at least five men were mugged in five separate incidents between April 11 and 27, some within a stone's throw from the historic Stonewall Inn. All of the victims were mugged while leaving a bar alone. The Village Voice reports that Police believe the gang may be as large as five people, although they may work in smaller crews. Police have released grainy photos of two of the suspects.
Park51 Imam echos Focus on the Family
Timothy Kincaid
January 27th, 2011
It appears that Park51, the proposed Manhattan Islamic Center (called the "Ground Zero Mosque" by detractors) may not prove to be quite the beacon of tolerance and enlightenment that supporters have promised. Or, at least, not on gay issues.
Imam Abdallah Adhami, newly associated with the project, has expressed views about homosexuality that are consistent with those of Focus on the Family, NARTH, and other anti-gay activists: (NY1)
"An enormously, overwhelming percentage of people struggle with homosexual feeling because of some form of violent emotional or sexual abuse at some point in their life. Again, not necessarily in their childhood….A small, tiny percentage of people are born with a natural inclination they cannot explain. You find this in the animal kingdom on some level as well."
While this statement has concerned local gay advocates, it should be considered in context. As some who have looked at Islam and its relationship to homosexuality note, this is the position of the tolerant liberal end of Muslim thinking.
"I don't agree with the imam, but I think what he said is progress," said Sharma. "Usually, from the Muslim orthodoxy, you are prepared to listen to very strong words of condemnation."
At least the Imam isn't calling for my execution.
Who is the real Santa Claus?
Timothy Kincaid
December 25th, 2010
In 1947 Christmas classic Miracle on 34th Street, an elderly store Santa declares that he is Kris Kringle, the real Santa Clause. Seeing something special in Kris, attorney Fred Gailey seeks to keep him from being declared mentally incompetent and a menace to society by proving in court that he truly is Santa Claus. And in the process he finds an authority to which to appeal to make his case: the US Post Office.
Again this year the US Post Office has somehow found Santa Claus alive and well in New York City. The Times tells us how.
Eleventh Man Arrested In "Wolf Pack" Attacks
Jim Burroway
October 15th, 2010
The circle of suspects continue to widen in the vicious gang attacks against two 17-year-old gay youths and a 30-year-old gay man in the Bronx to weeks ago.  Luis Garcia, 26, who police say wrapped a chain around his fist and beat the 30-year-old man, is the eleventh arrested suspect in what's being called the worst gay hate crime in New York City in memory. Garcia will be arraigned in Bronx Criminal Court today.
Eighth Suspect Arrested in Bronx "Wolf Pack" Assaults
Jim Burroway
October 10th, 2010
The New York Times reports that an eighth suspect in what police described as a brutal "wolf pack" style attack against three gay men in the Bronx last weekend has turned himself in to police. Elmer Confresi, 23, turned himself in on Saturday night, while a ninth suspect, Rudy Vargas-Perez, 22, reneged on a promise he made through his lawyer to turn himself in. Vargas-Perez remains at large.
The Times included that information in a larger article about the shock and sadness that is reverberating through the Bronx neighborhood where the attacks took place.
The most severely brutalized victim was a gay 30-year-old Hispanic immigrant known in his Bronx neighborhood as "la Reina," Spanish for "the Queen." He was playful, flirty and always ready for a party, neighbors said.

…Every day, he stopped by El Tio grocery, the bodega on the ground floor of his building, for juices, sandwiches and small talk, according to the manager, Xavier Peña. "He was a good friend," Mr. Peña said. "He's a very, very nice guy. He called me Papi, Papi."

Many in the neighborhood used female pronouns to refer to the man, though they said he dressed in men's clothes. "She's gay, she's like a woman, we think of her like a woman," explained one neighbor, speaking on the condition that he not be named for fear of reprisals.

"She's a very good person," he added. "If you were ever hungry or thirsty, you could go to Reina, and she would help you."
Meanwhile, the New York Daily News says that several of the arrested gang members are pinning the blame for the attacks on the gang's leader, Ildefonso (Cheto) Mendez, who they say threatened them if they refused to participate.
Bronx Gang Tortures Two Teens, Man For Being Gay
Jim Burroway
October 9th, 2010
Nine men ranging from ages 16 to 23 years old abducted two teenage boys, and took them to an abandoned apartment in the Bronx, where they beat them and sodomized one until the boys admitted having sex with a 30-year-old man.They then lured the 30-year-old man to the same apartment, by telling him there was a house party going on and instructed him to bring plenty of liquor. Once the man arrived:
The attackers forced the man to strip to his underwear and tied him to a chair, the police said. One of the teenage victims was still there, and the "Goonies" ordered him to attack the man. The teenager hit him in the face and burned him with a cigarette on his nipple and penis as the others jeered and shouted gay slurs, the police said. Then the attackers whipped the man with a chain and sodomized him with a small baseball bat.

The beatings and robberies went on for hours. They were followed by a remarkably thorough attempt to sanitize the house — including pouring bleach down drains, the police said, as little by little word of the attacks trickled to the police. A crucial clue to the attackers was provided by someone who slipped a note to a police officer outside the crime scene, at 1910 Osborne Place in Morris Heights, near Bronx Community College.
Police commissioner Raymond W. Kelly said, ""These suspects deployed terrible, wolf-pack odds of nine against one, which revealed them as predators whose crimes were as cowardly as they were despicable." Police say that that attacks were motivated by hatred towards the homosexuality of the victims, and was not a part of an initiation.
Seven suspects have been arrested on Thursday an Friday, and two are still being sought by police. According to the New York Times, the group were not part of a formal gang, but adopted the nickname of Latin King Goonies. They hatched the plan last Saturday after one member of the group saw the 30-year-old man, who was known as being gay, with a 17-year-old who wanted to join the group. (The age of consent in New York is seventeen).
That first 17-year-old was abducted at about 3:30 am on Sunday morning, taken to an abandoned apartment, made to strip naked, beaten, slashed with a box cutter, and sodomized with the wooden handle of a plunger, and hit in the head with a can of bear. After the teen admitted having sex with the 30-year-old, the gang let him loose and warned him not to say anything. The teen walked to a hospital for treatment, where he said he had been jumped by strangers and robbed.
Later on Sunday evening, the gang abducted a second 17-year-old and beat him until he admitted to having sex with the 30-year-old. They held him while they lured the older man to what they said was a party. He brought with him ten large cans of Four Loko malt liquor. As soon as he arrived he was seized, stripped to his underwear, and tied to a chair opposite the teen. The gang then ordered the second teen to beat him and burn him with a cigarette. The gang joined in the beating using fists and chains. The beating reportedly lasted for hours as the attackers forced the man to drink all ten cans of malt liquor.The man was also sodomized with a baseball bat.
During that ordeal, five of the gang members went to the man's house which he shared with his 40-year-old brother. They got inside using a key they got from the 30-year-old, where they found his brother in bed. They put a blanket over his head, beat him, and demanded money. The man complied when they put a cell phone to the his ear and he heard his younger brother on the line who pleaded, "Give them the money." The brother was then tied with rope and tape.
About three hours later, he was able to free himself and call police, but he left out the fact that his brother was being held. As detectives were later leaving the older brother's home on Monday morning, they saw the 30-year-old brother on the landing where he  had been dumped. He was passed out from the alcohol, and police say he was unable to tell them what had happened to him. It wasn't until later on Monday that he began to remember what had happened.
It wasn't until Tuesday when the second teen went to a Bronx police station to describe a version of what happened. Like the others, he wasn't fully forthcoming with the details our of fear of reprisal and wanting to keep his sexuality a secret. But the second seen gave the address of the abandoned apartment. Police found an immaculate apartment that had been freshly painted and washed with bleach. One detective called it "the cleanest crime scene I've ever seen." Despite the elaborate attempt to conceal the crime, police were still able to find cans of alcohol and hair at the scene.
The plot fell apart on Wednesday night when someone in the crowd of onlookers provided the name of the man believed to be the group's ringleader. Later, all three victims gave full statements of the attack. Arrested were Ildefonzo Mendez, 23; David Rivera, 21; Nelson Falu, 18; Steven Carballo, 17; Denis Peitars, 17; Bryan Almonte, 17; and Brian Cepeda, 16. Two others, Elmer Confessor, 23, and Ruddy Vargas-Perez, 22, are still being sought. They all face charges of unlawful imprisonment, abduction, assault, robbery, sodomy and menacing, all as hate crimes.
Prop 8 Rallies Planned
Jim Burroway
August 4th, 2010
As Timothy mentioned yesterday afternoon, we received word that a decision in Perry v. Schwarzenegger is expected this afternoon between 1:00 and 3:00 pm (PDT). Already, Prop 8 supporters have already filed a request for stay of judgment pending appeal, in case Judge Walker strikes down Prop 8. If granted, this would prevent any marriages taking until the Court of Appeals hears the case.
Meanwhile, a large number of rallies are planned in California and across the U.S., forty so far and counting. Rex Wockner is keeping up to date with the latest additions.
NY Catholics March Despite Ban
Jim Burroway
June 28th, 2010
Marchers from St. Francis Xavier, a gay-welcoming Catholic church which had been participating in New York City's Gay Pride parade for several years, were forbidden by NYC Archbishop Timothy Dolan from marching with a banner identifying their parish's name in last weekends parade. Their response? They marched with a blank banner. Here's CNN's coverage: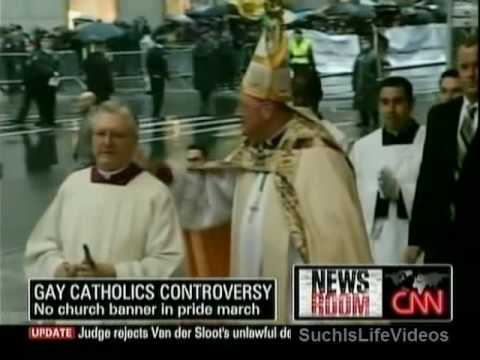 "Not Equal" Flag Debuted in New York DADT Protest
Jim Burroway
March 19th, 2010
Protesters carried this banner at a small protest in New York City's Times Square today against "Don't Ask, Don't Tell".  I don't know if this one will catch on, but given the rising anti-HRC sentiment I wouldn't be surprised if this starts to become the new rainbow flag, especially given the new flag's lineage:
Rainbow flag creator Gilbert Baker, himself a Vietnam-era veteran, was on hand with a yellow "is not equal to" symbol he had sewn onto a blue banner. The new flag was commentary on the logo long used by HRC, whose efforts to get Don't Ask, Don't Tell repealed and advance other goals are viewed as inadequate by direct action groups emerging nationwide. "HRC isn't pressing the issue or demanding equality," Dillon said. "It's not working."
Three members of Queer Rising tried to gain access to the Midtown Manhattan Armed Service Career Center, but were blocked. About 20 protesters were on hand altogether.