Pat Robertson: Gays are Gay Because They Were Abused
Jim Burroway
June 10th, 2009
Televangelist Pat Robertson advised a mother of a gay son that she needs to understand what causes homosexuality before she can begin to understand how do deal with the "problem." Robertson is convinced that most people are gay because they were abused by "a coach or guidance counselor or some other male figure." Here's the video and transcript: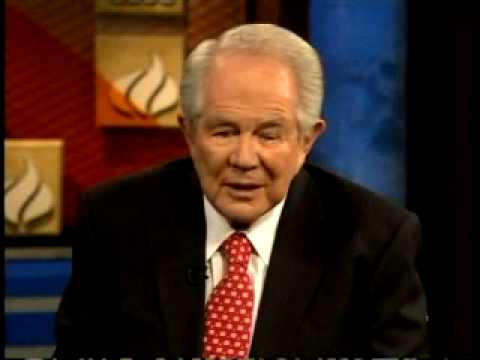 TERRY MEEUWSEN (co-host): This is Theresa. This is difficult. She says, "How should we, as parents of a homosexual son, handle the ongoing challenges facing us, such as staying true to our faith and following the commandment to 'love your neighbor as yourself'? This is very difficult for us."

ROBERTSON: Well first of all, he's not your neighbor, he's your son. That's a different thing. You owe him, you know, advice and counsel and guidance. You're his parent.

First of all, you didn't say how old he is. Secondly, I am not at all persuaded that so-called homosexuals are homosexuals because of biological problems. There may be a very few, but there are so many that have been made homosexuals because of a coach or a guidance counselor or some other male figure who has abused them and they think there's something wrong with their sexuality.

So you need to get deep into why he is what he is, instead of just saying, "Well, he's a homosexual so how do I handle him, and how do I be Christian?" Well, I think you ought to tell him, "Listen, son, you know, here's what the Bible says about this, and it's called an abomination before God, so I've got to tell you the truth because I love you."

That's what I think. All right, what else?

MEEUWSEN: And then you do that — you love him.

ROBERTSON: You love him, of course you love him and you accept him. You love him, but at the same time, you can't let him just go, you know, he'll wind up…

MEEUWSEN: Without knowing truth, yeah.

ROBERTSON: Well I mean, if somebody's on their way to hell, they'll… I mean you've got to love them to rescue them.
This is an extremely common belief in evangelical circles, that gays are gay because they were sexually abused. Some would have you believe that sexual abuse is a universal formative experience among gay people. Focus On the Family's Melissa Fryrear always makes a point to tell Love Won Out audiences that:
"I never met one woman who had not been sexually violated or sexually threatened in her life. I never met one woman. And I never met one man either, that had not been sexually violated or sexually seduced in his life".
Fryrear, of course has been told publicly and privately by many gay and lesbians that they have never been abused. But not only that, I reported on the very painful heartbreak that some parents experienced upon hearing her confident and pointed assertion that their sons and daughters have certainly been abused — even though before attending the conference these same parents had no reason to suspect that their child had been abused.
Yet that bone-chilling fear is essential to the ex-gay message. Without fear, they have nothing. And because of that, I am willing to bet a steak dinner that when Fryrear speaks at the next Love Won Out conference in Grand Rapids, Michigan this coming weekend, she will repeat those same cruel words yet again, and she will induce once again unwarrented fear and heartbreak in yet another crop of unsuspecting parents.
Not only is the myth of gays-abusing-children as a form of recruitment cruel, but it simply isn't true. Researchers have looked long and hard at the gays-as-predators myth and have found nothing to support that belief. It's not out and openly gay people who are abusing young boys in large numbers, it's men who steadfastly say they are straight — and research bears them out in their claims. They are married or have girlfriends, they are fathers and step-fathers, who no one would even think twice about being gay. And when researchers look at their adult romantic sexual attachments, they are almost never interested in other adults of the same sex. Those are just the cold hard facts, whether Robertson, Fryrear, or anyone else wishes to acknowledge the truth or not.
But on a logical level, it doesn't add up either. Dan Savage responded to Robertson's latest tirade by blowing the myth this way:
Who's raping all these Christian kids?

Not openly gay people. Fundamentalist Christian parents don't allow their children hang out with openly gay men and women. Openly gay men do not get hired to work as a guidance counselors at fundamentalist Christian middle schools; out lesbians do not get hired to work as coaches at a fundamentalist Christian high schools; openly bi graduate students don't get to serve as dorm captains at fundamentalist Christian colleges. So it isn't out gay men and women—openly gay coaches and counselors and youth pastors—who are raping all these Christian kids and leaving them "confused" about their sexualities. Most fundamentalist Christian kids have never met an out gay or lesbian person. Which can only mean…

All these Christian kids are being raped by straight-identified, nominally-Christian coaches and counselors and youth pastors and dorm captains.

If you buy into Robertson's theories on origins of homosexuality then you have to embrace a highly unflattering picture of Christian America.
Comments