Possible DADT vote today
The opinions expressed in this post are those of the author and do not necessarily reflect those of other authors at Box Turtle Bulletin.
Timothy Kincaid
December 8th, 2010
There has been a heightened tension over the past few weeks surrounding the partisan positioning over whether to raise the current tax rates – and on whom – along with the extension of unemployment benefits and whether this battle would eliminate the possibility of a vote on the Defense Authorization Bill (which includes the repeal of DADT). But though I've had my douts, I've maintained a certain degree of optimism around the prospect.
This is too important to the White House. Not that the President is particularly impassioned about repealing the discriminatory policy, but he needs to shore up support from the more liberal end of the Democratic Party and this is an action that can help that goal. And I've also assumed from the beginning that a compromise would be reached in the tax/unemployment negotiations once everyone had an opportunity to make the speeches that their constituents want to hear.
So I'm not particularly surprised that Sen. Reid has announced that he will bring the Defense Authorization Bill up for a cloture vote today. And there is a good chance that it DADT repeal can be achieved.
In September, there were 56 Democratic Senators, of which two – Senators Lincoln and Pryor – voted against cloture. The two Independent Senators supported the vote, but all 42 Republicans withheld their support, claiming that the process cut them out of any ability to challenge specific spending items.
Since September, the Illinois special election removed one Democrat, replacing him with Republican Mark Kirk. But Sen. Pryor has announced that he will support DADT repeal and "will support procedural measures to bring it to a vote this year." Unfortunately, his support is offset by Democratic Sen. Manchin who has now raised objections to the repeal. Thus, the count of all-but-certain votes for cloture are 53 Democrats and 2 Independents.
This means that five additional supporters are required from Republicans (and/or Sens. Lincoln and Manchin). There are currently two Republicans who have pledged support of repeal: Sen. Collins and Sen. Brown. But this support is conditional; Sen. Reid must allow Republicans to challenge and debate controversial provisions of the bill, including spending on certain programs that are believed to be based more on financial benefit to specific well-connected military contractors than on actual need. Reid, however, is fearful that unlimited debate would result in the hijacking of the process by endless irrelevant amendments intended to run out the clock.
And this may be the sticking point. Rumors are flying, and posturing, finger pointing, and accusations have begun. The Washington Post reports the position of Reid – as provided by an aide:
Reid has offered Collins a total of 15 amendments in order to get her to vote Yes — 10 for Repubicans and five for Democrats, the aide continues. Reid views this as a reasonable offer, because previous debates on defense authorization bills have had roughly this number of amendments offered, the aide adds.

But as of now, Collins has indicated this offer is "unsatisafctory," the aide says. A Collins spokesperson denied this account in an email, but declined to elaborate.
I think it rather likely that this little battle will resolve itself. Senator Collins gains nothing by being portrayed as unreasonable and she is a experienced politician who is particularly skilled in crafting and controlling her image.
Assuming that Collins and Reid will find a mutually acceptable position (as, for now, I do), the question is just who else will vote for cloture. There are at least ten other possible supporting votes who are holding their cards close to their chest. We need three.
The President is reported to be calling Senators on both sides of the aisle.

UPDATE: Senator Lieberman is refuting the claims made by Reid's aide:
"Senator Collins has been working in good faith to achieve an agreement on the process to move forward with the defense bill that contains the repeal of 'Don't Ask, Don't Tell,'" Lieberman said. "I categorically reject reports by uninformed staffers who have suggested otherwise."

Lieberman said he wants "those responsible for such baseless allegations" to stop immediately and work to get to an agreement to the defense authorization bill to the Senate floor.

"We are making progress toward an agreement to move forward on the defense bill that includes the repeal of 'Don't Ask, Don't Tell' and I remain confident that we can reach an agreement, which is necessary before any vote on the motion to reconsider is taken," Lieberman said.
If this turns out to be a posturing ploy from Reid's office, it likely will backfire. Our community has become unwilling to accept the claims of Reid at face value.
Call Your Senators
Jim Burroway
December 8th, 2010
Servicemembers Legal Defense Network has issued a call to action for today's possible vote for cloture on DADT repeal. The Senators who need to hear from you the most are:
Susan Collins (R-ME): 202-224-2523
Olympia Snowe (R-ME): 202-224-5344
Richard Lugar (R-IN): 202-224-4814
Judd Gregg (R-NH): 202-224-3324
Scott Brown (R-MA): 202-224-4543
George Voinovich (R-OH): 202-224-3353
Kit Bond (R-MO): 202-224-5721
Lisa Murkowski (R-AK): 202-224-6665
Mark Kirk (R-IL): 202-224-2854
Joe Manchin (D-WV): 202-224-3954
Update: An action alert from Servicemembers United adds Harry Reid to their list of Senators to call:
A handful of Republicans have indicated a willingness to vote to proceed on NDAA if the amendment and debate process is "fair and reasonable." Since Senate Majority Leader Harry Reid (D-NV) alone controls the amendment and debate process, pressure needs to be put on both Senator Reid AND the handful of moderate Republicans to come to an agreement.
SU also recommends calling:
Harry Reid (D-NV): 202-224-3542 
Blanche Lincoln (D-AR): 202-224-4843
John Ensign (R-NV): 202-224-6244
DADT Cloture Vote May Come Up This Evening
The opinions expressed in this post are those of the author and do not necessarily reflect those of other authors at Box Turtle Bulletin.
Jim Burroway
December 8th, 2010
Is this the end game for "Don't Ask, Don't Tell's" repeal? Alex Nicholson at Servicemembers United smells more empty political posturing which, if true, could end up dooming DADT for at least the next two years:
If Senator Reid has received confirmation that Republican supporters of repeal are satisfied with the tax cuts deal, then the issue becomes the number of amendments and amount of floor time that Senator Reid is offering on the bill. As of this morning, it is our understanding that he is still lowballing his offer and presumably hoping that we will just blame 'the Republicans.' If he does not move his offer into the realm of reasonableness, then he will be intentionally throwing the vote when he brings it up.
Senate Republicans have already announced that they will block all bills in the Senate until the tax deal is worked out. Clearly that's not the case yet, as many House and Senate Democrats are in open rebellion over the compromise reached by President Obama. Only two GOP votes are needed to break the Republican logjam, and Maine Senators Olympia Snowe and Susan Collins are seen as two possibilities for achieving cloture for the Defense Authorization Bill which contains the measure repealing DADT. But as I see it, that's a very shaking foundation for going forward. On every single vote — whether its health care reform or DADT repeal — in which Snowe and Collins were seen as potential bipartisan supporters, they have reliably refused to break ranks with the GOP every time. I would be dumbstruck if past behavior didn't portend future behavior. And so the political theater continues.
Update: A spokesman for Susan Collins provides another soliloquy in this political theater:
Senator Collins has maintained that the Senate should be focused on taxes and the economy (especially since the tax provisions expire on January 1) and obviously we need to pass a bill funding the government before Friday.These are top priorities and there is limited time.

However, she believes there is time to consider other issues as well, and she has made it clear that if the Majority Leader brings the Defense Authorization bill to the floor, for example, and allows sufficient debate and amendments, she would vote to proceed to the bill.
You see, that's how you say yes while actually saying no. And since Reid knows full well Collins's position and is lowballing his offer anyway, he, too, is saying yes while actually saying no. They both just hope we're too dumb to notice.
Update 2: Sen. Joseph Lieberman pushes back on the naysayers:
"Senator Collins has been working in good faith to achieve an agreement on the process to move forward with the defense bill that contains the repeal of 'Don't Ask, Don't Tell.' I categorically reject reports by uninformed staffers who have suggested otherwise. As she always does, Senator Collins is working diligently and across party lines to find solutions to the challenges that confront our country. I call on those responsible for such baseless allegations to stop immediately and instead work to get to an agreement to bring this critical bill to the floor for Senate action.  

"We are making progress toward an agreement to move forward on the defense bill that includes the repeal of 'Don't Ask, Don't Tell' and I remain confident that we can reach an agreement, which is necessary before any vote on the motion to reconsider is taken. I am working closely with Senator Reid and Senator Collins and other members who want to reach a fair and reasonable agreement to move the defense authorization bill that that is so essential to the needs of our troops, veterans, and their families.  
"It is now more clear than ever that we have 60 or more votes in support of repealing 'Don't Ask, Don't Tell,' so it is vitally important to reach agreement on the right process to move forward."
It's that last part, "the right process to move forward," which is the lynch pin.
Texas religious folk weigh in on chaplains' concerns about repealing DADT
Timothy Kincaid
December 7th, 2010
The Dallas Morning News asked a broad variety of religious leaders – Unitarians, Baptists, Jews, Methodists, Baptists, Episcopalians, more Baptists (it is Texas) – about their views on the difficulties that some military chaplains have expressed about repealing Don't Ask, Don't Tell. Specifically, they were asked to address the opinions of Rev. Douglas E. Lee.
Here were their responses:
KATIE SHERROD, Progressive Episcopalian activist and independent writer/producer, Fort Worth
As to the military chaplains, how do these pastors handle the conflict between "Thou shalt not kill" and the often open and widespread killing of innocents during modern warfare? Seems to me that's a much bigger contradiction than dealing with someone who is attracted to and/or loves someone of the same gender.
CYNTHIA RIGBY, W.C. Brown Professor of Theology, Austin Presbyterian Theological Seminary
Chaplains who believe homosexual sex is sinful are not being asked to change what they believe. They are, however, being asked to honor the fact that not all people of faith think the same way by listening, understanding, counseling, and leading worship in ways that model compassion and welcome into fellowship those who strongly disagree. If a clergy person is not gifted at honoring others' positions, he or she is not called to the particular vocation of being a military chaplain and should seek a ministerial calling elsewhere.

Perhaps chaplains who are more socially conservative would be helped by seeking counsel from their more liberal counterparts, who are well practiced at negotiating the space between their own convictions and military policy. Military chaplains who do NOT believe homosexual sex is a sin have, for decades, been expected to be careful about how they represent their views, especially in the face of the military's "don't ask, don't tell" policy. While the repeal of the policy will be a challenge for some chaplains, it should be remembered that it would be a burden lifted from the consciences of many others.
DANIEL KANTER, Senior Minister, First Unitarian Church of Dallas
My personal approach, and the one I learned as a hospital chaplain, is to meet people where they are to address their deepest needs and struggles. I know that it is possible that my beliefs can get in the way of the healing that can take place in a counseling setting. As clergy we first must aim to make room for people to be who they are as children of God and only in a distant second do we introduce our personal values into the room.
JOE CLIFFORD, Senior Pastor, Head of Staff, First Presbyterian Church of Dallas
If chaplains paid by the government feel they cannot proclaim what their faith believes, then perhaps they should not work for a government that prohibits establishing any one religion.
JAMES DENISON, Theologian-in-Residence, Texas Baptist Convention and President, Center for Informed Faith
At the same time, military chaplains are commissioned to serve people of all faith commitments and none, whether they agree with their beliefs or not. They can serve alongside and counsel soldiers who do not obey biblical teachings without endorsing such behavior. The same seems true regarding sexual activity, whether homosexual or heterosexual.

As a pastor, I never required those I counseled to believe everything I believed, or felt I endorsed their actions by trying to help them. The darker the room, the greater the need for light.
MIKE GHOUSE, President, Foundation for Pluralism, Dallas
When an individual opts to serve our country to defend our freedom, we must honor that individual to the highest degree and treat him or her with dignity. We should never forget that they are defending every American and not just an exclusive club. Those of us who serve them ought not to forget to reciprocate them with equal enthusiasm and unrestrictive honor.

The Army Chaplains are employees of the nation to serve the men and women who defend our nation, and they ought to serve every defender of our nation regardless of their sexual orientation, race, ethnicity, faith, language or appearance.
LARRY BETHUNE, Senior Pastor, University Baptist Church, Austin Texas
The religious liberty of the troops and their protection from discrimination when seeking spiritual care is at least as important as the protection of the spiritual liberty of the chaplains.
…
Chaplains will not be required to teach or counsel against their beliefs unless their beliefs compel them to discriminate or disrespect the religious liberty of others, in which case they need to choose a sectarian setting rather than a chaplaincy setting for their ministry. As the U.S. Coast Guard Academy white paper referenced in the Pentagon's implementation plan (page 9) suggests: "…religious plurality is a core American value."
DARRELL BOCK, Research Professor of New Testament Studies, Dallas Theological Seminary
They have to do the best they can to honor their convictions and yet try to serve those they are called to minister to. This is not always easy, but the military is full of such situations given the mix of faiths that are present.
…
Counselors often find themselves dealing with situations where they would act differently. Still, one can always listen and give advice knowing it may or may not be heeded. That is about all one can do.
GEOFFREY DENNIS, Rabbi, Congregation Kol Ami in Flower Mound; faculty member, University of North Texas Jewish Studies Program
It is well past time for this discriminatory aspect of our armed forces to disappear. Gay men serve effectively in other armed forces, such as the IDF. I know some personally.

As a police chaplain who has worked with people in crisis from diverse faiths, I don't see how the inclusion of gay troops should present any additional difficulty that is not already faced by military chaplains who counsel soldiers, given that many soldiers engage in behaviors that a given chaplain may not morally approve of.

Lots of soldiers, for example, drink alcohol socially. Are the current hard-shell Baptist and Muslim chaplains simply unable to counsel such troops without getting entangled in arguments about liquor?
WILLIAM LAWRENCE, Dean and Professor of American Church History, Perkins School of Theology, Southern Methodist University
Anyone who serves as a military chaplain chooses that career path in ministry. No chaplains today are drafted. Therefore, every chaplain knows that proclaiming the faith and providing pastoral care must be professionally done without insisting that one's own personal or denominational preferences will prevail.

It would be outside the role of chaplains, in a military that allows gay and lesbian personnel to serve, for the chaplain to condemn or deplore the orientation of a uniformed person's sexuality. If a chaplain finds someone's sexual orientation to be offensive or unacceptable theologically, the chaplain must arrange for a less offended colleague to offer ministerial care. Or the offended chaplain must consider finding another venue for exercising her or his call to ministry.
Ya know, if the Texas Baptists really aren't seeing this as a hardship for chaplains, well then I really don't think that religious liberty is at stake.
The White House IS Showing Leadership on DADT Repeal
Jim Burroway
December 6th, 2010
It's just not the leadership we expected to see two years ago. Consider the evidence as The Advocate's Kerry Eleveld reviews Reid's announcement of the Senate's floor schedule:
The near-final nail in the coffin was delivered by Senate majority leader Harry Reid over the weekend when he announced the floor schedule for the week of December 6: nothing Monday, on Tuesday/Wednesday an impeachment trial of a federal judge from Louisiana, with the first votes of the week likely to come on Thursday.

Once the impeachment is a wrap, Reid noted that left "a pretty clear path" to what else needed to be addressed – tax cuts, a Continuing Resolution to keep the government funded, and the Strategic Arms Reduction Treaty plus votes on some other extraneous bills, one of which included the DREAM Act. …

Senate Armed Services Committee chairman Sen. Carl Levin — perhaps slightly dismayed at no mention of the National Defense Authorization Act — prodded Reid to "say something about the Defense bill."

Oh yeah … that. "We're also trying to figure out a time to move forward on the defense authorization bill," Reid added, along with offering some minutiae about process and time being too scarce to debate the bill without putting limitations on the number of amendments and length of debate.
In other words, it's not on Reid's radar. Especially now that  he can't milk it for the midterm elections.
Kerry also notes that DADT repeal hasn't made the White House's list of "must-haves" for the lame duck session. In fact, the White House's list just happens to match Reid's list to a tee. It's also not among the White House's talking points, nor does Press Secretary Robert Gibbs mention it unless asked directly — usually by Eleveld.
Defense Secretary Robert Gates can read the tea leaves as well as anyone. While he has supported DADT's repeal from the very beginning, he told sailors aboard the aircraft carrier Abraham Lincoln in the Arabian Sea today, "I'd have to say I'm not particularly optimistic that they're going to get this done."
There's a lot of talk that the demise of DADT repeal reflects Obama's lack of leadership on this issue, but I disagree. I think it's time we recognized that the White House HAS been showing leadership on DADT. It's just not the kind of leadership we expected when he said its repeal would a a priority for him. Examples of Obama's leadership include:
Setting the contentious midterm year of 2010 as the year for repeal.
Agreeing to a timetable that called for the Pentagon to study repeal but not complete its work or release its report until December — with just one month left before the 111th Congress expires.
Actively discouraging any attempt to repeal DADT before the Pentagon releases its report.
Refusing to lobby Capital Hill for DADT's repeal.
Opposing DADT's demise through the courts by appealing the decision striking down DADT as unconstitutional.
Just as Harry Reid got exactly what he wanted when he deliberately set DADT repeal up for failure last September, we would have to be the world's greatest fools not to conclude that Obama has gotten exactly what he wanted in this entire debacle as well. The entire strategy was laid out too deliberately to conclude otherwise. How this consciously engineered fiasco is supposed to serve him, I haven't the foggiest clue. But then, I'm not the one make the political calculations here. All I can do is look at the evidence that is right in front of my nose. And it reeks.
And by the way, the HRC's political calculator is worse than the President's. Remember when Joe Solmonese was so confident in Obama's plan? Good times.
The VERY stupidist chaplain excuse for opposing DADT repeal
Timothy Kincaid
December 3rd, 2010
Anti-gay chaplains in the military are all in a dither about whether they will be able to continue to preach their objections to homosexuality if gay soldiers are allowed to serve their country. Rev. Douglas E. Lee, a retired Presbyterian* Air Force chaplain and brigadier general who now counsels and credentials chaplains, had this to say: (WaPo)
"There's a strong possibility that a chaplain wouldn't be allowed to proclaim what their own faith believes, and not give people the information they need to be a good Christian or a good Muslim or what have you," he said. "If there's no protection for the chaplain to be able to speak according to his faith group, that might affect the number of chaplains we recruit or our ability to do our duty for the troops."
Seriously, Rev. Lee? You really are worried about not being able to tell a Muslim that homosexuality is a sin, but you have no concerns about "your own faith believes" about Islam? Really? You can bring yourself to give theological advice to a Muslim without having to agree on salvation or the deity of Christ, but can't find a way to allow for a United Church of Christ member or even a fellow Presbyterian who is gay?
Frankly, Reverend, either you are a liar, a bigot, or an idiot.
*(anti-gay PCA, not pro-gay PCUSA)
DADT round-up
Timothy Kincaid
December 3rd, 2010
Yesterday the Chairman of the Joint Chiefs of Staff and the Secretary of Defense testified before Congress in favor of repealing Don't Ask, Don't Tell. Today the Service Chiefs testified with mixed messages.
Marine Corps Gen. James F. Amos said that he didn't want repeal "at this time." I think it's pretty clear is that Gen. Amos doesn't want repeal at any time under any circumstances due to his own personal prejudices.
Army Chief of Staff Gen. George W. Casey Jr. believes that DADT should be repealed eventually but not right now.
Air Force Gen. Norton A. Schwartz thinks that the repeal should occur, but that the report is too optimistic. He recommended repeal, but that the change not take effect before 2012.
Only Chief of Naval Operations Adm. Gary Roughead supported the immediate repeal of the policy (LA Times)
Navy sailors routinely train and work in close quarters alongside the service members of allied navies that allow homosexuals to serve openly, said Roughead. After studying the integration of gay sailors into other navies over the past decade, Roughead described the impact on the effectiveness of the force as a "non-event."
John McCain, of course, will not be listening to the Navy Chief. Rather, he has been obsessing over the subset of the Marines who oppose repeal. Do you get the impression that if the typists in the stenopool were the only servicepeople who opposed repealing the policy, that McCain would declare them to be the most essential part of the Military operation?
Meanwhile, everything is being held up by the Republican Senators' cohesive effort to force a vote to extend current tax rates. (And no, this is not a tactic that was created to block DADT.) It is difficult to know whether this block will hold together should a compromise plan be proposed (one that does not define a couple making $250,000 in Los Angeles as "millionaires and billionaires" but draws a higher threshold.)
Eventually, the Defense Appropriations bill will go before the Senate. And even in the new Senate, there may not be enough Republican votes to uphold a filibuster.
To date, at least two Republican Senators have pledged support (and more are likely): Susan Collins of Maine and Scott Brown of Massachusetts:
"I have been in the military for 31 years and counting, and have served as a subordinate and as an officer," said Mr. Brown, who is in the Massachusetts National Guard. "As a legislator, I have spent a significant amount of time on military issues. During my time of service, I have visited our injured troops at Walter Reed and have attended funerals of our fallen heroes. When a soldier answers the call to serve, and risks life or limb, it has never mattered to me whether they are gay or straight. My only concern has been whether their service and sacrifice is with pride and honor."

Mr. Brown added, "I pledged to keep an open mind about the present policy on 'don't ask, don't tell.' Having reviewed the Pentagon report, having spoken to active and retired military service members, and having discussed the matter privately with Defense Secretary Gates and others, I accept the findings of the report and support repeal based on the secretary's recommendations that repeal will be implemented only when the battle effectiveness of the forces is assured and proper preparations have been completed."
Meanwhile a very influential voice on the right has joined in calling for an end to the ban.
It is time to recognize the desires of all people competent to serve in our Military and afford them the opportunity to contribute to this noble, often thankless, but very necessary profession.
Dr. Laura was immensely proud of her son's service in the Marines Army and would often reference it on her show. This endorsement carries a great deal of weight with her listeners.
Although there are various sound-bites that supporters and opponents can latch onto from the past two days of testimony, there is one thing on which all of the Chiefs agree: that legislative repeal will be far less disruptive than a judicial decision ending the policy. And they have good reason to fear just such a decision.
The ONLY defense provided by the Department of Defense in Log Cabin v. the US was that Congress was going to repeal the policy and that they should be allowed to do so. Should Congress fail to take such action, then there is no argument whatsoever that the government has left to make in the appeal to Log Cabin's victory.
And Log Cabin will not play nice with the administration. They will undoubtedly file with the appeals court that the appeal be tossed out and that, at the very least, the current hold on the injunction be lifted. The Department of Defense can hardly claim a likelihood of success in the courts if they have nothing at all on which to base their defense.
There is a very real possibility that if Congress declines to enact a plan to roll out a gradual repeal, the courts could end the policy immediately. And while McCain would rather play Curmudgeon in Chief, those who care about defense policy should carefully consider the consequences of inaction.
Republicans Unite To Doom DADT Repeal
The opinions expressed in this post are those of the author and do not necessarily reflect those of other authors at Box Turtle Bulletin.
Jim Burroway
December 1st, 2010
That's according to a letter signed by all 42 Senate Republicans to Sen. Majority Leader Harry Read:
…Republicans informed their Democratic counterparts they would not go forward with "any legislative item until the Senate has acted to fund the government and we have prevented the tax increase that is currently awaiting all American taxpayers."

The letter goes on: "With little time left in this Congressional session, legislative scheduling should be focused on these critical priorities. While there are other items that might ultimately be worthy of the Senate's attention, we cannot agree to prioritize any matters above the critical issues of funding the government and preventing a job-killing tax hike." 
Given the high political stakes behind the extension of the Bush's budget busting tax cuts, it's unlikely that the GOP-induced logjam will be broken anytime soon before time runs out. All of those GOP Senators who claimed they would vote to repeal DADT?  As far as I can see, it was nothing but vacuous political posturing. So what else is new?
Chaffetz reacts to DADT report
Timothy Kincaid
November 30th, 2010
Utah representative Jason Chaffetz is one of my favorite legislators. Not because I ever agree with him, but because he's such a loon that he makes for fun blogging.
Chaffetz is the buffoon who, upon the fifth state enacting civil marriage said, "The trend is still 45 states don't."
He's the fumbling, bumbling fellow who was charged with making sure that the District of Columbia's marriage law was blocked by Congress. Ah, Utah 3rd District, you surely must be proud.
And, consistent with his method of legislating, Chaffetz has now responded to the DADT report. Or, not exactly to the report…
Chaffetz, who has not yet read the study, said he is "still opposed to such a dramatic alteration in the midst of active war."
Still opposed, based on, oh, nothing. There ya go, Chaffetz, that's the ignorant lout with an uninformed opinion that we all know and love.
Will It Be the Senate Or the Courts? DADT Report Throws Down the Gauntlet
Jim Burroway
November 30th, 2010
The Defense Department's comprehensive review on implementing an end to "Don't Ask, Don't Tell" was released today, and its hard to imagine a more ringing endorsement for the policy's demise. Timothy has already reviewed the report's recommendations. Clearly the Defense of Marriage Act with its impact on important domestic arrangements remains the greatest single obstacle to achieving full equality for LGBT service members, as it is for the rest of society. But as for the repeal of DADT itself, here is the money quote you've all been waiting for (PDF: 8,847KB/267 pages):
Based on all we saw and heard, our assessment is that, when coupled with the prompt implementation of the recommendations we offer below, the risk of repeal of Don't Ask, Don't Tell to overall military effectiveness is low. We conclude that, while a repeal of Don't Ask, Don't Tell will likely, in the short term, bring about some limited and isolated disruption to unit cohesion and retention, we do not believe this disruption will be widespread or long-lasting, and can be adequately addressed by the recommendations we offer below. Longer term, with a continued and sustained commitment to core values of leadership, professionalism, and respect for all, we are convinced that the U.S. military can adjust and accommodate this change, just as it has others in history.
But if anyone decides to forget to read the report (I'm looking at you, Sen. McCain), Defense Secretary Robert M. Gates backed up the report with a statement urging the Senate to repeal DADT this year. Navy Adm. Mike Mullen, chairman of the Joint Chiefs of Staff, called the report's findings and recommendations "solid, defensible conclusions."
More significantly, I think, is this warning that Mullins directed toward the holdouts in the Senate:
Mullen added that the implementation of a repeal of the law would not be without its challenges, and that he supports the process taking place through the Congress instead of the court system. "We can best address those challenges by having it within our power and our prerogative to manage the implementation process ourselves," he said.
This would suggest that the Pentagon sees DADT as indefensible in the courts, which presents a serious challenge to the Republican opposition in the Senate: Do you want to do this the easy way or the hard way?
Some of the report's key findings include:
70% believe that having a gay service member in their unit will have a positive, mixed, or no effect on the unit's ability to "work together to get the job done."
69% reported that they had worked with a service member who they believed to be gay. On that point, the report conceded that "The reality is that there are gay men and lesbians already serving in today's U.S. military, and most Service members recognize this."
Of them, 92% stated that the unit's "ability to work together" was either "very good," "Good," or "neither good nor poor." On that point, the report concluded that "Both the survey results and our own engagement of the force convinced us that when Service members had the actual experience of serving with someone they believe to be gay, in general unit performance was not affected negatively by this added dimension.
Of service members spouses, 74% said repeal would have no effect, while only 12% said "I would want my spouse to leave earlier."
The report also found that when units in war zones were questioned about whether they thought lifting DADT would hurt unit cohesion, a higher percentage thought that it would, relative to units that were not in war zones. But the report made a key distinction between those predictions and the perceptions of those serving in war zones who had actually had the experience of serving known or suspected LGBT service members:
However, while a higher percentage of Service members in warfighting units predict negative effects of repeal, the percentage distinctions between warfighting units and the entire military are almost non-existent when asked about the actual experience of serving in a unit with someone believed to be gay. For example, when those in the overall military were asked about the experience of working with someone they believed to be gay or lesbian, 92% stated that their unit's "ability to work together," was "very good, "good" or "neither good nor poor." Meanwhile, in response to the same question, the percentage is 89% for those in Army combat arms units and 84% for those in Marine combat arms units—all very high percentages.19 Anecdotally, we heard much the same. As one special operations force warfighter told us, "We have a gay guy [in the unit]. He's big, he's mean, and he kills lots of bad guys. No one cared that he was gay."
The report also contains a key history lesson, noting that the challenges in eliminating racial segregation in the armed forces in the midst of the cold war and rising tensions in the Korean peninsula were much, much greater.
In the late 1940s and early 1950s, our military took on the racial integration of its ranks, before the country at large had done so. Our military then was many times larger than it is today, had just returned from World War II, and was in the midst of Cold War tensions and the Korean War. By our assessment, the resistance to change at that time was far more intense: surveys of the military revealed opposition to racial integration of the Services at levels as high as 80–90%. Some of our best-known and most-revered military leaders from the World War II-era voiced opposition to the integration of blacks into the military, making strikingly similar predictions of the negative impact on unit cohesion. But by 1953, 95% of all African-American soldiers were serving in racially integrated units, while public buses in Montgomery, Alabama and other cities were still racially segregated.
The report noted that the survey's questionnaire was not intended to answer the question of whether "Don't Ask, Don't Tell" should be repealed, but how. The report said that asking whether the policy should be repealed "would, in effect, have been a referendum, and it is not the Department of Defense's practice to make military policy decisions by a referendum of Service members."
As I said, it's hard to imaging a more compelling case for DADT's repeal if it had been written by Servicemembers United themselves. The Senate now has a stark choice: Either allow DADT to die an orderly death according to the Pentagon's implementation plan, or risk throwing it open to the chaos of an immediate injunction from the courts. If they really were interested in combat readiness and unit cohesion, the answer should be obvious.
DADT Report recommendations
Timothy Kincaid
November 30th, 2010
The Pentagon has released the report of its survey of servicemembers and their families. You can find it here (pdf – 267 pages).
We'll discuss the findings separately, but here are my impressions about the recommendations:
This Report is welcomed. It will probably contribute positively to the repeal of DADT. But it is far from an endorsement of equal treatment for gay people.
The objective of this Report seems to be to find a way to accommodate gay servicemembers while simultaneously making sure not to equate gay relationships to those of heterosexuals. The presumption from the outset is that heterosexuals are justified in seeing homosexuality as inferior, but that the Military can find ways to tolerate this peculiarity. Parts of it read a bit like a conversion from "Don't Ask, Don't Tell" to "We'd rather not hear, so don't bother telling".
Or, at least in terms of pragmatic application, it accepts those parameters as reasonable.
Motivating many of our recommendations is the conclusion, based on our numerous engagements with the force, that repeal would work best if it is accompanied by a message and policies that promote fair and equal treatment of all Service members, minimize differences among Service members based on sexual orientation, and disabuse Service members of any notion that, with repeal, gay and lesbian Service members will be afforded some type of special treatment.
By "special treatment", they mean equal treatment.
1. The recommendation of the Report is not that the repeal be treated in a manner similar to that of the integration of race. Rather, special deference should be given to those who object to equal treatment:
Throughout the force, rightly or wrongly, we heard both subtle and overt resentment toward "protected groups" of people and the possibility that gay men and lesbians could, with repeal, suddenly be elevated to a special status.
…
Therefore, in the event of repeal, we do not recommend that the Department of Defense place sexual orientation alongside race, color, religion, sex, and national origin as a class eligible for various diversity programs, tracking initiatives, and the Military Equal Opportunity program complaint resolution processes. Instead, the Department of Defense should make clear that sexual orientation may not, in and of itself, be a factor in accession, promotion, or other personnel decision-making. Gay and lesbian Service members, like all Service members, would be evaluated only on individual merit, fitness, and capability. Likewise, the Department of Defense should make clear that harassment or abuse based on sexual orientation is unacceptable and that all Service members are to treat one another with dignity and respect regardless of sexual orientation. Complaints regarding discrimination, harassment, or abuse based on sexual orientation would be dealt with through existing mechanisms available for complaints not involving race, color, sex, religion, or national origin—namely, the chain of command, the Inspector General, and other means as may be determined by the Services.
As we've seen with anti-bullying campaigns that exclude a "sexual orientation" category, this will be likely seen as an indication that the Military does not consider discrimination against gay people to be as insidious as that based on race or religion. It will invite continued discrimination.
2. The study opposes any collection or retention of data for tracking whether the integration of gay people into the military is effective.
We recommend against creating a data category for Service member sexual orientation; in the event Don't Ask, Don't Tell is repealed, we recommend that the Department of Defense continue the practice of not asking Service members or recruits to identify their sexual orientation.
3. However, the Report sees no necessity to revise policies to address the fears about "homosexual behavior":
We believe it is not necessary to set forth an extensive set of new or revised standards of conduct in the event of repeal. Concerns for standards in the event of repeal can be adequately addressed through training and education about how already existing standards of conduct continue to apply to all Service members, regardless of sexual orientation, in a post-repeal environment.

We do recommend, however, that the Department of Defense issue generalized guidance to the Services that all standards of personal and professional conduct must apply uniformly without regard to sexual orientation. We also recommend that the Department of Defense instruct the Services to review their current standards of personal and professional conduct to ensure that they are neutral in terms of sexual orientation and provide adequate guidance to the extent each Service considers appropriate on unprofessional relationships, harassment, public displays of affection, and dress and appearance. Part of the education process should include a reminder to commanders about the tools they already have in hand to remedy and punish inappropriate conduct that may arise in a post-repeal environment.
4. Nor do they recommend any changes in their chaplain policies. If atheists, Christians, Jews, and Muslims can serve together peaceably, so too can those of varying view about homosexuality and sin.
5. Article 125, which bans "sodomy", should be repealed:
Article 125 of the UCMJ treats all acts of sodomy, heterosexual, homosexual, consensual, or otherwise, as punishable conduct. In Lawrence v. Texas, the Supreme Court held that private consensual sodomy between adults cannot be considered a crime. The U.S. Court of Appeals for the Armed Forces reached a similar conclusion in the military context in the case United States v. Marcum. In light of these decisions, we recommend that Article 125 be repealed or amended to the extent it prohibits consensual sodomy between adults, regardless of sexual orientation. The other prohibitions considered punishable under Article 125, including forcible sodomy, sodomy with minors and sodomy that is demonstrated to be "service discrediting" (e.g., in public or between a superior and subordinate), should remain on the books.
6. While soldiers (and civilian anti-gay activists) were quite concerned about sharing rooms with, gasp, a homosexual, 38% of them think that they already have. The Report takes a somewhat pragmatic approach.
Accordingly, we recommend that the Department of Defense expressly prohibit berthing or billeting assignments based on sexual orientation, except that commanders should retain the authority to alter berthing or billeting assignments on an individualized, case-by-case basis, in the interest of maintaining morale, good order, and discipline, and consistent with performance of mission.
In other words, don't segregate. But if it's going to cause havoc for Billy Bob to have to room with the gay guy, then assign him to someone who isn't a raging homophobe. And, from what the rest of the Report suggests, it shouldn't be that much of a problem most of the time.
7. The Report completely dismisses the Oh Noes! There's a Ghey! in my Shower! fears:
Here again, we are convinced that separate bathroom facilities would do more harm than good to unit cohesion and would be impracticable to administer and enforce. Concerns about showers and bathrooms are based on a stereotype—that gay men and lesbians will behave in an inappropriate or predatory manner in these situations. As one gay former Service member told us, to fit in, co-exist, and conform to social norms, gay men have learned to avoid making heterosexuals feel uncomfortable or threatened in situation such as this. The reality is that people of different sexual orientation use shower and bathroom facilities together every day in hundreds of thousands of college dorms, college and high school gyms, professional sports locker rooms, police and fire stations, and athletic clubs.

Accordingly, we recommend the Department of Defense expressly prohibit the designation of separate facilities based on sexual orientation, except that commanders retain the authority to adjudicate requests for accommodation of privacy concerns on an individualized, case-by-case basis in the interest of maintaining morale, good order, and discipline, and consistent with performance of mission. It should also be recognized that commanders already have the tools—from counseling, to non-judicial punishment, to UCMJ prosecution—to deal with misbehavior in both living quarters and bathing situations, whether the person who engages in the misconduct is gay or straight.
8. Because of the Defense of Marriage act, the Report recommends that the relationships of gay people be considered much like they would a cousin or bowling buddy. In those instances where a servicemember can include a non-spouse as a beneficiary (for example, life insurance) the Military should advise gay member of that right, but otherwise federal law restricts it from changing anything.
That the Department of Defense and the Services not, at this time, revise their regulations to specifically add same-sex committed relationships to the definition of "dependent," "family members," or other similar term in those regulations, for purposes of extending benefits eligibility, but that this particular issue be revisited as part of a follow-on review of the implementation of a repeal of Don't Ask, Don't Tell.
For some benefits, such as access to legal services, they see two possible approaches: "leave to the Service member the freedom to designate his or her "dependents," "family members," or similar term; or, revise these definitions to specifically mention a committed, same-sex relationship, and require some type of proof of that committed relationship."
It keeping with its general concession to the superiority of heterosexuality, the recommend that same sex couples not be treated as a relationship but as a designee.
Our recommendation is that the Department of Defense and the Services review benefits in this category and assess whether they can be extended to same-sex partners in accordance with the former approach—that is, to refashion the benefit to become a "member-designated" one. Where it is legally permissible to do so under current statutory definitions, and where justified by policy, fiscal, and feasibility considerations, DoD should redefine the eligibility criteria for benefits in this category to allow Service members—gay or straight—to designate a beneficiary of their choosing, which could be a same-sex partner.
Or, of course, a bowling partner.
But as for the biggie, Military housing, gay servicemembers don't deserve this benefit.
We do not, however, recommend that military family housing be included in the benefits eligible for this member-designated approach. Permitting a Service member to qualify for military family housing, simply by designating whomever he chooses as a "dependent," is problematic. Military family housing is a limited resource and complicated to administer, and such a system would create occasions for abuse and unfairness.

Also, we do not, at this time, recommend that the Department of Defense and the Services revise their regulations to specifically add same-sex committed relationships to the definition of "dependent," "family member," or other similar term, for purposes of extending benefits eligibility. We realize this is different from the direction the Federal government is taking for civilian employees to address the disparity in benefits available to married opposite-sex relationships and committed same-sex relationships. However, we believe that, in the short-term, immediately following a repeal of Don't Ask, Don't Tell, our recommended approach is justified in the military context, for several reasons.
Because, you see, allowing legally married gay couples (whose marriage is ignored by the Federal Government) to have housing rights would be unfair to heterosexual couples who are legally allowed to marry but choose not to. Cuz they're both "unmarried" couples in the eyes of the Feds.
And straight servicemembers would resent it if gay people were treated equally.
In addition, benefits play a much larger role in day-to-day military life, than in Federal civilian agencies. For the military, "benefits" cover many aspects of day-to-day life, including on-base housing, housing allowances, family support programs, and commissary and base exchange shopping privileges, and provide other valuable forms of assistance, like family separations allowances, space-available travel, and relocation assistance. We know from our numerous engagements of the force that resentment at perceived inequities runs deep in military families.
9. For duty assignments, the Report recommends a similar "not a real couple, but maybe we'll be nice" approach:
As it relates to the treatment of Service members with committed same-sex partners, the topic of duty assignments—both for overseas assignments and for co-location of dual military couples—presents many of the same issues discussed in the previous section on benefits. As such, our recommendation and the reasons for it are similar. In short, we recommend that the Department of Defense and the Services not, at this time, rewrite their regulations to specifically accommodate same-sex committed relationships for purposes of duty assignments. However, gay and lesbian Service members in committed relationships— with either a civilian or a military partner—should be able to make an individualized, hardship-based request for accommodation in assignment.
10. The Report dismisses concerns about an increased risk of HIV in the blood supply. Interestingly, it does so based on a source I'd not considered:
The Surgeons General of each of the military departments have drafted and signed a joint letter to the Working Group stating that:

"The repeal of 10 U.S.C. § 654 will not affect the medical readiness of the Armed Forces. Further, repeal of Don't Ask, Don't Tell will not require a change to any medical policies. The Department of Defense has policies and procedures to protect the health of the force to include the prevention of diseases such as human immunodeficiency virus (HIV) transmission."
11. The Report supports reenlistment of those dismissed under DADT:
In the event of repeal, we recommend that the Department of Defense issue guidance to the Services permitting Service members previously separated on the basis of homosexual conduct to be considered for re-entry, assuming they qualify in all other respects.
12. The Report recommends that those who would rather quit than work with a gay person not be accommodated in their bigotry. And as for the mad rush of good Southern boys refusing to reenlist with Teh Gheys, they find it not very likely: "the Working Group expects recruiting and retention expenses related to repeal to be negligible."
There is much to be applauded in this report. And there is also clearly a ways we have yet to go to be considered real people with worth and value equal to heterosexuals.

(p.s. In looking back on earlier concerns, the recommendations in this Report have proven to be far better than I expected)
Pew: strong support for DADT repeal
Timothy Kincaid
November 29th, 2010
The Pew Forum released a poll today which continues to document the public's support for repealing Don't Ask, Don't Tell.
As the Pentagon prepares to release its highly anticipated survey of military personnel about the "Don't Ask, Don't Tell" policy, most Americans (58%) say they favor allowing homosexuals to serve openly in the armed forces. Fewer than half that number (27%) oppose allowing gays and lesbians to serve openly.
That is a fairly static statistic, with little change over the past five years. And, as has been the case for years, support for repeal is broad with strong Democrat support and nearly as many Republicans favoring repeal as opposing it.
It is sad to see politicians pandering to a subset of a demographic to continue discrimination that is not wanted by the American people.
McCain shifts support from military leadership
Timothy Kincaid
November 28th, 2010
Remember when Sen. John McCain was the champion of military leadership, when the Defense Secretary of Chairman of the Joint Chiefs of Staff of most any administration knew they had a friend in the Senate?
Well, until Mullen and Gates wanted to repeal Don't Ask, Don't Tell. Then McCain stood for the Service Chiefs, seeking to protect their concerns from the politics of Washington.
Well now that it seems that at least a few of the Service Chiefs will be content with the Survey, McCain has found someone new to defend.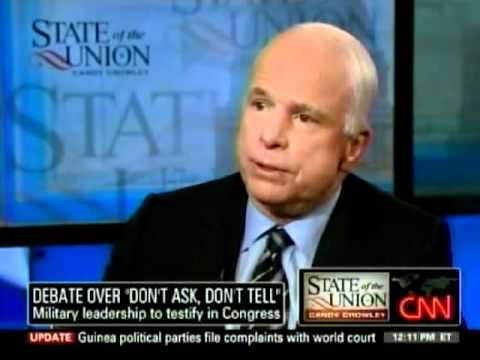 Now I have great respect for the Secretary of Defense and I have great respect for the Chairman of the Joint Chiefs of Staff. I have great respect for the Service Chiefs and I have great respect for the men and women who are serving, particularly the sergeants and chief petty officers, who are the ones who make the military work.
Once John McCain was seen as a defender in Congress of those who fight to defend us on the battlefield. He held disdain for those who claimed to "support our troops, but not the military leaders" and who sought to second guess the goals and plans of the Pentagon.
And his support for DADT was, in that context, consistent. His opposition to open service was a deference to military leadership and was presented as patriotic.
But as more and more in the military family are coming to see this policy as unnecessarily exclusionary and cruel, McCain is finding fewer and fewer soldiers to defend. And before it's over – likely before the year is out – McCain will find himself, for the first time in his political career, as the enemy of the Military, seeking to oppose the plans and goals of the military leadership.
DADT update: McCain looking more extreme
Timothy Kincaid
November 23rd, 2010
Most of the recent news about the potential repeal of the Military's anti-gay Don't Ask, Don't Tell policy surrounds the report on the Military's survey of troops and families. And it is not looking good for DADT's chief defender, Sen. John McCain.
McCain continues to trumpet his latest objection to repeal, his assertion that the report didn't ask the right questions. In fact, it now appears that McCain has been in correspondence with the Pentagon over this issue for some time. In April he objected that the survey was studying whether the repeal would have impact on the troops and how best to go about it rather than whether the ban should be lifted. In September, he tried again, this time writing to Secretary of Defense Robert Gates, on Armed Services Committee stationery, making suggestions as to the extent and content of the survey:
I urge you and Admiral Mullen to modify the review and survey instrument, or to conduct supplemental surveys, aimed at ensuring that the question of whether the DADT policy should be changed is answered.
…
It is essential – and I think it's clear that the Service Chiefs strongly agree with this point – that the survey provide the input needed to inform the Department and Congress on the views and recommendations of those most effected by this change, the men and women in uniform.
Gates' response rejected McCain's suggestion and politely reminded him that the Military is not structured as a democracy:
It is not part of the working group's mandate to ask Servicemembers the broad question of whether they think DADT should be repealed, which, in effect, would amount to a referendum. I do not believe that military policy decisions — on this or any other subject — should be made through a referendum of Servicemembers.
As his letter suggests, the Curmudgeon in Chief is relying on the "strong agreement" of the Service Chiefs to provide a basis for his public opposition of open service. Last week he told reporters, "I respect and admire these four service chiefs who have expressed either outright opposition or deep reservation about the repeal."
McCain seems to be relying on letters he solicited and received in May from the individual Chiefs and which he interpreted to be an endorsement of the anti-gay policy. But he really should have read them more closely before waving them on the floor of the Senate and touting them as agreeing with him.
Because, as it turns out, the Service Chiefs had reviewed the questions and, according to Gates, "fully support the approach and efforts of the working group." As some of them have expressed in the past few days.
Over the weekend, Navy Chief Adm. Gary Roughead, who had written that "the best approach would be to complete the DOD review before there is any legislation to change the law" now seems pleased with the review. (National Journal)
"I think the survey, without question, was the most expansive survey of the American military that's ever been undertaken," Roughead said during an interview Saturday aboard his plane. "I think the work that has been done is extraordinary."
This morning Air Force Chief Gen. Norton Schwartz echoed the praise (The Hill)
"The study was a good process; it was healthy; it is informative," Schwartz told reporters at a breakfast meeting. The Air Force chief declined to offer any specifics, stressing his commitment to keep his recommendations to the Pentagon leadership confidential for now.
The sole negative comment appears to be that of Marine Chief Gen. James Amos, who said earlier in the month that now was not the right time to lift the ban. While this comment was made before the draft or the report was leaked and the Service Chiefs' comments were incorporated, Amos may be McCain's only ally in his quest to keep institutionalized discrimination in the Military.
Or, should Amos support the conclusions of the report, McCain may be standing alone, supported only by religious zealots and obvious bigots.
Secretary Gates has also taken the step of making at least a token effort to respond to Senators Lieberman and Collins' request to expedite the release of the report. (WaPo)
Defense Secretary Robert M. Gates has ordered the report to be released Nov. 30, one day earlier than planned, "to support Congress's wish to consider repeal before they adjourn," Pentagon spokesman Geoff Morrell said Sunday.
However, we should be cautious not to be overly optimistic about the report. The recommendations, while based on survey responses which are leaked to be positive, may well be far less than we hope for. I very much doubt that this report will call for an immediate repeal of the ban.
Rather, I suspect that it will suggest a phase-in of repeal, perhaps emphasizing certain branches of service enacting open service earlier than others. I also suspect that it will involve the transfer of openly gay servicemembers from certain forms of service to other forms, rather than discharge.
Whatever the recommendations, they are likely to be disappointing. Which, ironically, may make them more palatable to legislators on the fence.
Meanwhile, Log Cabin Republicans continues its court-based assault on the policy. (Merc)
On Friday, Log Cabin Republicans filed a motion with the 9th U.S. Circuit Court of Appeals for an expedited schedule. It would put the case on track for oral arguments in April.
In response to LCR's court win declaring DADT to be unconstitutional, the Military implemented new rules requiring that no person could be discharged under DADT without "personal approval of the secretary of the military department concerned, and only in coordination with [Secretary Gates] and the General Counsel of the Department of Defense."
Unsurprisingly, this has proved to be a virtual moratorium on the application of the policy (WaPo)
No U.S. service members have been discharged for being openly gay in the month since the Defense Department adopted new rules surrounding the "don't ask, don't tell" policy, a Pentagon spokeswoman said Monday.
Increasingly, it looks evident that this policy will soon be gone. And increasingly it looks as though Senator John McCain, after a long contribution to his country, will be most remembered as a man who, in the waning years of his service, frittered away his influence by cantankerously clinging to prejudices and fighting against the coming of a world that was already there.
The real reason some oppose lifting DADT
Timothy Kincaid
November 19th, 2010
Those who oppose the repeal of the Military's anti-gay "Don't Ask, Don't Tell" policy often couch their objections to open service in terms of 'what is best for the Military.' And, to be fair, that may be a primary concern of our Curmudgeon in Chief or other legislators who just can't fathom that young soldiers are just not as scared of Homosexuals!! in the Showers!! as they are.
But achieving the best Military is of no consequence to those who are leading the public opposition to open service. If irrefutable proof were offered that open service by gay personnel would increase unit cohesion and military effectiveness by 25%, they would still be opposed. Because their chief objection has nothing to do with the military, the fears of other soldiers, or even sensitivity to the religious teachings of chaplains.
No. Their objection is based on the fear that open service would remove the stigma and hostility that is institutionalized by the DADT policy. They don't care about military policy nearly as much as they do about condemning homosexuality and gay people.
Take, for example, the objections made by Rep. Mike Pence (R-IN) when asked what his response would be if the military survey showed that soldiers do not have a problem with open service:
I would still have a problem with it because there's no question to mainstream homosexuality within active duty military would have an impact on unit cohesion would have an impact on recruitment, an impact on readiness, that's been established and written about and chronicled for many many years and I believe we need to continue to keep the focus of our military on the mission of the military. Don't ask don't tell was a compromise back in the early 90s, it's been a successful compromise we ought to leave it like it is and and not run the risk of impacting the readiness of our military or recruitment for our military because of an effort to advance some liberal domestic social agenda.
Lots of talk about unit cohesion, recruitment, readiness, etc., but that is just cover.
As Pence indicates, he doesn't care what the report says. He doesn't care what soldiers think, or whether open service would improve unit cohesion, recruitment, and readiness. All of that is irrelevant to Pence's position.
Pence's real opposition is "to mainstream homosexuality." The rest is mere justifications offered to bolster his real objection, "mainstreaming" homosexuality.
This fear of "mainstreaming" raises its head in the objections that Focus on the Family makes to anti-bullying campaigns. It's present in debates over insurance for city employees. It shows up when a theme park has a gay day or when a television show creates a lesbian character or when a library includes a book with a plotline that speaks to the life of a gay youth.
Really, Mike Pence isn't that worried that the military will not be ready for combat if gay people serve. The military isn't his concern or why he ran for Congress. In fact, this isn't even because Pence "hates gays" or opposes "the liberal social agenda", per se.
Rather, Pence is afraid that Americans are rejecting his religion's views including those about homosexuality and that it is – or soon will be – no longer mainstream thinking to engage in blanket condemnation of others based on their sexual orientation. He is afraid that his religion will further slip in its "moral authority" to declare what is acceptable social conduct and he is seeking to use his power as an elected official to give governmental sanction to his church's beliefs.
UPDATE: Andrew Sullivan added this additional thought:
I think many under-estimate the symbolic importance of this to those who believe homosexuality is a sickness or a sin. What we are asking of them is not simply to tolerate reluctantly the fact that some gay people refuse to be ashamed or closeted, but to conflate the symbol of the American soldier with a homosexual. There are very few emblems in American life that carry the weight, power and symbolism of the American soldier, the veteran, the men and women in uniform.

To say that open gay men and women are serving their country in uniform is to say that they are fully citizens. It is this equal citizenship that simply cannot compute with the idea of homosexuality in the minds of a minority of the older generation.
DADT updates
Timothy Kincaid
November 18th, 2010
It is difficult to determine exactly how the effort to repeal DADT will shake out in the "lame duck" session. There is a great deal of discussion, news, and movement, and at the moment most seems promising.
The President has finally gotten personally involved (Politico)
Wednesday, Obama – who advocates criticized for not doing enough to influence the Senate vote – called Senate Armed Services Committee Chairman Carl Levin (D-Mich.) to "reiterate his commitment on keeping the repeal of, and the need for the Senate to pass this legislation during the lame duck," White House spokesman Shin Inouye said Wednesday afternoon.
And senior White House staff are involved with strategy
On Wednesday evening, several high-ranking administration officials and top members of Senate Majority Leader Harry Reid's staff met with gay rights advocates to review plans to bring the National Defense Authorization Act – an annual, must-pass military spending bill which contains language repealing the ban on gays in the military – to a vote in the coming weeks.
Republican Senator Collins and Independent-Democrat Senator Lieberman (the President's point-person on the repeal) have written to the Secretary of Defense calling for the report on the Military survey to be issued in advance of the December 1 deadline so as to "alleviate some concerns" that Senators may have with repealing the policy.
Collins, who supported the repeal in committee and is committed to repeal, joined other Republicans and two Democrats earlier in the year to block a vote on the total Defense Authorization bill due to Sen. Reid's unusual tactic of denying the ability of Republicans to introduce amendments to the bill. Support for allowing the usual debate has picked up support within the Democratic Caucus and so is less likely to be a sticking point. (Journal Constitution)
A dozen Democrats and Sen. Joseph Lieberman, an independent from Connecticut, urged Reid Thursday to allow an extended debate on the wide-ranging defense authorization bill, which includes language repealing the 1993 law known as "don't ask, don't tell."

Lieberman said the Senate's desire to adjourn before the holidays was no reason to curtail debate and give Republicans an excuse to oppose the bill. Last September, GOP senators blocked the bill because Reid wouldn't allow the two weeks of debate they said was needed to address such major legislation.
And it appears that if Reid honors that process, at least two Senators will break any filibuster attempt by Senator McCain. (Stars and Stripes)
On Thursday, Sen. Joe Lieberman, I-Conn., told reporters that he believes at least two Republicans will side with repeal advocates when the issue is brought back up for a vote — but with conditions.

Republican Sens. Susan Collins of Maine and Dick Lugar of Indiana have pledged to him in private that they'll vote to allow debate to continue on the defense authorization bill, which includes the repeal measure, "so long as there is a fair and open amendment process," he said.
Also, as a possibility, is newly elected Senator Kirk, who is seated immediately to finish out the term of Senator Burris. While Kirk voted against including the DADT repeal in the Defense Authorization bill while a member of the House, he was one of five Republicans to vote for the bill with the repeal included. And Kirk's stated reason for not including the repeal was that it did preceded the findings of the study, an objection that will no longer be true for this vote.
And few, if any, Senators have joined Senator McCain's effort to discredit the report. Democratic Senator Jim Webb, who served as Secretary of the Navy under President Reagan and was the sole Democrat to vote in committee against lifting the ban on open service, gave the report high praise (wonk room)
I can't, again having spent five years in the Pentagon. I can't remember a study on this type of issue that has been done with this sort of care. Not even having seen it or knowing the results, but I know the preparation that went into it. So it's going to be a very important study for us to look at and examine.
The only down side may be that the final report will include the reaction and response of the four chiefs of the military divisions. If they are universally opposed to repeal, McCain will seek to use their opposition as a basis for keeping the policy. However, if even one or two are supportive of the plan for implementation of the repeal, this could go a long way towards providing cover for Senators on the fence.
Another odd selling point could be that repealing the ban could resolve tensions between the government and educational institutions. The president of Harvard, which has banned ROTC since 1969, has invited the military to reestablish a presence on the campus once DADT is gone. (Reuters)
"A ROTC program, open to all, ought to be fully and formally present on our campus," said Harvard President Drew Faust. She made the comment to welcome an evening speech by the Chairman of the Joint Chiefs of Staff Mike Mullen, the top U.S. military officer.

Faust drew applause from the audience of several hundred for the offer to restore the university's Reserve Officer Training Corps program.
So although it is still tentative and a lot could still go wrong, for the first time in a long while, I think that there is a better than decent chance that Don't Ask, Don't Tell will be repealed before the end of the year.
UPDATE: Wonk Room is reporting that Republican Senators Murkowski intends to vote for repeal. The Washington Blade has also added Sen. John Ensign (R-Nev.) to the list of those in favor of repeal; his previous objection was to the timing of a vote before the survey was complete.
McCain calls for new study of DADT
Timothy Kincaid
November 15th, 2010
John McCain is clearly not pleased that the Military study of DADT will not confirm his presumptions. So he's calling for a new study, one that would delay repeal and ask the questions he thinks would support his recalcitrance on the issue. (meet the press)
MR. GREGORY: Let me, let me talk to you about another military matter back home and a priority for this administration ; that's whether the ban on gays and lesbians in the military is going to be rescinded.

SEN. McCAIN: Mm-hmm.

MR. GREGORY: Are you going to stand in the way, you personally, in the way of this ban being lifted?

SEN. McCAIN: I will stand that I want a thorough and complete study of the effect on morale and battle effectiveness of the United States military . I will listen, as I've said for years, to our military leaders and not a, not a study that is leaked — as we know this town's pretty good at that.

MR. GREGORY: That said, seven in 10 members of the military think it would be just fine to have it lifted.

SEN. McCAIN: Yeah. You and I have not seen that study . And this study was directed at how to implement the repeal , not whether the repeal should take place or not. But, very importantly, we have people like the commandant of the Marine Corps , the three other — all four service chiefs are saying we need a thorough and complete study of the effects — not how to implement a repeal , but the effects on morale and battle effectiveness. That's what I want. And once we get this study , we need to have hearings, and we need to examine it, and we need to look at whether it's the kind of study that we wanted. It isn't, in my view, because I wanted a study to determine the effects of the repeal on battle effectiveness and morale. What this study is, is designed to do is, is to find out how the repeal could be implemented. Those are two very different aspects of this issue.

MR. GREGORY: In a lot of households, this is a subject of debate, including your own, apparently.

SEN. McCAIN: That's right .

MR. GREGORY: Your wife, Cindy McCain , has, has cut an ad, a public service announcement with NOH8 , a group that promotes gay, lesbian, transgender rights . And this is a portion of it. Let me, let me play it.

MS. CINDY McCAIN: Our political and religious leaders tell LGBT youth that they have no future.

MR. DAVE NAVARRO: They can't get married.

MR. STEPH JONES: They can't donate blood.

MS. McCAIN: They can't serve our country openly.

MR. GREGORY: Referring to "don't ask, don't tell." She did clarify this on her Twitter page. I- -you're both so active on Twitter . She said this. She said, "I fully support the NOH8 campaign and all it stands for and am proud to be part of it. But I stand by my husband's stance on 'don't ask, don't' tell.'"

SEN. McCAIN: Which is a complete and thorough study and review of the effect on battle readiness and…

MR. GREGORY: OK.

SEN. McCAIN: …and morale. And by the way, I respect the First Amendment rights of every member of my family.

MR. GREGORY: But, but, you know, what's interesting about this, I mean, a debate in families, is…

SEN. McCAIN: Sure.

MR. GREGORY: …there is kind of — you, you talk about waiting for the — there is an appeal to honor, I mean to your honor. You had the chairman of the Joint Chiefs saying, "Look, it's just not right to have, to have people lying about who they are just to be able to protect fellow citizens." It has been an appeal…

SEN. McCAIN: Yeah. And you have the, you have the commandant of the Marine Corps who says…

MR. GREGORY: Right.

SEN. McCAIN: …whose, whose people he's directly responsible for, is saying this could hurt our ability to win. This, this is about…

MR. GREGORY: Do you believe that?

SEN. McCAIN: This is about…

MR. GREGORY: I mean, you say you wait for the study . What do you believe?

SEN. McCAIN: I'm paying attention to the commandant of the Marine Corps .

MR. GREGORY: Right.

SEN. McCAIN: I'm paying attention to the chief of staff of the Air Force , the Army and…

MR. GREGORY: But you're so close to the military , Senator . You know these people. You know the issue. I mean, do you have a sense of it in your gut about what should happen?

SEN. McCAIN: I, I have a sense that I respect and admire these four service chiefs who have expressed either outright opposition or deep reservation about the repeal . They're the ones who are in charge. Now, the chairman of the Joint Chiefs of Staff , I agree , the president and the secretary of Defense have all come out for repeal . But I really would — I was in, I was in an outpost near Kandahar . Army master sergeant, 19 years in, fifth deployment to Iraq and Afghanistan , says to me, " Senator McCain , we live, eat, sleep, and fight together in close proximity. I'm concerned about the repeal . I'd like to know more about it." That's, that's the view that I got from chief petty officers and sergeants all over Afghanistan .

MR. GREGORY: The ban's not going to be lifted in the lame duck session , is that fair to say?

SEN. McCAIN: I think that we should at least — I, I don't think it should be, because I think once this study comes out in the beginning of December, we should at least have a chance to review it and maybe have hearings on it.
McCain is sounding less credible with each passing day. "I don't care 'bout no reports. I was talking to some guy in Kandahar…"
He hears what he wants to hear and believes what he wants to believe and no studies, facts, logic or principles are going to change him.
The divided McCains
Timothy Kincaid
November 12th, 2010
SEE UPDATE BELOW
Since his failed campaign for the White House, John McCain has taken on a new role: curmudgeon in chief. As the voice of the partisan angry conservative wing of the Republican Party – an position that does not align well with his legislative history – McCain has spoken loudest in his grumblings against gay rights.
So it is confusing for many in the gay community that McCain's wife Cindy and his daughter Meghan have increasing become a pro-gay advocates. Both lent their images to the NOH8 campaign in support of marriage equality and Meghan's speaking engagements and book tour have left no doubt of her support.
Meghan's pro-gay positions are probably properly seen in the context of young Republicans who may advocate for fiscal restraint but share many social values of their generation. And, indeed, there is a long tradition of the children of politicians speaking in opposition to the positions of their parents. When Ronald Reagan was in office, his daughter Nancy Davis was a very vocal critic of his policies.
But Cindy McCain is more difficult to explain. While spouses of presidents and party leaders do take up issue, they usually are in areas of social benefit or public good. It is virtually unheard-of for the spouse of someone as prominent as John McCain to take up advocacy for a controversial issue, and I know of no instance in which the issue has been in direct confrontation with one of their husband.
Yet, while John McCain is threatening to filibuster the Defense Appropriations Bill so as to ensure that the Don't Ask, Don't Tell policy is not repealed before the report can be analyzed (if then), Cindy McCain participated in the following message: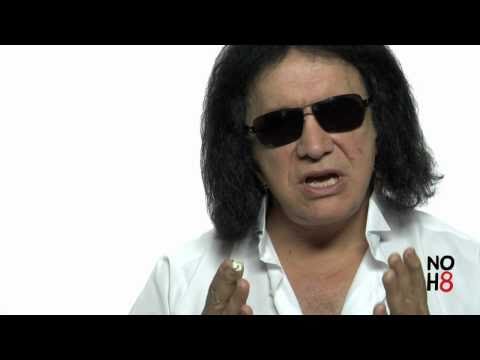 Yes, the message is one in opposition to bullying, but the words spoken by Cindy cannot be ignored:
"Our political and religious leaders tell LGBT youth that they have no future… they can't serve our country openly… our government treats the LGBT community like second-class citizens, why shouldn't [bullies]?"
It is difficult to fathom the motivation for two spouses to very publicly and strongly take opposing positions on this issue. And considering that Cindy McCain is not known for her political advocacy on other issues, this makes the situation even more peculiar.
As this is Cindy's second go round at this, I am beginning to think that my speculations at the time of her NOH8 appearance are confirmed. This is not a naive move on Cindy's part. Nor do I think it is an indication of some strife in the McCain household.
Rather, I am becoming convinced that this is a deliberate action taken with the full knowledge – and perhaps even approval – of her husband and other party leaders.
Republican Party leadership may be hostile gays, willing to capitalize on animus, and hesitant to change, but they are not fools. And they know that the future holds very dim prospects for a party defined by its opposition to gay rights. It takes very little calculus to look at the polls of of younger voters and know that a day will come when even rural Alabama won't vote for an anti-gay politician.
What I suspect is that the Republican Party – if not actually encouraging Mrs. McCain to take a public stance in opposition to that of her husband – welcomes the message that her participation sends. By refusing to criticize Cindy (and I've found no outrage from the leadership) they implicitly give permission for Republicans to support gay rights. And when taken with Laura Bush's after-the-fact support for marriage equality, it might even be construed that support for gay equality is sort of "the Republican woman's position".
Don't get me wrong. I am not suggesting that a vote for a Republican politician is a vote for equality. In most cases it would be quite the opposite. And I may, of course, be reading far too much into Cindy McCain's appearance in the anti-bullying ad.
But there is much encouragement to be found in the fact that the wife of the chief opponent to repealing DADT is advocating for its repeal and that no one finds this to be a shocking betrayal. At the very least, it says that the visceral hatred that our community once felt from a united Republican Party has to some extent dissipated and that the partisan divide on our issues may be beginning to fall.

AND ALSO
We should keep in mind that Cindy McCain has not developed her views in a vacuum. She has two sons currently serving in the Military.
UPDATE
It's never pleasant to discover that one is mistaken, but it's even less pleasant when it means that a hoped for step may not be a step at all.
Cindy McCain has now corrected the impression that she thinks that politicians such as her husband are telling gay kids that they have no future when they deny them the ability to serve their country openly. (NY Daily News)
But on Friday night, she appeared to have a change of heart – at least on Twitter.

"I fully support the NOH8 campaign and all it stands for and am proud to be a part of it. But I stand by my husband's stance on DADT," she tweeted.
I'm not exactly sure what is supposed to be meant by this conflicting message. I suppose the best we could say is that perhaps she thinks his "stance on DADT" is to wait for the report before moving forward.
But, whatever it is that she means, I am somewhat still encouraged that she has indicated support for "the NOH8 campaign". This does still give Republicans permission to "fully support" at least some aspects of our community's quest for equality (and, let's be pragmatic, any support is better than none).
But I am also disappointed by her backtracking. A rather powerful impact has now been diminished.
Military DADT survey response leaked
Timothy Kincaid
November 12th, 2010
The New York Times is reporting that the report resulting from the Military's survey of service personnel and their families over ending Don't Ask, Don't Tell speaks favorably about repealing the policy.
The draft of a new Pentagon report comes to the conclusion that repealing the "don't ask, don't tell" law will not cause overall harm to the military but might cause temporary disruptions, people familiar with the report said on Thursday.

In the case of any temporary disruptions, the draft report says they can be mitigated with effective leadership.
This is hardly shocking. The Rand Corporation, hired to study the issue, found exactly the same thing in 1993.
What is new, however, is the finding that while a number of active-duty service members remained opposed to openly gay service, a majority of active-duty service members and their families did not care if gay men and lesbians served openly. (WaPo)
More than 70 percent of respondents to a survey sent to active-duty and reserve troops over the summer said the effect of repealing the "don't ask, don't tell" policy would be positive, mixed or nonexistent, said two sources familiar with the document. The survey results led the report's authors to conclude that objections to openly gay colleagues would drop once troops were able to live and serve alongside them.
Supremes refuse to lift stay on DADT injunction
Timothy Kincaid
November 12th, 2010
After Judge Phillips found that the Military's Don't Ask, Don't Tell policy violated the constitutional rights of gay soldiers, she issued an injunction requiring the Military to cease enforcement of the ban on service by openly gay men and women. The Ninth Circuit Court of Appeals placed a stay on the injunction until the case could be heard in appeal.
Log Cabin Republicans (the plaintiffs in the case) requested that the Supreme Court lift the stay and today they responded by denying that request. (Fox)
Kennedy's order simply said, "the application to vacate the stay entered by the United States Court of Appeals for the Ninth Circuit on November 1, 2010, presented to Justice Kennedy and by him referred to the Court is denied." The order also noted that Justice Elena Kagan, who until this summer was Solicitor General, didn't take part in the case.
This is not surprising and says little about the attitudes of the various justices about the constitutionality of the law. But if Kagan recuses herself from the case, that is one vote that was likely to be favorable that is now out of the count.