"DON'T ASK, DON'T TELL" IS HISTORY!
Jim Burroway
December 18th, 2010
Today is a truly historic day in the history of the gay rights movement. In a 65-31 vote, the U.S. Senate approved H.R.2965, the Don't Ask, Don't Tell Repeal Act of 2010. The House had passed an identical version of the bill by a 250-175 vote earlier in the week.  The bill will now go to the President's desk, where he had pledged to sign it into law.
Since the DADT was enacted in 1993, more than 13,500 LGBT servicemembers have been dismissed from the military.
The actual repeal of the military's ban on LGBT people serving openly will not take effect immediately following the President's signature. That will happen only after certification by the President, Secretary of Defense and Chairman of the Joint Chiefs of Staff that policies have been written to implement repeal and compliance with these polices is consistent with military readiness. The Pentagon Working Group study outlined the steps that need to occur in order to implement the new policy. Those steps include enacting changes to the Uniform Code of Military Conduct, training for officers and servicemembers, and updates to various policies concerning proper conduct in the workplace. Those tasks may take from six months to a year to accomplish. The Servicemembers Legal Defense Network (SLDN) warns that it is not yet safe for LGBT servicemembers to reveal themselves to their co-workers and officers.
Sen. Joe Manchin (D-WV) skipped the vote in favor of a Christmas party, calling it "a family obligation that he just could not break. . .However, he has been clear on where he stands on the issues." Except, of course, he hasn't been. When he voted against the Defense Authorization Bill last week, he specifically cited DADT repeal as his deciding factor, saying in his later "apology" that "I have not had the opportunity to visit and hear the full range of viewpoints from the citizens of West Virginia."
Eight Republicans voted to repeal DADT. They were Sens. Scott Brown (MA), Richard Burr (R-NC), Susan Collins (ME),  John Ensign (R-NV), Mark Kirk (IL), Lisa Murkowski, (R-AK), Olympia Snowe (ME), and George Voinovich (OH).  Burr and Ensign switched their votes to "yes" after having voted against cloture earlier this morning. All fifty-five Democrats and both independents voted in favor of the bill. In addition to Manchin's non-vote, Sens. Jim Bunning (R-KY), Judd Gregg (R-NH) and Orin Hatch (R-UT) also did not vote.
Defense Secretary Robert Gates reacts to the vote:
"I welcome today's vote by the Senate clearing the way for a legislative repeal of the 'Don't Ask Don't Tell' law.

"Once this legislation is signed into law by the President, the Department of Defense will immediately proceed with the planning necessary to carry out this change carefully and methodically, but purposefully.  This effort will be led by Dr. Clifford Stanley, Under Secretary of Defense for Personnel and Readiness and himself a retired Marine Corps major general and infantry officer.

"The legislation provides that repeal will take effect once the President, the Secretary of Defense and the Chairman of the Joint Chiefs of Staff certify that implementation of the new policies and regulations written by the Department is consistent with the standards of military readiness, military effectiveness, unit cohesion, and recruiting and retention of the Armed Forces.  As I have stated before, I will approach this process deliberately and will make such certification only after careful consultation with the military service chiefs and our combatant commanders and when I am satisfied that those conditions have been met for all the Services, commands and units.

"It is therefore important that our men and women in uniform understand that while today's historic vote means that this policy will change, the implementation and certification process will take an additional period of time.  In the meantime, the current law and policy will remain in effect.

"Successful implementation will depend upon strong leadership, a clear message and proactive education throughout the force.  With a continued and sustained commitment to core values of leadership, professionalism and respect for all, I am convinced that the U.S. military can successfully accommodate and implement this change, as it has others in history."
Chairman of the Joint Chiefs of Staff Adm. Mike Mullen has also issued this statement:
"I am pleased to see the Congress vote to repeal the law governing 'Don't Ask, Don't Tell.' Handling this through legislation preserves the military's prerogative to implement change in a responsible, deliberate manner.

"More critically, it is the right thing to do. No longer will able men and women who want to serve and sacrifice for their country have to sacrifice their integrity to do so. We will be a better military as a result.

"I look forward to working with Secretary Gates and the Service chiefs as we set about the task of preparing and certifying the joint force to implement the new law. And I am committed to making sure that process is well-led, maintains our combat readiness and upholds our high standards."
DADT IS DEAD: 65 – 31
Timothy Kincaid
December 18th, 2010
When it all was said and done, less than a third of Senators voted to retain the discriminatory bill. Vote details coming shortly
A Historic Straight-Up Vote
Jim Burroway
December 18th, 2010
Remember when an important component of the overall strategy to end DADT was that it be attached to the Defense Authorization Bill because, the political theory went, a lot of frightened legislators wouldn't vote for it as a stand-along bill and including it in the larger "must pass" bill would give them cover because nobody wanted to vote "against the troops"?
And remember when they said the same thing when the Matthew Shepard and James Byrd, Jr. Hate Crimes Prevention Act was attached to last year's Defense Authorization Bill?
The Hate Crimes Act passed using that strategy, but this year the bulk of GOP Senators and a couple of Dems were willing to vote against the troops in order to keep LGBT people from serving openly. Instead, a straight up-or-down vote on DADT's repeal as a stand-alone issue has passed the Senate after having sailed through the House earlier this week.
As far as I can tell, this is the very first piece of pro-gay legislation that is not attached to any other piece of legislation making its way through both chambers of the U.S. Congress on its way to the President's desk. Please correct me if I'm overlooking something, but I cannot think of any other federal pro-LGBT legislative accomplishment that has been achieved through a straight up-or-down vote as a stand-along bill. Repealing DADT itself is historic itself, but doing it this way changes everything!
Sen. McCain Ain't No Goldwater
Jim Burroway
December 18th, 2010
McCain's tantrum in response to his failed filibuster reminds me of a cartoon that appeared in the Tucson paper a few weeks ago. The Arizona Daily Star's David Fitzsimmons really nails it:
For added context, McCain holds Goldwater's Senate seat, having replaced him in 1987 following Goldwater's retirement.
Senate Votes To Proceed on DADT Repeal
Jim Burroway
December 18th, 2010
Moments ago, the U.S. Senate approved a cloture motion to proceed with the vote on H.R.2965, the Don't Ask, Don't Tell Repeal Act of 2010. The vote to proceed was 63 to33. The six Republicans voting "yes" were Sens. Scott Brown (MA), Susan Collins (ME), Mark Kirk (IL), Lisa Murkowski, (R-AK), Olympia Snowe (ME), and George Voinovich (OH). No Democrats voted against the motion, although Sen. Joe Manchin (D-WV) did take the cowardly way out by abstaining. He had voted against the motion to proceed with the Defense Authorization Bill last week over the provision repealing DADT. Others abstaining include Sens. Jim Bunning (R-KY), Judd Gregg (R-NH), and Orin Hatch (R-UT).
The final vote on the bill is expected to occur at about 3:00 EST.
Senator McCain reacts: "There will be high-fives in the liberal bastions across America."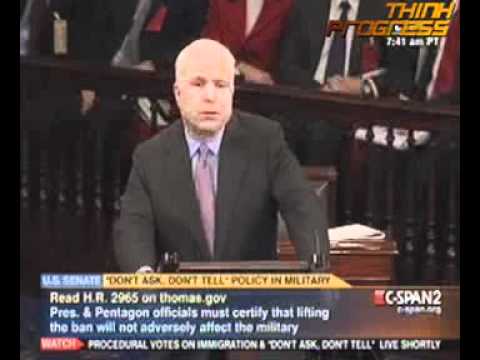 President Barack Obama is warming up his victory speech. Here is a statement from the White House:
Today, the Senate has taken an historic step toward ending a policy that undermines our national security while violating the very ideals that our brave men and women in uniform risk their lives to defend. By ending Don't Ask, Don't Tell, no longer will our nation be denied the service of thousands of patriotic Americans forced to leave the military, despite years of exemplary performance, because they happen to be gay. And no longer will many thousands more be asked to live a lie in order to serve the country they love.

As Commander-in-Chief, I am also absolutely convinced that making this change will only underscore the professionalism of our troops as the best led and best trained fighting force the world has ever known. And I join the Secretary of Defense and the Chairman of the Joint Chiefs of Staff, as well as the overwhelming majority of service members asked by the Pentagon, in knowing that we can responsibly transition to a new policy while ensuring our military strength and readiness.

I want to thank Majority Leader Reid, Senators Lieberman and Collins and the countless others who have worked so hard to get this done. It is time to close this chapter in our history. It is time to recognize that sacrifice, valor and integrity are no more defined by sexual orientation than they are by race or gender, religion or creed. It is time to allow gay and lesbian Americans to serve their country openly. I urge the Senate to send this bill to my desk so that I can sign it into law.
Peter "Porno Pete" LaBarbera, that famous defender of strict Judaic orthodoxy,  is livid that Sen. Joe Lieberman voted on the Sabbath.
DADT cloture vote likely on Saturday
Timothy Kincaid
December 17th, 2010
Senate Majority Leader Harry Reid (D-NV) has invoked cloture on the standalone DADT repeal bill. It will likely come up for a cloture vote tomorrow. Assuming that adequate steps are taken to have all supporters present, cloture is expected to pass, and the bill itself can be presented for a vote.
There are still tactics that those Senators who favor institutionalized anti-gay discrimination can take to be troublesome and difficult, but those tactics are increasingly making them appear desperate and, frankly, motivated by unadmirably personal prejudices.
Opposition to this bill is almost certain to tarnish the reputation of those who are leading the charge. History is not likely to be kind.
Brown backs standalone DADT repeal, assures filibuster proof support
Timothy Kincaid
December 16th, 2010
Sen. Scott Brown (R-MA) has announced that now that the tax rate extensions have been resolved, he will support the DADT repeal. (ABC)
Massachusetts Republican Scott Brown today voiced his support for a stand-alone repeal of the military's Don't Ask, Don't Tell policy, bringing the bill one vote over the 60-vote threshold that it will need to reach if and when the Senate votes on the measure in the coming weeks.

"Sen. Brown accepts the Pentagon's recommendation to repeal the policy after proper preparations have been completed. If and when a clean repeal bill comes up for a vote, he will support it," said Brown spokesperson Gail Gitcho.
Now the only thing holding up the repeal of Don't Ask, Don't Tell is timing. Anti-gay senators may try to run out the clock, but Sen. Lieberman believes that there is enough time even will allowable stalling tactics. We will see whether Sen. Reid will prioritize the DADT repeal and allow it to pass or put it low enough on the agenda that it is killed for at least the next two years.
House is voting on DADT repeal
Timothy Kincaid
December 15th, 2010
The House of Representatives is voting today (actually, kinda now) on the standalone DADT repeal bill.
Watch at C-SPAN
For those who go there immediately, this vote count is for House Resolution 1764, a procedural vote on the rules of the debate.
House to vote on standalone DADT repeal
Timothy Kincaid
December 14th, 2010
One of the difficulties that could arise from the Lieberman/Collins effort in the US Senate to vote on a standalone bill to repeal Don't Ask, Don't Tell is that the House repeal effort was by means of the defense authorization bill. Now Democratic leader Steny Hoyer and Pennsylvania Democratic Rep. Patrick Murphy are setting about to alleviate that concern. (AP)
A stand-alone bill to overturn the military ban on openly gay troops has been introduced by Collins and Lieberman in the hopes that the slimmed-down version would attract fewer objections.

But that bill had been considered a long-shot because any Senate action would require House approval with just days before Congress was to adjourn.

The last-minute House vote would eliminate that concern and put pressure on Senate Majority Leader Harry Reid, D-Nev., to keep the Senate in session past this weekend to wrap up any unfinished business.
When we were told that making the repeal part of the defense bill was the only way to get it passed, I supported that decision. But I particularly like the idea of the standalone; it eliminates the ability of legislators to weasel or claim that it was "other provisions of the bill" that they didn't support.
UPDATE: WaPo's Jonathan Capehart adds info about the advantages of this bill.
The beauty of Hoyer's move is that, once passed, the bill would go over to the Senate as a privileged motion. Senate Majority Leader Harry Reid (D-Nev.) would be compelled to move on it. Another good reason? The privileged motion allows the time to be cut in half. Only one cloture vote would be necessary to end debate, which should be limited for reasons I'll address in a second. Then an up-or-down vote would be held. With the chamber having gotten 60 votes to close debate on the bill, a voice vote most likely would be held. The measure would then head to President Obama for his signature.
Standalone DADT repeal update
Timothy Kincaid
December 13th, 2010
It turns out that the actual bill number to repeal DADT is Senate Bill 4023. Although the text of the bill is not available, it is reported to be the same as was proposed in the defense bill. This bill appears not to have been sent to committee.
The current list of co-sponsors is:
Sen. Joseph Lieberman [I-CT]
Susan Collins [R-ME]
Daniel Akaka [D-HI]
Michael Bennet [D-CO]
Jeff Bingaman [D-NM]
Barbara Boxer [D-CA]
Sherrod Brown [D-OH]
Benjamin Cardin [D-MD]
Chris Coons [D-DE]
Christopher Dodd [D-CT]
Richard Durbin [D-IL]
Dianne Feinstein [D-CA]
Al Franken [D-MN]
Kirsten Gillibrand [D-NY]
Thomas Harkin [D-IA]
John Kerry [D-MA]
Frank Lautenberg [D-NJ]
Patrick Leahy [D-VT]
Carl Levin [D-MI]
Blanche Lincoln [D-AR]
Robert Menéndez [D-NJ]
Jeff Merkley [D-OR]
Patty Murray [D-WA]
Harry Reid [D-NV]
Mark Udall [D-CO]
Tom Udall [D-NM]
Sheldon Whitehouse [D-RI]
Ron Wyden [D-OR]
It is worth noting that Blanch Lincoln, who voted against cloture last time, is now a co-sponsor. Those highlighed serve on the Senate Armed Services Committee.
Meanwhile, in the "almost too stupid for words" category, Sen. Joe Manchin (D-WV), the sole Democratic Senator to vote against cloture in this past go-around, explained his vote this way:
Again, I was only here three weeks…didn't know much about the issue.
So, not knowing the full details, Manchin decided the best thing to do was to vote against the advice of his President, every other member of his Party, the Secretary of Defense, the Chairman of the Joint Chiefs of Staff, the results of a year long study, and ever poll taken within the past half-decade.
Un-huh. Me thinks that he was using the "when in doubt, vote anti-gay" principle.
Akaka added as cosponsor of S. 4022
Timothy Kincaid
December 11th, 2010
Senate Bill 4022, the standalone bill to repeal Don't Ask, Don't Tell has picked up at least one new cosponsor (KPUA)
U.S. Sen. Daniel Akaka is co-sponsoring stand-alone legislation to repeal the military's "don't ask, don't tell" policy banning gay men and lesbians from serving openly.
…
A member of the Senate Armed Services Committee, he says congressional action that results in orderly implementation of a new policy is preferable to a judicial order.
The Lieberman/Collins DADT repeal
Timothy Kincaid
December 10th, 2010
So far, information surrounding the efforts of Senators Lieberman (I-CT) and Collins (R- ME) to get a standalone repeal bill to end the Don't Ask Don't Tell policy is sparse. Here is what we know:
The bill is Senate Bill 4022 and although the text of this bill does not appear to be available online, GovTrack.us is claiming that it was introduced last night:
Dec 9, 2010: Read twice and referred to the Committee on Armed Services.
This is confusing, because Lieberman has been twittering that this bill would take advantage of Rule 14 and would not be sent to committee. It is unknown whether Rein reneged on that offer or if Lieberman was mistaken.
But this assignment may not be a lethal move. I believe that Sen Levin (D-MI) has the power to call that committee into session just for the purpose of voting it out of committee. Although Senators McCain, Inhofe, and Sessions are members, they may have limited obstructionist abilities.
The Armed Service Committee has 15 Democrats, including Lieberman. One is Joe Manchin who was the only Democrat to vote against cloture and is on record as opposing repeal "at this time." Republicans have 12 members on the committee, but two of them are Sen. Collins and Sen. Brown who are both on record as supporting repeal. Additionally, Lindsey Graham, who is considered an unknown vote, sits on this committee, as does Saxby Chambliss, who may feel a certain amount of pressure not to appear too homophobic after an anti-gay death threat was traced to one of his staff members (though his support is a very long shot).
I would find it peculiar if this bill could not get out of Armed Services fairly easily.
The two other sponsors (so far) of this bill are Sen. Mark Udall (D-CO, also sits on Armed Services) and Kristen Gillibrand (D-NY).
Lieberman Proposes "Hail Mary" To Revive DADT Repeal
Jim Burroway
December 9th, 2010
According to Towleroad, Sen. Joseph Lieberman is holding a news conference saying that he and Sen. Susan Collins will introduce a stand-alone bill to repeal DADT. He says that Sen. Majority Leader Harry Reid has promised a vote on the new measure.  So far, there are no details on the timing. An identical stand alone bill would also have to pass the House.
Reid Calls Snap Vote on DADT; His Failure Kills the Bill
Jim Burroway
December 9th, 2010
Sen. Majority Leader Harry Reid made the snap decision just moments ago to call for a cloture vote on the Defense Authorization Bill that contains language repealing "Don't Ask, Don't Tell." It failed, garnering only 57 of the 60 votes needed, with 40 voting against. Surprisingly, Sen. Susan Collins salvaged her reputation by voting for cloture at the last minute — but only when it was clear the bill would fail.
Only a complete idiot could not see this coming, given the insistence on a relatively minimal number of amendment votes and time for debate that Sen. Collins was asking for. Sen. Joe Manchin (D-WV) voted against cloture, meaning that he doesn't even have the social conscience of his predecessor, Robert Byrd.  Olympia Snowe, Scott Brown, Lisa Murkowski, and Richard Lugar all claimed that they supported DADT's repeal, but they support boneheaded partisan posturing even more. Like I said, only a complete idiot could not see this coming.
I wonder if Harry Reid saw it coming?
Just like before, political gamesmanship trumps sound policy. But the problem wasn't just in the Senate. Remember, it was President Obama who insisted that the Senate shouldn't act before the Defense Department's study was released — a report that wasn't scheduled to be released until December 1, right in the middle of a lame duck session following what everyone knew would be a contentious mid-term election. This was his brilliant plan, and he owns the outcome as much as Reid and the GOP.
The very thing that was all too easy to predict has come to pass.
Update: In an act that rubs salt in the wound, we have learned that Reid kept his vote at "yes" for cloture. By not switching his vote to a "no" vote before voting ended, it means that he cannot bring the bill back up for a vote again under the Senate's rules. In other words, while the Senate voted it down, Reid has killed the bill for good. That's pretty much all you need to know about his latest move. For whatever unfathomable reason, Reid engineered its demise, once and for all.
Update: A commenter corrects me on the process:
This was the vote to reconsider the vote by which cloture on the motion to proceed to debate was not invoked.

(See the senate rule here.)

Therefore, Reid switching his vote would have had no effect- you can't reconsider a vote to reconsider. However, Reid can simply file another cloture motion on the bill which would require 3 days to ripen, then hold another vote for cloture. This happened back in May on the financial reform bill, S.3217. Cloture was filed, rejected, and reconsideration failed. Cloture was filed, rejected, and reconsideration was then waived as part of an agreement, and eventually the bill was passed.
I've said this before, and I'll say it again: we've got a great bunch of readers. Thanks for the correction.
I would however point out that I do believe that Reid recklessly intended this to go down in flames — or at least didn't care if it passed one way or another. He knew the vote would be close, but he didn't even bother to find out if all of his potential "yes" votes were even in the chamber. Sen. Blanche Lincoln was in the dentist's chair when the vote went down, and Sen. Collins wasn't even in the chamber when he made the snap call for the vote. If he really wanted it to pass, he would have done what any competent politician would have done and made sure his votes were lined up and present. He didn't bother to take those minimal fundamental steps, and that omission was unconscionable.
Former Sen. Sam Nunn Supports DADT Repeal
Jim Burroway
December 9th, 2010
He's the single most responsible person on the planet for "Don't Ask, Don't Tell" being on the books to begin with. Boy, talk about too little, too late.
HRC Fires Rare Warning Shot
Jim Burroway
December 9th, 2010
You know things are heating up when the Human Rights Campaign issues a rare warning like this one:
Fred Sainz, a spokesman for Human Rights Campaign, said in a statement, "If senators move forward with a vote on NDAA before a deal has been solidified, the vote will fail and all key players will share the responsibility."

The statement appears to be aimed at Senator Harry Reid of Nevada, the majority leader, who has been flirting for 24 hours with scheduling a vote on the defense bill that includes the repeal. A planned vote was scrapped Wednesday night after a key Republican senator said she was not satisfied with the results of negotiations.
Of course, we don't know how the HRC defines "sharing responsibility," but it's good to know that more people are beginning to see through Harry Reid's machinations and are willing to call him on it.
Meanwhile,  The Washington Post reports that it's Harry Reid who is stonewalling Sen. Susan Collins and jeopardizing DADT repeal, not the other way around:
[Sen. Collins] said she largely accepted Reid's offer of 15 amendments, but added she needed four days of debate on them.

Guess what: Reid has yet to respond to her offer, according to a spokesperson for Collins. "As of this morning, Senator Collins has not received a response from the Majority Leader," the spokesman, Kevin Kelley, tells me.

This is potentially bad news. Word is that the Senate may vote today on the defense authorization bill containing DADT repeal. It seems likely that if Collins' every demand isn't met, she's prepared to stop the defense authorization bill from proceeding, and other moderate Republicans who generally support repeal may also vote No.
Collins/Reid deal in process; vote not tonight
Timothy Kincaid
December 8th, 2010
TMP is reporting that Collins and Reid are in agreement on the number of amendments and that Collins is requesting more time for debate and that it occur immediately following the tax compromise vote. It looks as though they may finally be trying to work together:
Senate Majority Leader Harry Reid already promised her the 15 amendments, but his initial offer was for a day or two of debate. Here's her response to reporters tonight, after a Senate vote.

"The majority leader's allotment of time for to debate those amendments was extremely short, so I have suggested doubling the amount of time, assuring that there would be votes, and making sure that the Republicans get to pick our own amendments as opposed to the Majority Leader."

"If he does that I will do all that I can to help him proceed to the bill. But if he does not do that, then I will not," she added.

Late this evening, per Collins' request, Reid delayed a test vote he'd planned to hold tonight.
The tax bill may take up most of the week, so we may not see an actual Defense Bill cloture vote until perhaps Saturday.
"I have urged the majority leader to postpone the vote…so that we could get the tax bill considered first — which I believe could be on the floor tomorrow — and completed by Saturday, and then move immediately to the DOD bill, but under a fair agreement."
DADT Repeal Getting Caught Up In Gamesmanship
Jim Burroway
December 8th, 2010
This analysis from TPM illustrates the tensions between Reid and Collins:
"I've been pleading with Senator Reid, don't hold a vote on the defense authorization bill, the repeal of DADT, until we have a good opportunity to work out a fair process for the consideration bill with Senator Collins and some of the other Republican," said Sen. Joe Lieberman (I-CT) this afternoon after a Dem caucus meeting. "Senator Collins really wants to vote for the bill with the repeal of Don't Ask, Don't Tell, and Senator Scott Brown is the same and I think there may be at least one other Republican Senator to make that clear today."

That third Republican has since been revealed as Alaska Sen. Lisa Murkowski.

…From Reid's point of view the math is two-dimensional. By calling the vote, and leaking to the press, he ups the pressure on Collins to make a decision — and quickly. At the same time, he creates a focal point for liberal animus if the Senate fails to pass repeal before this Congress comes to an end and with it hope for a legislative solution to DADT. That's not helpful to Lieberman, who wants to keep negotiations fluid, egos unbruised and the bill alive.
It's not the policy they're arguing over. It's all about how they will spin the blame if it goes down in defeat.
DADT repeal support grows
Timothy Kincaid
December 8th, 2010
Republican Senator Lisa Murkowski has now expressed support for DADT repeal
Republican Sen. Lisa Murkowski said Wednesday she favors repealing the "Don't ask, don't tell" law, but says her vote comes with conditions.

The Alaska senator said that she will only vote to break a filibuster of a key defense spending bill with the repeal attached if "the majority allows for an open and fair amendment process."
…
Murkowski said that "America is the loser when it denies those who are willing to make the great sacrifices demanded of our men and women in uniform the opportunity do so on grounds of sexual orientation."
UPDATE: Washington Post's Jonathan Capehart lays out Collins' demands.
Sen. Susan Collins (R-Maine) told me that she is fine with Senate Majority Leader Harry Reid's (D-Nev.) offer of 15 amendments — 10 for Republicans and 5 for Democrats. The only question is the time allotted to debate them. Contrary to the ham-handed efforts by Reid staffers to throw Collins under the bus, she is not demanding unlimited debate time. What she wants is a "reasonable" amount of time. She'd be fine if Reid were to allow, say, two hours of debate (one hour for Democrats and one hour for Republicans) for each amendment. Collins told me that the time issue is important to her because she is "trying to make sure the rights of the minority are protected." Ain't nothing wrong with that in my view at this late hour.
This doesn't seem unreasonable
Possible DADT vote today
The opinions expressed in this post are those of the author and do not necessarily reflect those of other authors at Box Turtle Bulletin.
Timothy Kincaid
December 8th, 2010
There has been a heightened tension over the past few weeks surrounding the partisan positioning over whether to raise the current tax rates – and on whom – along with the extension of unemployment benefits and whether this battle would eliminate the possibility of a vote on the Defense Authorization Bill (which includes the repeal of DADT). But though I've had my douts, I've maintained a certain degree of optimism around the prospect.
This is too important to the White House. Not that the President is particularly impassioned about repealing the discriminatory policy, but he needs to shore up support from the more liberal end of the Democratic Party and this is an action that can help that goal. And I've also assumed from the beginning that a compromise would be reached in the tax/unemployment negotiations once everyone had an opportunity to make the speeches that their constituents want to hear.
So I'm not particularly surprised that Sen. Reid has announced that he will bring the Defense Authorization Bill up for a cloture vote today. And there is a good chance that it DADT repeal can be achieved.
In September, there were 56 Democratic Senators, of which two – Senators Lincoln and Pryor – voted against cloture. The two Independent Senators supported the vote, but all 42 Republicans withheld their support, claiming that the process cut them out of any ability to challenge specific spending items.
Since September, the Illinois special election removed one Democrat, replacing him with Republican Mark Kirk. But Sen. Pryor has announced that he will support DADT repeal and "will support procedural measures to bring it to a vote this year." Unfortunately, his support is offset by Democratic Sen. Manchin who has now raised objections to the repeal. Thus, the count of all-but-certain votes for cloture are 53 Democrats and 2 Independents.
This means that five additional supporters are required from Republicans (and/or Sens. Lincoln and Manchin). There are currently two Republicans who have pledged support of repeal: Sen. Collins and Sen. Brown. But this support is conditional; Sen. Reid must allow Republicans to challenge and debate controversial provisions of the bill, including spending on certain programs that are believed to be based more on financial benefit to specific well-connected military contractors than on actual need. Reid, however, is fearful that unlimited debate would result in the hijacking of the process by endless irrelevant amendments intended to run out the clock.
And this may be the sticking point. Rumors are flying, and posturing, finger pointing, and accusations have begun. The Washington Post reports the position of Reid – as provided by an aide:
Reid has offered Collins a total of 15 amendments in order to get her to vote Yes — 10 for Repubicans and five for Democrats, the aide continues. Reid views this as a reasonable offer, because previous debates on defense authorization bills have had roughly this number of amendments offered, the aide adds.

But as of now, Collins has indicated this offer is "unsatisafctory," the aide says. A Collins spokesperson denied this account in an email, but declined to elaborate.
I think it rather likely that this little battle will resolve itself. Senator Collins gains nothing by being portrayed as unreasonable and she is a experienced politician who is particularly skilled in crafting and controlling her image.
Assuming that Collins and Reid will find a mutually acceptable position (as, for now, I do), the question is just who else will vote for cloture. There are at least ten other possible supporting votes who are holding their cards close to their chest. We need three.
The President is reported to be calling Senators on both sides of the aisle.

UPDATE: Senator Lieberman is refuting the claims made by Reid's aide:
"Senator Collins has been working in good faith to achieve an agreement on the process to move forward with the defense bill that contains the repeal of 'Don't Ask, Don't Tell,'" Lieberman said. "I categorically reject reports by uninformed staffers who have suggested otherwise."

Lieberman said he wants "those responsible for such baseless allegations" to stop immediately and work to get to an agreement to the defense authorization bill to the Senate floor.

"We are making progress toward an agreement to move forward on the defense bill that includes the repeal of 'Don't Ask, Don't Tell' and I remain confident that we can reach an agreement, which is necessary before any vote on the motion to reconsider is taken," Lieberman said.
If this turns out to be a posturing ploy from Reid's office, it likely will backfire. Our community has become unwilling to accept the claims of Reid at face value.