Ex-gay survivors needed to testify in Virginia
Daniel Gonzales
January 15th, 2014
Virginia is attempting to join the list of states which ban ex-gay therapy on minors.  Text of the bill can be found here.  Legislative action is going to happen between now and the end of February and Virginia based survivors of ex-gay therapy are urgently needed to speak in favor of the bill.  Anyone interested can testify in person or send a written testimony to be read. The bill is being sponsored by Delegate Patrick Hope and the Alliance for Progressive Values (APV).
The APV is especially interested in anyone who was forced to undergo therapy as a minor.  Interested parties should contact Victoria Bragunier of the APV at 804-517-5206
Film Review: "This Is What Love In Action Looks Like"
Finally an ex-gay documentary that's not simply a collection of interviews about the past, but one that's centered around a compelling event and story as it's unfolding.
Daniel Gonzales
August 29th, 2011
In 2005, 16 year old Zach Stark was sent by his parents, against his will, to the residential ex-gay program Love In Action. Protests and nationwide attention ensued.  It was probably the biggest ex-gay news story since Exodus board member/spokesman John Paulk was caught in a Washington DC gay bar.
Local filmmaker Morgan Jon Fox was there from the start of the protests, capturing it all and has spent the last six years creating his finished product of This Is What Love In Action Looks Like, a new independent film currently on the festival circuit.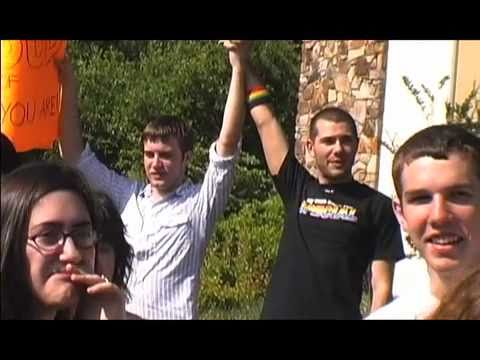 I've spent years writing for various websites that track and monitor ex-gay issues, and in that time I've reviewed a number of films about the ex-gay experience. Too often documentaries consist mainly of head-and-shoulder interviewees talking about their time in ex-gay programs years, if not decades, in the past.  This Is What Love In Action Looks Like is different, filmmaker Fox was there shooting events as they unfolded and shooting interviews with key players while memories and feelings are still fresh.  The finished product is stitched together to tell the story with a logical flow and progression which will allow the general public, unknowledgeable of ex-gay issues, to follow the story.
Head-and-shoulders interviews, a necessary evil, are used sparingly and effectively.  Those scenes are well composed and often set in locations more far dynamic than a subject's living room sofa.  Keystone interviews are even shot with multiple cameras allowing Fox to cut to tight zooms at appropriately intense moments.
Fox scored some rather crucial interviews, Zach Stark (the 16 year old sent to the program) as well as John Smid (ran Love In Action while Zach was there and has since stepped down).  Since the controversy in 2005 Smid's views have changed (I won't reveal how) and shows incredible courage for making himself as open, honest and vulnerable as he does during his interviews.  However I must criticize Fox for not asking Smid challenging questions.  In fact the only person Fox challenges is an anti-gay Alliance Defense Fund lawyer during a sidewalk press conference.  There are a lot of difficult questions interviewers can ask of the ex-gay movement, and Fox fails in this respect.
Zach's father (who sent him to the program) and Alan Chambers (president of Exodus, a national gay group) declined interviews and so their stories are told with extensive incorporation of broadcast TV footage. The other footage that most contributes to the uniqueness of the film are some very raw feeling shots of the actual street protests outside Love In Action's facility in 2005.
The film opens with a satisfyingly long interview of Zach talking about coming out to his parents and preparing to be sent off to the program.  As the story and protests unfolded Zach's life inside the program remained a total mystery to the gay community outside protesting. Fox smartly replicates this feeling by focusing on other details and choosing only to show Zach with long-lens and grainy footage, as if we the film viewer are with protesters on the sidewalk seeing Zach from afar, wondering what is happening to the young man in the program.
My biggest gripe is that when the film is concluding Zach's "after" interview is frustratingly short.  Zach comes across as having grown into a beautiful, vibrant young man.  After becoming invested in the activists who held a daily vigil outside Love In Action protesting for Zach I don't feel enough emotional payoff in Fox's interview with Zach.  I would strongly encourage Fox to revisit his source footage and include more meaningful and satisfying moments in that final interview. (Author's note: Fox was kind enough to respond to this issue after my review was first posted, see his quote at the bottom of the post)
My remaining criticisms of the film are somewhat minor so I'll list them here at the end:
While I adore the MySpace inspired title graphics, graphic styles throughout the body of the film are wildly inconsistent.  Some TV footage is shown in a "streaming internet video" style border, while other footage is shown full screen, sometimes that footage is full color, other times it has a tone/filter applied.  Also printed material (copies of ex-gay program rules and such) shown on screen has no stylistic consistency.
Insufficient disclosure of people appearing on screen who are involved in the film's production.  When filmmaker Fox appears on screen his title is simply "filmmaker" which I'm not sure all viewers will take to mean his is the filmmaker for this very film.  Also Peterson Toscano has a producer credit for the film but this is not disclosed at all with on screen titling.
A couple soundtrack selections are hit or miss during the first half.  The worst tracks sounded like a wind up music box composition from royalty free music websites.  As the movie progresses however the music selection greatly improves and begins to compliment the emotion of the film.
There are a few instances at the beginning of the film where former clients of Love In Action are dropping bombs about the program.  Insufficient time is left after these things are said for the emotional impact to settle properly.
But the above listed criticism have no effect on my recommendation to see the film, they are more for Fox's benefit should the movie hopefully be picked up by a distributor and is re-cut for distribution as independent films regularly are.  The novelness of this film sets it apart from every ex-gay documentary done before it.  When this screens in your city I strongly suggest you go and support it.
—
Filmmaker Fox addressed my criticism of Zach's seemingly brief interview segment via email the afternoon my review was posted:
When we approached Zach about the interview he made it clear that he was willing to tell his story about what happened during the months that he was in Refuge and during the media firestorm, mostly to lend his account of that, and leave it to rest.

[Fox continued…] So when he requested that his current life not be pried into or pondered over or talked about, I completely understood. He wants his privacy now. Zach is a private person who quite accidentally fell into a huge spotlight and I mostly wanted to document the events of 2005 and how friends of his felt it necessary to stand up and try and make a difference, attempt to help one of their peers. I never felt it was my job to pry to pull things from Zach story and I think it took a lot of courage for him to speak out at all and I'm very grateful he lent his version of the events of that Summer of 2005.
Exodus Co-Founder: I Never Saw One Of Our Members Become Heterosexual
A multi-part video interview series with Michael Bussee, co-founder of Exodus International turned critic.
Daniel Gonzales
April 27th, 2010
Today's video is short and concise.  I asked Michael point blank if he believed anyone in his program at Exodus ever changed.
(transcript after the jump)
Exodus Co-Founder: We Were All Still Struggling Silently As We Promised Change
A multi-part video interview series with Michael Bussee, co-founder of Exodus International turned critic.
Daniel Gonzales
April 21st, 2010
In today's video Michael talks about an evening in New York City with another ex-gay leader that caused him to begin to question if anyone in the ex-gay movement was really changing. After talking to other Exodus leaders Michael finally came to the conclusion:
"[T]here were very few of us, if any, who were completely celibate, and we were all still silently struggling with out own sexuality, at the very same time we were promising change.  And that lack of integrity, that psychological and spiritual split just got wider and wider and wider until I couldn't take it any more."
(transcript after the jump)
Exodus Co-Founder: The Inherent Harm In Ex-Gay Programs
A multi-part video interview series with Michael Bussee, co-founder of Exodus International turned critic.
Daniel Gonzales
April 15th, 2010
Last Sunday gay blogger Greg Kimball pretended to be a questioning 16 year old teen and called the syndicated radio talk show  "Dawson McAllister Live" and was directed to Exodus International for "help."  This is little surprise as McAllister's "partners" page includes a link to Exous' website.  A support operator at McAllister's program told Kimball's fictitious 16 year old "They [Exodus] will talk to you, they will counsel you, they will not condemn you, they will not make you feel little or anything."
Convincing supporters of exgay programs that said programs can cause harm is one of the greatest hurdles ex-gay survivor activists like myself face.  Like McAllister's operator, supporters believe they are truly doing their God's work and the idea that exgay programs are inherently harmful is often too much to comprehend.
When survivors of exgay programs like myself and Michael Bussee tell our stories of harm we're often met with the response that no, exgay programs aren't harmful, our individual program was just in need of a minor correction.
In the first of my video series, Exodus co-founder Michael Bussee addresses that common misconception:
(Video transcript after the jump)