GayTM On the Fritz: Gay Political Donations Down
The opinions expressed in this post are those of the author and do not necessarily reflect those of other authors at Box Turtle Bulletin.
Jim Burroway
September 24th, 2010
Perhaps one measure of the gay community's scorn for the Democratic Party's failure to deliver on its promises — as evidenced by this week's cynical tossing of the "Don't Ask, Don't Tell" football coupled with the administration's ridiculous filing in the Log Cabin Republican lawsuit against DADT — the OpenSecretsBlog reports that LGBT groups' contributions to political campaigns are drastically down when compared the the last mid-term elections in 2006:
[I]n an election cycle full of controversy over hot button issues such as adoption, "don't ask, don't tell" and California's Proposition 8 ban on gay marriage, donations to federal candidates from gay and lesbian interest groups are lagging. So far during the 2010 election cycle, people and political action committees associated with this special interest area have donated $744,040 to federal candidates, with 96 percent of funds going to Democrats. That's compared to more than $2 million contributed to federal candidates during the 2006 congressional elections and $1.8 million contributed during the 2008 presidential election cycle.

The Human Rights Campaign has donated a huge majority of the industry's funds going to federal candidates this cycle, contributing $625,272 to primarily Democratic candidates.
That means that the HRC has contributed almost 85% of all the LGBT dollars to federal campaigns. I don't know what percentage of the total contribution the HRC contributed in 2006, but I doubt that it amounted to $1.6 million. There has long been a perception that the Democratic party has been eager to take the gay dollar but unwilling to seriously address the gay community's concerns, whether they be the ongoing firing of qualified personnel from the U.S. military, discrimination against gay and (especially) transgender people in the workplace, or the unwillingness to take a coherent stand on marriage. LGBT people and organizations are, as a result, naturally and justifiably outraged this year, with many demanding that the "GayTM" be shut down.
While undoubtedly the economy has contributed to this falloff in donations, but that's not the entire story. LGBT donations are down by about half; other sources for donations are off, they haven't fallen as drastically as this. I'm glad that most of the major LGBT organizations have decided to close the GayTM. Their money wasn't being well spent, given the pathetic and cynical behavior of the political establishment that so many of us have worked so long and hard to support. For any organization that as to evaluate how effective every dollar they spend is toward accomplishing their goals, it doesn't take a rocket scientist to know that their dollars can be better spent elsewhere.
I fully support the call to sit on your dollars during this election cycle. If you have money to donate, there are many more worthy causes in your own local community that could use your help in this down economy. At least there, your hard-earned dollars have a better chance of actually doing some good. And if you are interested in contributing to political candidates, there is still the option of donating directly to specific candidates that you know have stood by the LGBT community. (For me locally, for example, I would single out my Congressman, Rep. Raúl Grijalva (D-AZ). He was among the extremely few Arizona officeholders who actively and publicly campaigned against Prop 102, the constitutional ban on same-sex marriage, which passed in 2008.)
I also think this report documents how unbelievably out of touch the HRC is with the community it claims to represent. It looks like we don't just need an overhaul of the political establishment that takes our money without delivering results, but also the advocacy group that takes our dollars and doesn't hold anyone accountable. To those of us who have donated to the HRC in the past, it's a good time to ask: have you gotten your money's worth?
Another stupid untruthful partisan fundraising letter from a gay "leaders"
Timothy Kincaid
September 16th, 2010
Karen Ocamb of LGBT POV is also taking issue with a fundraising letter, this time from HRC's Joe Solmonese:
What is Joe Solmonese smoking? The President of the Human Right Campaign sent out a fundraising email Wednesday morning that appears to blame the possible loss of the Democrats majority in Congress on District Court Judge Vaughn Walker's ruling that Prop 8 is unconstitutional – and on the National Organization for Marriage:

"Extremists' hatred is surging in the wake of the Prop. 8 decision. The National Organization for Marriage is spreading vicious anti-gay lies. Control of Congress could be up in the air."

I realize that fear-based fundraising letters are a traditional tactic to draw attention to one's cause. In this case, HRC's political action committee is trying to raise money for their designated races – Democrats Tarryl Clark (challenging Rep. Michele Bachmann), the terrific LGBT ally Patrick Murphy who's lead the House repeal of "Don't Ask, Don't Tell," Rep. Joe Sestak from Pennsylvania, openly gay Providence, Rhode Island Mayor David Cicilline, longtime LGBT ally Sen. Russ Feingold, and Illinois State Treasurer Alexi Giannoulias who is running for Senate.

The problem is – HRC may have just provided opponents of LGBT equality talking points and quotes. Not to mention that HRC is just plain wrong.
Phoenix gay group accuses HRC of putting "coalition" interests ahead of gay businesses
Timothy Kincaid
June 29th, 2010
The Greater Phoenix Gay and Lesbian Chamber of Commerce is not pleased that the Human Rights Campaign is discouraging gay individuals and couples from traveling to Arizona or doing business with Arizona gay businesses. And they have been frustrated in their attempts to get HRC to consider their concerns. (FoxNews)
"They haven't even read SB 1070. … They don't even really know what's going on around here," Joseph Gesullo, chairman of the Phoenix gay chamber, said of the organizations calling for boycotts. "It's really just hurting the people of Arizona."
Gesullo has been able to negotiate with another group, the National Gay and Lesbian Chamber, who has expressed support for Arizona's gay business operators.
But Gesullo said the Human Rights Campaign has "absolutely" resisted requests to tone down the boycott. He accused the group of kowtowing to Latino advocacy groups as well as the Service Employees International Union and expressed concern that the move would discourage gay and lesbian couples from visiting Arizona. That, in turn, hurts the hundreds of Phoenix businesses that count themselves as chamber members, he said.
And Gesullo may not be completely incorrect.
[Human Rights Campaign spokesman Fred Sainz] denied that the Human Rights Campaign launched the boycott just because the SEIU wanted it, but said there's nothing wrong with working as a "coalition." He said there's a strong connection between those who support Arizona's immigration law and those "who would bring similar harm" to the gay, lesbian, bisexual and transgender community.
While I'm not sure a boycott will have any effect on businesses or interests that oppose gay equality, it is likely to keep away many who might shop in a gay business or contribute to a gay cause.
It is always fascinating when gay organizations put the interests of outside members of a coalition ahead of the interests of gay individuals and organizations. I wonder if those coalition partners would do the same?
We Don't Need Another Celebrity
Jim Burroway
March 23rd, 2010
Lt. Daniel Choi, who was arrested last weekend along with former Army captain Jim Pietrangelo after handcuffing themselves to the White House fence in protest over "Don't Ask, Don't Tell," appeared in a Newsweek interview today. He articulated a couple of key opinions that many of us share about the state of LGBT advocacy organizations today:
Within the gay community so many leaders want acceptance from polite society. I think there's been a betrayal of what is down inside of us in order to achieve what looks popular, what look enviable. The movement seems to be centered around how to become an elite. There is a deep schism [in the gay-rights movement], everyone knows this. But this shouldn't be about which group has better branding. There is a tremor right now in every gay and transgender youth that these groups are not grasping. I would say to them—you do not represent us if all you are looking for is a ladder in to elite society.

…They say freedom is not free, but it doesn't have to cost anything either. Jesus up on the cross did not have a party with all his major donors to raise money for his cause, his cross was free. Ghandi did not need three-course dinners and a cocktail party to get his message out. These are people who sacrificed their lives. For them it was hemlock, a cross, the bullet that shot Harvey Milk … it was not the size of their distribution list, but their message that endured.
He also had this pointed dig at the Human Right's Campaign going with a frivolous celebrity spokesperson again to lobby for DADT's repeal:
When I heard Kathy Griffin was going to be a spokeswoman for Don't Ask, Don't Tell, I wondered about that. I have great respect for her as an advocate. But if [the Human Rights Campaign] thinks that having a rally at Freedom Plaza with a comedienne is the right approach, I have to wonder. Don't Ask, Don't Tell is not a joking matter to me. To be at Freedom Plaza and not at the White House or Congress? Who are they trying to influence? I felt like they were just trying to speak to themselves. If that's the best the lobbying groups and HRC can do, then I don't know how these powerful groups are supposed to represent our community. Kathy Griffin and [HRC president] Joe Solmonese said they would march with me to the White House but didn't. I feel so betrayed by them.
You know, I have to agree. This strange instinct the HRC has to turn to celebrities to pretend they are serious observers and advocates for the LGBT community is truly bizarre. Remember Melissa Etheridge at the 2007 presidential debate — err, forum — sponsored by the HRC? She also provided cover for Saddleback Rick Warren when he endured criticism for comparing married gay couples to child molestation and apparently forgave him on our behalf.
We don't need any more celebrities. We need heros. The next time I see a celebrity being touted as an advocate for a serious issue, I'm throwing my shoe at the TV.
Lt. Daniel Choi Arrested In DADT Protest At White House
Jim Burroway
March 18th, 2010
Iraq war veteran Lt. Daniel Choi, whose discharge from the US Army under "Don't Ask, Don't Tell," handcuffed himself to the White House fence this afternoon along with Capt. Jim Pietrangelo, who was discharged in 2004. Here is CNN's coverage of that protest: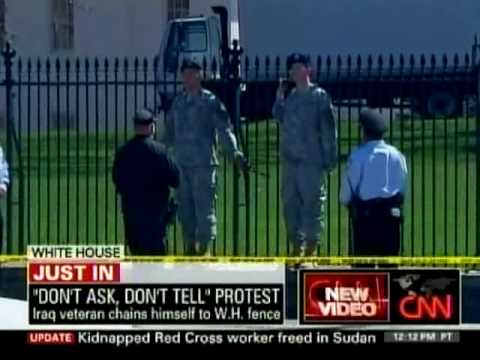 Choi and Pietrangelo had earlier attended a rally at Freedom Plaza organized by the Human Rights Campaign which featured comedienne Kathy Griffin. Griffin invited Choi, who had not been invited to speak, up to the stage to say a few words. Choi took the opportunity to invite participants at the rally to march with him and Pietrangelo to the White House.
Once they reached the White House shortly before 1:00 pm, Choi and Pietrangelo handcuffed themselves to the fence. They were quickly met by police and Secret Service. After a standoff of about an hour, police cut they two from the fence and placed them under arrest. A third advocate, Robin McGehee of GetEQUAL was also arrested.
Latest word is that Choi and Pietrangelo will be held in DC jail overnight and appear tomorrow in DC Superior Court. Observers say that it is highly unusual for a person to be arrested with "failure to obey a lawful order" and be held overnight. Typically such an individual makes bail and is released the same day. Why the delay?
In the best tradition of protests, that is where this story would end for the day, as unsatisfying an ending as it is right now. But wouldn't you know it, whenever it comes to the gays, it seems there always has to be some squabbling going on somewhere. This one is playing out as an anti-HRC/pro-HRC tussle. Blogger John Avarosis describes the events at the HRC's rally this way:
I was there, chronicled Dan from this morning's preparation to his unexpected speech at the HRC rally (Joe Solmonese told him he couldn't speak, Dan got Kathy Griffin to invite him on stage), to his march to the White House fence where he and Capt. James Pietrangelo (who was kicked out in 2004 for being gay) handcuffed themselves to the White House gate with hundreds of supporters chanting. It was an amazing scene. Griffin told Choi she'd march with him the White House, then she refused to go when he found her after rally. Solmonese reportedly gave Choi the thumbs up when Choi asked him if he'd march to the White House – Solmonese too was nowhere to be scene, and refused to go when Choi approached him after the HRC rally.
The HRC responded:
There's been some confusion about Lt. Dan Choi's role in the rally.  As Joe Solmonese was walking to the stage, Lt. Choi asked Joe if he could have a speaking role. Joe explained that it wasn't his sole decision to make on the spot given that there was already an established program that included Kathy Griffin, other organization and veterans.  After Choi then spoke with Kathy Griffin, she agreed to bring him up on stage and speak to the crowd during her remarks.

Lt. Choi in his speech called on the crowd to march on the White House. Joe Solmonese along with Eric Alva and others felt it was important to stay and engage those at the rally in ways they can continue building the pressure needed for repeal. This does nothing to diminish the actions taken by Lt. Choi and others. This is the nature of social change and everyone has a role to play.
As for Kathy Griffin, we have this tweet:
It was my honor 2 share th podium w Lt Dan Choi today. I understand he's been arrested in front of the White House. I dig that dude! Balls!
Maine's "Yes" Side Claims LGBT Groups Contributed $5 Million to Defeat Question 1
Jim Burroway
October 25th, 2009
This is amazing. Stand for Marriage Maine's web page says this:
Your support will help us stand up to the vast network of wealthy homosexuals with seemingly unlimited resources from places like Hollywood, New York and Massachusetts. Washington, D.C.'s largest national lesbian, gay, bisexual and transgender civil rights organization has already pledged to spend as much as $5 million to try to defeat us.
Five million dollars from the Human Rights Campaign? Let's review. According to campaign filings by both sides, Protect Maine Equality's three largest donors are:
Portland resident Donald Sussman, $500,000.
The Human Rights Campaign, $220,000.
The National Gay and Lesbian Task Force, $140,000.
These three contributions altogether make up only 22% of Protect Maine Equality's total budget. The rest has come from ordinary contributors like you.
Now let's look at Stand for Marriage Maine. Their top three contributors are:
National Organization for Marriage: $1.5 million.
Roman Catholic Diocese of Portland: $550,000.
Focus On the Family: $114,500.
Altogether, these three organizations alone have provided 83% of Stand for Marriage Maine\'s total budget.
Who's trying to buy an election while pulling the wool over the eyes of Maine voters?
NOM Doubles Its Maine War Chest, Claims Special Rights
Jim Burroway
October 24th, 2009
The Bangor Daily News reports that Stand for Marriage Maine, the group pushing to strip LGBT Mainers of their right to marry, has almost doubled its war chest in the past three weeks. They raised $1.4 million in October, bringing their total amount raised to $2.6 million, according to reports filed Friday with the Maine Ethics Commission. Guess where the money came from:
But $1.1 million of the $1.4 million raised by Stand for Marriage Maine in October came from a single source: the National Organization for Marriage. In fact, the Washington, D.C., organization has bankrolled more than 60 percent of the campaign to ban same-sex marriages in Maine.

The No on 1 campaign, meanwhile, claims to have received contributions from more than 22,000 donors, compared to slightly more than 700 donors to the opposing camp.
This brings NOM's total investment to $1.5 million, according to the Associated Press. By my calculations, that's actually 58% of the total. But still, that's pretty amazing. One out-of-state special interest group is trying to purchase an election, lock, stock and barrel.  The Roman Catholic Diocese of Portland has contributed a total of $550,000 to the "yes" campaign. Another $114,500 came from Focus On the Family. Together, these three groups alone account for 83% of Stand for Marriage Maine's total budget.
And yet, despite the fact that the National Organization for Marriage is paying the lion's share of the bill, they are in court demanding that they be held above Maine's financial disclosure laws:
NOM\'s financial role in the Maine campaign will be discussed in federal court in Portland on Monday when a judge hears arguments in a complaint the group filed against the state.

Earlier this month, the Maine Ethics Commission voted 3-2 to investigate whether NOM was skirting campaign finance laws in order to avoid disclosing the identities of contributors. A complaint against NOM alleges the organization, which played a key role in overturning California\'s gay marriage law last November, funnels money to Stand for Marriage Maine while promising donors confidentiality.

NOM responded earlier this week by challenging the constitutionality of Maine\'s law requiring "ballot question committees" to file detailed campaign finance reports.
Meanwhile, campaign finance reports also show that Protect Maine Equality has raised more than $4 million so far. This includes $1.4 million raised in October, matching Stand for Marriage Maine's fundraising from the same period. While the nearly 80% of the Yes side's money during that period came from NOM, most of Protect Maine Equality's fundraising came from individual donors during the same period.
Protect Maine Equality also reports some large donors, but nothing like the outright attempted purchase of an entire campaign by NOM. According to the Bangor Daily News, Portland resident Donald Sussman has contributed more than $500,000. The Human Rights Campaign kicked in $220,000 in donations and in-kind goods and services, and the National Gay and Lesbian Task Force has contributed about $140,000 in funds, goods, and services.
Altogether, these three major donors make up only 22% of Protect Maine Equality's total take. The rest, as they say, comes from people like you. Please donate today.
HRC Responds
Jim Burroway
October 14th, 2009
HRC president Joe Solmonese responds to accusations that he gave President Barack Obama a pass until 2017:
Perhaps the biggest surprise for me was the reaction some people had to my comment that on the last day of President Obama\'s term, we will be able to look back on many accomplishments in LGBT rights. I still find it hard to believe that anyone thought I was saying that we should be content to wait patiently for our equality. What I said—and what I believe in my heart—is just the opposite.

We all worked hard to elect a President who supports our rights and now that we\'re in a position to make change happen, the last thing we should do is wait.  Don\'t Ask, Don\'t Tell and DOMA are still on the books and an inclusive ENDA has yet to become law.  Real families are left without protections and people living with HIV and AIDS aren\'t getting the care they need.  Students are being bullied in school because they\'re different and bi-national couples are treated like they\'ve never met.  While we\'ve started to turn the tide, it\'s clear that our community has a lot of reasons to be angry and impatient, and I\'m thankful to the tens of thousands who joined us in Washington this weekend to demand a change.

So while I steadfastly believe that we will have accomplished an awful lot by the time President Obama leaves office, I know that wishing won\'t make it so.

…That is why our confidence in what we will accomplish under this President is not misplaced.  At the end of the day, it is confidence in ourselves.  I have confidence in the LGBT community and the people who support us.  We will claim the equality that is our birthright, day by day, vote by vote, law by law.
The entire statement is here. In effect, Solmonese hitches his success squarely on the Obama administration. Time will tell whether that's a wise choice.
Candidate Obama Addresses HRC
This commentary is the opinion of the author and may not necessarily reflect those of other authors at Box Turtle Bulletin.
Jim Burroway
October 10th, 2009
When he becomes President, he's going to sign the Matthew Shepard Hate Crimes Act, he'll sign the Employment Non-Discrimination Act if it ever sees the light of day, and sometime during his presidency he's going to end Don't Ask, Don't Tell. Oh, and he's gonna appoint a gay ambassador or two, and we're all invite to the big Easter Egg roll.
Seriously, I guess it was a good speech — a great one considering that it reflects the sentiment of a sitting president. "My commitment to you is unwavering," he said, and I actually believe it as far as the speech goes. Which makes it a home-run of a speech when compared to previous Presidents' speeches I can name. And I really like the way he promised to stand behind his LGBT appointees against a blistering attack by the right.
And we must not lose sight of the fact that he is appearing before a major LGBT advocacy group. Please correct me if I'm wrong, but I don't recall a president speaking before, say, Focus On the Family or at the Values Voter Summit. Obama's presence at the HRC made for about an hour's worth of video tape which can be used by his opponents in 2010 and 2012. Meanwhile his remarks will be discussed on Sunday morning talk shows and news outlets across America among the larger American audience who really hasn't been much engaged in these issues. The topics he raised went out to a much broader audience, and not just to the LGBT people and their allies in that room. These are no small things. Let's take a moment to be grateful for it.
..
..

Okay. Moment's over. I think we've all heard this speech before. It's an oldie but goodie. I'll never tire of hearing it. But the great thing about being President is that he can do a whole lot more than just give speeches to the diehard faithful. Now that, you know, he's actually President, he has a tremendous bully pulpit with Congress — and with voters in Maine and Washington (which, by the way, he didn't mention). There are some Executive Orders he can sign on DADT, and some DOJ briefs on DOMA he can influence. You know, Presidential executive-type stuff. Action-type stuff.
I hope this time next year, we'll get to hear from President Obama, not Candidate Obama.
Gay, Inc., vs Gay Advocavy
Jim Burroway
October 10th, 2009
Two fierce advocates: The HRC's Joe Solmonese defends the Administration while Cleve Jones defends the LGBT community.
I'm amazed that after Solmonese protests that repealing Don't Ask Don't Tell is tricky and will be time-consuming, he decides to shift gears over the administration's inaction on repealing the Defense of Marriage Act. Out of nowhere Solmonese comes to life and declares that "the most significant thing the President can do is overturn the Defense of Marriage Act. That is immediately within his power." Which, of course, it isn't. It's a law that Congress has to overturn. But after seven minutes sitting next to a real advocate, I guess he had to say something.
HRC Sets A Deadline for Obama: 2017
Jim Burroway
October 10th, 2009
Wow. Talk about cutting the administration a lot of slack and eliminating all pressure. It looks to me as though HRC president Joe Solmonese is vying to be Obama's next Press Secretary. His latest roll-over comes via John Aravosis at gay.Americablog:
But what has he [Obama] done?

I've written that we have actually covered a good deal of ground so far. But I'm not going to trot out those advances right now because I have something more relevant to say: It's not January 19, 2017.

That matters for two reasons: first, the accomplishments that we've seen thus far are not the Obama Administration's record. They are the Administration's record so far….

I am sure of this: on January 19, 2017, I will look back on the President's address to my community as an affirmation of his pledge to be our ally. I will remember it as the day when we all stood together and committed to finish what Senator Kennedy called our unfinished business. And I am sure of this: on January 19, 2017, I will also look back on many other victories that President Barack Obama made possible.
This is the second blank check Solmonese has given to the Obama administration this year. Does anyone recall any of our opponents giving George W. Bush and the GOP a tw0-term pass for passing their agenda? Me neither. I guess that's why they got so much of what they wanted through the Congress and White House. But the HRC wants us to hold our tongues and sit on our hands for the next seven years. And just trust that change will come. It's good to see that this president has such a fierce advocate in the HRC.
Unbelievable. And yet so completely in character.  Why do they still exist?
Update: Towleroad has the complete email, and Solmonese responds. I'm willing to dial back my criticisms a little — a little. Solmonese's full email highlights some critical disagreements with the Obama administration, so he's not exactly the administration's de facto press secretary. And in his response, Solmonese rightfully points out that Aravosis carefully selected a few choice quotes for maximum outrage while ignoring everything else. Unfortunately, it's what he does.
But go back and read that email again. I agree with Aravosis on this: Don't tell me to wait and see where we're at in 2017. I'm worried about the 2010 congressional elections. Plus, we're still going to have a contested presidential election in 2012. Solmonese is working on a seven year timeline because he assumes Obama will still be around in 2013 with, what? — an even friendlier Congress than we have now? At the rate we're going, we'll be lucky if we get Hate Crimes and maybe ENDA. DADT? DOMA? Unless we see big changes, color me skeptical.
This email, even in its entirety, exhibits the sort of comfortable complacency and lack of urgency that we've come to expect from the HRC.
Rewarding Intentions
Timothy Kincaid
October 9th, 2009
President Barack Obama has won the Nobel Peace Prize.
Some around the world objected to the choice of Obama, who still oversees wars in Iraq and Afghanistan and has launched deadly counter-terror strikes in Pakistan and Somalia.

The Norwegian Nobel Committee countered that it was trying "to promote what he stands for and the positive processes that have started now." It lauded the change in global mood wrought by Obama's calls for peace and cooperation, and praised his pledges to reduce the world stock of nuclear arms, ease American conflicts with Muslim nations and strengthen the U.S. role in combating climate change.
If we are now presenting awards based on intentions and promises rather than on actions and accomplishments, then no doubt the Human Rights Campaign will be awarding the President on Saturday with the Fierce Advocate Award.
Obama To Speak At HRC Dinner
Jim Burroway
October 5th, 2009
It's eleven months after the election, and we still don't have hate crimes protection. That was supposed to be the easy one. Now even that is in doubt. But we're still gonna gather at his feet and be thankful for the crumbs, aren't we?
President Obama will speak to a gathering of gay rights activists this weekend, a day before thousands of people are expected to march on Washington in a demonstration calling for greater legal protections for gays, lesbians and transgendered Americans.

Mr. Obama\'s appearance on Saturday at the annual dinner for the Human Rights Campaign, a leading gay rights advocacy group, represents a significant show of support for gay rights at a time when many prominent gay and lesbian activists have been questioning the president\'s commitment to their issues.
"Significant show of support"? How about something tangible we can really use, besides a great speech and a Salisbury steak.
The White House Wants To Buy Us A Drink
This commentary is the opinion of the author and may not necessarily reflect those of other authors at Box Turtle Bulletin.
Jim Burroway
June 22nd, 2009
Last week, word went out that the Justice Department will meet with LGBT groups to try to iron out how the Justice Department can go forward with future litigation with DOMA without insulting a key group of fellow Americans. I think that has the potential of being a very good move, and I'm glad LGBT advocacy groups are being invited to this working meeting. But we are also learning that the White House plans on inviting LGBT leadership to a cocktail party of some sort later in the week. I can't think of anything more inappropriate than that.
I think Michelangelo Signorile sums it up just right. I agree that it was important for LGBT leaders to be on hand when President Barack Obama signed the president's memorandum providing for very limited benefits for gay employees. It was, as Signorile points out, LGBT business, and we expect LGBT leaders to be on hand whenever LGBT business is being conducted. And it's good that LGBT leaders will be meeting with the Justice Department tomorrow. Again, more business.
But a cocktail party? I can't imagine that any self-respecting gay person would agree to go to a cocktail party at this stage in our difficult relationship with the current administration, although I have to concede that House and Senate Republicans, even some of the most conservative ones, have taken the White House up on similar invitations.
But still, I think that attending a cocktail party sends two wrong signals. One, serious business like what we've gone through over the past week calls for serious and frank meetings. What we need is actual movement on repealing the Defense of Marriage Act, repealing "Don't Ask, Don't Tell," enacting the Employment Non-Discrimination Act, and (this one was supposed to be "easy") finally enacting the Hate Crimes bill that was supposed to have come out this week but now is more likely before Congress recesses in August, if Sen. Majority Leader Harry Reid can be taken at his word. We're looking for real movement and a plan forward, not drinks and witty reparté.
And there's another message that I have trouble squaring. The Human Rights Campaign in particular has labored under criticisms of being too cozy with the Washington power structure, and that those cozy relationships have led the HRC to go easy on pressing for important issues like repealing Don't Ask, Don't Tell." That's the perception, and it's one that the HRC may just now be growing sensitive to. This latest flap over the Justice Department's DOMA brief led the HRC to play catch-up with grassroots anger and suspicion, and they did that by issuing an unusually sternly worded letter to the White House. If the HRC really wants to shed its image of the go-along-to-get-along Washington schmoozing machine, the worst thing they could do would be to take the White House up on this latest invitation.
It looks like, for the time being, our relationship with the Obama administration can be divided into two periods: pre-DOMA brief and post-DOMA brief. In the pre-DOMA brief days, this party would have been seen as a good sign. We would have rejoiced that the White House engaged in this symbolic act, and the HRC would have basked in the glow. But that was before the DOMA brief — and before there were cocktail invitations. That brief changed everything. One way to understand the negative reaction surrounding the presidentail memorandum is that symbolic acts no longer cut it. LGBT leaders need to be cognizant of that or risk their own relevance in the LGBT community.
Update: I've changed my mind.
Military Paper Confirms HRC's Deal to De-Prioritize 'Don't Ask – Don't Tell'
Timothy Kincaid
June 22nd, 2009
Early this month we told you of a report by Jason Bellini which claimed that HRC had derailed the repeal of the military's anti-gay 'Don't Ask – Don't Tell' policy in favor of fast-tracking the bills which they support. HRC strongly denied the claim.
However, the military paper Stars and Stripes is confirming the claim:
An official with the House Democratic leadership said the House is committed to repealing "don\'t ask" but has agreed with civil rights groups to put new hate crime legislation and a workplace nondiscrimination bill on the legislative calendar before taking up the military issue.
Stars and Stripes also reminds us that legislation is ready to go and just waiting for the President's support:
The House of Representatives has had a bill to overturn the law pending since March, but no hearings have been scheduled on the measure. Bill sponsor Rep. Ellen Tauscher, D-Calif., collected 147 co-sponsors for the legislation but publicly said she wouldn\'t push for passage without support from the president.
And they raise an interesting observation about the limitations on the new benefits announced by the President last week:
But planned changes don\'t contain any privacy or anonymity guarantees. Edmund Burns, spokesman for the Office of Personnel Management, said everyone applying for benefits is essentially "outing" themselves and their partners.

That means a Defense Department employee with a same-sex partner in the military could run afoul of the "don\'t ask" rules.

Pentagon officials said they are not aware of any plans to adopt special guidelines shielding benefits information from "don\'t ask" investigations.