HRC's Corporate Equality Index for 2009
Timothy Kincaid
September 2nd, 2008
Annually, HRC grades businesses on their policies regarding LGBT equality. And at least partly as a result of HRC's public dissemination of this information, each year more companies change their personnel policies to accomodate their gay employees.
Check out this year's listing and see if you need to be a bit more productive today in appreciation (or, alternately, call in sick tomorrow with a hangnail).
It's Time to Stop Attacking HRC
This commentary is the opinion of the author and may not necessarily reflect those of other authors at Box Turtle Bulletin
Timothy Kincaid
July 26th, 2008
I am not an unequivocal supporter of the Human Rights Campaign. I believe that they have on many occasions confused partisan positioning with what's best for gay people and have made judgment errors and poor priority choices.
But they are also the largest and most important lobbyist for the rights, freedoms, and interests of the gay community. Without the work that HRC does on a regular basis, we would be in far greater danger of losing the measure of equality that we have fought so long and so hard to win.
HRC is under attack by some who claim membership in our community.
Last year, HRC decided that they would pursue the tactic of seeking a Federal employment non-discrimination law that included gay and lesbian persons, but which did not provide gender identity protections. Their analysis showed that a bill including protections for transgendered persons would not have adequate support so they supported a version of ENDA in which that provision had been eliminated.
This angered many transgendered persons as well as some others in the gay community who felt that a portion of the community had been abandoned and betrayed. HRC tried to explain that this was not an indication that they would not continue to fight for transgender inclusive legislation, but that an incremental approach was likelier to succeed.
While this did not appease those who were angry with HRC, a great many gay people could not understand the rationale of allowing gay men and lesbians to continue to live under the threat of being fired or evicted until such point in the future when a more inclusive bill might have adequate political support. But the pro-T allies put pressure on those members of Congress who are generally gay supporters and the efforts to protect gays and lesbians from discrimination failed.
I don't fault those who disagreed with HRC's decision. And if individuals feel that their contributions are best utilized elsewhere, I can hardly complain.
But I cannot support the extent to which this has gone.
Though they succeeded in derailing ENDA, those angry at HRC were not content. They are now seeking to hurt HRC's fundraising abilities. They have begun protesting at fundraisers and today they are holding a "counterparty" to draw attendance away from an event that HRC is hosting in San Francisco. And they have announced that they have sabotaged HRC's event.
several San Francisco local elected officials announced their decision to boycott the HRC fundraising dinner. Most notably, slated dinner keynote Los Angeles Mayor Antonio Villaraigosa, has decided to cancel his speech after pressure from local labor and LGBT leaders.
Frankly, I'm not sure I believe them. But if it's true that Villaraigosa has pulled out, I don't see what that has accomplished.
And their activism has hurt not only HRC, but also the efforts to keep marriage legal in California.
When ordering tickets, all dinner guests will be given the option to designate up to 100 percent of the fee to the HRC California Marriage PAC. The PAC was established to fight against the anti-marriage ballot initiative. Proceeds from the dinner are part of the recent $500,000 pledge by HRC.
The "queer progressive organizations" that are hosting the counterparty have not explained how harming HRC will benefit the community. They have no plan in place to make up for HRC's efforts to fight for marriage. These "economic leftists" are only dancing in glee that they may have hurt someone that they think slighted them.
And their timing could not be worse.
The battle over marriage, particularly in California, may be the most important battle that our community will fight in decades. Donald Wildmon, head of the viciously homophobic American Family Association, has admitted that our community's efforts to hold on to our right to marry may be a turning point in our community's quest for equality.
"If we lose California, if they defeat the marriage amendment, I'm afraid that the culture war is over and Christians have lost," says Wildmon, a 30-year veteran of the culture war. "I've never said that publicly until now — but that's just the reality of the fact."
And efforts to cripple our largest gay organization at this time are the last thing we need. Whether you supported an incremental ENDA plan or you thought HRC's approach was a betrayal, we must step beyond that decision and create a united and powerful voice for our cause.
We need to be strong in fighting against homophobia in California, Arizona and Florida. And following the presidential election we will need to have a powerful lobby to approach the next administration, one that is not crippled by the petty bitterness of those who selfishly think that if they don't get to pick the strategy then all gay people should be forced to pay.
UPDATE: The Associated Press is now reporting that Mayor Villaraigosa has pulled out of the fundraiser to oppose the anti-gay marriage amendment.
Pot, Meet Kettle
Jim Burroway
May 8th, 2008
Those so-called "professional journalists" at Focus On the Family's CitizenLink are repeating that tired old theme again — that the "homosexual lobby" is so incredibly well-funded that its a miracle that anti-gay activists can get a word in edgewise. If only it were true.
This time, they're upset over the Human Rights Campaign's "Year to Win" initiative, specifically HRC's plan to train 1,500 advocates in thirteen cities to participate in the upcoming elections.
Wow. Thirteen cities. Imagine that.
CitizenLink then enlisted Matt Barber to complain:
"Their main purpose for existence is to influence public policy and politics, and to get people elected to office who are going to push their militant homosexual agenda," said Matt Barber, policy director for cultural issues at Concerned Women for America.
Of course, nobody at Focus and none of the Concerned Women are at all interested in public policy, politics or getting people elected.
Oh, wait a minute. Wasn't it just a few months ago that the world held its collective breath wondering who Dobson would endorse for the GOP primaries?
And isn't Focus On the Family in its third year of flogging its own so-called "Truth Project", a series of regional and local training sessions they've been putting on across the country? And what about Dobson's radio program and Focus' own "Family News In Focus" program, both going out daily to hundreds of radio stations across the country — all of it to push their militant anti-gay agenda?
But then, HRC does have a weekly radio program on XM Satellite, or so I hear. I don't get satellite radio.
But that's not the only thing that CitizenLink is worried about. They're terribly upset over HRC's massive bankroll:
Brad Miller, director of the Family Policy Council department at Focus on the Family Action, said family advocates could face an uphill battle. HRC has an annual budget of more than $50 million.
True, when you add up the revenues of the Human Rights Campaign, Inc and the Human Rights Campaign Foundation, you end up with a figure of about $50 million.
But go to GuideStar and look up the financial statements from Focus On the Family and Focus On the Family Action. Add those figures together and you'll end up with revenues in 2006 of some $157 million.
That's more than three times the size of HRC's combined budget.
If a picture is worth a thousand words, maybe two will help.
I think Focus On the Family should spend some of their money on math lessons.
Gay Groups Ask for Leniency in Lawrence King Murder
Jim Burroway
April 15th, 2008
A coalition of 27 LGBT activist organizations is urging the Ventura County, California District Attorney to charge 14-year old Brandon McInerney, Lawrence King's murderer, as a juvenile. McInerney shot King, 15, point blank in the head on February 12th at E.O. Green Junior High School in Oxnard, California. With hate crime enhancements, McInerney faces up to 27 years in prison if he is charged as an adult. But citing an overall "climate of intolerance and fear about sexual orientation and expression," the coalition feels that prosecuting McInerney as an adult would "compound this tragedy with another wrong."
The press release, which is not yet available online, reads:
A coalition of 27 groups fighting for lesbian, gay, bisexual and transgender rights today is urging Ventura County prosecutors to try 14-year-old Brandon McInerney in juvenile court, and not as an adult. McInerney has been charged as an adult in the February 12 murder of his E.O. Green Middle School classmate, 15-year-old Lawrence King. Students say McInerney targeted King because the victim was openly gay and because he wore women's jewellery and makeup.

LGBT civil rights organizations, including Lambda Legal, the National Center for Lesbian Rights, and the Transgender Law Center, have delivered a short statement to Ventura County District Attorney Gregory D. Totten, calling on him to try McInerney as a juvenile.

"We are saddened and outraged by the murder of junior high school student Lawrence King," the statement reads. "At the same time, we call on prosecutors not to compound this tragedy with another wrong "we call on them to treat the suspect as a juvenile, not as an adult.

"The facts in this matter seem clear: one boy killed another in a climate of intolerance and fear about sexual orientation and gender expression. The alleged perpetrator, who turned 14 years old less than three weeks before the shooting, should be held accountable for his actions. But we support the principles underlying our juvenile justice system that treat children differently than adults and provide greater hope and opportunity for rehabilitation. In addition, public safety is not served by treating children as adults. According to research released by the Centers for Disease Control in 2006, children transferred to adult court are more likely to re-offend than those committing similar offenses who remain in the juvenile justice system. California law does not require District Attorneys to prosecute 14 year-olds as adults, even in circumstances such as these, and we oppose them doing so. We are issuing this joint statement because we believe so strongly in principles of justice that protect all our young people and know that, even in the face of strong emotions, we should not abandon them. We refuse to let our sense of outrage blind us to the fact that the suspect is only 14 years old.

"Prosecuting the alleged perpetrator as an adult will not bring Lawrence King back nor will it make schools safer for LGBT youth. We must respond to this tragedy by strengthening our resolve to change the climate in schools, eliminate bigotry based on sexual orientation, gender identity or expression and hold schools responsible for protecting students against discrimination and physical harm."
The list of signatories include: American Civil Liberties Union of Northern California; American Civil Liberties Union of San Diego and Imperial Counties; American Civil Liberties Union of Southern California; Ally Action (CA); Children of Lesbians and Gays Everywhere (COLAGE; national); Community United Against Violence (San Francisco); Different Avenues (DC); Equality California; Gay Straight Alliance Network (CA); Gay & Lesbian Advocates & Defenders (GLAD); Human Rights Campaign; LAGAI – Queer Insurrection; Lambda Legal; LifeWorks Mentoring (Los Angeles); Los Angeles Gay and Lesbian Center; National Black Justice Coalition; National Center for Lesbian Rights; National Center for Transgender Equality; National Gay and Lesbian Task Force; Parents, Families and Friends of Lesbians and Gays (PFLAG) National; Safe Schools Coalition; San Francisco LGBT Community Center; Sylvia Rivera Law Project (New York); TGI Justice Project (CA); Transgender Law Center; The Lesbian, Gay, Bisexual & Transgender Community Center (NY); TransYouth Family Allies, Inc.
Trans HRC Board Member Resigns
Daniel Gonzales
October 3rd, 2007
I'll be honest, I'm unsure about the feasibility of passing an inclusive ENDA. The purpose of this post is not to discuss that. The purpose of this post is to highlight how specifically HRC has betrayed a commitment made less than a month ago by president Joe Solmonese to the trans community.
"We absolutely do not support and in fact oppose any legislation that is not absolutely inclusive."
Which of course we have video of: (hat tip Mike Rogers for pointing this to me in a discussion last night)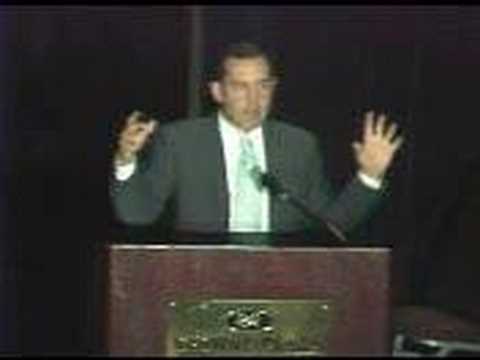 Here's some of former HRC board member Donna Rose's resignation statement:
In 2004 the HRC Board voted to support only fully-inclusive Federal legislation. That decision paved the way to my participation with the organization, and was a significant step in the healing process. [snip] Less than a month ago HRC President Joe Solmonese stood before almost 900 transgender people at the Southern Comfort Conference in Atlanta to pledge ongoing support and solidarity. In his keynote address he indicated that not only would HRC support only a fully inclusive ENDA, but that it would actively oppose anything less. That single pledge changed hearts and minds that day, and the ripple affect throughout the transgender community was that we finally were one single GLBT community working together. Sadly, recent events indicate that those promises were hollow.

[snip]

I hereby submit my resignation from my post on the Board of the Human Rights Campaign effective Monday Oct. 8, 2007. I call on other like-minded board members, steering committee leaders, donors, corporate sponsors, and volunteers to think long and hard about whether this organization still stands for your values and to take decisive action as well. More than simply a question of organization policy, this is a test of principle and integrity and although it pains me greatly to see what has happened it is clear to me that there can only be one path. Character is not for compromise. I cannot align myself with an organization that I can't trust to stand-up for all of us. More than that, I cannot give half-hearted support to an organization that has now chosen to forsake the tenets that have guided my efforts from day one.