Lt. Daniel Choi Arrested In DADT Protest At White House
Jim Burroway
March 18th, 2010
Iraq war veteran Lt. Daniel Choi, whose discharge from the US Army under "Don't Ask, Don't Tell," handcuffed himself to the White House fence this afternoon along with Capt. Jim Pietrangelo, who was discharged in 2004. Here is CNN's coverage of that protest: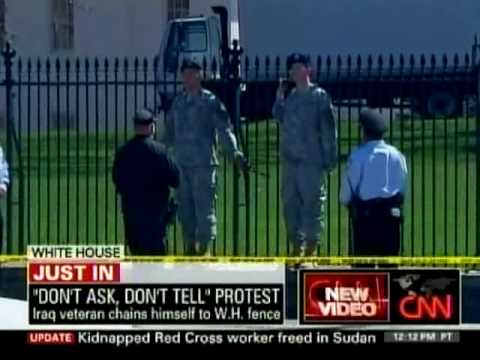 Choi and Pietrangelo had earlier attended a rally at Freedom Plaza organized by the Human Rights Campaign which featured comedienne Kathy Griffin. Griffin invited Choi, who had not been invited to speak, up to the stage to say a few words. Choi took the opportunity to invite participants at the rally to march with him and Pietrangelo to the White House.
Once they reached the White House shortly before 1:00 pm, Choi and Pietrangelo handcuffed themselves to the fence. They were quickly met by police and Secret Service. After a standoff of about an hour, police cut they two from the fence and placed them under arrest. A third advocate, Robin McGehee of GetEQUAL was also arrested.
Latest word is that Choi and Pietrangelo will be held in DC jail overnight and appear tomorrow in DC Superior Court. Observers say that it is highly unusual for a person to be arrested with "failure to obey a lawful order" and be held overnight. Typically such an individual makes bail and is released the same day. Why the delay?
---
In the best tradition of protests, that is where this story would end for the day, as unsatisfying an ending as it is right now. But wouldn't you know it, whenever it comes to the gays, it seems there always has to be some squabbling going on somewhere. This one is playing out as an anti-HRC/pro-HRC tussle. Blogger John Avarosis describes the events at the HRC's rally this way:
I was there, chronicled Dan from this morning's preparation to his unexpected speech at the HRC rally (Joe Solmonese told him he couldn't speak, Dan got Kathy Griffin to invite him on stage), to his march to the White House fence where he and Capt. James Pietrangelo (who was kicked out in 2004 for being gay) handcuffed themselves to the White House gate with hundreds of supporters chanting. It was an amazing scene. Griffin told Choi she'd march with him the White House, then she refused to go when he found her after rally. Solmonese reportedly gave Choi the thumbs up when Choi asked him if he'd march to the White House – Solmonese too was nowhere to be scene, and refused to go when Choi approached him after the HRC rally.
The HRC responded:
There's been some confusion about Lt. Dan Choi's role in the rally.  As Joe Solmonese was walking to the stage, Lt. Choi asked Joe if he could have a speaking role. Joe explained that it wasn't his sole decision to make on the spot given that there was already an established program that included Kathy Griffin, other organization and veterans.  After Choi then spoke with Kathy Griffin, she agreed to bring him up on stage and speak to the crowd during her remarks.

Lt. Choi in his speech called on the crowd to march on the White House. Joe Solmonese along with Eric Alva and others felt it was important to stay and engage those at the rally in ways they can continue building the pressure needed for repeal. This does nothing to diminish the actions taken by Lt. Choi and others. This is the nature of social change and everyone has a role to play.
As for Kathy Griffin, we have this tweet:
It was my honor 2 share th podium w Lt Dan Choi today. I understand he's been arrested in front of the White House. I dig that dude! Balls!
Comments