Melee In the Castro
Jim Burroway
November 17th, 2008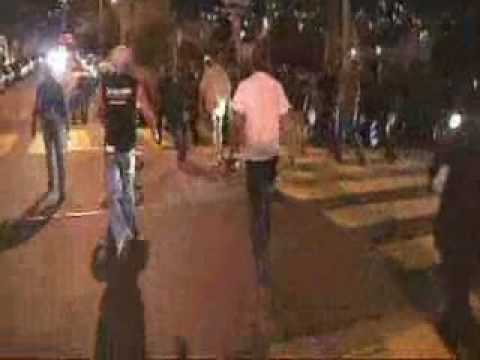 San Francisco police had to escort a group of preachers out of the Castro. Those so-called "Christians" are now using this as an excuse to post the most extraordinary claims and garnering vast amounts of publicity and sympathy for themselves on right-wing blogs.
Update: The YouTube was raw footage from KTVU television. The full report is here.
I know there's a lot of anger out there. I'm angry myself that for the first time in history, voters went to the ballot box to strip a minority of their rights — rights which they already were granted and were exercising. This has never happened before. I can't tell you how angry I am.
And I'm not too proud of myself when I say that if I had been there, I might have also followed that whistle-blowing crowd.
But this is not the way to go. Just as we are exercising our First Amendment rights to peaceful assembly all across this nation, we must remember that those rights are the very same rights to peaceful assembly that they enjoy. And we are exercizing those rights so that we may regain the very same rights to marriage that they enjoy.
[Hat tip: Pam Spaulding, Joe.My.God]
Update: Okay, I think I understand why some of you are upset with my post. It seems to at least partly center around this:
And I'm not too proud of myself when I say that if I had been there, I might have also followed that whistle-blowing crowd.
To the extent that my criticism was leveled against whistle-blowing, well, that was extremely clumsy of me. I should have thought better before writing that line. Everyone there had a right to counterprotest, scream, blow whistles, hurl insults — all the things I've seen happen at counterprotests to events I've attended — to try to get them to leave. Everything's fair game short of violence, threats and physical contact.
I guess my reaction is to this:  never mind what the so-called "Christians" here claim — because I don't trust their word on anything — but what on earth led more than a dozen San Francisco police officers to arrive, form a moving cordon down 18th street (if I have my bearings correct), and escort them safely to their vehicles? Is there a reason why they couldn't just leave?
And whatever that reason was that they couldn't just leave — well that's the part that I might not be proud of myself if I had been there. I am angry enough myself to have gotten caught up in whatever might have happened. I do think things can go so far. I do think that I could go too far — I'm mad as hell myself. And that's why I think we need to be careful.
More Protests Yet To Come
Jim Burroway
November 11th, 2008
The protests against Prop 8 continue without any apparent letup. Here are some more scheduled for Tuesday and Wednesday, including one in St. Paul, Minnesota:
Tuesday, November 11:
Rancho Cucamonga, CA
1:00 p.m.
Corner of Haven and Foothill.
Redlands, CA
4:00 p.m. – 6:00 p.m.
Redlands Mormon Temple
1761 Fifth Avenue
Santa Monica, CA
5:00 p.m.
321 Santa Monica Pier
Fresno, CA
5:00 p.m.
Fink-White Playground
Amador St and B St.
San Francisco, CA
5:00 p.m. – 10:00p.m.
San Francisco City Hall
1 Dr Carton B Goodlett Pl
San Diego, CA
5:00 p.m. – 10:00 p.m.
San Diego Mormon Temple
7474 Charmant Drive
Los Angeles, CA
6:00 p.m.
La Cienega Blvd and Centinela Ave
Saint Paul, MN
3:00 p.m.
State Capitol (Meet on Old Main Lawn)
Wednesday, November 12
Encinitas, CA
4:00 p.m. – 7:00 p.m.
Corner of Saxony and Encinitas Blvd.
Phone: 5305759264
dancewithwolves@wildmail.com
West Hollywood, CA
7:00 p.m.
Santa Monica & San Vicente
New York, NY
6:30 p.m.
Manhattan Mormon Temple
125 Columbus Ave at 65th Street
San Diego, CA
7:00 p.m.
St. Paul's Episcopal Cathedral
2728 Sixth Ave.
For more info, contact Chris Harris at (619) 298-7261 or harrisc@stpaulcathedral.org.
Mounting Protests Against Prop 8
Jim Burroway
November 9th, 2008
Protests continue to mushroom across California in the wake of last week's passage of Proposition 8, which eliminated the right to marry for gay and lesbian couples.
In Los Angeles:
Police estimated that 12,500 boisterous marchers converged about 6 p.m. at Sunset and Santa Monica boulevards in Silver Lake near the site of the former Black Cat bar, which the city recently designated a historic-cultural monument for its '60s role as home of the local gay rights movement.  Police guided the demonstrators through the streets for more than three hours without major confrontations. No arrests were reported.

…Steering the crowds, several hundred officers were on scene, riding horses, motorcycles and bicycles. Others on foot were sprinkled through the crowd. Mario Mariscal, 20, and his mother, Delia Perez, a 45-year-old Guatemalan immigrant, stood on the Sunset Boulevard sidewalk. Mariscal came out to his mother as gay when he was 16. She held a sign saying, "Give my son his rights."
In San Diego:
An estimated 8,000 to 10,000 people marched from Hillcrest to North Park behind a giant rainbow flag in protest of Proposition 8. The measure, approved Tuesday by 52 percent of voters, overturns the state Supreme Court ruling in May that legalized gay marriage.

"I don't want anyone to take away my right to marry," said Ken Hagen, a University City newlywed who marched down University Avenue alongside his partner, John Young. Chants for equality were sometimes drowned out by drivers honking their horns in support of the passing crowd. Signs waved and bobbed in the air with slogans such as "We Shall Overcome" and "Not Gay, Love You Anyway."
In San Francisco:
Thousands of demonstrators marched down Market Street in San Francisco on Friday night to protest the passage earlier this week of Proposition 8, which effectively bans same-sex marriage in California.

The march began around 5:30 p.m., as the group worked its way west toward its final destination of Dolores Park. A large group remained around Ninth and Market streets, holding signs, chanting and jamming traffic. About a dozen Muni buses were stuck in the traffic mess.
In Oakland:
Backlash to the passage of an anti-gay-marriage law continued to sweep across California on Sunday, with hundreds of protesters rallying outside the Mormon Temple on Lincoln Avenue in the Oakland Hills. Same-sex marriage supporters carried signs, blew whistles, and passing cars honked in support outside the largest temple in the Bay Area. The Mormon church was among the top contributors to the effort to pass Proposition 8.

…The California Highway Patrol was forced to shut down the nearby Joaquin Miller and Lincoln on and off-ramps to the freeway due to the Oakland protest. A CHP dispatcher said the highway ramps were closed to protect pedestrians from traffic.
In Orange County:
About 300 people gathered in front of Saddleback Church protesting the recently-passed gay marriage ban this morning. Holding signs reading "Shame on Rick Warren" and "Preach Love not Discrimination," the crowd chanted "Equal rights now."

…In Orange County, hundreds protested without incident in Laguna Beach and Huntington Beach yesterday. Protests were planned in Lake Forest, Laguna Niguel and Rancho Santa Margarita today.
In Sacramento:
Thousands of Prop 8 opponents demonstrated at the State Capitol Sunday for the latest rally against the measure banning same-sex marriage in California.

By 2:00 p.m., thousands of people had massed in front of the California statehouse. The event was the latest demonstration in Sacramento and across the state since the passage of Proposition 8 Tuesday, which amended the state constitution to define marriage as a union between a man and a woman.
In Santa Barbara:
Many people at a rally in Santa Barbara Friday night not only oppose Proposition 8, they oppose the fact that it was on the ballot to begin with. "This should not have been a ballot measure, the basic fundamental human rights shouldn't be voted on by the electorate," said David Selberg with Pacific Pride Foundation.
In Long Beach:
More than 2,000 demonstrators marched through Long Beach on Friday night, protesting the passage of Proposition 8, the ban on same-sex marriage in California. Fifteen people were arrested.

The march started about 7:30 p.m. and within an hour had taken over Broadway, with protesters shouting and holding signs with such messages as "Did we vote on your marriage?"
See also:
LDS Church Can't Hide Behind A Temple
Thousands Protest In Salt Lake City's Temple Square
Protesters Target Mormon Temple in Westwood
LaBarbera Award: This Guy
Jim Burroway
June 17th, 2008
We've never given the LaBarbera Award to an un-named person before, but we don't know the name of this particular anti-gay protester in front of San Francisco City Hall yesterday. All we have is this photo, and this lovely example of a "Christian" witness.
"God killed him for loving fags!!"
According to Storm Bear (yes, that's his name) at the Bilerico Project, a marriage supporter was playing a guitar when he "suddenly dropped like a tree" of an apparent heart attack or cardiac arrest. Police immediately swooped in and began administering CPR.
And while that was going on, one of the "loving" Christian protesters was chanting, "Satan Got You!" and "What is the Devil whispering in your ear about now?"
Storm Bear takes it from there
I yelled at the guy, "If you are such a Christian, why aren't you praying for the guy dying on the concrete?" The protester replied, "God killed him for loving fags!!" The cops even stepped in and told the guy to shut his mouth.

I have no idea what the ultimate fate of the guitar player is. I have high hopes he will live to sing another day.
We are still waiting to hear whether the guitar player is okay. We hope and pray that he is. (Update: We have learned that the man did suffer a cardiac arrest and he is in guarded condition at St. Mary's hospital.)
I have no idea whether this anonymous "Christian" (and I'm using quotes here deliberately to distinguish this "gentleman" from real Christians) is a fan of Peter LaBarbera's or vice versa. But we do know that LaBarbera is a huge proponent of confrontational forms of "witnessing," and he's accused this web site of "anti-Christian bigotry" when we call him on it.  But we've challenged him to find a single post anywhere in which, even by the stretch of his wild imagination, we've engaged in the practice. Unsurprisingly, he hasn't taken us up on the challenge.
And I think there's a reason for that. We well understand that the confrontational, emotional, hyperventilating, panic-inducing style of "witnessing" that people like LaBarbera and this anonymous "loving Christian" perform is deeply embarrassing to millions of truly loving Christians the world over. This is why these extremists remain on the lunatic fringe. They see their failed efforts being eclipsed by the forward march of reason and sanity.
We recognize that those who think this sort of "witnessing" is constructive are not a reflection of Christianity. It's only reflective of its lunatic fringe. It's not anti-Christian bigotry or Christian bashing to say that. In fact, we can't even come close to bashing Christians as badly as those who hijack the faith to serve their own perverted brand of self-described "love."
Update: We have a name. It's Kevin Farrer.
[Hat tip for the name: Scott H.]
Our Godmothers Exchange Vows
Jim Burroway
June 16th, 2008
The first same-sex marriages took place in California, beginning at just one minute after 5:00 p.m. local time.
This is Phyllis Lyon (right, 83) and Del Martin (left, 87) of San Francisco. They have been together for fifty-five years. They, along with six other women, founded the Daughters of Bilitis in 1955. The Daughters were the first major lesbian organization in the United States. Phyllis edited the DOB's newsletter The Ladder beginning in 1956. Del edited The Ladder from 1960 to 1962. The Daughters eventually disbanded in 1970 after having established chapters all across the United States
In 1964, they helped found the Council on Religion and the Homosexual, bringing together national religious leaders and gay and lesbian activists for a national discussion of gay rights. Phyllis was also the first open lesbian to serve on the board of the National Organization for Women in 1973. Meanwhile, Del was heavily involved in getting the American Psychiatric Association to remove homosexuality from its list of mental disorders.
When Del and Phyllis met in 1950, the very idea that their relationship would someday be recognized by the state must have seemed utterly outlandish. But these pioneers have made a real difference for millions of gays and lesbians the world over, not just here in the United States. You might say that they are godmothers to all of us and our movement. After all these years of their hard work and dedication to the cause of lesbian rights, it's hard to imagine a more appropriate couple to be the first to marry in San Francisco.
We not only offer our congratulations, but also our deepest thanks for all that Phyllis and Del have done, and all that they represent.
Close the San Francisco and Boston Bathhouses!!!
Timothy Kincaid
January 23rd, 2008
Update for Peter LaBarbera's readers: The post you're really looking for is here: Is MRSA The New Gay Plague? It's the post he doesn't want you to see.
As we reported earlier, the usual crowd of anti-gay activists jumped all over the faulty stories about outbreaks of MRSA in San Francisco and Boston. Although subsequent reporting (and our indepth analysis) clearly shows that the anti-gays were completely wrong in their accusations, rather than repent of their false accusations, they simply changed directions.
Concerned Women for America issued a press release quoting their own Matt Barber "inviting" the gay community to join his campaign against bathhouses
Therefore, these groups should publicly condemn those specific 'high-risk behaviors' which this study has concluded are responsible for spreading MRSA among homosexuals.

"In light of this behaviorally related MRSA outbreak," said Barber, "we additionally ask HRC and other groups to call on local health agencies to shut down the many bathhouses and sex clubs around the country where men meet for anonymous sex with other men, often multiple partners, on a daily basis. These places create the 'perfect storm' for infectious disease, including MRSA.
Peter LaBarbera printed Concerned Woman Barber's press release with the heading
CWA Invites Homosexual Groups to Work to Curb Spread of MRSA
and put in his own support for the effort
Well, folks, I'm not exactly expecting Human Rights Campaign and the rest of the "gay" lobby to hop on this request for cooperation from my good friend Matt Barber of CWA, but it sure would be progress if they did.
So will Box Turtle Bulletin join the cry to close down those bathhouses in San Francisco and Boston that were so integral to the spread of MRSA? Well, we might consider the question, if they existed!
What the anti-gays failed to notice is that neither San Francisco nor Boston has a single public gay bathhouse. San Francisco closed down bathhouses in 1984 at the outbreak of the AIDS epidemic and the closest bathhouses to San Francisco are in Berkeley and San Jose. Bostonites can head down to Providence.
So yet again we see that the claims of anti-gays have no basis in reality.