Civil unions bill clears Colorado Senate despite theocratic opposition
Daniel Gonzales
April 27th, 2012
Thursday SB-2 (civil unions) passed out of the Colorado Senate with a vote of 20-12 with 3 Republicans joining Dems in support.
In last year's campaign video I shot of a grandmother who provided graphic testimony about the human anus came to represent the bill's opposition.
This year two particularly religious Republican Senators have provided some amusing debate.  Here's a clip of highlights I assembled from today's floor debate.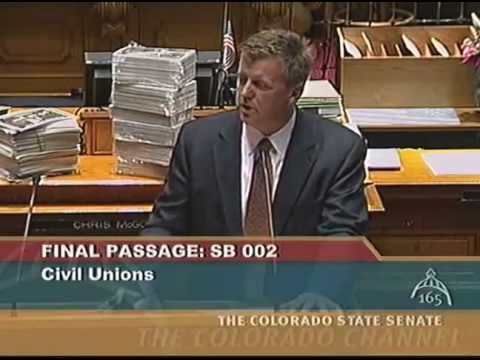 The bill now moves on to the House, which is controlled by Republicans by a single vote.  Although openly gay sponsor Mark Ferrendino has enough votes in the House to pass the bill, it's generally believed the House Judiciary Committee where the bill died last year will again be the largest challenge.
LaBarbera Award: CO State Sen. Scott Renfroe
Jim Burroway
February 24th, 2009
Okay, so maybe homosexuality isn't like terrorism. Maybe it's really more like murder:
Debating a gay-rights bill on the floor of the state Senate on Monday, a Republican lawmaker took the rhetoric to new heights by equating homosexuality as a sin with murder.

"I'm not saying this (homosexuality) is the only sin that's out there," said Sen. Scott Renfroe, R-Greeley. "We have murder. We have all sorts of sin. We have adultery. And we don't make laws making those legal, and we would never think to make murder legal."
The gay rights bill in question would allow state employees to provide health insurance for their same-sex partners. Last I checked, that move would possibly save lives, not kill them. The bill passed an initial vote in the state Senate.
Meanwhile, Utahns are relieved it's somebody somewhere else for a change.