Civil unions bill clears Colorado Senate despite theocratic opposition
Daniel Gonzales
April 27th, 2012
Thursday SB-2 (civil unions) passed out of the Colorado Senate with a vote of 20-12 with 3 Republicans joining Dems in support.
In last year's campaign video I shot of a grandmother who provided graphic testimony about the human anus came to represent the bill's opposition.
This year two particularly religious Republican Senators have provided some amusing debate.  Here's a clip of highlights I assembled from today's floor debate.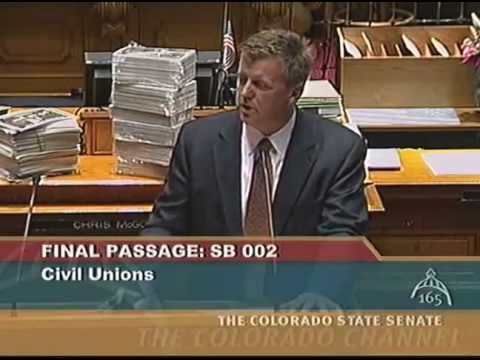 The bill now moves on to the House, which is controlled by Republicans by a single vote.  Although openly gay sponsor Mark Ferrendino has enough votes in the House to pass the bill, it's generally believed the House Judiciary Committee where the bill died last year will again be the largest challenge.