San Francisco Giants: "It Gets Better"
Jim Burroway
June 1st, 2011
There's hardly a gay male alive who wasn't tormented by jocks while in school, which is why this video by the San Francisco Giants so incredibly moving. The video features four current players — pitchers Matt Cain and Sergio Romo, outfielder Andres Torres and Cy Young Award winning pitcher Barry Zito — and Giants hitting coach Hensley "Bam Bam" Muelens.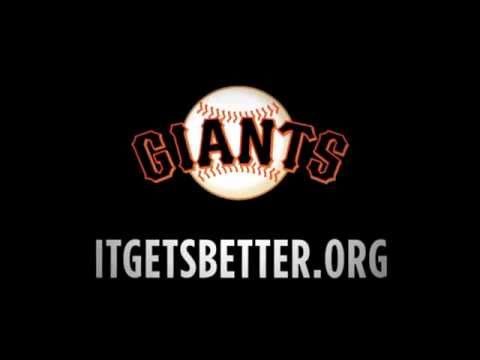 NBA's Steve Nash: Players Would Accept Gay Teammate
Jim Burroway
May 31st, 2011
New York Times' Howard Beck asked Phoenix Suns' point guard  Steve Nash whether the NBA was ready for an openly gay player:
If a player in the locker room came out, it would come and go quickly, too. I really don't think it's a big issue anymore. I think it would be surprisingly accepted, and a shorter shelf life than maybe we would imagine. I think the time has come when it should happen soon. I think it will be something that won't take on this life of its own. It won't be the O. J. trial.
Nash described the Suns' CEO Rick Welts's coming-out annoucement two weeks ago as no big deal since players have little contact with the executive office. But even if a General Manager had come out as gay, "There would be a lot of, 'Really?' And then a short period later, everyone's like, 'Who cares?' and moves on."
Rugby star retires, fights bullying
Timothy Kincaid
May 24th, 2011
Ben Cohen is a handsome fellow and has built a bit of a following from gay male rugby fans. Some men, especially in the often-hypermasculine world of sports, might have become offended by the idea that they are attractive to gay men. Cohen feels honored.
And it may be the devotion of his gay following that inspired Cohen to the direction in which he dedicate his post-career time.
Ben Cohen, MBE, today officially launched the Ben Cohen StandUp Foundation, Inc. and StandUpTM social-commerce brand to help fund it. The Foundation is believed to be the world's first organization dedicated solely to the cause of anti-bullying, wherever and to whomever it occurs. Due to recent high-profile instances of lesbian, gay, bisexual and transgender (LGBT) bullying,, the Foundation gives particular focus and attention to this community. The announcement was made in conjunction with the Atlanta kick-off of Mr. Cohen's "Acceptance Tour 2011," which will continue on to New York, Washington DC, and Seattle.
Classy man.
ESPN on gay support in professional sports
Timothy Kincaid
May 13th, 2011
Pro Hockey player Sean Avery, arguably the biggest jerk in professional sports, recorded an advertisement in support of New York's same-sex marriage campaign. A father-son team of agents stood up for "real marriage" (as opposed to man-man or man-horse marriage) assuming that this was surely the more accepted position in the world of hockey. ESPN's Johnette Howard looked at the fallout.
It's hard to gauge who did more to advance the cause of legalizing gay marriage in the past week — New York Rangers forward Sean Avery (the first pro athlete to publicly support New Yorkers for Marriage Equality), or the father-and-son sports agent team of Don and Todd Reynolds, whose swift attacks of Avery's stance caused a remarkable thing to happen. The Reynolds' reactions caused thousands of other people to step forward and out themselves as gay rights supporters, too, in a louder, longer show of support for Avery on Twitter and Facebook, radio and TV, in blogs and newspapers and sports fan message boards than Avery's appearance in a video advertisement for the marriage equality campaign might have generated on its own.
Perhaps it's time to put to pasture all of the presumptions about sports and homophobia being inextricably related.
Vidmar steps down
Timothy Kincaid
May 6th, 2011
As we reported, the U.S. Olympic Committee had named Proposition 8 advocate Peter Vidmar as its 2012 chief of mission. He has now resigned that commission. (USA Today)
When the Tribune story broke, reaction was nearly immediate — and almost entirely negative — within the USOC. Aimee Mullins, the former president of the Women's Sports Foundation and chef de mission for the 2012 U.S. Paralympic Games team, said she was "concerned and deeply saddened" about Vidmar's past actions.

"The Olympic movement is about promoting equity for all," she said.

In a statement released Friday evening, Vidmar said, "I have dedicated my life to the Olympic movement and the ideals of excellence, friendship and respect. I wish that my personal religious beliefs would not have become a distraction from the amazing things that are happening in the Olympic movement in the United States. I simply cannot have my presence become a detriment to the U.S. Olympic family. I hope that by stepping aside, the athletes and their stories will rightly take center stage."
I wish his personal religious beliefs would not have become a distraction, either. I wish they had not distracted him from being a decent human being instead encouraging him to arrogantly thrust his religion, his opinion, his money, and his time into my life in order to harm me and my community.
I have no sympathy for those who are discovering that their innocent little "stand on the issue" which they were willing to make because of the "call of their church" is now being seen as mean-spirited and based in animus. And not just by the "militant homosexual activists", but by average everyday citizens. My heart doesn't bleed in the slightest for those who are finding that doing real harm to real people can have real consequences.
US Olympic Committee goes anti-gay
Timothy Kincaid
April 29th, 2011
From OutSports
The U.S. Olympic Committee has named Peter Vidmar, a 1984 gold medalist in gymnastics, as its chief of mission for the 2012 U.S. Olympic team in London. In this job, Vidmar will be the liaison officer for the U.S. team in dealing with the International Olympic Committee and London organizers.

Vidmar, a Mormon, is an active opponent of gay marriage. In the 2008 fight for Proposition 8 in California, Vidmar donated $2,000 to pass the ballot initiative and also protested in public.
It is not likely that the Olympic Committee deliberately selected Vidmar to slight gay Americans. More likely, they simply don't consider anti-gay activism to be a disqualifier for its representatives. Equality for gay people is – to the USOC – just "an opinion" over which reasonable people may differ.
In today's highly competitive television market where a downtick of just a few percentage of viewers can cost the Olympics millions, and in which corporations (including those who fund the olympics) are supportive of gay equality and very hesitant to align with negative associations, this is a risky way to operate.
Welcome out, Graeme Obree
Timothy Kincaid
January 31st, 2011
Graeme Obree is a bicyclist with an impressive record (bikeradar.com)
Both Obree's private life and his achievements on the bike have combined to make him one of cycling's most enigmatic figures. The Scotsman claimed the World individual pursuit title in 1993 and 1995 but is best known for his innovative and pioneering attempts at the World hour record.
He claimed the hour record twice, in 1993 and 1994. The first successful, in Norway, saw him best a nine-year-old record held by Italian Francesco Moser using a hand-made bike constructed from spare parts dubbed 'Old Faithful'. That record lasted only a week as Englishman Chris Boardman improved on Obree's effort in Bordeaux, France during a rest day of that year's Tour de France.
Obree reclaimed the record in April, 1994 on the same track used by his English rival after making adaptations to 'Old Faithful'. That record was improved upon by Spaniard Miguel Indurain five months later.
But Obree's accomplishments did not bring satisfaction. Because Obree had as issue nagging at him, one which he desperately sought to hide from himself. It led him to two suicide attempts before seeking professional help. (PinkNews)
"I was brought up thinking you'd be better dead than gay," he said. "I must have known I was gay and it was so unacceptable.

"I was brought up by a war generation – they grew up when gay people were put in jail. Being homosexual was so unthinkable that you just wouldn't be gay. I'd no inkling about anything, I just closed down.

"People say, 'How can you be gay and be married and have kids and not know it?'

"But when I went to my psychologist she reckoned I had the emotional age of about 13 because I'd just closed down."
But now the hiding is over. Obree came out to his ex-wife and children several years ago – and more importantly, to himself. Today he made his orientation public in a Scottish newspaper.
Gay hockey shocker!!
Timothy Kincaid
November 25th, 2009
There is shocking news in the hockey world this week. A young man who is the son of a team's general manager, the brother of another team's scout, and the student manager of his college's hockey team came out. That wasn't the shocker.
What has been surprising to me is that no one involved seems to have reacted negatively.
His team responds with acceptance and by trying to cut back on gay slurs in the locker room. His coaches praise him for his contributions. And his father, Mr. Testosterone, has him fly into town so they can go to gay pride together.
But it isn't just those that know Brendan Burke who are supportive. The news reporters hoping for a Big Controversy were unable to find one. (Globe) The most they could come up with was imagined unspoken uncomfortability.
All of the players said it would not be a problem in today's NHL for someone on their team to publicly declare his sexual orientation. They said they did not think a gay player would face any harassment from his teammates, although the topic was not one they were willing to discuss for long.
In the Hockey News, a columnist predicts that soon this will be no big deal at all.
In hockey terms, it will be very soon when openly gay students begin to try out for and make high school teams. Their buddies will have known and become accustomed to that fact and it will be no big deal. If openly gay players are good enough, they\'ll move on to major junior, college, the American League and the NHL.
All of which is wonderful. And surprising.
But what does it mean?
Well, it certainly isn't the case that hockey, or any other major sport, is now a welcome space for gay athletes. Nor are locker rooms safe from gay slurs or homophobic banter.
But the significant change that this story illustrates is that overt public homophobia is now no longer seen as acceptable – even in the most masculine of communities.
Gay-hostile comments will continue to trumpet themselves through locker rooms due to bigotry, religion, stereotypes, or ignorance, but the idea of homophobia is no longer welcome. Gay people may still be subjected to abuse, but as with racism or religion-based discrimination, it is no longer socially acceptable to openly and publicly embrace homophobia, even in the hockey locker room.
At times it can be frustrating waiting for our fellow citizens to stop making up excuses for discrimination and unequal rights. It can seem disheartening to watch yet another state give in to its fears and biases. But stories like this remind us that the war is over and we have won.
Yes we have battles to fight, and we may frequently lose, but our biggest obstacle has been surpassed. We have convinced our neighbors that it is a shameful thing to mistreat gay people.
And that is a shocking thing indeed.
Clinton Portis Does Not Come Out Of The Closet
Jim Burroway
August 4th, 2009
Washington Redskins running back Clinton Portis wants you to know that he is not gay. In case you had any doubts, be assured that he's not because he used 141 words and a photo to prove his point:
"Why did I go blond?" he repeated. "I just felt like doing something different. You know, I think even with that, from what I hear, now I'm gay? I don't think there's a woman in the United States of America that would say I'm gay. So, you know, I don't hang around men, I don't live a private life, there's constantly people around me. You know, I did it because that was something that I felt like doing. At the moment it was like, 'Ohhh, I want to do something weird and different,' and that's what I did, I dyed my hair blond. You know, it wasn't an attention seeker. I actually was out of the country, I left the country after I did it, so I wasn't even over here once I did it. So it was just an experiment."

He said when he left the country, it was to go to Berlin. I asked why.

"Just to see the Berlin Wall," he said.
NFL Fanhouse can't find anyone saying that Portis might be gay. But just in case someone does, he's not gay. And the Berlin Wall is still standing. Just so you know.
[via Towleroad]