Italian pasta commercial that will make you smile
Timothy Kincaid
June 10th, 2014
This may be Italy's first pro-gay commercial (Time)
It does look delicious… though I'm troubled by any culture in which one isn't mocked for saying, "It's so good because of the microwave!"
Video of Belinda Carlisle / Mason visit to Bakersfield
Timothy Kincaid
January 13th, 2014
If you were unable to attend the discussion with Belinda Carlisle and her son, James Duke Mason, here is video of the event: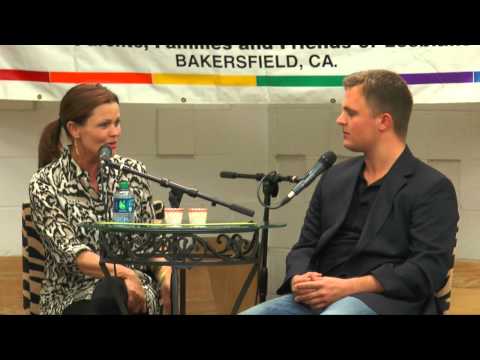 and Part Two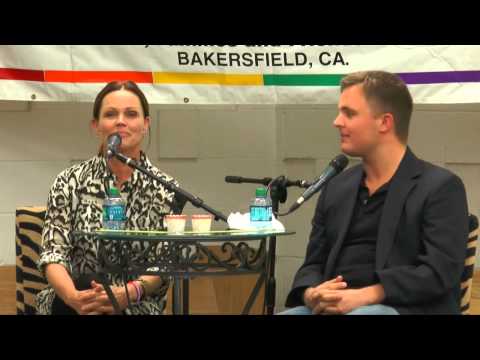 If you live near Bakersfield
Timothy Kincaid
January 8th, 2014

… and don't have plans for the evening, join Belinda Carlisle and her son, James, in a discussion about his coming out process. (Californian)
On some level, Belinda Carlisle always knew her son was gay. As a child he begged not for action figures but Disney princess dresses and then as a young teen, he threw an on-the-floor-kicking-and-screaming tantrum when his parents told him they'd have to postpone taking him to see "Brokeback Mountain," the acclaimed 2005 film chronicling the love affair of two cowboys.

But there's knowing and knowing, as the singer-actress would discover several years ago when her son was 14.
Carlisle was the lead singer for the Go-Go's, an 80's all-girl band known for such hits as Vacation, We Got the Beat, and Our Lips are Sealed, before going solo and racking up hits including Mad About You, Heaven is a Place on Earth, and I Get Weak.
The message of acceptance and love is much needed in Kern County and lets hope that a familiar voice can bring that message home to those who need it most.
The event is sponsored by PFLAG and hosted by the
First Congregational Church of Bakersfield-United Church of Christ
5 Real Rd, Bakersfield, California 93309

Doors Open at 6:30
Event at 7:00
I had the opportunity to hear Belinda sing on a cruise I took a few years ago. It was a wonderful show. I still enjoy the Go-Go's and her solo work when I catch 80's night at the local video bar.
And that's the way to come out
Timothy Kincaid
August 21st, 2013
This is a smart, effective method to make the best of coming out.
August 21, 2013

Re: St. Petersburg International Film Festival / "Guest of Honor" Invitation

Dear Ms. Averbakh:

Thank you for your kind invitation. As someone who has enjoyed visiting Russia in the past and can also claim a degree of Russian ancestry, it would make me happy to say yes.

However, as a gay man, I must decline.

I am deeply troubled by the current attitude toward and treatment of gay men and women by the Russian government. The situation is in no way acceptable, and I cannot in good conscience participate in a celebratory occasion hosted by a country where people like myself are being systematically denied their basic right to live and love openly.

Perhaps, when and if circumstances improve, I'll be free to make a different choice.

Until then.

Wentworth Miller

Member, HRC
Member, GLAAD
Member, The ManKind Project
Miller was the star of Prison Break which ran for four seasons (2005-2009) on Fox.
Welcome out, Darren Young
Timothy Kincaid
August 15th, 2013
I'll admit I know next to nothing about World Wrestling Entertainment, other than it appears to be a choreographed version of wrestling in which bravado, character, and size are very important and a lot of teenage boys seem to enjoy it. So I don't really know what it means that Fred Rosser (performing under the name Darren Young) came out as gay today. But welcome out Fred/Darren!
Quote of the night
Timothy Kincaid
April 30th, 2013
Charles Barkley on Jason Collins coming out: "Anyone who thinks they never played with a gay player is an idiot."
Yeah, that pretty much puts it in perspective.
Welcome out, Jason Collins
Timothy Kincaid
April 29th, 2013
Major sports has just had its first openly gay and still playing professional come out, Jason Collins. From Sports Illustrated's May 6 edition.
I'm a 34-year-old NBA center. I'm black. And I'm gay.

I didn't set out to be the first openly gay athlete playing in a major American team sport. But since I am, I'm happy to start the conversation. I wish I wasn't the kid in the classroom raising his hand and saying, "I'm different." If I had my way, someone else would have already done this. Nobody has, which is why I'm raising my hand.
My journey of self-discovery and self-acknowledgement began in my hometown of Los Angeles and has taken me through two state high school championships, the NCAA Final Four and the Elite Eight, and nine playoffs in 12 NBA seasons.

I've played for six pro teams and have appeared in two NBA Finals. Ever heard of a parlor game called Three Degrees of Jason Collins? If you're in the league, and I haven't been your teammate, I surely have been one of your teammates' teammates. Or one of your teammates' teammates' teammates.
I am certain that some sports fans and viewers will try and make life tough for Collins, but he seems confident, skilled, intelligent and articulate. It also doesn't hurt that he has a supportive family, excellent political connections, and is beautiful. I wish that this step is nothing but rewarding and enriching in his life.
Welcome out, Clive Davis
Timothy Kincaid
February 19th, 2013
Unless your taste is limited to polka, your music has been impacted by Clive Davis. Responsible for finding or cultivating the careers of artists as diverse as Janis Joplin, Miles Davis, Annie Lennox, and Whitney Houston, he has helped shape the sound of half a century.
And, as he reveals in a new biography, he's bisexual (USAToday)
"After my second marriage failed, I met a man who was also grounded in music. Having only had loving relationships and sexual intimacy with women, I opened myself up to the possibility that I could have that with a male, and found that I could."

Davis is currently involved with another man (who isn't in show business), "but I never stopped being attracted to women. Bisexuality is misunderstood; the adage is that you're either straight or gay or lying, but that's not my experience. To call me anything other than bisexual would be inaccurate."
Welcome out, Clive.
Pennsylvania GOP State Lawmaker Comes Out
Jim Burroway
December 3rd, 2012
Pennsylvania Republican State Rep. Mike Fleck made a few headlines over the weekend when he came out as gay, making him the first openly gay Republican state legislator in Pennsylvania. Fleck, identified as a devout Christian, first won his seat in 2006. He described his coming out this way:
Coming out is hard enough, but doing it in the public eye is definitely something I never anticipated," he said. "I'm still the exact same person and I'm still a Republican and, most importantly, I'm still a person of faith trying to live life as a servant of God and the public. The only difference now is that I will also be doing so as honestly as I know how."
Fleck, was an executive at the Boy Scouts of America, felt compelled to remain in the closet even though he knew he was gay. He married in 2000, but they divorced in the past year. He also tried ex-gay therapy:
"I sought out treatment from a Christian counselor, but when that didn't work out, I engaged a secular therapist who told me point blank that I was gay and that I was too caught up in being the perfect Christian rather than actually being authentic and honest," Fleck said.

He said the hardest part of the process has been reconciling his faith with his sexuality.

"Through years of counseling, I've met a lot of gay Christians who have tried hard to change their God-given sexual orientation, but at the end of the day, I know of none who've been successful," he said. "They've only succeeded at repressing their identity, only to have it reappear time and time again and always wreaking havoc not only on themselves, but especially on their family."
Fleck says that he and his wife remain close friends.
He will be joined in Harrisburg in January by Democrat Brian Sims of Philadelphia, who is the first openly gay candidate to run and win a state office in Pennsylvania.
Fleck is currently the only openly gay Republican state legislator in the country. But in January, he will give up that distinction when Ohio Republican Tim Brown is sworn in to that state's House of Representatives in January.
Early reports had it that Fleck was the first openly gay GOP state lawmaker in the country, but that is incorrect. I don't know who holds that distinction, but former Arizona Rep. Steve May came out in 1999 during a speech on the House floor. He was then discharged from the Army Reserves for violating "Don't Ask, Don't Tell." May served as chair of the House Ways and Means Committee where he played a role in repealing the state's sodomy law. He lost his House seat in 2002.
Welcome out, Orlando Cruz
Timothy Kincaid
October 4th, 2012
Boxer Orlando Cruz has announced that he's gay: (espn)
"I've been fighting for more than 24 years and as I continue my ascendant career, I want to be true to myself," Cruz said in a statement after taping a spot on a Telemundo show, which will air Monday. "I want to try to be the best role model I can be for kids who might look into boxing as a sport and a professional career. I have and will always be a proud Puerto Rican. I have always been and always will be a proud gay man."
Five reasons why this is great:
1. Cruz is still competing in his sport. He has a fight on the 19th.
2. Cruz is no minor player. He was a 2000 Olympian (for Puerto Rico) and is currently WBO Latino featherweight champion.
3. Cruz' official announcement will be Monday on Telemundo.
4. Cruz is doing this on his own accord and (as best I can tell) not as the result of some scandal.
5. If you have a problem with his orientation, that's too bad. Cruz is tougher than you and can kick your ass.
How to respond when a damaging person comes out
Timothy Kincaid
April 1st, 2012
I have struggled with how to discuss James Langteaux. I've started three times in three different directions and I think the only way to get through this is to tell his story, suggest what is perhaps the best response and invite you to weigh in
Langteaux was raised in a conservative pentecostal family, went to Oral Roberts University, and immediately upon graduation began working for The 700 Club. He is also gay, a fact that seems to have gone through a number of closet stages.
I was SO far in denial that I convinced myself that I wasn't gay. I just had this inconvenient attraction to men – exclusively. But I sure the hell wasn't gay!
Langteaux became a power player in Christian Television, wrote a couple of books and even earned himself some cachet by being an ex-gay example. And through his work at the 700 Club, a vehicle for pushing conservative Christian viewpoints, he hurt a number of people. Mainstream Christians, people of other faiths, atheists, liberals, and gays – always gays – were portrayed with little regard for honesty and the empire thrived to praise the glory of Robertson and those who think like him.
So what advise is there to offer someone like James Langteaux? Come out of the closet, tell your story, expose the hypocrisy, and live with integrity from this day forward.
And he has. He came out, wrote a book, and offers words of encouragement to young gay people from conservative families.
But the truth is, I am finding it difficult to like this man. There's a pinch less remorse and a punch too much self congratulations to make me think that he understands what he has been a part of.
But I am no where near ready to join Dan Avery at Queerty and pen a hate piece. For one thing, I see no value in blanket hate. I'll criticize a behavior but should it change I consider it counterproductive not to change my response.
Yes, it is tempting to heap abuse on his head and tell myself that he deserves it. But I'm reminded of a shared wisdom that many of our philosophers have told us but we find so hard to fathom; a truth that prophets and messiahs and theologians have expounded but which churches find hard to actualize:
What we do impacts ourselves far more than it does anyone else.
I could hate on Langteaux and if he ever heard of it, it would have little lasting impact. But I would have become that guy, the one who spews hate. I could refuse to forgive him but Langteaux doesn't strike me as the kind of guy who cares what anyone else thinks. And I would become bitter and angry and resentful of any of his future successes.
So to James Langteaux I say, "Congratulation. I know you will be much happier. I hope you have the opportunity some time to heal the harm you've done. I wish you well. Good bye."
Follow-up To Gay Airman Who Came Out To His Father On YouTube
Jim Burroway
September 21st, 2011
Just as "Don't Ask, Don't Tell" was about to be thrown onto the trash heap of history, we brought you the dramatic video a gay airman stationed in Germany as he came out to his father. In the weeks leading up to Tuesday, he had been posting videos on YouTube discussing his thoughts on coming out to his comrades, but in those videos he never showed his face. But on Tuesday, we saw him, unobscured, as he undertook the nerve-wracking task of coming out to his father over the phone, and the wave of relief that came over him as his father re-affirmed his love and pride in him.
As of this hour, his video has been seen 1,532,380 times, with 17,456 likes and 707 dislikes. ABC News followed up with Air Force Senior Airman Randy Phillips, who is stationed at Ramstein Air Base in Germany. Phillips says he feels comfortable now that he no longer has to hide:
It feels great. It's nice not having to look over your shoulder or worry about who you are talking to, Phillips told ABC News the day after "Don't Ask, Don't Tell" was officially repealed. "I never thought I'd be so comfortable with it. It's very supportive. Everybody's been so great."

…Now that "Don't Ask Don't Tell" has been repealed, Phillips, like many other enlisted men and women, can at last reveal his face, and cannot officially tell his fellow airman and commanding officers the truth. He told ABC News that he is happy that he has inspired others. He also said that now the whole family knows that he is gay.

As for Phillips' father, he told ABC News that he was not exactly thrilled that his son put the clip on YouTube — but reiterated once again that he loves his son, and always will.
Welcome out, Graeme Obree
Timothy Kincaid
January 31st, 2011
Graeme Obree is a bicyclist with an impressive record (bikeradar.com)
Both Obree's private life and his achievements on the bike have combined to make him one of cycling's most enigmatic figures. The Scotsman claimed the World individual pursuit title in 1993 and 1995 but is best known for his innovative and pioneering attempts at the World hour record.
He claimed the hour record twice, in 1993 and 1994. The first successful, in Norway, saw him best a nine-year-old record held by Italian Francesco Moser using a hand-made bike constructed from spare parts dubbed 'Old Faithful'. That record lasted only a week as Englishman Chris Boardman improved on Obree's effort in Bordeaux, France during a rest day of that year's Tour de France.
Obree reclaimed the record in April, 1994 on the same track used by his English rival after making adaptations to 'Old Faithful'. That record was improved upon by Spaniard Miguel Indurain five months later.
But Obree's accomplishments did not bring satisfaction. Because Obree had as issue nagging at him, one which he desperately sought to hide from himself. It led him to two suicide attempts before seeking professional help. (PinkNews)
"I was brought up thinking you'd be better dead than gay," he said. "I must have known I was gay and it was so unacceptable.

"I was brought up by a war generation – they grew up when gay people were put in jail. Being homosexual was so unthinkable that you just wouldn't be gay. I'd no inkling about anything, I just closed down.

"People say, 'How can you be gay and be married and have kids and not know it?'

"But when I went to my psychologist she reckoned I had the emotional age of about 13 because I'd just closed down."
But now the hiding is over. Obree came out to his ex-wife and children several years ago – and more importantly, to himself. Today he made his orientation public in a Scottish newspaper.
Congrats Joe McElderry, welcome out
Timothy Kincaid
July 31st, 2010
Britian's 2009 X-Factor winner, Joe McElderry chose to publicly reveal his sexual orientation this week. And so far the response has been positive. (Daily Mail)
'I have had nothing but support from you and many of you have been very open in saying that you will continue to support me whatever my sexuality.

'It is important to me to let you know first, so that you know the stories in the papers are true. I made the choice to speak openly about this.

'Everything is going well and I'm really happy to be able to move forward from here
Here's wishing Joe much success.
Queen Latifah discusses not discussing her sexuality
Timothy Kincaid
June 17th, 2010
Ok, so long as you aren't hurting me, I'll let you come out at your own convenience. So I'll not speculate about Queen Latifah's sexual orientation. I'll let her comments to Upscale Magazine speak for themselves.
Upscale: You've been asked so much about your sexuality. Wouldn't it be easier at this point to just speak on it – once – and be done with it?

Queen Latifah: I don't have to explain anything. I don't have to confirm anything. Look, I need my time. I need my life.
and
Upscale: Do you feel like you're understood by the people closest to you?

Queen Latifah: Absolutely. I don't feel like I need to explain things to a perfect stranger. The people who matter know. And they love me for Dana [her real name]. I don't have to tell Joe Blow. Joe, you worry about who YOU sleeping with.
Ok with me.