Happy Chinese New Year
Timothy Kincaid
February 8th, 2016
To celebrate the new year, I've included a poster designed by Lehu Zhang, a San Francisco based Chinese graphic designer. This year is the Year of the Monkey.
While I appreciate Zhang's minimalist style, clearly we have different esthetics. I'm having trouble seeing the monkey.
Anyway, however, you celebrate, here's wishing you a happy new year. I think I'm celebrating with kung pao chicken and hot and sour soup.
HSBC bank wants you to plan for your life together
Timothy Kincaid
February 1st, 2016

We have reached the place where the benefit of being seen as supporting equality far outweighs any disgruntlement from social conservatives. Sure the handful of men who call themselves One Million Moms will likely protest, but everyone else – including those who think as they do – will either smile or shrug and go on with their lives.
Corporations, who spend big bucks on market research, know this well. Perhaps someone ought to let the GOP presidential candidates in on the secret.

(thanks to Ben for the tip)
Rest in peace Lesley Gore
Timothy Kincaid
February 16th, 2015
AP
Singer-songwriter Lesley Gore, who topped the charts in 1963 with her epic song of teenage angst, "It's My Party," and followed it up with the hits "Judy's Turn to Cry," and the feminist anthem "You Don't Own Me," died Monday. She was 68.

Gore died of cancer at New York University Langone Medical Center in Manhattan, according to her partner of 33 years, Lois Sasson.
In addition, she was nominated for an Academy Award for "Out Here On My Own" from the film "Fame", which she co-wrote with her brother Michael.
Those Twitchy people sure are lovely, aren't they?
Timothy Kincaid
September 16th, 2014
Today I receive an odd Tweet directed at me.
@LATimothy you have had your pea brain washed in liberalism might as well jump off a tall building no hope for you

— Homer Jones (@jerb796) September 16, 2014
That seemed a bit odd. I really had no idea what Mr. Jones was going on about. But then I got another tweet and this one gave me a clue:
@LATimothy Is a dickhead! A ball-less dickhead! @TwitchyTeam

— Roberta M (@BertmcdRm) September 16, 2014
It turns out that they were in response to a tweet I sent out last night while watching Dancing with the Stars.
So if you want to be on Dancing With The Stars, just have a raging homophobic family member. Bristol Palin, Candace Cameron, Sadie Robertson

— Timothy Kincaid (@LATimothy) September 16, 2014
As I said on another post, DWTS is developing the bad habit of casting the progeny or close family member of someone who has made a name for anti-gay activism. Maybe that's getting the viewers they want, but I find it troubling.
Twitchy, Michelle Malkin's right-wing social media activism site decided to write a piece using my tweet as their leaping off point. And boy did they leap.
After half a dozen tweets praising the Robertson child's dancing, Twitchy picked back up with their indignation. And then they ran a bunch of comments from some mouthy teen – without mentioning that the first tweet and the string of abuse from the teen were not the same person. Not exactly admirable behavior.
And, fired up by the child's immature insults, off went the twitchers is a deluge of abusive tweets. Towards me.
Now I've not encountered the Twitchy mob before. But I do have to say that from what I can tell they are a pretty disgusting bunch who lack even rudimentary reading comprehension skills. But maybe I'm biased.
Several just took the quick-and-easy personal insult ruite.
@LATimothy Why, aren't you a nasty little man.

— Franci (@LadySandersfarm) September 16, 2014
@LATimothy Dude, you're a friggin' moron. Did that nasty skank ho you call mama have any children that lived?

— Kafir, The Infidel (@DWKafir) September 16, 2014
A few went with the gay insult – sadly they weren't very clever
@LATimothy You are such a sad little jealous girl. Please, cont to voice your ignorance so we can see just how pathetic you are.

— Jay Prater (@jaydakota76) September 16, 2014
@LATimothy awww did a gay man get his feelings hurt..toughen up and stop whining NO ONE FEARS HOMOS..we are just SICK of their whining

— IdealinFacts/Reality (@PITSdestroy) September 16, 2014
But that last fellow gets bonus points for using pink flowery wallpaper.
Some sought to give insights about hate
And if you want to be someone that contributes ABSOLUTELY nothing to society but hate, hang with @LATimothy…..

— Steve Gitmo Thompson (@Tammykillssquir) September 16, 2014
And quite a few assumed that they knew my party, ideology and faith and lectured me about tolerance
@LATimothy I do not know a single Republican, Conservative or a Christian as toxically bigoted as you.

— Conserve Truth (@ConserveTruth13) September 16, 2014
@LATimothy @show a little hate, why don't you? Tolerant, respectful attitude from you? Hypocrite is more like it. Crawl back in your hole

— George Roberson (@georgeroberson) September 16, 2014
And the "real" definition of homophobia
@LATimothy Perhaps you should look up the meaning of homophobe and then learn more about these people. I think you will find you are wrong.

— Chubney Kreel (@grouchyChub) September 16, 2014
But mostly they just demonstrated it for me
@LATimothy @LennyOnDaBass Hey intolerant left wing pig athesit NAMBLA member!Thank for exposing the liberal democrats war on women.LGBTFreak

— Bill Terror (@bill_terror) September 16, 2014
@LATimothy you do realize it's not homophobic to admit homosexuals are perverted freaks don't you. After all homos can't perpetuate the race

— LCMeâ"¢ (@LCMtapout24) September 16, 2014
Dancing with the Stars features Duck Dynasty progeny
Timothy Kincaid
September 16th, 2014
I enjoy watching ABC's Dancing With The Stars or, as I call it, Dancing With The Hasbeens. Sports figures join 1980's TV actors and the occasional political hack to learn new dance steps each week and earn votes from viewers. One of the more amusing aspects of the show is its effort to draw in as many diverse viewers as possible. Race car drivers (several, now), telenova stars, comedians, fashion designers, you name it, they appear as "stars".
Mostly it's harmless fun and at the end of a long day you can stare at the tube and watch the pretty people in colorful clothes move around to music without much mental strain.
But there are also a few things about the show which annoy me. Increasingly, each season, regular judge Bruno Tonioli has become more and more of a stereotype of a prancing, mincing, shrieking queen that fit better in a bad 70's movie. He purses his lips and flails his arms and makes coy suggestions to every male contestant – which is not only grating but a distraction from his legitimate purpose as a dance judge.
And then there's the gratuitous ploy for politically conservative viewers.
Now I have no problem with watching Tom Delay dance. It's actually kind of nice to see conservative folk in a setting other than one in which we disagree politically. It reminds us that we truly are mostly the same.
But in recent seasons, it seems that the show has decided that it has to provide a "balance" to Bruno's glitter parade by not merely including conservative figures, but looking for someone with a connection to true homophobia. Not necessarily the person most known for their anti-gay activism, but a close family member.
In Fall 2010, and back for Fall 2012, was Bristol Palin.
Bristol isn't exactly a sweet girl – or so her social media comments would suggest – but I don't have much objection to her. However, there is no category in which she is a "star". She was selected merely because of her mother. And one of her mother's (many) polarizing issues was her anti-gay activism.
Candace Cameron Bure, Spring 2014, was a bit more troubling. Candace is a "star" in her own right, and is known for playing DJ Tanner on Full House from 1987 to 1995. However, Bure is better known as being Kirk Cameron's sister. And currently Kirk Cameron is most visible as a conservative Christian activist whose most notable recent appearance was a guest spot on Piers Morgan's show where he called homosexuality unnatural and described same-sex marriage as "destructive to so many of the foundations of civilization".
And while that could be coincidental, Bure's weekly effort to work "faith" or "family" into her weekly on-screen moments could not be ignored as anything other than a way of letting the family values types know that they could vote for someone who shared their values.
And now Dancing With the Stars has pulled out all stops. The one person most associated with anti-gay statements and blatant homophobia in the country at present is likely Phil Robertson. The patriarch on the Duck Dynasty show has spouted such thoughtful contributions as the idea that sinful behavior starts with homosexuality and morphs to bestiality.
Last week he had this to say on Tony Perkin's talk show about his anti-gay rants:
You know if you just look at the physiological downside to immorality, I mean a great question to ask is, "Why is it that all these just ah, is it coincidental that viewing all of the immoral conduct that America's now participating in", I've asked a lot of people, "Do you think it's a coincidence that all of these debilitating and, belittley, it can cause death diseases follow that kind of conduct?"

God said, "one woman, one man" and then everybody said, "that's old hat, that's that old Bible stuff.", but I'm thinking, "Well, let's see now, But I'm thinking, well let's see now, a clean guy — a disease-free guy and a disease-free woman — they marry and they keep their sex between the two of them. Uh, they're not going to get chlamydia, and gonorrhea, and syphilis, and AIDS. It's, it's safe."

Well, to me, either it's the wildest coincidence ever that horrible diseases follow immoral conduct, or, it's God saying, "There's a penalty for that kind of conduct." I'm leaning towards there's a penalty toward it.
In keeping with their pattern, Dancing With The Stars decided to include Phil Robertson's granddaughter, Sadie Robertson, on the show.
Now, I'm not overly distraught over Duck Dynasty. And I have no idea as to Sadie's views or Sadie's activism. She may be a lovely young woman.
But from the few episodes I've seen of Duck Dynasty, Sadie is barely visible. Certainly not enough to become a viewership draw in her own right. Rather DWTS has included her due to her association with her family – one embroiled in controversy over a long and loud pattern of anti-gay obsession.
Individually, I have no objection to Bristol Palin, Candace Cameron Bure, or Sadie Robertson. But I am discomforted by the pattern that appears to be emerging. It would seem that if one wants to be on Dancing with the Stars, your chances are best when you have a highly visible, fiercely anti-gay, close family member.
Burger King adds new item
Timothy Kincaid
July 2nd, 2014
Over the weekend, Burger King added a new menu item to its Market Street location in San Francisco, coincident with the city's Gay Pride. They prepared a video of the response:
Honey Maid responds
Timothy Kincaid
April 3rd, 2014
After Honey Maid's delightful commercial about the wholesomeness of non-traditional families, they got some feedback.
Here is their response.
You will buy Honey Maid graham crackers after you see this. I don't care if you hate graham crackers, you will find yourself at the grocery store with Honey Maid in your basket.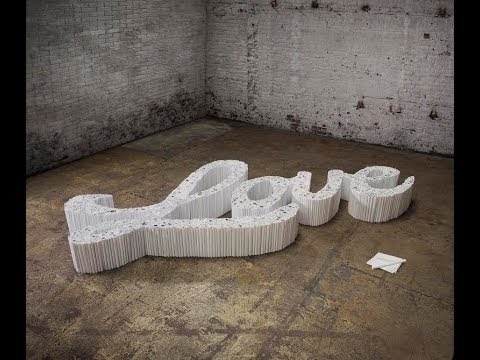 Disney ad
Timothy Kincaid
February 13th, 2014
Animators love to mess with Disney. Love it, love it, love it.
Mostly they love trying to sneak sexual imagery into Disney's squeaky clean image as a family friendly and trustable production company. I think they may have struck again.
Currently some of you may be seeing an ad running on BTB which links to Disney's Vinylmation site wherein an image can be selected to send to someone special. What shows up in the ad is two images moving towards each other for a split second before being replace with words.
Below is a screen grab of the images.
The two images are stylized Mickey and Minney Mouse.
American Idol will include gay participants
Timothy Kincaid
February 13th, 2014
Last night American Idol took a step.
Not just that they presented participants who were recognizably; that has pretty much been the case from the beginning. Rather, they passed on to the viewers an openly and acknowledged gay candidate.
M.K. Nobilette, a young fresh-faced singer whose vocal style reminds me a bit of K.D. Lang, expressed her concerns about being on the show. "For one thing, I'm obviously gay".
The judges, Jennifer Lopez, Harry Connick, Jr., and Kieth Urban, then talked a bit about how the world has changed and how they believe that she has the potential, in this changed world, to win the title of American Idol.
In another segment, they advanced a young man with startlingly strong vocals and a gay vibe that even Aunt Thelma's gaydar couldn't miss. In addition to being loud and sassy (sorry, but that really is the best word), he challenged JLo to a walk-off, if she'd buy him the heels. He's the sort of candidate that we've seen in the run-ups in the past, but which didn't have the "image" necessary to taken seriously.
It has frustrated me for years that AI has been reluctant to include any mention of a gay candidate's orientation. Even Adam Lambert had to reenter a sparkly sequined closet of sorts. But Idol has a large and strong audience in the red states and perhaps they correctly determined that it would not be to a participant's advantage.
I am glad that they are finally taking the risk.
A teary-eyed Grammys
Timothy Kincaid
January 27th, 2014
Even had my pastor at the Hollywood United Methodist Church not told the congregation this morning to watch this year's Grammy Awards because it would have a moment that would reflect our congregation's values of equality, I had heard enough in advance to know that there would be a recognition of marriage in the show this year. And indeed, when Macklemore and Ryan Lewis sang Same Love, their marriage equality anthem, I was prepared for couples to exchange rings.
So when Queen Latifah officiated marriage for a variety of couples, with vocals from Madonna, I was prepared for a celebration of love (though I will admit that I was surprised that the first couple shown included my long-time friend Yawie).
Yet even so, I was composed. It was a nice touch, but that song was not even nominated for Record of the Year.
But tears came to my eyes watching Sir Paul McCartney stand and raise his fist in the air to agree with Daft Punk's spokesman who, in their acceptance speech for the night's highest honor, gave tribute to Macklemore and Ryan's message:
You know I just got a message from the robots [Daft Punk's public image] and what they wanted me to say is that as elegant and as classy as the Grammys has ever been is that moment when we saw those wonderful marriages! And same love is as fantastic … and it was the height of fairness and love and the power of love for all people at any time any combination … is what they wanted me to say.
To take their moment in the spotlight to celebrate equality as expressed by someone else's song was a moment of true generosity and an expression of integrity that few other artists could ever hope to emulate.
Quackers are less of a draw, after controversy
Timothy Kincaid
January 16th, 2014
Much to my surprise (and probably that of the A&E executives), Duck Dynasty has not benefitted from weeks of defense by those who malign and demean gay people. (Entertainment Weekly)
Though Duck Dynasty was expected by some to return to its biggest ratings yet after its huge controversy last month, the Louisiana-based reality show returned to lower viewership than its previous two premieres.

Wednesday night's Duck Dynasty season 5 premiere had 8.5 million viewers. That's huge for a cable reality show, but down 28 percent from its record-setting fourth season debut in August (11.8 million). It's also slightly down from the show's third season premiere in February last year (8.6 million). A&E notes the number up slightly from the fourth season finale on Oct. 23 (though obviously it's standard to compare premieres to premieres).
What this means is difficult to discern. Perhaps there were more interesting things to distract the show's core audience. Perhaps the weather played some role.
Or, perhaps, we have reached the point where saying truly vile things about gay people will turn off even an audience that identifies as conservative and Christian. It is possible that there is some segment of Middle America that will not argue with the self-appointed spokesmen or talk to the papers, but for whom the rants of Phil Robertson left a bad taste in their mouths.
And, unless it was an anomaly, this drop in ratings does not bode well for A&E's revenues. Undoubtedly a number of viewers tuned in to see what the fuss was about and, if they have any taste at all, they won't stick around. It may be that the quackers have reached their zenith and that it's all downhill from here.
Video of Belinda Carlisle / Mason visit to Bakersfield
Timothy Kincaid
January 13th, 2014
If you were unable to attend the discussion with Belinda Carlisle and her son, James Duke Mason, here is video of the event: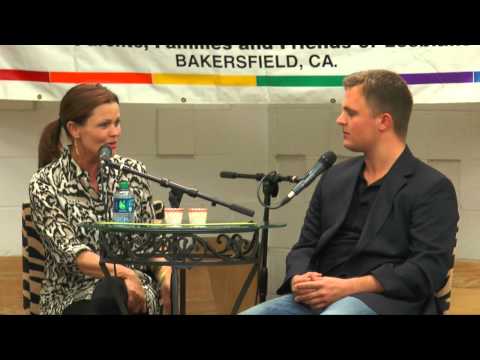 and Part Two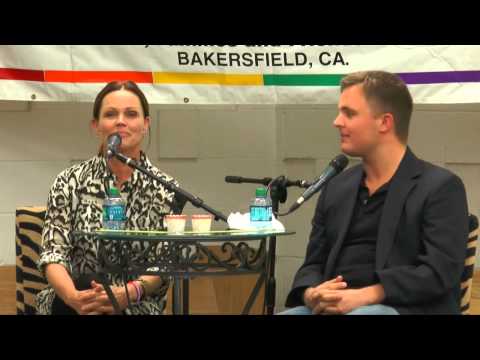 If you live near Bakersfield
Timothy Kincaid
January 8th, 2014

… and don't have plans for the evening, join Belinda Carlisle and her son, James, in a discussion about his coming out process. (Californian)
On some level, Belinda Carlisle always knew her son was gay. As a child he begged not for action figures but Disney princess dresses and then as a young teen, he threw an on-the-floor-kicking-and-screaming tantrum when his parents told him they'd have to postpone taking him to see "Brokeback Mountain," the acclaimed 2005 film chronicling the love affair of two cowboys.

But there's knowing and knowing, as the singer-actress would discover several years ago when her son was 14.
Carlisle was the lead singer for the Go-Go's, an 80's all-girl band known for such hits as Vacation, We Got the Beat, and Our Lips are Sealed, before going solo and racking up hits including Mad About You, Heaven is a Place on Earth, and I Get Weak.
The message of acceptance and love is much needed in Kern County and lets hope that a familiar voice can bring that message home to those who need it most.
The event is sponsored by PFLAG and hosted by the
First Congregational Church of Bakersfield-United Church of Christ
5 Real Rd, Bakersfield, California 93309

Doors Open at 6:30
Event at 7:00
I had the opportunity to hear Belinda sing on a cruise I took a few years ago. It was a wonderful show. I still enjoy the Go-Go's and her solo work when I catch 80's night at the local video bar.
And the quacking goes on
Timothy Kincaid
December 28th, 2013

For weeks we've been subjected to the duck war.
On one side are those whose argument seems to me to be, "How dare Phil Robertson have vile homophobic opinions? He should not have access to the public airways with opinions like that!" And, yes, his opinions are homophobic. And also racist. And more than a little ignorant.
On the other are those who are screaming about censorship (it's not) about religious freedom (which does not include the unquestionable right to be on television) and about the horrible horrible homosexuals.
In a nation that values free speech, even odious speech has a right to compete in the marketplace of ideas (right up there with the "ideas" of Honey Boo Boo, Sarah Palin, and Perez Hilton). And in a capitalist economy, television producers can decide what ideas with which they want to be associated.
But this isn't really much about ideas. I suspect that most of those "supporting Phil" have no idea what he actually said or why it is that gay people are offended. They are just emotionally connecting a fear that in a rapidly changing world, their ability to practice their faith openly may be further curtailed.
And GLAAD and other gay supporters failed in articulating the concerns we had with his speech, missed that part of it was a paraphrase of a scripture, and lost the opportunity to distinguish between religious position and hate speech.
This is little more than a replay of the Chic-fil-A squabble. It's people supporting "their side".
The vast majority of pro-gay people really are not looking to silence and censor and ban all of those who are religious, even those who are conservatively religious and have beliefs which include the idea that homosexual acts are sinful. And the vast majority of religious people really do not think that gay people are like terrorists or that homosexuality and bestiality are in any way comparable. It's just the stupid pointless Culture War.
And now A&E has announced that taping of Duck Dynasty – including Phil Robertson – will resume this spring. And the quacking from 'family' activists has resumed with vigor.
But maybe now this whole thing will soon be over.
A ducking stupid controversy
Timothy Kincaid
December 22nd, 2013
So if you ask the long-haired wild-bearded Southern hillbilly redneck biker-wannabe Jesus freak from the reality show about long-haired wild-bearded Southern hillbilly redneck biker-wannabe Jesus freaks about gays, it turns out he has long-haired wild-bearded Southern hillbilly redneck biker-wannabe Jesus freak opinions. Who'd a thunk it?
In the past week we've added two new equality states to the total, the Ugandan parliament has passed their odious Anti-Homosexuality Bill, and three world leaders have announced that they will not be attending Russia's Olympics due to its homophobic laws. Anyone care?
Not much. Instead the media and blogosphere is obsessed with Phil Robertson. Does he have free speech rights? Should A&E have fired him? What other things has he said? Will Cracker Barrel carry his merchandise?
I couldn't ducking care less!
But as this thing doesn't appear to be going away, here are my two cents. Don't spend them all at once.
For those of you who have blissfully missed the controversy, Phil Robertson is the patriarch of a family that operates a duck-call manufacturing business and which is the subject of a reality television show called Duck Dynasty. He was a hard drinking, pill popping, bar fighting kind of guy who found Jesus and settled down to hunt ducks and raise a family.
Duck Dynasty is the highest rated show on the A&E Channel.
This year the hype caught up to me so I recorded and watched a few episodes of the show. It's bilge, reality television at its worst.
Reality television, that genre in which artificially contrived plot lines and scripted scenarios are acted out by 'non-actors' who generally use their own names, is pretty light-weight entertainment to begin with. This show, however, takes artifice and banality to all new highs. Not only are the self-promoting family members (this is their third reality show after creating a youtube series) completely artificial roles, but the antics they get up to are absurdly unrealistic. Even their trademark beards used to be shaved after duck season; now they are part of the show's contract.
The program is supposed to be about Phil Robertson, his wife Miss Kay, three of his four sons Willie, Jase, and Jep, as they live a hunter's life and run a multi-million dollar business. But very little business appears to get done, or duck-calls made, and we are treated to the family drama of a family without drama. Basically Leave it to Beaver plotlines, but without the charm or the convincing acting.
In one of the episodes I watched, Jase wanted an office so he built one right off the outside door of Willie's office. In one afternoon. Without anyone noticing. And when Willie found out, he attached a rope to the office and drug it to Miss Kay's so it could be a goat shed. Supposedly down a public road. Without wheels. And it arrived intact.
In another, the family goes to Hawaii where the drama was whether the family would go along with Willie's itinerary. Oh, and will Phil sleep all day? I found that last question to be so inspiring that I turned it off, deleted all the episodes, and went to bed.
But the show has a huge following, and I think that is for a simple reason. Most television is designed to appeal to the largest television markets, urban centers. And those who live outside cities seldom find television shows that reflect their lives, issues, and interests.
And this is especially true when it comes to faith. More than 40% of Americans claim to attend church weekly (and at least half of them actually do), but almost no one on television goes. None of the big network lineups seem to have even a passing acquaintance with church attendance and certainly you don't see anyone praying. In fact, the only shows I can think of in which the family regularly attends church are animations.
So Duck Dynasty with it's praying, church going, rural living good ol' boys who spend a lot of time loving and caring for their family has an appeal to people who seem themselves as similar. And having sat through more than a few dreadful gay movies, I can see how something even as craptastic as Duck Dynasty could have the appeal of familiarity to a huge chunk of this country, even if it is an entirely fictitious presentation.
But now there's a huge huge big dramatic oh my god clutch your pearls controversy. In an interview with GQ Magazine, Phil decided to evangelize.
"We're Bible-thumpers who just happened to end up on television," he tells me. "You put in your article that the Robertson family really believes strongly that if the human race loved each other and they loved God, we would just be better off. We ought to just be repentant, turn to God, and let's get on with it, and everything will turn around."

What does repentance entail? Well, in Robertson's worldview, America was a country founded upon Christian values (Thou shalt not kill, etc.), and he believes that the gradual removal of Christian symbolism from public spaces has diluted those founding principles. (He and Si take turns going on about why the Ten Commandments ought to be displayed outside courthouses.) He sees the popularity of Duck Dynasty as a small corrective to all that we have lost.

"Everything is blurred on what's right and what's wrong," he says. "Sin becomes fine."

What, in your mind, is sinful?

"Start with homosexual behavior and just morph out from there. Bestiality, sleeping around with this woman and that woman and that woman and those men," he says. Then he paraphrases Corinthians: "Don't be deceived. Neither the adulterers, the idolaters, the male prostitutes, the homosexual offenders, the greedy, the drunkards, the slanderers, the swindlers—they won't inherit the kingdom of God. Don't deceive yourself. It's not right."
And in case that wasn't enough, he later expounds on his religious conversion.
As far as Phil is concerned, he was literally born again. Old Phil—the guy with the booze and the pills—died a long time ago, and New Phil sees no need to apologize for him: "We never, ever judge someone on who's going to heaven, hell. That's the Almighty's job. We just love 'em, give 'em the good news about Jesus—whether they're homosexuals, drunks, terrorists. We let God sort 'em out later, you see what I'm saying?"
And he expounded a bit more on what seems to be a real concern of his
"It seems like, to me, a vagina—as a man—would be more desirable than a man's anus. That's just me. I'm just thinking: There's more there! She's got more to offer. I mean, come on, dudes! You know what I'm saying? But hey, sin: It's not logical, my man. It's just not logical."
The significant number of gay employees at A&E didn't much like being thrown in the same category as terrorist or goat aficionados. And that he threw his former drunk self in the mix wasn't much solace.
So A&E put him on "indefinite suspension". And the duck hit the fan.
People were furious that a good Christian man could be fired just for saying what the Bible says. Those little parts about terrorist and goat aficionados were irrelevant, this was an attack on free speech and religious freedom.
Conservatives and religious, family, and anti-gay groups squawked and quacked. NOM (having decided that anything anti-gay is now 'defending marriage') launched their most successful petition to date, demanding Robertson's reinstatement and getting more signatures in a few days than either their Dump Starbucks or Dump General Mills efforts did in months.
A&E is continuing to air episodes shot before the kerfuffle and it remains to be seen how long (or if) Robertson's shooting schedule will be limited to ducks. The family has announced that if he's banned, they won't perform.
So that's the story and now on to the questions.
Is Robertson a bigot?
Yeah, that's probably a good term. If you think that immorality starts with homosexuality and then spreads to bestiality and terrorism, you aren't really basing your views on logic, thoughtful discourse, or even the bible.
Is Robertson entitled to spout his nonsense?
Yep. Just like I'm entitled to call him an ignoramus.
Should he have been suspended by A&E?
That's really up to A&E. If they believed that he offended their employees or that sponsors would pull out or that he had poorly represented the network, then they are entitled to boot his vagina-loving ass.
But, we probably also should be aware that they had to know that the controversy would fire up the crazies and that their ratings are going to go through the roof.
And, as a bonus, now they have a new plotline to write about that isn't completely and entirely contrived.
Is the show going to downplay religion?
Nope. In fact, Alan Robertson, son number four, joined the cast for their fourth season. Before joining, Alan had been the pastor of a church for 20 years and he sees the show as a way to preach his beliefs.
And with all the new fine Christian people tuning in to see what it's all about, you can be sure that there will be a strong religious component to keep them coming back.
Is Robertson being attacked for his religious beliefs?
No, he's being attacked for being an ignorant idiot who thinks that the height of immorality is two people of the same sex falling in love. If your launching point to Jesus is always from the handful of Scripture that can be read to be anti-gay, your issue has little to do with Scripture or with Jesus.
But he would definitely think that is why he's being attacked.
Can we all just shut the duck up about this nonsense now?
Yes, please.