Congratulations, Orlando Cruz
Timothy Kincaid
November 18th, 2013
Gay Puerto Rican boxer Orlando "El Fenómeno" Cruz on Nov. 16 married his boyfriend, José Manuel Colón, in New York's Central Park.
Anti-gay sports commentator can't find a job
Timothy Kincaid
September 7th, 2013
In February 2012, Craig James was running for the Republican nomination for US Senator from Texas. He figured that as an ESPN Sports Commentator, he had face and name recognition, but the pols (and polls) were against him. So at that time it seemed the smart and bold choice to be as anti-gay as possible, even giving (eventual) Sen. Ted Cruz competition.
During a debate, Dallas Mayor Tom Leppert (also running) was trying to explain that even though he had participated in Dallas Gay Pride, he was not in favor of gay marriage (he just believed in representing everyone in the city) when James saw his opportunity to get some press. (keranews)
Former television sports analyst Craig James then weighed in.

James: I think right now in this country, our moral fiber is sliding down a slope that is going to be hard to stop if we don't stand up with leaders who don't go ride in gay parades. I can assure you I will never ride in a gay parade. And I hear what you're saying, Tom, but leaders – our kids out there people need to see examples.

Moderator: Do you think people choose to be gay?

James: I think it's a choice, I do.

Moderator: It's not in the genes?

James: I think that you have to make that choice. But in that case right there, they are going to have to answer to the Lord for their actions. We should not give benefits to those civil unions.
Later Texas Republicans went on to elect Ted Cruz, who has certainly missed no opportunity to advance his opposition to civil rights or equality for gay citizens. David Dewhurst, who came in second, remains as the state's Lieutenant Governor and Tom Leppert, third, went to work as President of Kaplan, Inc. an education company.
But James, who finished fourth with 4% of the vote, has had trouble returning to his former career.
ESPN said that there wasn't a place for him at their network after his anti-gay comments. And since then he has been "decompressing" and "been busy with business activities".
But last Friday it looked like he had a break, a chance to get back on television. It looked like FOX Sports Southwest, targeting good ol' Texas boys, wasn't so concerned about his anti-gay statements. (Houston Chronicle)
When FSSW general manager Jon Heidtke, an A&M former student, heard of James' interest, he approached him about joining that network.

"Jon said he heard I was interested in getting back in, and this came together overnight," James said. "I think it was the Lord putting us together. I went to the studio (Thursday) for rehearsal, and when I drove past the airport I had a big smile on my face."

James will work with Erin Hartigan and former Texans quarterback Tony Banks. "Big 12 Live," which airs at 11 p.m. Saturdays, is hosted by Ric Renner with Gary Reasons.
But it turns out that neither the Lord nor Heidtke had cleared the decision with FOX Sports upper management. And, after only one Saturday, James is out again.
And though James' shaky reputation among college sports fans may have made it an easier decision, FOX is saying that he was booted because of his phoby antics. (Dallas Morning News)
During the campaign James took a strong anti-gay stance.

"We just asked ourselves how Craig's statements would play in our human resources department," said a Fox spokesman. "He couldn't say those things here."
No doubt the usual rabble will claim that James is being persecuted and blacklisted because of his stance for traditional marriage. And James will no doubt have a new gig as keynote speaker for the type of dinners that specialize in professional martyrs, where he can rant his bile to appreciative elderly ladies and Peter LaBarbera.
But it won't be televised. Not even on FOX.
Rest in peace, Emile Griffith
Timothy Kincaid
July 24th, 2013
Former world champion boxer Emile Griffith died today, aged 75. Griffith was a powerhouse in the ring from 1961 until his retirement in 1977, with more championship bouts than anyone else in boxing history and his record standing at 85-24-2 with 23 knockouts.
But he is probably best known for a fight on March 24, 1962 against Benny "The Kid" Paret. Paret had taunted him in the locker-room with a homophobic slur; Griffith went into the ring at Madison Square Garden before a live television audience and fought mercilessly. Peret was knocked out, went into a coma, and died 10 days later.
Griffith was hated both by the public and tortured by himself after that event. He always insisted that he never intended to kill Peret, but he also acknowledged that he was angry and the fight was personal. His boxing style changed after that bout and he fought more for points and technical wins rather than knockouts. He never quite got over the fight, and the boxing world didn't either.
Lesser known was Griffith's struggle coming to terms with his sexuality. While he never admitted to being bisexual or gay during his career – who would in 1962? – he did live in such a way that left few doubts. (ESPN)
"He was a tremendous boxer and person," Ross said. "It is almost a blessing that he passed away because he has been in a vegetative state the last couple years. To know him was a privilege. He transcended being a boxer, or being gay or straight. He lived life with the fullest joy. He passed that on to everyone he knew, and not many have that as a legacy.

"Emile never felt like he was different; he lived his life openly. He'd go to a gay bar and he wouldn't go into a side entrance; he'd go in the front door. He never flaunted it, but it was natural to him to lead his life the way he wanted to."
And in 1992 this came to tragedy. The real story is lost to Griffith's increasing pugilistic dementia, but any version is horrific (Sports Illustrated):
It's a summer evening. Emile gets off an airplane at JFK. He should be exhausted. He should go straight to his mother's house in Queens Village, where he's moved back into the finished basement along with Luis. He has just flown back from Australia, where the boxer he trains, junior welterweight Juan LaPorte, has lost to Kostya Tszyu. Emile takes a cab to Manhattan.

He ends up in Hombre, a gay bar on West 41st Street hard by the Port Authority. He can relax more in gay bars than in straight ones, he tells people, because the people there are far less likely to challenge him to a fight. But suddenly he feels so woozy that he wonders if someone put something in his drink. He steps outside. Here comes the smoke.

A gang of men jumps him, beats him with pipes, robs him and leaves him for dead on the street. Later he staggers onto the wrong train, but finally, after hours have passed, he stumbles home. That's what Emile tells LaPorte, who comes to the Griffith home at the request of Emile's frightened mother and takes him to the hospital.

The men catch him stepping into a cab, slam the door on his body over and over again until he drops. That's what Keith Stechman, a friend, says Emile told him.

Two guys start a fight in the bar. He follows them outside to break it up and two more join them, all turning on him, trying to take his money and beating him with baseball bats. That's what Butch Miller, Jack Miller's son, says Emile told the Miller family.

They kick him with heavy boots, kick every part of his body as if he were a dog. That's what Luis Rodrigo, the first to find him when he staggers home, says Emile told him.

He nearly dies in the hospital. His battered kidneys fail, he goes on dialysis, then his spine gets infected. The severity and site of the beating suggests a gay bashing, a hate crime, but no one will ever know. By the time Emile comes home, two months later, he remembers almost nothing of it. It vanishes in smoke.
In 2005, Ring of Fire: the Emile Griffith Story explored his sexuality and his sport and how the two had melded to impact his life. Even in that year he couldn't self identify as gay, though he viewed himself as having a place in our community (NYTimes)
I asked Mr. Griffith if he was gay, and he told me no. But he looked as if he wanted to say more. He told me he had struggled his entire life with his sexuality, and agonized over what he could say about it. He said he knew it was impossible in the early 1960′s for an athlete in an ultramacho sport like boxing to say, "Oh, yeah, I'm gay."

But after all these years, he wanted to tell the truth. He'd had relations, he said, with men and women. He no longer wanted to hide. He hoped to ride this year in New York's Gay Pride Parade.
He did ride in 2007.
By all accounts, Griffith was a kind and generous man in a difficult world and time. May his rest be peaceful.
Sports history made
Timothy Kincaid
May 27th, 2013
Yesterday a milestone was passed. Robbie Rogers, the first openly gay man to participate in a prominent North American pro league, stepped onto the field at the Home Depot Center south of downtown Los Angeles as a substitute for the LA Galaxy. The audience roared.
While soccer is a relative new-comer to American professional sports, an influx of immigrants from countries where the sport reigns supreme along with generations of AYSO youth have raised its profile. And the uptick in interest in Los Angeles generated when David Beckman joined the team seems not to have dissipated. (LATimes)
Midfielder Robbie Rogers entered the game to a rousing ovation in the 77th minute, becoming the first openly gay male athlete to play in an American professional team sport. The Galaxy signed Rogers to a multiyear contract Saturday after acquiring the rights for him in a trade with the Chicago Fire, and the 26-year-old Huntington Beach native had five touches, one tackle and three completed passes in the final 13 minutes.
The Galaxy beat the Seattle Sounders 4 to 0.
Quote of the night
Timothy Kincaid
April 30th, 2013
Charles Barkley on Jason Collins coming out: "Anyone who thinks they never played with a gay player is an idiot."
Yeah, that pretty much puts it in perspective.
Welcome out, Jason Collins
Timothy Kincaid
April 29th, 2013
Major sports has just had its first openly gay and still playing professional come out, Jason Collins. From Sports Illustrated's May 6 edition.
I'm a 34-year-old NBA center. I'm black. And I'm gay.

I didn't set out to be the first openly gay athlete playing in a major American team sport. But since I am, I'm happy to start the conversation. I wish I wasn't the kid in the classroom raising his hand and saying, "I'm different." If I had my way, someone else would have already done this. Nobody has, which is why I'm raising my hand.
My journey of self-discovery and self-acknowledgement began in my hometown of Los Angeles and has taken me through two state high school championships, the NCAA Final Four and the Elite Eight, and nine playoffs in 12 NBA seasons.

I've played for six pro teams and have appeared in two NBA Finals. Ever heard of a parlor game called Three Degrees of Jason Collins? If you're in the league, and I haven't been your teammate, I surely have been one of your teammates' teammates. Or one of your teammates' teammates' teammates.
I am certain that some sports fans and viewers will try and make life tough for Collins, but he seems confident, skilled, intelligent and articulate. It also doesn't hurt that he has a supportive family, excellent political connections, and is beautiful. I wish that this step is nothing but rewarding and enriching in his life.
Welcome out, Orlando Cruz
Timothy Kincaid
October 4th, 2012
Boxer Orlando Cruz has announced that he's gay: (espn)
"I've been fighting for more than 24 years and as I continue my ascendant career, I want to be true to myself," Cruz said in a statement after taping a spot on a Telemundo show, which will air Monday. "I want to try to be the best role model I can be for kids who might look into boxing as a sport and a professional career. I have and will always be a proud Puerto Rican. I have always been and always will be a proud gay man."
Five reasons why this is great:
1. Cruz is still competing in his sport. He has a fight on the 19th.
2. Cruz is no minor player. He was a 2000 Olympian (for Puerto Rico) and is currently WBO Latino featherweight champion.
3. Cruz' official announcement will be Monday on Telemundo.
4. Cruz is doing this on his own accord and (as best I can tell) not as the result of some scandal.
5. If you have a problem with his orientation, that's too bad. Cruz is tougher than you and can kick your ass.
Red Sox Releases "It Gets Better" Video
Jim Burroway
July 1st, 2011
As promised, the Red Sox video was released this morning:
Chicago Cubs: It Gets Better
Jim Burroway
June 20th, 2011
It's worth noting that Cubs' co-owner Laura Ricketts is an out Lesbian. Your Chicago Cubs are now the second major league baseball team (and, I believe, the second major league sports team overall) to produce a video. San Francisco Giants released theirs three weeks ago. Boston Red Sox have also announced that they will release a video soon.
Red Sox To Produce "It Gets Better" Video
Jim Burroway
June 4th, 2011
The Boston Red Sox have announced that they will become the third Major League Baseball team to produce a video for the "It Gets Better" anti-bullying campaign:
We are proud of dedicated Red Sox fans like 12-year-old Sam Maden who have taken the courageous step of publicly standing up against bullying of LGBT youth," said Susan Goodenow, Senior Vice President/Public Affairs and Marketing for the Red Sox, in a statement. "The Red Sox have frequently done PSA videos, or public service announcement videos, on important social issues. We are currently producing an "It Gets Better" video to support the It Gets Better campaign to stop bullying of LGBT youth and teen suicides. We hope that when it is released it will both reflect our continued commitment to be active participants in the community and help advance the efforts of Sam and others to stop bullying. Our team stands for respect and inclusion – there is no place for discrimination or acts of hatred in Red Sox Nation."
The announcement came after 12-year-old Sam Maden started an online petition asking the ball club to produce a video. Maden began the campaign after his seventh-grade teacher asked him to come up with a project that could "make a difference" in the world. More than 9,000 fans signed the petition.
This announcement not only demonstrates the power of one person to make a difference, but it also shows that the BoSox can still beat the Yankees.
Chicago Cubs To Produce "It Gets Better" Video
Jim Burroway
June 3rd, 2011
How about this announcement?
The Chicago Cubs will produce an "It Gets Better" video, which takes a stand against anti-gay bullying and homophobia. The project has been in the works for more than a week and is set to be filmed after the team returns to Wrigley Field from its current 10-game road trip.

…"The Cubs applaud the Giants for their stand against anti-LGBT bullying. Bullying of anyone for any reason is unacceptable," said Laura Ricketts, Cubs owner and board member. "We are proud to join the Giants in taking a stand against bullying and encourage other professional sports organizations to do the same."
Wrigly Field is located just a few blocks away from Chicago's Boys Town neighborhood, and has been a financial supporter of many LGBT organizations and charities in the Chicago area. In 2010, Laura Ricketts, an openly gay member of the Ricketts family who owns the Cubs, and retired shortstop and first baseman Ernie "Mr. Cub" Banks rode on the team's float in Chicago's Pride Parade. The Cubs will host "OUT at Wrigly" on July 17 when the Cubs take on the Florida Marlins. Maybe the Marlins can have a video out by then.
Earlier this week, the San Francisco Giants released their video for "It Gets Better," the anti-bullying campaign begun by Dan Savage and Terry Miller. A Boston Red Sox fan, twelve-year-old Sam Maden, has launched a campaign to get his favorite team to make a video as well.
San Francisco Giants: "It Gets Better"
Jim Burroway
June 1st, 2011
There's hardly a gay male alive who wasn't tormented by jocks while in school, which is why this video by the San Francisco Giants so incredibly moving. The video features four current players — pitchers Matt Cain and Sergio Romo, outfielder Andres Torres and Cy Young Award winning pitcher Barry Zito – and Giants hitting coach Hensley "Bam Bam" Muelens.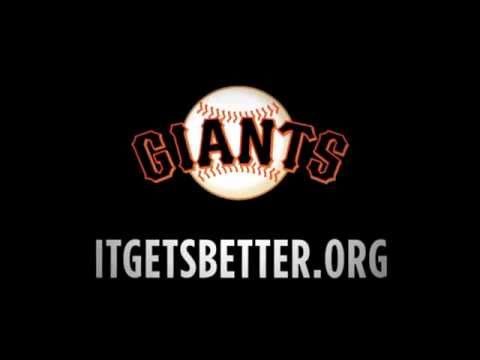 NBA's Steve Nash: Players Would Accept Gay Teammate
Jim Burroway
May 31st, 2011
New York Times' Howard Beck asked Phoenix Suns' point guard  Steve Nash whether the NBA was ready for an openly gay player:
If a player in the locker room came out, it would come and go quickly, too. I really don't think it's a big issue anymore. I think it would be surprisingly accepted, and a shorter shelf life than maybe we would imagine. I think the time has come when it should happen soon. I think it will be something that won't take on this life of its own. It won't be the O. J. trial.
Nash described the Suns' CEO Rick Welts's coming-out annoucement two weeks ago as no big deal since players have little contact with the executive office. But even if a General Manager had come out as gay, "There would be a lot of, 'Really?' And then a short period later, everyone's like, 'Who cares?' and moves on."
Rugby star retires, fights bullying
Timothy Kincaid
May 24th, 2011
Ben Cohen is a handsome fellow and has built a bit of a following from gay male rugby fans. Some men, especially in the often-hypermasculine world of sports, might have become offended by the idea that they are attractive to gay men. Cohen feels honored.
And it may be the devotion of his gay following that inspired Cohen to the direction in which he dedicate his post-career time.
Ben Cohen, MBE, today officially launched the Ben Cohen StandUp Foundation, Inc. and StandUpTM social-commerce brand to help fund it. The Foundation is believed to be the world's first organization dedicated solely to the cause of anti-bullying, wherever and to whomever it occurs. Due to recent high-profile instances of lesbian, gay, bisexual and transgender (LGBT) bullying,, the Foundation gives particular focus and attention to this community. The announcement was made in conjunction with the Atlanta kick-off of Mr. Cohen's "Acceptance Tour 2011," which will continue on to New York, Washington DC, and Seattle.
Classy man.
ESPN on gay support in professional sports
Timothy Kincaid
May 13th, 2011
Pro Hockey player Sean Avery, arguably the biggest jerk in professional sports, recorded an advertisement in support of New York's same-sex marriage campaign. A father-son team of agents stood up for "real marriage" (as opposed to man-man or man-horse marriage) assuming that this was surely the more accepted position in the world of hockey. ESPN's Johnette Howard looked at the fallout.
It's hard to gauge who did more to advance the cause of legalizing gay marriage in the past week — New York Rangers forward Sean Avery (the first pro athlete to publicly support New Yorkers for Marriage Equality), or the father-and-son sports agent team of Don and Todd Reynolds, whose swift attacks of Avery's stance caused a remarkable thing to happen. The Reynolds' reactions caused thousands of other people to step forward and out themselves as gay rights supporters, too, in a louder, longer show of support for Avery on Twitter and Facebook, radio and TV, in blogs and newspapers and sports fan message boards than Avery's appearance in a video advertisement for the marriage equality campaign might have generated on its own.
Perhaps it's time to put to pasture all of the presumptions about sports and homophobia being inextricably related.
Vidmar steps down
Timothy Kincaid
May 6th, 2011
As we reported, the U.S. Olympic Committee had named Proposition 8 advocate Peter Vidmar as its 2012 chief of mission. He has now resigned that commission. (USA Today)
When the Tribune story broke, reaction was nearly immediate — and almost entirely negative — within the USOC. Aimee Mullins, the former president of the Women's Sports Foundation and chef de mission for the 2012 U.S. Paralympic Games team, said she was "concerned and deeply saddened" about Vidmar's past actions.

"The Olympic movement is about promoting equity for all," she said.

In a statement released Friday evening, Vidmar said, "I have dedicated my life to the Olympic movement and the ideals of excellence, friendship and respect. I wish that my personal religious beliefs would not have become a distraction from the amazing things that are happening in the Olympic movement in the United States. I simply cannot have my presence become a detriment to the U.S. Olympic family. I hope that by stepping aside, the athletes and their stories will rightly take center stage."
I wish his personal religious beliefs would not have become a distraction, either. I wish they had not distracted him from being a decent human being instead encouraging him to arrogantly thrust his religion, his opinion, his money, and his time into my life in order to harm me and my community.
I have no sympathy for those who are discovering that their innocent little "stand on the issue" which they were willing to make because of the "call of their church" is now being seen as mean-spirited and based in animus. And not just by the "militant homosexual activists", but by average everyday citizens. My heart doesn't bleed in the slightest for those who are finding that doing real harm to real people can have real consequences.
US Olympic Committee goes anti-gay
Timothy Kincaid
April 29th, 2011
From OutSports
The U.S. Olympic Committee has named Peter Vidmar, a 1984 gold medalist in gymnastics, as its chief of mission for the 2012 U.S. Olympic team in London. In this job, Vidmar will be the liaison officer for the U.S. team in dealing with the International Olympic Committee and London organizers.

Vidmar, a Mormon, is an active opponent of gay marriage. In the 2008 fight for Proposition 8 in California, Vidmar donated $2,000 to pass the ballot initiative and also protested in public.
It is not likely that the Olympic Committee deliberately selected Vidmar to slight gay Americans. More likely, they simply don't consider anti-gay activism to be a disqualifier for its representatives. Equality for gay people is – to the USOC – just "an opinion" over which reasonable people may differ.
In today's highly competitive television market where a downtick of just a few percentage of viewers can cost the Olympics millions, and in which corporations (including those who fund the olympics) are supportive of gay equality and very hesitant to align with negative associations, this is a risky way to operate.
Welcome out, Graeme Obree
Timothy Kincaid
January 31st, 2011
Graeme Obree is a bicyclist with an impressive record (bikeradar.com)
Both Obree's private life and his achievements on the bike have combined to make him one of cycling's most enigmatic figures. The Scotsman claimed the World individual pursuit title in 1993 and 1995 but is best known for his innovative and pioneering attempts at the World hour record.
He claimed the hour record twice, in 1993 and 1994. The first successful, in Norway, saw him best a nine-year-old record held by Italian Francesco Moser using a hand-made bike constructed from spare parts dubbed 'Old Faithful'. That record lasted only a week as Englishman Chris Boardman improved on Obree's effort in Bordeaux, France during a rest day of that year's Tour de France.
Obree reclaimed the record in April, 1994 on the same track used by his English rival after making adaptations to 'Old Faithful'. That record was improved upon by Spaniard Miguel Indurain five months later.
But Obree's accomplishments did not bring satisfaction. Because Obree had as issue nagging at him, one which he desperately sought to hide from himself. It led him to two suicide attempts before seeking professional help. (PinkNews)
"I was brought up thinking you'd be better dead than gay," he said. "I must have known I was gay and it was so unacceptable.

"I was brought up by a war generation – they grew up when gay people were put in jail. Being homosexual was so unthinkable that you just wouldn't be gay. I'd no inkling about anything, I just closed down.

"People say, 'How can you be gay and be married and have kids and not know it?'

"But when I went to my psychologist she reckoned I had the emotional age of about 13 because I'd just closed down."
But now the hiding is over. Obree came out to his ex-wife and children several years ago – and more importantly, to himself. Today he made his orientation public in a Scottish newspaper.
Gay hockey shocker!!
Timothy Kincaid
November 25th, 2009
There is shocking news in the hockey world this week. A young man who is the son of a team's general manager, the brother of another team's scout, and the student manager of his college's hockey team came out. That wasn't the shocker.
What has been surprising to me is that no one involved seems to have reacted negatively.
His team responds with acceptance and by trying to cut back on gay slurs in the locker room. His coaches praise him for his contributions. And his father, Mr. Testosterone, has him fly into town so they can go to gay pride together.
But it isn't just those that know Brendan Burke who are supportive. The news reporters hoping for a Big Controversy were unable to find one. (Globe) The most they could come up with was imagined unspoken uncomfortability.
All of the players said it would not be a problem in today's NHL for someone on their team to publicly declare his sexual orientation. They said they did not think a gay player would face any harassment from his teammates, although the topic was not one they were willing to discuss for long.
In the Hockey News, a columnist predicts that soon this will be no big deal at all.
In hockey terms, it will be very soon when openly gay students begin to try out for and make high school teams. Their buddies will have known and become accustomed to that fact and it will be no big deal. If openly gay players are good enough, they'll move on to major junior, college, the American League and the NHL.
All of which is wonderful. And surprising.
But what does it mean?
Well, it certainly isn't the case that hockey, or any other major sport, is now a welcome space for gay athletes. Nor are locker rooms safe from gay slurs or homophobic banter.
But the significant change that this story illustrates is that overt public homophobia is now no longer seen as acceptable – even in the most masculine of communities.
Gay-hostile comments will continue to trumpet themselves through locker rooms due to bigotry, religion, stereotypes, or ignorance, but the idea of homophobia is no longer welcome. Gay people may still be subjected to abuse, but as with racism or religion-based discrimination, it is no longer socially acceptable to openly and publicly embrace homophobia, even in the hockey locker room.
At times it can be frustrating waiting for our fellow citizens to stop making up excuses for discrimination and unequal rights. It can seem disheartening to watch yet another state give in to its fears and biases. But stories like this remind us that the war is over and we have won.
Yes we have battles to fight, and we may frequently lose, but our biggest obstacle has been surpassed. We have convinced our neighbors that it is a shameful thing to mistreat gay people.
And that is a shocking thing indeed.
Clinton Portis Does Not Come Out Of The Closet
Jim Burroway
August 4th, 2009
Washington Redskins running back Clinton Portis wants you to know that he is not gay. In case you had any doubts, be assured that he's not because he used 141 words and a photo to prove his point:
"Why did I go blond?" he repeated. "I just felt like doing something different. You know, I think even with that, from what I hear, now I'm gay? I don't think there's a woman in the United States of America that would say I'm gay. So, you know, I don't hang around men, I don't live a private life, there's constantly people around me. You know, I did it because that was something that I felt like doing. At the moment it was like, 'Ohhh, I want to do something weird and different,' and that's what I did, I dyed my hair blond. You know, it wasn't an attention seeker. I actually was out of the country, I left the country after I did it, so I wasn't even over here once I did it. So it was just an experiment."

He said when he left the country, it was to go to Berlin. I asked why.

"Just to see the Berlin Wall," he said.
NFL Fanhouse can't find anyone saying that Portis might be gay. But just in case someone does, he's not gay. And the Berlin Wall is still standing. Just so you know.
[via Towleroad]