Italy Senate passes civil unions bill
Timothy Kincaid
February 25th, 2016
Italy has finally taken steps to join most of the rest of Western Europe in recognizing the validity of same-sex relationships. (AP)
Italy's Senate voted Thursday to grant legal recognition to civil unions, as the last holdout in Western Europe took a compromise step to give some rights to gay couples after a bitter, years-long battle.

It passed 173-71, well over the threshold necessary.
In a nation heavily influenced by the Catholic Church, this has been a difficult process and is a break-through. The Catholic hierarchy has spoken in opposition to the bill and religious affiliation had caused a rift in the ruling Democratic Party.
Italian Prime Minister Matteo Renzi has been increasingly desperate to get a civil rights bill on the books. To ensure passage, he made the bill a conscience vote, one in which a failure to pass would result in his removal as head of government.
Even so, the bill was headed for defeat before it was amended to exclude an adoption provision which did not have the necessary support in the legislature. The bill originally allowed one partner to adopt the other partner's natural children (couple adoption of non-biological children has very little support).
As the final product was not as anticipated, the bill is not being met with universal jubilation. It is, nevertheless, a significant and important step towards equal rights for gay Italians.
To become law, the bill must now pass the lower Chamber of Deputies.
Italy edges towards equality
Timothy Kincaid
October 21st, 2015
Italy is the only nation in Western Europe that does not offer some form of recognition for same-sex couples. However, that appears to be about to change. (thelocal.it)
Italy's parliament began debating a civil union bill for gay couples on Wednesday, kicking off a hotly-awaited rights battle championed by Premier Matteo Renzi but expected to drag on for months.
…
While attempts by previous administrations to change the law have been thwarted by parties with deep ties to the powerful Catholic Church, this time the majority of opposition parties have said they support the bill.
The bill has significant popular support and changes in the tone of language from the Holy See suggest that opposition from the Church and her faithful will be less vehement than in the past.
Greece, Italy, and Cyprus move towards civil unions
Timothy Kincaid
June 10th, 2015
Three Southern European countries are taking steps closer to civil unions.
Today Italy's lower house has passed a motion supporting civil unions. (ansa.it)
The motion commits the government "to promote the adoption of a law on civil unions, particularly with regard to the condition of the people of same sex".

It also commits the government "to ensure equal treatment throughout the nation" of civil unions. Premier Matteo Renzi and Justice Minister Andrea Orlando have both said recently that Italy needs a civil unions law.
The motion was approved with 204 votes in favor, 83 against and 98 abstentions.
While this would, no doubt, have infuriated previous Pope Benedict the Malevolent, when Argentina was considering implementing marriage equality, Pope Francis (who was Archbishop of Buenos Aires at the time) proposed civil unions as a compromise. So Vatican opposition may be less fierce than it would have been a few years back.
In April, the government of Cyprus drafted a civil unions bill and sent it to Parliament. (Gay Star News)
The Cypriot Cabinet Wednesday (6 April) approved a long-awaited civil partnership bill that would allow gay couples to register their relationships and grant them all marriage rights except joint adoption.

The legislation will now be sent to parliament, where it will be discussed and put to a vote.
The bill is considered likely to pass.
Also today, the Greek government announced a bill to enact civil unions. (PappasPost)
Greece's Ministry of Justice announced today it plans to introduce legislation— for the first time in Greek history— giving Civil Union rights to same sex couples. The bill, which will be part of broader legislation introduced, includes rights on insurance, taxation, inheritance and other privileges afforded to other Greek citizens.
The bill is expected to pass Parliament in Early July.
Italian pasta commercial that will make you smile
Timothy Kincaid
June 10th, 2014
This may be Italy's first pro-gay commercial (Time)
It does look delicious… though I'm troubled by any culture in which one isn't mocked for saying, "It's so good because of the microwave!"
Robert Oscar Lopez Goes to Italy
Jim Burroway
April 29th, 2014
Thanks to a tip from an Italian BTB reader, we've learned that Robert Oscar Lopez, the rabidly anti-gay maybe-bi son of a lesbian mother who lived oh-so-briefly with a lesbian partner, was in Italy last week as the guest of right wing Catholic groups to warn about the "engine of world-historical evil" — that would be you. While there, he tried to respond to a blog post in the Italian version of The Huffington Post by Josephine La Delfa, president of Famiglie Arcobaleno ("Rainbow Families", an Italian LGBT parents association), HuffPo simply ignored it. So he had his response published in Tempi, a mouthpiece of the right wing Catholic movement Communion and Liberation.
What we have here is his English article translated into Italian, and then back to English again. That round trip does little to alter his familiar argument:
The thesis is that a "different" right — the right to be raised in conditions that sociologists and experts consider ideal — overcomes and erases the right to have a father and a mother. It is a reasoning deeply offensive, especially because it comes from those who present themselves as a defender of gay rights.
This is standard issue fare from just about all anti-gay opponents of marriage equality. But of course, what sets Lopez apart is his rather unhinged ideas about adoption amounting to an "international slave trade." He drops the "slave" word in his Temp post, but his point remains the same:
[W]hat is the attitude towards children forced to live in homes of homosexual couples? The key word is just "forced" because no child ends up in a gay parenting household if not because of the adults resort to extraordinary measures to submit to the authority of one or two people with whom he has biological ties or blood.
Lopez claims there are "countless statistics showing how gay relationships have a high rate of instability, domestic violence and emotional abuse" among gay couples, although he doesn't bother to mention any of them. Strictly speaking his "countless" claim may be true, since you can only count what exists. But he then goes on to suggest that the only people qualified to determine who can marry and who can't are sociologists:
[G]ay activists say, "you do not need the legal recognition of your relationship with the mother and father who gave you the identity that made you as you are now, because you know, we scientists who have shown that it is enough for you to live the way we want it and you have to love the people who have decided that you should love. If this is the way we give rights to relationships because we're discussing the wedding? We could say: "you do not have the right to get married with people of the same sex , you cannot marry the person you love, you have to be in a relationship that sociologists define good for you, it could be, statistically speaking, a relationship with a person of the opposite sex." Of course, this last statement is offensive to the supporters of gay marriage.
That last statement is offensive to anyone contemplating marriage, not just gay couples. Can you imagine anyone else being willing to submit to a sociologist's stamp of approval? But what Lopez conveniently leaves out in his convoluted letter is that sociologists have weighed in on marriage quality, and they support it, saying that countless statistic, to borrow Lopez's phrasing, show that "parents' sexual orientation has no bearing on children's well-being." But that inconvenient fact would keep Lopez from pulling his outrage card, and he can't have that.:
Why say that children do not have the right to have a mother and a father is abusive to me? Because I was raised by a lesbian and her partner and my father was not in the family portrait. Giuseppina La Delfa could look into my eyes and tell me that I have not lost anything? That I have not suffered anything? I would have no right to I love my father as my father, and just for the fact that he is my father?

Well, between these two positions, that of the child must prevail because: 1. Loss of a parent does not take place with the consent of the child while adults gays are big enough to choose 2. Loss to a child is something universal: not all people get married, but all people have a father and a mother. 3. Loss to a child is permanent. Two adults gays can get divorced while the child can not remove half of her genetic heritage.

For these reasons, I ask you to apologize to all children — to humanity in fact — for saying this heinous thing: that people do not have the right to a father and a mother.
It looks like Lopez's logic translates about as badly into Italian as it sounds in English.
Italy's supreme court to rule on same-sex marriage this week
Timothy Kincaid
April 13th, 2010
From On-Top Magazine

Italy's highest court is expected to rule on a gay marriage case this week, Italian media is reporting.
…
The court will meet in closed session to discuss a large number of appeals – including the gay marriage case – on Tuesday and Wednesday. In March, the court postponed making a decision until after Easter.
And the race continues. Will Italy or Portugal be the eighth nation to recognize same-sex marriages?
Italian court was to rule on marriage equality today
Timothy Kincaid
March 23rd, 2010
According to gayrights.change,
Next Tuesday [today], the Italian Constitutional Court will decide whether several provisions under Italy's civil code that currently restrict marriage to just "one man, one woman" are unconstitutional.
From Italian organization Certi Diritti, (Google translation)
On 23 March 2010 the Constitutional Court will rule on the legality of the refusal of publication of banns received by two pairs of same-sex couples who had received from their common denial of the request for publication of banns.

The municipalities are those of Venice and that of Trent, whose courts, sued by lawyers Lenford Network – Law for LGBT rights, decided to refer the decision on the constitutionality of the ban on marriage between two persons of the same sex.
If the court has published its decision, I have not been able to find it. I'll report more when it's known
(hat tip to reader volpi)
UPDATE: The court has postponed announcing any decision until after the Easter holidays. Considering the international attention to be paid to the Vatican over the next two weeks as Catholicism observes its most holy holiday, this may possibly be an indication of positive news for gay Italians.
Cardinal: Politicians Who Support Marriage Equality Are No Longer Catholic
Jim Burroway
February 17th, 2010
An Italian Cardinal has warned that politicians supporting same-sex marriage are committing "a publicly and gravely immoral act":
"It's impossible to consider oneself a Catholic if that person in one way or another recognizes same-sex marriage as a right," said Cardinal Carlo Caffarra of Bologna.

The Vatican newspaper, L'Osservatore Romano, reprinted a portion of a doctrinal note the cardinal released Feb. 14 concerning "Marriage and Homosexual Unions." The note, which appeared in full on the archdiocese's Web site, was aimed at helping enlighten Catholics in public office so that "they would not make choices that would publicly contradict their affiliation with the church," he wrote.
His restriction would extend even to those who are called to enforce or follow such a law:
If a Catholic official were to ever implement or enforce such a law, "God forbid, we will, at the proper moment, give the necessary directives," he wrote.
The Cardinal's statements do not constitute official church teaching, but there has been a growing chorus of voices calling for the excommunication of Catholic politicians over a number of social issues.
Hundreds Protest Vatican's Opposition to Decriminalization of Homosexuality
Jim Burroway
December 8th, 2008
According to AFP, about 250 people protested in St. Peter's Square on Saturday over the Vatican's opposition to a U.N. resolution calling for member nations to decriminalize homosexuality.
Vatican spokesman Federico Lombardi exhibited more of the Vatican's intrinsically disordered logic by saying the Church opposed "all forms of violent or discriminatory penal law regarding homosexuals…. No one obviously wants to defend the death penalty for homosexuals." Some 80 countries have laws against homosexuality, with some including the death penalty or long terms of up to life imprisonment.
And yet the Vatican claims to oppose all "discriminatory penal law regarding homosexuals" by actively lobbying against a U.N. resolution calling for the repealing of all such laws. It certainly can't get any more contradictory than that.
Here is an Italian news report of the protest: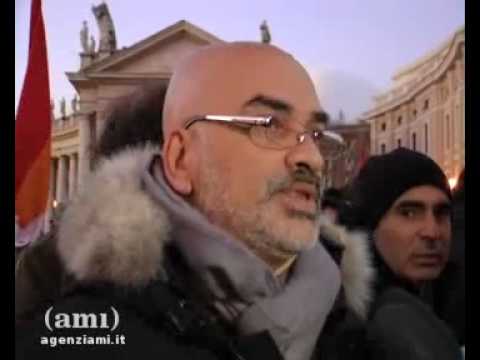 [Hat tip: Towleroad]
Marriage Rights Around the World
Timothy Kincaid
May 15th, 2008
The following countries offer some form of recognition to same-sex couples:
Marriage
Netherlands, Belgium, Spain, Canada, South Africa, United States (Massachusetts, California)
Civil Unions
New Zealand, Brazil (Rio Grande do Sul), Argentina (Buenos Aires, Rio Negro), Mexico (Coahuila), Uruguay, United States (Vermont, New Hampshire, Connecticut, New Jersey)
Registered Partnership or Domestic Partnership
Denmark, Greenland, Iceland, Norway, Sweden, Portugal, Finland, Luxembourg, , Slovenia, United Kingdom, Czech Republic, Italy (City of Padua), Switzerland, Hungary, Australia (Tasmania), United States (Maine, Washington, Oregon)
Other Methods of Limited Recognition
France (PACS), Germany (Life Partnership), Croatia (Law of Same-Sex Relationships), Andorra (Stable Union of a Couple), Mexico (Mexico City – PACS), Colombia (Common-law marriage inheritance rights), Israel (Limited recognition of foreign legal arrangements), United States (Hawaii – Reciprocal Benefits; New York – recognition of out-of-state legal marriages)
Although recognition is in a rapid state of change, this is my best understanding of the current rights provided. Several nations are in the process of adding or revising recognition.
Tags:
Andorra
,
Argentina
,
Australia
,
Belgium
,
Brazil
,
Britain
,
California
,
Canada
,
Civil Unions
,
Colombia
,
Connecticut
,
Croatia
,
Czech Republic
,
Denmark
,
Domestic Partnerships
,
Finland
,
France
,
Germany
,
Greenland
,
Hawaii
,
Hungary
,
Iceland
,
Israel
,
Italy
,
Luxembourg
,
Maine
,
Marriage
,
Massachusetts
,
Mexico
,
Netherlands
,
New Hampshire
,
New Jersey
,
New York
,
New Zealand
,
Norway
,
Oregon
,
Portugal
,
Slovenia
,
South Africa
,
Spain
,
Sweden
,
Switzerland
,
Tasmania
,
Uruguay
,
Vermont
,
Washington
COMMENTS (8)
|
LINK