Italy's supreme court to rule on same-sex marriage this week
Timothy Kincaid
April 13th, 2010
From On-Top Magazine

Italy's highest court is expected to rule on a gay marriage case this week, Italian media is reporting.
…
The court will meet in closed session to discuss a large number of appeals – including the gay marriage case – on Tuesday and Wednesday. In March, the court postponed making a decision until after Easter.
And the race continues. Will Italy or Portugal be the eighth nation to recognize same-sex marriages?
Italian court was to rule on marriage equality today
Timothy Kincaid
March 23rd, 2010
According to gayrights.change,
Next Tuesday [today], the Italian Constitutional Court will decide whether several provisions under Italy's civil code that currently restrict marriage to just "one man, one woman" are unconstitutional.
From Italian organization Certi Diritti, (Google translation)
On 23 March 2010 the Constitutional Court will rule on the legality of the refusal of publication of banns received by two pairs of same-sex couples who had received from their common denial of the request for publication of banns.

The municipalities are those of Venice and that of Trent, whose courts, sued by lawyers Lenford Network – Law for LGBT rights, decided to refer the decision on the constitutionality of the ban on marriage between two persons of the same sex.
If the court has published its decision, I have not been able to find it. I'll report more when it's known
(hat tip to reader volpi)
UPDATE: The court has postponed announcing any decision until after the Easter holidays. Considering the international attention to be paid to the Vatican over the next two weeks as Catholicism observes its most holy holiday, this may possibly be an indication of positive news for gay Italians.
Cardinal: Politicians Who Support Marriage Equality Are No Longer Catholic
Jim Burroway
February 17th, 2010
An Italian Cardinal has warned that politicians supporting same-sex marriage are committing "a publicly and gravely immoral act":
"It's impossible to consider oneself a Catholic if that person in one way or another recognizes same-sex marriage as a right," said Cardinal Carlo Caffarra of Bologna.

The Vatican newspaper, L'Osservatore Romano, reprinted a portion of a doctrinal note the cardinal released Feb. 14 concerning "Marriage and Homosexual Unions." The note, which appeared in full on the archdiocese's Web site, was aimed at helping enlighten Catholics in public office so that "they would not make choices that would publicly contradict their affiliation with the church," he wrote.
His restriction would extend even to those who are called to enforce or follow such a law:
If a Catholic official were to ever implement or enforce such a law, "God forbid, we will, at the proper moment, give the necessary directives," he wrote.
The Cardinal's statements do not constitute official church teaching, but there has been a growing chorus of voices calling for the excommunication of Catholic politicians over a number of social issues.
Hundreds Protest Vatican's Opposition to Decriminalization of Homosexuality
Jim Burroway
December 8th, 2008
According to AFP, about 250 people protested in St. Peter's Square on Saturday over the Vatican's opposition to a U.N. resolution calling for member nations to decriminalize homosexuality.
Vatican spokesman Federico Lombardi exhibited more of the Vatican's intrinsically disordered logic by saying the Church opposed "all forms of violent or discriminatory penal law regarding homosexuals…. No one obviously wants to defend the death penalty for homosexuals." Some 80 countries have laws against homosexuality, with some including the death penalty or long terms of up to life imprisonment.
And yet the Vatican claims to oppose all "discriminatory penal law regarding homosexuals" by actively lobbying against a U.N. resolution calling for the repealing of all such laws. It certainly can't get any more contradictory than that.
Here is an Italian news report of the protest: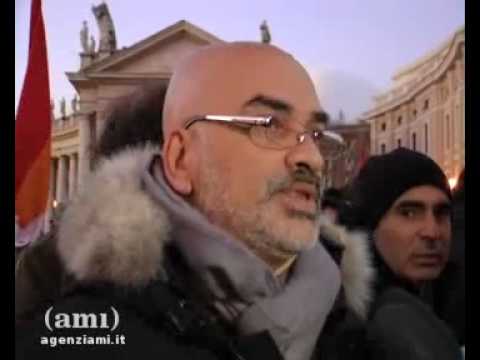 [Hat tip: Towleroad]
Marriage Rights Around the World
Timothy Kincaid
May 15th, 2008
The following countries offer some form of recognition to same-sex couples:
Marriage
Netherlands, Belgium, Spain, Canada, South Africa, United States (Massachusetts, California)
Civil Unions
New Zealand, Brazil (Rio Grande do Sul), Argentina (Buenos Aires, Rio Negro), Mexico (Coahuila), Uruguay, United States (Vermont, New Hampshire, Connecticut, New Jersey)
Registered Partnership or Domestic Partnership
Denmark, Greenland, Iceland, Norway, Sweden, Portugal, Finland, Luxembourg, , Slovenia, United Kingdom, Czech Republic, Italy (City of Padua), Switzerland, Hungary, Australia (Tasmania), United States (Maine, Washington, Oregon)
Other Methods of Limited Recognition
France (PACS), Germany (Life Partnership), Croatia (Law of Same-Sex Relationships), Andorra (Stable Union of a Couple), Mexico (Mexico City – PACS), Colombia (Common-law marriage inheritance rights), Israel (Limited recognition of foreign legal arrangements), United States (Hawaii – Reciprocal Benefits; New York – recognition of out-of-state legal marriages)
Although recognition is in a rapid state of change, this is my best understanding of the current rights provided. Several nations are in the process of adding or revising recognition.
Tags:
Andorra
,
Argentina
,
Australia
,
Belgium
,
Brazil
,
Britain
,
California
,
Canada
,
Civil Unions
,
Colombia
,
Connecticut
,
Croatia
,
Czech Republic
,
Denmark
,
Domestic Partnerships
,
Finland
,
France
,
Germany
,
Greenland
,
Hawaii
,
Hungary
,
Iceland
,
Israel
,
Italy
,
Luxembourg
,
Maine
,
Marriage
,
Massachusetts
,
Mexico
,
Netherlands
,
New Hampshire
,
New Jersey
,
New York
,
New Zealand
,
Norway
,
Oregon
,
Portugal
,
Slovenia
,
South Africa
,
Spain
,
Sweden
,
Switzerland
,
Tasmania
,
Uruguay
,
Vermont
,
Washington
COMMENTS (9)
|
LINK