Ann Landers Posthumously Opposes Prop 8
Timothy Kincaid
November 2nd, 2008
Margo Howard is the daughter of Eppie Lederer, the woman who wrote for 47 years as Ann Landers. Howard has written a column opposing Proposition 8, invoking her mother's name.
While I seldom try to speak for her, I know for a certainty that she would have encouraged all the people who ever wrote to her looking for guidance to vote no on Proposition 8. I know this because she was all about equality, dignity and rights. While she would have respected those who took the Bible literally, she also would have invited them to live according to their principles, and allow others to do the same. So if, per chance, before you vote you might wonder what your old friend Ann Landers would advise, remember her lifelong devotion to fairness, open-mindedness and love.
New York Times on Proposition 102
Jim Burroway
November 1st, 2008
The New York Times looked into Arizona's Proposition 102, noting that this is the second time in two years in which Arizona voters are being asked to vote on a so-called "marriage amendment."
Religious conservatives were deeply embarrassed when Arizona became the first in the nation to say no to divisive politics, so they're throwing everything they have to keep from being embarrassed a second time — turning this year's attempt into an almost wholly Mormon-funded and managed campaign, driven by their rather unique beliefs in "Celestial Marriage."
Prop 102 supporters claim that the marriage amendment is needed to "protect marriage from activist judges." What they fail to say however is that Arizona's "activist judges" already ruled on this. The Arizona Supreme Court, as recently as 2004, already ruled on Arizona's 1996 state law which already defines marriage as being between one man and one woman, and unanimously upheld that law. From the Times article:
"Their claim that we have to protect marriage from attack is ridiculous, because there's no such attack," said State Representative Kyrsten Sinema, a Phoenix Democrat and chairwoman of Arizona Together, which opposes Proposition 102. "It's a fake threat."
The LDS church has played a predominant role in fundraising for the "yes" campaign, and their massive coffers threaten to completely re-shape politics in Arizona. Opponents to Prop 102 are being outspent by more than 10-to-1. While many activists are feeling abandoned by national LGBT activists in this second battle, many of us are still optimistic:
Still, many gay rights activists in Arizona are hoping for a repeat of 2006, when most everyone was surprised by the defeat of the effort to bar same-sex marriage.

Jason Cianciotto, the executive director of Wingspan, which serves the gay, lesbian, bisexual and transgender community in Tucson, said he vividly remembered watching the 2006 returns come in.

"I called a colleague and I said 'I think we might pull this out,' and she said, 'If we do, I'll eat my hat,' and lo and behold we won," Mr. Cianciotto said of the 2006 vote. "And I look forward to skeptics eating their hats this time as well."
People often dismiss Arizona as a backwards, conservative state. They don't know Arizona. The Arizona brand of conservatism is best exemplified by Mr. Conservative himself, former Sen. Barry Goldwater. He was conservative to his core, a conservatism that valued individual liberty above all else. Remember him saying, "extremism in the defense of liberty is no vice"? He lived it, and was an ardent supporter of equal rights for everyone — and LGBT rights in particular.
"The big thing is to make this country, along with every other country in the world with a few exceptions, quit discriminating against people just because they're gay," Goldwater asserts. "You don't have to agree with it, but they have a constitutional right to be gay. And that's what brings me into it."
That is Arizona.
Bill Clinton Opposes Prop 8
Jim Burroway
November 1st, 2008
On September 21, 1996, President Bill Clinton signed the so-called "Defense of Marriage Act" (DOMA) into law. He then promptly turned around and bought radio ads on Christian radio stations to brag about it during his re-election campaign against Sen. Bob Dole. That betrayal has been a huge source of anger and resentment in the LGBT community towards Clinton ever since then.
This week, the former president made a very big step in making up for that. In a telephone call to California voters yesterday, President Clinton delivered the following message:
"This is Bill Clinton calling to ask you to vote NO on Proposition 8 on Tuesday, November 4th. Proposition 8 would use state law to single out one group of Californians to be treated differently — discriminating against members of our family, our friends and our co-workers.

"If I know one thing about California, I know that is not what you're about. That is not what America is about. Please vote NO on 8. It's unfair and it's wrong. Thank you."
Mormon Mothers Are Fierce
Jim Burroway
November 1st, 2008
From the Salt Lake City Tribune:
Mormon mothers of gay children are staging a candlelight vigil in Salt Lake City to oppose the LDS Church's support of California's proposed gay-marriage ban. Co-hosted by Parents, Families and Friends of Lesbians and Gays (PFLAG), Equality Utah, the Utah Pride Center, the Inclusion Center, Affirmation and the Human Rights Campaign, the event will be held Sunday at 6 p.m. at Library Square, 210 E. 400 South. In a news release, organizers invited all allies and members of the gay, lesbian, bisexual and transgender community — Mormon and non-Mormon — to join the vigil to support civil rights.
If any of you are in the Salt Lake City area, please try to be there and show your support. And let us know how it goes.
Silicon Valley Opposes Prop 8
Timothy Kincaid
November 1st, 2008
Per All Things Digital, an ad will run tomorrow in the San Jose Mercury News with an appeal from leaders in the Silicon Valley to vote No on Proposition 8. In addition to lending their name, many have also financially contributed to oppose the discriminatory effort. The list of individuals participating represents some of the brightest and best in the tech and internet industry.
The Honorary Co-Chairs of the effort are (titles and logos for identification purposes only):


Sergey Brin, Co-Founder, Google
(contributed $100,000; Co-Founder Larry Page contributed $40,000)
Eric Schmidt, CEO, Google

Bill Campbell, Chairman, Intuit
Intuit makes Quicken, QuickBooks and TurboTax

David Filo, Founder, Yahoo
(contributed $15,000)
Jerry Yang, Founder, Yahoo
(contributed $30,000)

Chuck Geschke, Founder and Chairman, Adobe Systems
(contributed $5,000)
Adobe products include Acrobat, Flash, and Photoshop

John Morgridge, Former CEO and Chairman, Cisco Systems
Cisco is the leading supplier of networking equipment and network management for the Internet

Pierre Omidyar, Founder and Chairman, eBay

Sheryl Sandberg, COO, Facebook
In addition to the chairs of the committee, leaders listed in the ad include Barry Cinnamon, CEO, Akeena Solar; Sue Decker, President, Yahoo!; Jack Dorsey, Chairman, Twitter; Evan Williams, CEO, Twitter; Jeff Hawkins, co-Founder Palm, Handspring, and Numenta; Donna Dubinsky, CEO, Numenta; Ken McNeely, President, AT&T California; Susan Packard Orr, CEO, Telosa Software; Amy Rao, Founder & CEO, Integrated Archive Systems; and many many others.
(hat tip www.goodasyou.org)
Field Poll: Proposition 8 Very Close
Timothy Kincaid
October 31st, 2008
The Field Poll has been tracking likely voter support for Proposition 8 since equal marriage became legal. Previous polls have been released on May 28, July 18, and September 18. Trends were showing that there was a comfortable advantage to the opponents of the proposition.
Today a new poll was released (pdf). And it is not as encouraging. The No vote has decreased to less 49% and the Yes vote has risen to 44%.
There is mixed wisdom about using polls to predict vote outcome. There are a number of considerations; a few are:
The Bradley Effect. Named after California gubernatorial candidate Tom Bradley, this is the premise that some white voters will tell pollsters that they support a black candidate out of desire to appear politically correct even though they will, out of prejudice, vote for the white alternative. Although Bradley held a significant lead in most polls, he lost the election to George Deukmejian.
The Default No. There is a presumption that voters who are uncertain about propositions will vote no by default. While there are not likely to be many voters who are unaware of Proposition 8, the default no could impact some of those who are undecided.
The poll also revealed other relevant information about voter demographics. Most of it is about at expected. But the most important determinant will be the extent to which Obama voters turn out at the polls on Tuesday – early voters are expected to trend against us.
Campaign Websites Against Marriage Bans Suffer Cyber Attacks
Jim Burroway
October 30th, 2008
No on Prop 8 in California and Red and Blue in Florida both report that they have experienced coordinated denial-of-service attacks on their web sites in an apparent attempt at disrupting their online fundraising activities.
California's No on Prop 8′s website began experiencing a denial-of-service attack on Wednesday afternoon, and eventually brought the site down by Wednesday evening. The attack began just after No on Prop 8 issued a fundraising appeal ahead of the final push this weekend. Technicians for No on Prop 8 implemented hardware and software upgrades and were able to bring the website back online by Thursday morning.
According to Wired:
Geoff Kors, a spokesman for No on Prop 8, declined to speculate on who was behind the attack but had no kind words for the Yes on Prop 8 group.

"I haven't seen the other side condemn the attack, which speaks volumes about the kind of campaign they have run and who they are as people," Kors said.
The Secret Service is investigating.
The attack on Florida's Red and Blue campaign against amendment 2 came on Thursday morning, which is a a particularly sensitive time because state law requires that fundraising end in that state at midnight Thursday. From the Florida Red and Blue campaign:
"With voters already casting ballots, the Internet is the quickest means our supporters have to donate and help defeat this unnecessary amendment," said Derek Newton, Florida Red and Blue campaign manager. "Every minute our site is down not only loses us money but costs us votes."
Denial of Service attacks work by sending floods of fake requests to a website for web pages in an attempt to overwhelm the website's server. As the server is wasting its resources responding to these fake requests, legitimate access from real users aren't able to get through. Attackers often use a network of computers compromised by viruses and trojan horses — often without the knowledge of the computer's owner — to send large amounts of traffic simultaneously from multiple locations.
Update: It appears that Arizona's No On Prop 102 web site was not targeted. It has been operating normally throuhout this period.
LaBarbera Award: Brad Dacus
Jim Burroway
October 30th, 2008
According to Godwin's Law their argument officially lost. It's the last act of desperation when someone who can no longer make a cogent argument invokes the Hitler analogy — and twelve million deaths to go with it — to fight a political proposition. But that's what Brad Dacus did.
In this video, you can hear Dacus, president of the Pacific Justice Institute, invoke the specter of Adolph Hitler in rallying for the passage of Proposition 8:
It's about the time. The time is now.

There was another time in history when people, when the bell tolled. And the question was whether or not they were going to hear it. The time was during Nazi Germany with Adolf Hitler.

You see he brought crowds of clergy together to assure them that he was going to look after the church. And one of the members, bold and courageous, Reverend Niemoller made his way to the front and (inaudible) said "Hitler, we are not concerned about the church. Jesus Christ will take care of the church. We are concerned about the soul of Germany."

Embarrassed and chagrined, his peers quickly shuffled him to the back. And as they did Adolf Hitler said, "The soul of Germany, you can leave that to me."

And they did. And because they did bombs did not only fall upon the nation of Germany, but also upon the church and their testimony to this very day. Let us not make that mistake folks. Let us hear the bell! Vote on Proposition 8!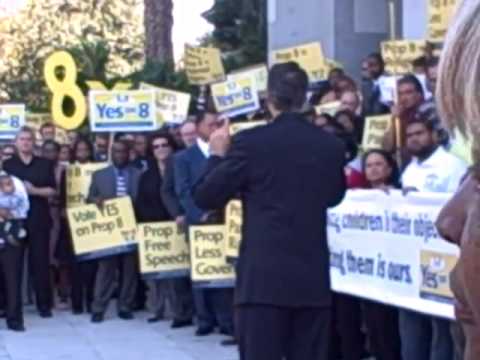 Is there a greater desecration to the memory of twelve million dead souls than to equate their senseless deaths with loving couples in California who wish to marry?
Disgusting. Which is why Brad Dacus is our latest LaBarbera Award winner.
Yes on 8 Refuses to Talk to Parents of the Children Whom they Feature in their Ad
Timothy Kincaid
October 30th, 2008
I told you of Yes on 8′s decision to use children in their anti-gay marriage ads without the permission of their parents.
It is now official. Yes on 8 Campaign manager, Frank Schubert, is a foul and disgusting person.
From the Sacramento Bee:
Then the parents went to Schubert's office at Schubert Flint Public Affairs at 14th and L. "I've heard he's a father," said one parent. "I want to ask him how he would feel if his children were manipulated like this." She wanted to appeal to him as a moral human being. "This is our last hope," she said.

Neither Schubert nor others in his office would speak to the two parents. Schubert's office called security and a guard escorted them out of the building.
This is Frank Schubert.
I did not look for nor did I post pictures of his children or tell you where they live. That's the difference between me and Schubert.
Governator Recommends NO
Timothy Kincaid
October 30th, 2008
California Governor Arnold Schwarzenegger has released his positions on the State's propositions. Consistent with what he has previously said, Schwarzenegger recommends a No vote on Proposition 8.
I, for one, would like to see him follow through on his commitment to "always be there" in opposition. But I trust that the No on 8 Campaign is working with his office to present the message that will be most effective.
Secret Prop 8 Donor Revealed
Timothy Kincaid
October 30th, 2008
A few days ago the Yes on 8 campaign announced
"Through the grace of God, one of our most fervent supporters has agreed to make a sacrificial gift to match, dollar for dollar, whatever you and others can donate, up to a total of $1 million. That means that every dollar you give will buy two dollars in advertising time.
But they declined to identify the donor.
Now the No on 8 Campaign has identified the secret donor.
Alan Ashton, of Lindon, Utah, a Mormon and grandson of David O. McKay, President of the Mormon Church from 1951-1970. Ashton made his fortune in software.
Well now there's a shocker. A Utah Mormon.
Update: That software that Alan Ashton made his fortune in? Wordperfect. Ashton is one of the company's co-founders.  This matches Bruce Bastian's donation of $1 million. Bastian is the other Wordperfect co-founder.
Tiny Newspaper Editorial Against Prop 8
Timothy Kincaid
October 30th, 2008
The city of Gonzales, CA is a tiny dot on the map between Salinas and Soledad, population about 7,500. It's a agricultural town with some picturesque achitecture which rather amusingly touts itself as "The Wine Capital of California".
And the hometown paper, the Gonzales Tribune, with a readership of about 650 may be the smallest paper I've heard of. But if the editorial by Richard Sitts is any indication of the attitude of at least some in small-town rural California, then I'm encouraged.
Last Saturday I ran a few errands over near the coast. In Seaside at an intersection near the big box stores, supporters of Prop. 8, the anti-gay marriage amendment, held up their signs while some vehicles honked their approval. I didn't notice anyone in opposition as I drove by. On my way out of town, opponents of Prop. 8 were waving their signs at another busy intersection. While waiting for the light to turn, I watched two drivers slow down to angrily yell at the Prop. 8 opponents. I don't believe the government should legislate our personal lives so I will vote No on Prop. 8. Also, the pro-Prop. 8 television ads are full of lies and they're shamelessly using children to promote those lies. I've had it; I'm sick and tired of being lied to.
Me too
Yes on 8′s Appeal to Bigotry
Timothy Kincaid
October 30th, 2008
I saw the latest advertisement in favor of Proposition 8 on TV last night and was struck by the change in message. Perhaps tired of newspapers running editorials accusing them of lying in their ads, this one made no pretense of presenting facts. It appealed purely to homophobic emotion.
Transcript:

Same-sex marriage… have you really thought about it?
What it means when gay marriage conflicts with our religious freedoms…
Why it was forced on us by San Francisco Judges when gay domestic partners already have the same legal rights…
What it means when our children are taught about it in schools…
Have you though about what same-sex marriage means…
(small girl:) to me?
Think about it.
Voting Yes restores traditional marriage.
Yes on Proposition 8.
This ad makes no argument as to why same-sex marriage is not desireable to society. It simply asks the listener to dredge up any misconceptions, stereotypes, or animus that may be buried in their subconscience and let fear – not fact or reason – be their guide. It is an appeal to bigotry in its most naked form.
A Personal Plea Against Prop 102
Jim Burroway
October 30th, 2008
Karen Kressley live in the retirement community of Green Valley, AZ. She and her husband raised four children in what she calls a "heterosexual home environment." Except one of their boys wasn't heterosexual. At age 16, he tried to take his own life. He survived, and in counseling a few weeks later, he came out as gay, and had felt this way since he was five or six:
My mind flashed back to little girl crushes I'd had on boys in the early 1950s. I did not have to keep these feelings a secret. Now, I realized, our son had been holding his feelings secret for a long time, while trying to pretend to himself and to us that he could be straight.

Our ignorance nearly cost us the life of our child. Regrettably, the message our son received in his "heterosexual home environment" was a distinct "Only Straight People Accepted Here." My husband and I had so much to learn and unlearn.
The tragedy of Prop 102 is that it reinforces that same message on a wider scale: only straight people accepted here.
I am appalled by Proposition 102, a second attempt (a similar initiative failed in 2006) to single out our GLBT citizens of Arizona for exemption from living out their dreams… The sin is not in whom one loves. The sin is with those who want their narrowly defined religious beliefs enshrined in the Arizona Constitution.

Proposition 102, if passed, will set a dangerous precedent and will only further serve to marginalize our equally deserving GLBT citizens.
We are down to our last week. Please give as generously as you can.
Proposition 8 DOUBLES its Newspaper Endorsements
Timothy Kincaid
October 29th, 2008
As of today, Proposition 8 has the endorsement of twice as many newspapers as yesterday bringing its total up to two.
Previously we told you that the Paradise Post (circulation 8,000) had endorsed the proposition. Now we read that the Los Altos Town Crier has added its name to the list.
As for their reasoning… well, let's just say that it demonstrates a shallowness of investigation into the facts and an ignorance of the role of the judiciary. They also seem startlingly unaware of actions taken by the legislature towards the legalization of same-sex marriage.
Yes on Proposition 8. We think it is time to stop the courts from making our laws. That's why we elect a representative government. The ripple effect of letting the current court ruling legalizing gay marriage stand will be endless lawsuits, especially regarding tax-exempt status for churches and educational institutions.
With a circulation of 16,500, the supporters of Proposition have tripled the number of citizens that will read a supportive editorial on Prop 8.
San Diego Biotech Companies Fear Prop 8
Timothy Kincaid
October 29th, 2008
According to San Diego Union-Tribune, 22 executives of biotech companies in the San Diego area are seeking to get their trade organization to officially oppose Proposition 8. They fear that Massachusetts could steal away valuable researchers and highly skilled employees, appealing to their desire to live in a more tolerant environment.
"Our industry is vitally important to San Diego and we cannot allow other states become more appealing to our talented work force," the executives said. "In today's economy we cannot afford to lose the potential of a single job or company."
Sadly, the appeal may be too late. The board of Biocom has already met on endorsements and did not take a polition on any propositions. However, a board member did indicate that Prop 8 is not welcomed by their industry.
"We are working at the cutting edge of biomedical knowledge and we should be as open-minded as possible," Xanthopoulos said. "Biotechnology companies are supposed to be agile, flexible, creative, innovative and committed to thinking out of the box. All these things don't line up with Proposition 8. They are exactly to the contrary."
NorCal Radio Station Refuses to Run Yes on 8 False Advertising
Timothy Kincaid
October 29th, 2008
Per the Eureka Times-Standard, KHUM radio decided not to run an ad supporting Proposition 8
"It really had to do with the content of the ad itself, and not the issue," KHUM General Manager Patrick Cleary said of his decision not to run the advertisement. "I think they were saying that they were going to be teaching homosexuality in kindergarten. It was a fear-mongering ad, and we sent it back and asked them to re-submit a different one."
This is not a decision that was without sacrifice
Trask said it is very rare for the station to turn down an advertisement, as KHUM has a tight operating budget and needs all the revenue it can get.

"We're not really in the financial position to turn down advertising," he said. "Generally speaking, when people approach us to buy advertising content, we sell it to them."
They offered to run an ad that dealt with the real issues of the case and was not based on fear tactics and falsehood but the Yes on 8 Campaign had no interest in pursuing such advertising.
I wish that more media would place civic responsibility above profit and refuse to run advertising that is blatantly false and intentionally deceptive, no matter the campaign, candidate, or issue. But, if they did that, poor Yes on 8 would have none of their commercials on the air.
The Clear Facts about Proposition 8 and Schools
Timothy Kincaid
October 28th, 2008
Writing for Jurist (a publication of the University of Pittsburgh School of Law), Douglas NeJaime, the Sears Law Teaching Fellow at the Williams Institute at UCLA School of Law, explains in clear and easily understood language exactly why the claims by Yes on 8 about schools having to teach about gay marriage are false.
First, school curriculum is an intensely local decision. Local school boards, elected by local residents, create, revise, and implement curriculum. While public schools must teach core subjects and ensure that students attain a certain level of competence, they enjoy a tremendous amount of discretion. Nowhere is that discretion more expansive than in the domain of health and sex education. In fact, schools in California may decide to provide no such instruction whatsoever. If schools do offer sex education, the California Education Code requires that schools teach "respect for marriage and committed relationships." But even this statutory provision is silent as to what that instruction should (let alone must) include. Instead, local school districts may include what they like, based on parental feedback, teacher input, and the decisions of politically accountable local officials. Some school districts have for years included material on lesbians and gay men, while many others have omitted such material. That variation will not change (and has not changed) in light of the ability of same-sex couples to marry in California. Schools will continue to exercise their broad discretion and will not operate under any new mandates. Furthermore, parents in California enjoy the right to exempt their children from sex education. This right to opt out will continue to exist, meaning that children won't receive sex education (gay-inclusive or not) to which their parents object.
He also explains why the claims based on Parker v. Hurley (the King and King ad) are untrue.
At the onset of this campaign I was willing to believe that the Yes on 8 Campaign was sincere and that their ads reflected their beliefs. However, as more and more evidence builds up it has become increasingly obvious that they have abandoned all efforts at honesty and now are flat-out lying.
Education is not the focus of the ads because the supporters are unclear about the law or because they truly believe that schools will undermine parental and community control. As Marcos Breton revealed in an article about Yes on 8′s strategist:
In August, Schubert was excited at the subversive idea of using gay people in his ads – gay people who he claims oppose same-sex marriage. But he decided that was too risky.

Instead, Schubert found his inspiration at a Southern California focus group meeting in early September when an African American man – and Barack Obama supporter – reacted angrily to the idea of gay marriage being taught to kids in public school.

Ever since, Schubert has hammered at that idea in slick commercials with ominous music. "The things that people in politics don't always appreciate is the power of human emotion," he said.
Box Turtle Reader Writes
Timothy Kincaid
October 27th, 2008
Ben in Oakland is a frequent commenter here on the Box Turtle Bulletin. He has also taken the time to pen a very compelling personal argument against Proposition 8. It is printed today in the Eureka Reporter:
We're not a threat to anyone or anything. Nor is our marriage. We're just Ben and Paul. And we want to stay married.
Ben doesn't argue about schools or churches or the falsity of Yes on 8′s latest wacky claim. He talks about his life and his marriage and what it means to him and his family.
Gay people and straight people are pretty much alike, including such matters as romance, family, marriage and religion. And why shouldn't we be? We're your relatives and friends. We're you. Are we not human enough, not citizens enough, to grant us the right to marry? We want for us and our families exactly what you get from our government: the same respect and equality before the law that you demand for yourselves. That's it. Our lives and families are as valuable as yours. You don't have to approve of gay people or be a part of our lives. We aren't attacking your families, faith or civil rights, nor preventing them from being legally protected. Can you say the same about yourselves?

We want to take nothing from you. We want only the same rights and protections that you have. Nothing more — and nothing less.
There are dozens and dozens of newspapers across this state. And a well written opinion – or even a letter to the editor that appeals to the reader in a personal way – can make a difference in a vote. And often papers, especially local or smaller circulation papers, are happy to include a thought provoking piece that they don't have to fit into a deadline.
Ben has very generously offered to let our other readers steal his work or take what they can use if they will only help spread the message. Please consider if you can either write your own letter – or borrow Ben's – and help change a heart and mind.
San Diego City Council Opposes Proposition 8
Timothy Kincaid
October 27th, 2008
The Union-Tribune reports
The San Diego City Council voted 6-2 on Monday to oppose Proposition 8, the Nov. 4 state ballot measure that would institute a constitutional ban on same-sex marriages.
In September of last year, the city voted to file a friend of court brief with the state Supreme Court to overturn the prohibition on gay marriage. At that time it was expected that Jerry Sanders, the city's Republican mayor, would veto the vote. But instead he tearfully expressed his love for his lesbian daughter and his support for marriage equality.