Today Is The Day
Jim Burroway
November 4th, 2008
You know what to do.
Not Many Get TheCall
Timothy Kincaid
November 3rd, 2008
An evangelical fast and prayer-meeting was planned for Saturday in San Diego. Part of a movement named TheCall, they hoped for an attendance of 70,000 and planned to fill Qualcomm Arena to pray for the success of Propositions 4 and 8 and other spiritual matters.
But the crowd didn't appear. Karen Ocamb reports
If TheCall organizers hoped to fill Qualcomm Stadium, which holds 71,000 people, their expectations fell far short. A public relations person associated with TheCall reported 33,000 participants, based on "clickers" recording people coming through the gates. However, two journalists independently concluded that there were no "clickers" at the main entrance. The two journalists guesstimated the crowd at between 10,000-15,000 people.

A Latino Yes on 8 participant, who works at Qualcomm Stadium, placed the crowd count at around 5,000 and called the event "a failure." And since many of TheCall participants flew in for the rally and not to help pass Prop 8, the effect of the rally is uncertain, at least in the short run.
A picture taken by the San Diego Union-Tribune (above) shows a nearly empty stadium. But they acknowledge the difficulty estimating the attendence at the event.
Organizers estimated there were 33,000 people inside the stadium by 3:30 p.m., but a crowd count was difficult to obtain because attendees could come and go throughout the day. Although a cluster remained in front of the stage as the hours passed, the stands, which can hold 71,000 people, never looked more than one-third full.
Celebs Oppose Prop 8
Timothy Kincaid
November 3rd, 2008
On October 15 I posted an open letter to Madonna… which proved to be one of my least popular posts. Some readers felt that celebrities have no obligation to make any contribution towards keeping discrimination out of the California Constitution, whether or not they live here and have been disproportionately enriched by gay fans. Others felt that Madonna was too busy, that the "tactic" was distasteful, or that gay equality isn't really her battle to fight.
Certainly few seemed to agree with my decision to base my concert purchasing decisions on whether the artist – who had taken a good deal of money from me and my friends – cared about my equality. And perhaps those who did agree felt that I should not have expressed my intention in quite to direct a manner.
Since that time, several celebrities have stepped up and made contributions, either financially or through public endorsement. Some, like Cher and Eric McCormack, have a significantly gay fanbase and others, like Samuel L. Jackson and John Cho, may not be as closely associated with the gay community. But many do seem willing to put their money and their image to good use in fighting this discriminatory effort.
And now a report from Madonna's concert on Saturday in Oakland says the following:
Madonna also got in a plug for voting "no" on Prop. 8, and her suggestion was approved by acclimation.
It's not likely that there were very many of the 20,000 Madonna fans in attendance that night who were planning on voting Yes on the proposition. But if she was able to remind the attendees to vote and to make Prop 8 a priority, then I am very appreciative.
And although Madonna hasn't given any of her own personal half billion, the company that put on her tour, Live Nation, contributed $50,000 to No on 8 so some of the money flowed back.
Interestingly, Washington Blade's Kevin Naff, had this to say last week.
There are too many wealthy celebrities out there — Rosie, Kathy Griffin, Madonna to name three — who rely almost exclusively on gay support for their livelihood. It's time to give something back.
Let's hope and pray that Tuesday's vote will endorse equality in California, Arizona, and Florida and it will turn out not to have mattered.
Latest SurveyUSA Poll Slightly Positive
Timothy Kincaid
November 3rd, 2008
SurveyUSA has been polling discouragingly for the past month:
Yes 47%
No 42%

Yes 48%
No 45%
Today SurveyUSA released a poll that shows the proposition to be slightly failing.
Yes 47%
No 50%
I don't place too much faith in SurveyUSA. However, I am encouraged that their polling is showing a trend towards a No vote.
LA Times Debunks Yes on 8's Myths
Timothy Kincaid
November 2nd, 2008
A new LA Times editorial reviews the claims made by the Yes on 8 Campaign and reveals their lies.
Clever magicians practice the art of misdirection — distracting the eyes of the audience to something attention-grabbing but irrelevant so that no one notices what the magician is really doing. Look over at that fuchsia scarf, up this sleeve, at anything besides the actual trick.

The campaign promoting Proposition 8, which proposes to amend the state Constitution to ban same-sex marriages, has masterfully misdirected its audience, California voters. Look at the first-graders in San Francisco, attending their lesbian teacher's wedding! Look at Catholic Charities, halting its adoption services in Massachusetts, where same-sex marriage is legal! Look at the church that lost its tax exemption over gay marriage! Look at anything except what Proposition 8 is actually about: a group of people who are trying to impose on the state their belief that homosexuality is immoral and that gays and lesbians are not entitled to be treated equally under the law.

That truth would never sell in tolerant, live-and-let-live California, and so it has been hidden behind a series of misleading half-truths. Once the sleight of hand is revealed, though, the campaign's illusions fall away.
Ann Landers Posthumously Opposes Prop 8
Timothy Kincaid
November 2nd, 2008
Margo Howard is the daughter of Eppie Lederer, the woman who wrote for 47 years as Ann Landers. Howard has written a column opposing Proposition 8, invoking her mother's name.
While I seldom try to speak for her, I know for a certainty that she would have encouraged all the people who ever wrote to her looking for guidance to vote no on Proposition 8. I know this because she was all about equality, dignity and rights. While she would have respected those who took the Bible literally, she also would have invited them to live according to their principles, and allow others to do the same. So if, per chance, before you vote you might wonder what your old friend Ann Landers would advise, remember her lifelong devotion to fairness, open-mindedness and love.
New York Times on Proposition 102
Jim Burroway
November 1st, 2008
The New York Times looked into Arizona's Proposition 102, noting that this is the second time in two years in which Arizona voters are being asked to vote on a so-called "marriage amendment."
Religious conservatives were deeply embarrassed when Arizona became the first in the nation to say no to divisive politics, so they're throwing everything they have to keep from being embarrassed a second time — turning this year's attempt into an almost wholly Mormon-funded and managed campaign, driven by their rather unique beliefs in "Celestial Marriage."
Prop 102 supporters claim that the marriage amendment is needed to "protect marriage from activist judges." What they fail to say however is that Arizona's "activist judges" already ruled on this. The Arizona Supreme Court, as recently as 2004, already ruled on Arizona's 1996 state law which already defines marriage as being between one man and one woman, and unanimously upheld that law. From the Times article:
"Their claim that we have to protect marriage from attack is ridiculous, because there's no such attack," said State Representative Kyrsten Sinema, a Phoenix Democrat and chairwoman of Arizona Together, which opposes Proposition 102. "It's a fake threat."
The LDS church has played a predominant role in fundraising for the "yes" campaign, and their massive coffers threaten to completely re-shape politics in Arizona. Opponents to Prop 102 are being outspent by more than 10-to-1. While many activists are feeling abandoned by national LGBT activists in this second battle, many of us are still optimistic:
Still, many gay rights activists in Arizona are hoping for a repeat of 2006, when most everyone was surprised by the defeat of the effort to bar same-sex marriage.

Jason Cianciotto, the executive director of Wingspan, which serves the gay, lesbian, bisexual and transgender community in Tucson, said he vividly remembered watching the 2006 returns come in.

"I called a colleague and I said 'I think we might pull this out,' and she said, 'If we do, I'll eat my hat,' and lo and behold we won," Mr. Cianciotto said of the 2006 vote. "And I look forward to skeptics eating their hats this time as well."
People often dismiss Arizona as a backwards, conservative state. They don't know Arizona. The Arizona brand of conservatism is best exemplified by Mr. Conservative himself, former Sen. Barry Goldwater. He was conservative to his core, a conservatism that valued individual liberty above all else. Remember him saying, "extremism in the defense of liberty is no vice"? He lived it, and was an ardent supporter of equal rights for everyone — and LGBT rights in particular.
"The big thing is to make this country, along with every other country in the world with a few exceptions, quit discriminating against people just because they're gay," Goldwater asserts. "You don't have to agree with it, but they have a constitutional right to be gay. And that's what brings me into it."
That is Arizona.
Bill Clinton Opposes Prop 8
Jim Burroway
November 1st, 2008
On September 21, 1996, President Bill Clinton signed the so-called "Defense of Marriage Act" (DOMA) into law. He then promptly turned around and bought radio ads on Christian radio stations to brag about it during his re-election campaign against Sen. Bob Dole. That betrayal has been a huge source of anger and resentment in the LGBT community towards Clinton ever since then.
This week, the former president made a very big step in making up for that. In a telephone call to California voters yesterday, President Clinton delivered the following message:
"This is Bill Clinton calling to ask you to vote NO on Proposition 8 on Tuesday, November 4th. Proposition 8 would use state law to single out one group of Californians to be treated differently — discriminating against members of our family, our friends and our co-workers.

"If I know one thing about California, I know that is not what you're about. That is not what America is about. Please vote NO on 8. It's unfair and it's wrong. Thank you."
Mormon Mothers Are Fierce
Jim Burroway
November 1st, 2008
From the Salt Lake City Tribune:
Mormon mothers of gay children are staging a candlelight vigil in Salt Lake City to oppose the LDS Church's support of California's proposed gay-marriage ban. Co-hosted by Parents, Families and Friends of Lesbians and Gays (PFLAG), Equality Utah, the Utah Pride Center, the Inclusion Center, Affirmation and the Human Rights Campaign, the event will be held Sunday at 6 p.m. at Library Square, 210 E. 400 South. In a news release, organizers invited all allies and members of the gay, lesbian, bisexual and transgender community — Mormon and non-Mormon — to join the vigil to support civil rights.
If any of you are in the Salt Lake City area, please try to be there and show your support. And let us know how it goes.
Silicon Valley Opposes Prop 8
Timothy Kincaid
November 1st, 2008
Per All Things Digital, an ad will run tomorrow in the San Jose Mercury News with an appeal from leaders in the Silicon Valley to vote No on Proposition 8. In addition to lending their name, many have also financially contributed to oppose the discriminatory effort. The list of individuals participating represents some of the brightest and best in the tech and internet industry.
The Honorary Co-Chairs of the effort are (titles and logos for identification purposes only):


Sergey Brin, Co-Founder, Google
(contributed $100,000; Co-Founder Larry Page contributed $40,000)
Eric Schmidt, CEO, Google

Bill Campbell, Chairman, Intuit
Intuit makes Quicken, QuickBooks and TurboTax

David Filo, Founder, Yahoo
(contributed $15,000)
Jerry Yang, Founder, Yahoo
(contributed $30,000)

Chuck Geschke, Founder and Chairman, Adobe Systems
(contributed $5,000)
Adobe products include Acrobat, Flash, and Photoshop

John Morgridge, Former CEO and Chairman, Cisco Systems
Cisco is the leading supplier of networking equipment and network management for the Internet

Pierre Omidyar, Founder and Chairman, eBay

Sheryl Sandberg, COO, Facebook
In addition to the chairs of the committee, leaders listed in the ad include Barry Cinnamon, CEO, Akeena Solar; Sue Decker, President, Yahoo!; Jack Dorsey, Chairman, Twitter; Evan Williams, CEO, Twitter; Jeff Hawkins, co-Founder Palm, Handspring, and Numenta; Donna Dubinsky, CEO, Numenta; Ken McNeely, President, AT&T California; Susan Packard Orr, CEO, Telosa Software; Amy Rao, Founder & CEO, Integrated Archive Systems; and many many others.
(hat tip www.goodasyou.org)
Field Poll: Proposition 8 Very Close
Timothy Kincaid
October 31st, 2008
The Field Poll has been tracking likely voter support for Proposition 8 since equal marriage became legal. Previous polls have been released on May 28, July 18, and September 18. Trends were showing that there was a comfortable advantage to the opponents of the proposition.
Today a new poll was released (pdf). And it is not as encouraging. The No vote has decreased to less 49% and the Yes vote has risen to 44%.
There is mixed wisdom about using polls to predict vote outcome. There are a number of considerations; a few are:
The Bradley Effect. Named after California gubernatorial candidate Tom Bradley, this is the premise that some white voters will tell pollsters that they support a black candidate out of desire to appear politically correct even though they will, out of prejudice, vote for the white alternative. Although Bradley held a significant lead in most polls, he lost the election to George Deukmejian.
The Default No. There is a presumption that voters who are uncertain about propositions will vote no by default. While there are not likely to be many voters who are unaware of Proposition 8, the default no could impact some of those who are undecided.
The poll also revealed other relevant information about voter demographics. Most of it is about at expected. But the most important determinant will be the extent to which Obama voters turn out at the polls on Tuesday – early voters are expected to trend against us.
Campaign Websites Against Marriage Bans Suffer Cyber Attacks
Jim Burroway
October 30th, 2008
No on Prop 8 in California and Red and Blue in Florida both report that they have experienced coordinated denial-of-service attacks on their web sites in an apparent attempt at disrupting their online fundraising activities.
California's No on Prop 8's website began experiencing a denial-of-service attack on Wednesday afternoon, and eventually brought the site down by Wednesday evening. The attack began just after No on Prop 8 issued a fundraising appeal ahead of the final push this weekend. Technicians for No on Prop 8 implemented hardware and software upgrades and were able to bring the website back online by Thursday morning.
According to Wired:
Geoff Kors, a spokesman for No on Prop 8, declined to speculate on who was behind the attack but had no kind words for the Yes on Prop 8 group.

"I haven't seen the other side condemn the attack, which speaks volumes about the kind of campaign they have run and who they are as people," Kors said.
The Secret Service is investigating.
The attack on Florida's Red and Blue campaign against amendment 2 came on Thursday morning, which is a a particularly sensitive time because state law requires that fundraising end in that state at midnight Thursday. From the Florida Red and Blue campaign:
"With voters already casting ballots, the Internet is the quickest means our supporters have to donate and help defeat this unnecessary amendment," said Derek Newton, Florida Red and Blue campaign manager. "Every minute our site is down not only loses us money but costs us votes."
Denial of Service attacks work by sending floods of fake requests to a website for web pages in an attempt to overwhelm the website's server. As the server is wasting its resources responding to these fake requests, legitimate access from real users aren't able to get through. Attackers often use a network of computers compromised by viruses and trojan horses — often without the knowledge of the computer's owner — to send large amounts of traffic simultaneously from multiple locations.
Update: It appears that Arizona's No On Prop 102 web site was not targeted. It has been operating normally throuhout this period.
LaBarbera Award: Brad Dacus
Jim Burroway
October 30th, 2008
According to Godwin's Law their argument officially lost. It's the last act of desperation when someone who can no longer make a cogent argument invokes the Hitler analogy — and twelve million deaths to go with it — to fight a political proposition. But that's what Brad Dacus did.
In this video, you can hear Dacus, president of the Pacific Justice Institute, invoke the specter of Adolph Hitler in rallying for the passage of Proposition 8:
It's about the time. The time is now.

There was another time in history when people, when the bell tolled. And the question was whether or not they were going to hear it. The time was during Nazi Germany with Adolf Hitler.

You see he brought crowds of clergy together to assure them that he was going to look after the church. And one of the members, bold and courageous, Reverend Niemoller made his way to the front and (inaudible) said "Hitler, we are not concerned about the church. Jesus Christ will take care of the church. We are concerned about the soul of Germany."

Embarrassed and chagrined, his peers quickly shuffled him to the back. And as they did Adolf Hitler said, "The soul of Germany, you can leave that to me."

And they did. And because they did bombs did not only fall upon the nation of Germany, but also upon the church and their testimony to this very day. Let us not make that mistake folks. Let us hear the bell! Vote on Proposition 8!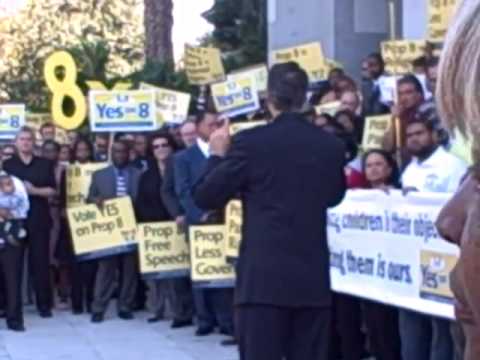 Is there a greater desecration to the memory of twelve million dead souls than to equate their senseless deaths with loving couples in California who wish to marry?
Disgusting. Which is why Brad Dacus is our latest LaBarbera Award winner.
Yes on 8 Refuses to Talk to Parents of the Children Whom they Feature in their Ad
Timothy Kincaid
October 30th, 2008
I told you of Yes on 8's decision to use children in their anti-gay marriage ads without the permission of their parents.
It is now official. Yes on 8 Campaign manager, Frank Schubert, is a foul and disgusting person.
From the Sacramento Bee:
Then the parents went to Schubert's office at Schubert Flint Public Affairs at 14th and L. "I've heard he's a father," said one parent. "I want to ask him how he would feel if his children were manipulated like this." She wanted to appeal to him as a moral human being. "This is our last hope," she said.

Neither Schubert nor others in his office would speak to the two parents. Schubert's office called security and a guard escorted them out of the building.
This is Frank Schubert.
I did not look for nor did I post pictures of his children or tell you where they live. That's the difference between me and Schubert.
Governator Recommends NO
Timothy Kincaid
October 30th, 2008
California Governor Arnold Schwarzenegger has released his positions on the State's propositions. Consistent with what he has previously said, Schwarzenegger recommends a No vote on Proposition 8.
I, for one, would like to see him follow through on his commitment to "always be there" in opposition. But I trust that the No on 8 Campaign is working with his office to present the message that will be most effective.