LaBarbera Award: Brad Dacus
Jim Burroway
October 30th, 2008
According to Godwin's Law their argument officially lost. It's the last act of desperation when someone who can no longer make a cogent argument invokes the Hitler analogy — and twelve million deaths to go with it — to fight a political proposition. But that's what Brad Dacus did.
In this video, you can hear Dacus, president of the Pacific Justice Institute, invoke the specter of Adolph Hitler in rallying for the passage of Proposition 8:
It's about the time. The time is now.

There was another time in history when people, when the bell tolled. And the question was whether or not they were going to hear it. The time was during Nazi Germany with Adolf Hitler.

You see he brought crowds of clergy together to assure them that he was going to look after the church. And one of the members, bold and courageous, Reverend Niemoller made his way to the front and (inaudible) said "Hitler, we are not concerned about the church. Jesus Christ will take care of the church. We are concerned about the soul of Germany."

Embarrassed and chagrined, his peers quickly shuffled him to the back. And as they did Adolf Hitler said, "The soul of Germany, you can leave that to me."

And they did. And because they did bombs did not only fall upon the nation of Germany, but also upon the church and their testimony to this very day. Let us not make that mistake folks. Let us hear the bell! Vote on Proposition 8!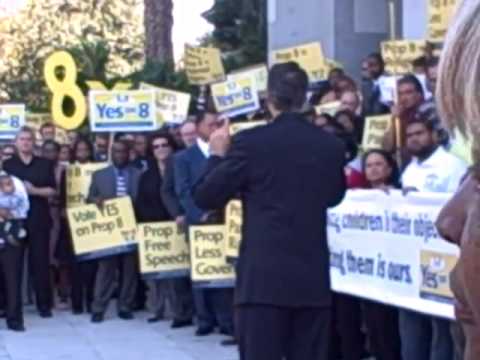 Is there a greater desecration to the memory of twelve million dead souls than to equate their senseless deaths with loving couples in California who wish to marry?
Disgusting. Which is why Brad Dacus is our latest LaBarbera Award winner.
Comments