Tel Aviv Gay Center Faces Threats
Jim Burroway
August 21st, 2009
The Tel Aviv LGBT center, site of this month's horrific shooting spree, has reopened under the protection of an armed guard, among other security measures. The center's leaders have continued to receive death threats, with the latest coming from an Orthodox Jewish web. A writer for that web site told the Ha'aretz newspaper that the "perverts" who manage the gay center "should be forced to face a firing squad." His remarks came in response to a controversial unsigned letter posted on that web site calling on authorities to arrest the center's leaders for "the acts they carried out on minors behind the walls of that club of perversion".
Thousands Defy Threats To Rally In Tel Aviv
Jim Burroway
August 9th, 2009
About 25,000 people rallied in Tel Aviv's Rabin Square Saturday night to remember the victims of last week's shooting spree at an LGBT youth center that left two people dead and injured about a dozen others. The rally took place despite threats of more violence:
The rally was preceded by a number of threats against the gay community. Earlier Saturday, a soldier in the Israel Defense Forces' Nahal Haredi unit was arrested on suspicion that he had threatened rally organizers on an online forum.

While in custody, the soldier confessed to making the threats.

Meanwhile, operators of transportation to the Tel Aviv rally received telephone threats from an anonymous caller who warned that grenades will be hurled at attendants of the rally.

Barak Atar, the head of the Gay, Lesbian, Bisexual and Transgender (GLBT) chapter in Be'er Sheva, who organized transportation from the southern city to Tel Aviv for the rally, said that "at 2 P.M. we got a call from someone asking where the pickup for the ride to the rally was. We answered him and asked if he was coming, and he said 'I'll be there – with grenades.'"
Another bus organizer in Be'er Sheva as well as one in Haifa reported similar threats of grenade attacks. Police are investigating the source of the calls.
The threats didn't appear to dampen the rally. Tel Aviv Mayor Ron Huldai opened the rally with a speech that paraphrased Harvey Milk's famous quote, "If a bullet should enter my brain, let that bullet destroy every closet door." Mayor Huldai called for a wider impact of those bullets in Tel Aviv, saying, "We must legislate and call out loudly: No more incitement. We would like today for the bullets that pierced Liz and Nir to be the bullets that break through the walls of hatred and ignorance in our society."
Israel President Shimon Peres also spoke at the rally. He called Israel "the nation of 'Thou shalt not kill'" and added "Those shots hurt us all, as Jews and as Israelis." Other speakers included two who were injured during the attack:
Uri Gil, who was injured during the attack on the center, took the stage at the rally together with his friend Chen Langer and said, "That place was a warm and loving home for them and they met wonderful people there."

"This past week I have been haunted by nightly fear, especially when I think that the murderer is walking around out there," he added. "No murderer will keep us in the closet."

Chen Langer, a youth counselor at the center who was also injured in the attack, arrived in a wheelchair and spoke after Gil. "This is the day in which we cease to be silent, to hide, and to alter the appearance of reality."

Langer tearfully added, "The home that was a place of security for youths became a slaughterhouse of youths."
Also attending the event were Education Minister Gideon Sa'ar, Culture and Sport Minister Limor Livnat, and openly gay Knesset member Nitzan Horowitz. Several musicians performed at the rally, including Rita, Dana International, Ninet Tayeb, Amir Fay Guttman, Keren Peles, Corinne Alal and Ivri Lider. The rally was organized by Gal Uchovsky, a gay film producer and TV personality.
On Thursday, Israel's Prime Minister Benjamin Netanyaho visited the re-opened LGBT center, where he said the attack "bears the mark of terrorism":
The idea of someone entering a youth club and beginning to commit serial murder – it bears the markings of a terror attack," he said.

The premier said he believed stereotyping and denigrating people was wrong and unacceptable.

"We are all created in God's image. We all have fundamental rights, the first of which is to be treated with respect by others and give [them] the same respect," he said.

"Anyone who has suffered from baseless hatred, as an individual or in a group, knows how painful and unacceptable it is. This is something we must uproot from society as much as possible," he added. "I think Israeli society has made progress toward tolerance, and I hope and feel certain that we can make further progress."
Two were killed in last weekend's attack on the Tel Aviv LGBT center, which was conducting a support meeting for gay youth. The dead were identified as 26-year-old Nir Katz from Givatayim, who was a counselor at the center, and 17-year-old Liz Trubeshi from Holom, who was attending the LGBT youth support meeting as a straight ally. They were killed when a lone gunman dressed in black and wearing a black mask entered the center and sprayed the meeting room with bullets from an automatic weapon. The gunman then fled on foot. Despite a city-wide manhunt, he has not been found.
Police Say They Have A Lead in Tel Aviv Killings
Jim Burroway
August 2nd, 2009
Ha'aretz says police believe they have a lead in the manhunt for the Tel Aviv killer, and in the process are trying to downplay the possibility of a hate crime:
This tip has to be examined very carefully. We are still at an early stage in the investigation, and it's too soon to say if this supposition is going to materialize," police sources said. Besides homophobia, another direction under investigation is that of a personal feud, they added.

Some of the sources criticized the reaction of the leaders of the gay, lesbian, bisexual and transgender community, who police say rushed to make declarations about incitement being the cause of the murders of the two victims.

"They were too quick with the rallies and the slogans. It's not at all clear – the motive for the attack may have been personal, rather than a general targeting of the community," a senior Tel Aviv police source told Haaretz.
Meanwhile, friends and relatives gathered for the funeral of Nir Katz, the 26-year-old youth counselor at the LGBT center. The other victim, 16-year-old Liz Trubeshi was also laid to rest today. Liz's friends say that she was active in the gay youth organization as a supportive ally, even though she was not a lesbian herself.
Meanwhile, hundreds turned out for a rally in Tel Aviv Sunday afternoon to protest the shooting. Opposition leader Tzipi Livnie told the mourners, "We need to give strength to the child who comes to his parents and says: 'I am gay,' or 'I am a lesbian;' and this day needs to give the strength to everyone in the gay community to live their lives."
The Knesset will hold a special plenum debate on the attack Monday.
"Not Terrorism"
Jim Burroway
August 2nd, 2009
That's what this Associated Press video says: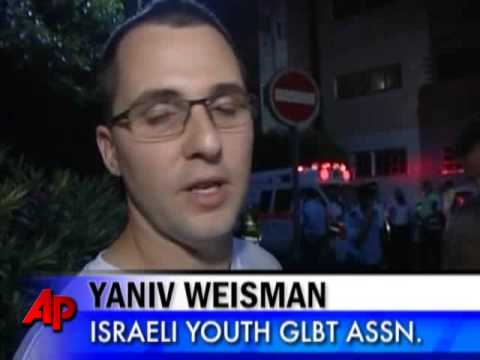 Other outlets earlier made the same claim, although many have gone back and re-edited their stories so that they now say that it appears to be criminal and not nationalistic, although I don't know how they can claim that since we don't know who the attacker was. He may still turn out to be an Israeli nationalist.
Okay, I get the police's trying to distinguish this act from a terrorist act by Hamas or Hezbollah or another Palestinian/Muslim radical group. But come on. Are Arabs and Muslims the only ones we're allowed to call terrorists? Is saying that it's "not terrorism" supposed to reassure Israeli citizens that this was a targeted attack on gays and not Jews? What about the Jews who were targeted and died in this attack? What about the Jews who marched in the streets last night to mourn their deaths? And what about the Jewish families this morning who now have to bury their children? Don't they count?
This exercise of trying to say that this was not terrorism cheapens the lives of Nir Katz and Liz Trubeshi, who died in the spray of automatic gunfire at an LGBT community center in Tel Aviv. It insults their families trying to grapple with the reasons their too-young loved ones were singled out for this attack. And it denies the impact that this is having in the LGBT community around the world, let alone the grieving community in Tel Aviv.
We don't know the attacker's identity. But we do know that a gunman — dressed in black, wearing a black ski mask and carrying an assault weapon — targeted a place of refuge for LGBT youth who were peacefully gathering for mutual camaraderie and support in the face of discrimination and prejudice. The attacker found them in that refuge and pumped them full of bullets. Yaniv Weisman, chairman of the Israeli Gay Youth organization, said, "Today, someone sent a message that gays in Tel Aviv and Israel are not safe." That is terrorism. If it isn't then the word needs to be stricken from the English language, for it will have lost all meaning.
Video From Last Night's Tel Aviv Protest
Jim Burroway
August 2nd, 2009
JoeMyGod found this amateur video of last night's spontaneous protest against the Tel Aviv LGBT center massacre. That protest took place just hours after the shooting. Another protest has been called for 5:00 p.m. local time in Rabin Square.
Manhunt In Tel Aviv; President and Prime Minister Condemn Massacre of LGBT Youth
Jim Burroway
August 2nd, 2009
Hundreds of police are swarming the streets of Tel Aviv and surrounding areas, searching for the gunman who shot and killed two youths meeting at an LGBT center Saturday night in what is being described as the worst attack against the LGBT community in Israel. The attack was condemned from Prime Minister Benjamin Netanyahu, President Shimon Peres, opposition leader Tzipi Livni, Tel Aviv mayor Ron Huldai and several others.
The dead were identified as 26-year-old Nir Katz from Givatayim, who was a counselor at the center, and 17-year-old Liz Trubeshi from Holom, who was attending the LGBT youth support meeting. About a dozen more were injured, five  seriously. Ten were still hospitalized Sunday morning. The attack shocked the residents of Tel Aviv, a seaside city that is well-known for its more liberal, tolerant attitudes, and is regarded as a safe-haven for the country's LGBT community. The Jerusalem Post quoted the chairman of the youth organization:
These were teenagers," Yaniv Weisman, chairman of the Israeli Gay Youth organization, told The Jerusalem Post.

With tears in his eyes, Weisman added, "They came to this center from across the country to talk to one another and receive help. This was supposed to be a safe place for them. Someone knew what they were doing when they came here. This is not a pub or a club."

"Today, someone sent a message that gays in Tel Aviv and Israel are not safe," Weisman said.
One 16-year-old victim of the shooting noted that many of the teens at the community center were not out to their families:
"I'm horrified to think that this is the way the parents of some of my friends will find out," Or Gil, who was taken to Ichilov Hospital following a knee and chest injury, told Haaretz.

"At about 10.40 P.M. someone came over, all dressed in black and wearing a black mask," he recounted. "I thought it was a joke at first, but he immediately opened fire. People took cover under the bed and tables, but there were no screams. I hid under a table with someone else. It's a small place; there's just one terrace. Once you're inside, there's nowhere to run."

Gil came to the center every week to take part in activities for teenagers.

"It's for 14- to 21-year-olds," he said. "Teenagers just hang out there, talking and listening to music."

"I love this place," Gil concluded, "but I don't know if I will ever go back there. I want to, but it's too soon to say."
Prime Minister Benjamin Netanyaho, speaking at the Israeli Cabinet's weekly meeting, offered his condolences to the families and condemned the attack:
"I unequivocally condemn the shocking murder," Netanyahu said at the start of the weekly cabinet meeting. "I have spoken with Public Security Minister Yitzhak Aharonovitch and stand by the police in searching for and finding the killer. We will bring him to justice and will prosecute him to the fullest extent of the law."

…"I say to the Israeli people: We are a democratic country, we are a country of tolerance, a country of laws, and we must respect every person, whoever and wherever he is," he said.
President Shimon Peres also condemned what he called "a despicable murder":
President Shimon Peres said in a statement that "the dreadful murder that was committed yesterday in Tel Aviv against teenagers and young people is a murder that a cultured and enlightened people cannot accept."

"Murder and hate are the two most terrible crimes in society," Peres said in a statement. "Police must make a supreme effort to capture the loathsome murderer and the people must join together in condemning this despicable act."
Opposition leader Tzipi Livni also expressed her "sadness and shock" over the murders, adding, "This difficult event must bring society to shake off prejudice, and to accept and recognize the right of every person to live in respect and safety." Tel Aviv mayor Ron Huldai promised that the city would continue to uphold its pluralistic values:
"Tel Aviv has always been a bastion of pluralism, tolerance and openness, and no one will succeed in hurting the city's character," he said. "Our city will continue to be a home for the gay community, and we will fight for the right of every person to live his life in the city according to his beliefs and conscience."
Hundreds of Israelis Protest Attack
Jim Burroway
August 1st, 2009
The night is not yet over, and already Israelis are gathering to remember the victims of this evening's attack on a teen support group at the Tel Aviv Gay and Lesbian Association.
Earlier this evening shortly before 11:00 p.m., two LGBT youth were killed by a lone gunman as they met for a support group an an LGBT community center in Tel Aviv. According to The Jerusalem Post, fifteen others were injured in the attack. Two are in critical condition, and three more are in moderate condition. Army Radio says that one of the dead was a 24-year-old male counselor at the center, and a second victim was a 17-year-old girl. The victims' names have not yet been released. Eyewitness describe the scene at the LGBT community center as "like a slaughterhouse." Despite the shock and horror, people are turning out for a spontaneous rally to protest the violence and commemorate the victims.

One of the marchers identified as Revital told Ynet:
"The feeling is terrifying. We live in a bubble, believing that everything is fine. This is an act of pure unfounded hatred, which leads to the murder of children for being gays and lesbians. It's very sad knowing that it's still so."

The Shas faction condemned the attack, but Revital had harsh things to say against the ultra-Orthodox party. "People like (Shas Chairman) Eli Yishai and (former Knesset Member) Shlomo Benizri openly hared gays and lesbians," she said.
The gunman has not been identified. According to the nationalist Arutz Sheva, the Shas party condemned the attack:
The Shas religious party condemned Saturday night\'s attack on a club of homosexuals. "Murder, understandably, is against the Torah way. Any attack is against the religion of Israel," the Shas party said in a statement.
Apparently, Israel's religious right can be as shameless as many in the American religious right. In an attempt to deflect criticism over Shas' violent anti-gay rhetoric, Shas Knesset Member Nissim Zeev suggested that the gunman may have been gay:
"I am really shocked, but I'm not certain it's because of this population's affiliation. It's possible that the person who fired the shots belongs to the same population."
2 Killed, 15 Wounded In Tel Aviv LGBT Teen Center Shooting Spree
Jim Burroway
August 1st, 2009
Update: The Jerusalem Post has updated its report to indicate that two were killed and fifteen wounded, and not three killed and fourteen wounded as they reported earlier.
The Jerusalem Post has the developing news:
Three people were killed and 14 people were wounded – two seriously, three moderately and the rest lightly – in a shooting at the Bar Noir, a center for youth run by the Tel Aviv gay community, on Saturday night.

According to eyewitnesses, an unidentified assailant dressed in black opened fire from an automatic weapon inside the building, located at the corner of Nahmani and Ahad Ha'am streets, at approximately 10:40 p.m.
Ha'aretz reports:
Witnesses told Israeli television that the black-clad, masked gunman stormed into the Tel Aviv Gay and Lesbian Association building and opened fire in a basement room where gay teenagers were holding a weekly support group. Most of the casualties were minors, a police spokesman said, adding that the assailant was believed to have used an automatic weapon such as an M-16 rifle.
An earlier Ha'aretz report says that the teen meeting typically draws 30 participants. That report continued:
Itzik Dror, a spokesman for the gay and lesbian community, said he was "shocked and shaken" by the event. Another community leader said that all activities for gay and lesbian groups had been suspended. "We thought we were living in a modern country where hate is not the standard," he said.

Gay and lesbian organizations said they will hold an emergency meeting early today to develop policy on community events following the incident.

MK Nitzan Horowitz (Meretz), who is also a gay rights activist, said after arriving at the shooting scene: "This is the most severe event to have hit the gay and lesbian community in the history of the State of Israel. I hope the shooter is caught. I do not want to come out with a statement, but this is a shocking thing."

There were signs that this was a hate crime, he said.
Police have closed all gay bars in the area as a precaution.
Britain's ITN has this coverage:
Police say there were no prior threats directed toward the community center, although the center has experienced anti-gay grafitti including swastikas painted at its entrance.  Ynet reports:
One eyewitness to the shooting said, "The place looked like a slaughterhouse." Another witness said the shooter had worn a mask. Civilians were warned to stay away from the area.

Eyal Amit, a member of the GLBT organization, told Ynet that many of the teens who met at the clubhouse had not yet informed their loved ones of their sexual orientation. "It's a very sensitive situation. What we know is that in order to get here one must come here especially. This was not some random shooting," he said.
Tel Aviv to Build Monument to Gay Holocaust Victims
Jim Burroway
May 1st, 2008
Tomorrow is Yom HaZikaron laShoah ve-laGvura (יום הזיכרון לשואה ולגבורה; "Remembrance Day for the Holocaust and Heroism"), otherwise known as Holocaust Remembrance Day. It's a national holiday in Israel, where the people of that nation remember the six million Jews who perished during World War II.
Jews, of course, weren't the only victims of the holocaust, although they were the principle ones. Others caught up in the Nazi's reign of terror included a quarter of a million gay men and women, tens of thousands of whom were murdered by the Nazis. Those numbers may be a drop in the bucket out of the twelve million victims of all races, creeds and nationalities, but the Nazis did set aside a special category of treatment for them, including medical experiments involving castration and hormone injections. Gay men were forced to wear a pink triangle, while lesbians were made to wear a black patch.
Tel Aviv mayor Ron Huldai has announced that a monument honoring those gays and lesbians who were persecuted and murdered will be built in the Meir Garden. It will be the first of its kind in Israel, joining monuments in Sydney, Copenhagen, Berlin, and Amsterdam.