"Not Terrorism"
Jim Burroway
August 2nd, 2009
That's what this Associated Press video says: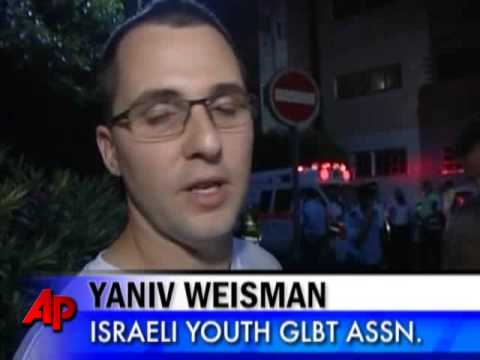 Other outlets earlier made the same claim, although many have gone back and re-edited their stories so that they now say that it appears to be criminal and not nationalistic, although I don't know how they can claim that since we don't know who the attacker was. He may still turn out to be an Israeli nationalist.
Okay, I get the police's trying to distinguish this act from a terrorist act by Hamas or Hezbollah or another Palestinian/Muslim radical group. But come on. Are Arabs and Muslims the only ones we're allowed to call terrorists? Is saying that it's "not terrorism" supposed to reassure Israeli citizens that this was a targeted attack on gays and not Jews? What about the Jews who were targeted and died in this attack? What about the Jews who marched in the streets last night to mourn their deaths? And what about the Jewish families this morning who now have to bury their children? Don't they count?
This exercise of trying to say that this was not terrorism cheapens the lives of Nir Katz and Liz Trubeshi, who died in the spray of automatic gunfire at an LGBT community center in Tel Aviv. It insults their families trying to grapple with the reasons their too-young loved ones were singled out for this attack. And it denies the impact that this is having in the LGBT community around the world, let alone the grieving community in Tel Aviv.
We don't know the attacker's identity. But we do know that a gunman — dressed in black, wearing a black ski mask and carrying an assault weapon — targeted a place of refuge for LGBT youth who were peacefully gathering for mutual camaraderie and support in the face of discrimination and prejudice. The attacker found them in that refuge and pumped them full of bullets. Yaniv Weisman, chairman of the Israeli Gay Youth organization, said, "Today, someone sent a message that gays in Tel Aviv and Israel are not safe." That is terrorism. If it isn't then the word needs to be stricken from the English language, for it will have lost all meaning.