"Love Won Out" on CNN: When Will Someone Finally Say What They Mean?
Jim Burroway
April 6th, 2007
Last night's edition of Anderson Cooper 360 featured a segment that was filmed at the Love Won Out ex-gay conference that was held in Phoenix February 10. (The official transcript for the CNN segment is here.) I was out of town, so I couldn't record the segment, but I did get to see it. I thought reporter Gary Tuchman did a good job. His report pretty much matched what I saw there.
(By the way, I saw the camera crew roving the grounds throughout the day. Someone mentioned CNN, but I wasn't sure at the time if they knew who it was were if they were just speculating. The camera and microphone weren't marked, but they were accompanied by Love Won Out volunteers everywhere they went.)
I was particularly amused by Dr. Nicolosi's appearance on CNN: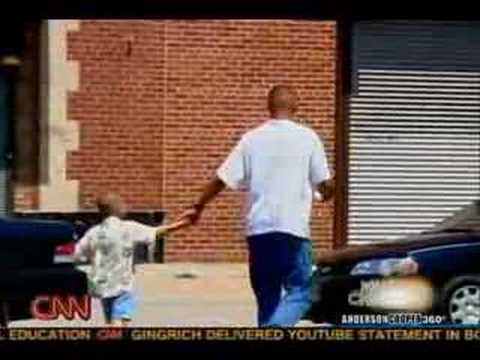 TUCHMAN (voice-over): Joseph Nicolosi often accuses the media of distorting his research. He was reluctant to speak with us.

(on camera): We were hoping we can talk to you when it's over.

NICOLOSI: Yes. OK. Well, I don't think so.

TUCHMAN (voice-over): Eventually, he did agree to go on camera, but:

(on camera): You're categorically saying that, if a father and son have a normal relationship, that child will not be gay?

NICOLOSI: Yes.

TUCHMAN: That's a pretty strong statement, right?

NICOLOSI: You want to debate? Do you want an answer or you want to debate?

TUCHMAN: Well…

NICOLOSI: I gave you an answer.

TUCHMAN: Yes.

So, there are some stereotypes you talk about, how, you know, if a child's effeminate, if he's creative, he's artistic, those are things to look out for. Is that fair to say?

NICOLOSI: Goodbye.
With that, Nicolosi stormed off. I can verify that Nicolosi did cite artistic interest as a "warning sign" in his plenary session first thing that morning — the same session that appeared in the CNN segment — as he was describing a father/mother/son dynamic. This is what that reporter heard:
…but we see here typically mother, father, son, classic triadic relationship, many, many studies support this. In the relationship between the mother and the son, over emotionally involved, strong personality, dominant personality. The father is quiet, with drawn, non-verbal, non-expressive, and/or hostile. The son is temperamentally sensitive, shy, introverted, artistic, imaginative. That temperament does not make a homosexual. That child with that temperament in a particular family dynamic will set him up gender deficit, and that gender deficit becomes compensated through homosexual activity. [Emphasis mine.]
And again, during a breakout session later that afternoon, Nicolosi not only mentions an artistic temperament, but he elaborates further:
The prehomosexual boy appears to be sensitive, introverted, artistic, timid, passive, perfectionistic, aesthetically inclined, imaginative, interested in music, art, and theater, but that does not make a homosexual. You need that predisposition plus a particular family dynamic to create gender identity deficit, which then becomes compensated or "repaired" through homosexuality. So it's a developmental stage.
Now I assume that what Nicolosi might have meant to say was that you can be artistic and not effeminate or prehomosexual. He sort of said that, but it's not entirely clear. But he certainly put artistic interest in the class of "things to watch out for." Didn't he? Or did he?
You see, that's the whole problem I've been experiencing while trying to describe what I heard them say at "Love Won Out." I mentioned earlier that I was trying to write my next post on the meaning of the word "change." Obviously I haven't finished it yet. And part of the problem is in trying to nail down exactly what people mean when they use that word. As I said before, my copy of the Oxford Universal Dictionary described "change" in just six inches of text. But for "Love Won Out," I've been struggling with it for eight weeks now and still haven't been able to get to the bottom of it. Every time I took a stab at it, the article at some point would completely break down into an incoherent mess. It was like trying to create a Remington sculpture out of Jello.
And when people like Nicolosi are as careful — and as slippery — as they are with language, I may never find a way to crack the secret code. You can even go so far as to parrot their own words sometimes, and then the next moment you may come to think you really didn't hear them correctly because now all of the sudden they're saying something different. But try to point that out, and you get a reaction much like reporter Gary Tuchman experienced when Nicolosi stormed off. They say what they want to say, we try to understand what it is they have to say, and somehow it's our fault for not understanding them correctly.
Watching that segment was an epiphany for me. I don't know why — I didn't see anything I hadn't seen before, but maybe it was just the way it all came together as I saw it in the hotel room last night. And I saw it when I heard Melissa Fryrear talk about her love of red-headed men and Mike Haley's absolute assertion of his own heterosexuality. And then in the midst of all that, we find Alan Chambers, trying his best to be candid by acknowledging that sometimes he finds other men attractive:
ALAN CHAMBERS [Note: the CNN transcript incorrectly identifies him as "O'Donnell"]: Again, I don't feel that I will ever be as though I never was. You know, certainly I'm human. I could be tempted by a homosexual thought. I could find myself-

GARY TUCHMAN: That doesn't go away with you?

CHAMBERS: It hasn't gone away 100% with me.
So you see? I can't give you a coherent description of "change" because they didn't give me a coherent description of "change." And you know what? That's not my problem. It's theirs.
So with that out of the way, I'm re-writing what I started to write. I'm not going to try to explain "change." I'll just let them do it in their own words. If they insist on using the word "change," then I'll just tell you what they said and I'll let you be the judge of what "change" means. Because frankly, it's their word. And if they insist on using it, it's their responsibility to explain it. Not mine.
And if it turns out that you can't make heads or tails out of it either, then as far as I'm concerned, you're in good company.
Comments