Gay Is Good: Frank Kameny's Memorabilia At The Smithsonian
Jim Burroway
August 31st, 2007
The Smithsonian's Museum of American History is closed and undergoing renovations, but that's not stopping them from putting on ambitious and expansive shows at other venues. One such exhibit is the "Treasures of American History" at the National Air and Space Museum.
And one part of this exhibit is titled "Gay is Good" and features several items from Frank Kameny's recently donated archives and memorabilia, includes picket signs from 1965 and "Gay is Good" buttons from around 1968. These items join Thomas Jefferson's small, portable, folding desk upon which he wrote the Declaration and the inkwells Abraham Lincoln used to write the Emancipation Proclamation — all of which played key roles in the formation of our national values of freedom and equality for everyone.
Frank Kameny is a living hero of the American gay rights movement. It all began when he was dismissed in 1957 from his position as an astronomer in the Army Map Service because of his homosexuality. Federal civil service rules at the time prohibited gays from federal employment, and security clearances were routinely denied to anyone who was found to be gay. He became the first to appeal a firing on the basis of homosexuality. The ACLU represented him at the Court of Appeals, but they refused to go further when he lost. So he wrote his own appeal to the U.S. Supreme Court, filing it on January 21, 1961. The Supreme Court took only two months to turn it down.
In 1961, Frank and Jack Nichols co-founded the Mattachine Society of Washington, D.C., aggressively pressing for equal treatment of gay employees in the federal government. They also began their work to overturn anti-sodomy laws across the country and to remove homosexuality from the American Psychiatric Association's list of mental disorders, both of which served as justifications for ongoing discrimination against gays and lesbians. The APA was not very receptive to working with the Society however, writing in 1963, "it is not in the best interests of the APA to meet with you, nor to publicize your meetings." Meanwhile there was a move in Congress in 1963 to prevent the District of Columbia from registering the Mattachine Society as a nonprofit organization.
But that didn't deter the nascent gay rights movement. Frank and other members of the Mattachine Society participated in the very first gay-rights picket in front of the White House in 1965. And in 1973, he was on a panel of the APA's symposium on homosexuality when Dr. John E. Fryer appeared as "Dr. H. Anonymous." This ended up being a key moment leading to the APA's elimination of homosexuality as a mental illness. That was quite a turnaround from a mere ten years earlier when the APA refused to meet with him.
In 1968 Frank coined the phrase "Gay is Good," inspired by the popular "Black is Beautiful" slogan. "Gay is Good" may appear rather simple today, but it was a particularly significant slogan for 1968 when homosexuality was still considered both a mental illness and a criminal act. Today, in a private message reprinted here with his kind permission, Frank reflects on his slogan:
I've said, for a long time, that if I'm remembered for only one thing, I would like it to be for having coined "Gay is Good." But never did I expect that that would make its way to the Smithsonian. I feel deeply contented.
You can find more information about Frank's contribution to gay rights in America at his web site, the Kameny Papers. Not only was he a great gay rights leader, he also ended up being a great archivist. It seems as if he never threw anything away and we're all the richer for it. Now his legacy is a part of our national patrimony. And as this video from The Kameny Papers website shows, his struggle — and ours — is part and parcel of the larger struggle to bring America's promise of equality to fruition for everyone.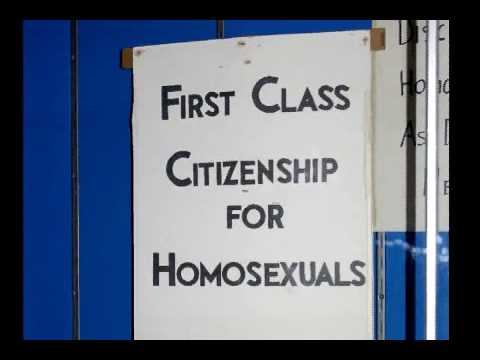 Comments