LaBarbera Award: Oklahoma State Rep. Sally Kern
Jim Burroway
March 8th, 2008
Have you ever wonder what anti-gay extremists say to each other behind closed doors? I have. That's why I went to the Family Impact Summit last September in Tampa, Florida. It's amazing how people you think you know will say the wildest things when they believe nobody is listening.
Well, it turns out there was another similar meeting recently with about fifty people when Oklahoma state representative Sally Kern went off on the "biggest threat our nation has." Guess what that threat is? That's right, it's the dreaded "homosexual agenda," which she considers a bigger threat than terrorism or Islam. And that's not all. Her paranoid tirade has all the necessary elements of anti-gay lunacy: Cameronesque lifespan claims, threats to our children ("as young as two years of age!"), "infiltrating city councils" — and someone was there to capture it all on audio: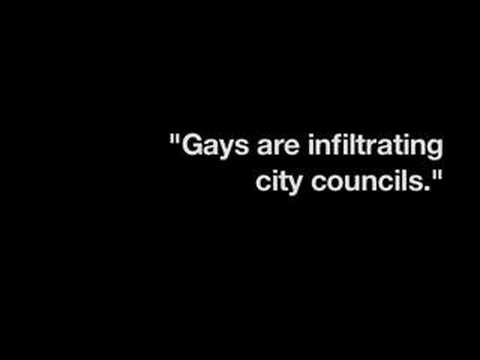 Here's the transcript:
The homosexual agenda is destroying this nation, okay? It's just a fact. Not everybody's lifestyle is equal, just like not all religions are. You know, the very fact that I'm talking to you like this here today puts me in jeopardy, okay? And I'm not anti- and I'm not gay bashing, but according to God's Word, that is not the right kind of lifestyle. It has deadly consequences for those people involved in it. They have more suicides, they're more discouraged, there's more illness, their lifespans are shorter, you know, it's not a lifestyle that is good for this nation.

As a matter of fact, studies show that no society that has totally embraced homosexuality has lasted more than, you know, a few decades. So it's the death knell for this country. I honestly think it's the biggest threat our nation has, even more so than terrorism or Islam, which I think is a big threat.

Because what's happening now, they're going after, in schools, two year olds! Do you know what they're trying to get into early childhood education? They want to give our young children into the government schools so they can indoctrinate them. I taught school for close to twenty years. And we're not teaching facts and knowledge anymore folks. We're teaching indoctrination, okay? And their going after our young children, as young as two years of age to try to teach them that the homosexual lifestyle is an acceptable lifestyle.

You know, gays are infiltrating city councils. Did you know, Eureka Springs, anybody been there, the passion play? Okay, have you heard that the city council of Eureka Springs is now controlled by gays? Okay? There are some others, Pittsburgh, Pennsylvania; Tacoma, Maryland; Kensington, Maryland; in Vermont, Oregon, West Palm Beach, Florida; in a lot of other places in Florida. What's happening? They are winning elections.

One of the things I deal with in our legislature, I tried to introduce a bill last year that would notify parents, schools had to let parents know what clubs their students were involved in. And the reason I did that bill primarily was this: We have the gay-straight alliance coming into our schools. Kids are getting involved in these groups, their lives are being ruined, their parents don't know about it. So I introduced a bill, you have to notify all clubs and things.

And one of my colleagues said you know, we don't have a gay problem in my county, that's why I voted against that bill. Well you know what? To me that is so dumb. If you got cancer or something in your little toe, do you say, you know, I'm just going to forget about it because the rest of me's fine. It spreads, okay? And this stuff, it's deadly and it's spreading and it will destroy our young people, it will destroy this nation.
Congratulations, Rep. Kern. You're today's LaBarbera Award winner.
See also:
Sally Kern Is a Little Confused
Sally Kern's Economic Fallout
Sally Kern's Meeting with PFLAG on Tape
Exodus' Local Ministry Aligns with Sally Kern
Certified Cameronite: Sally Kern
Kern Speaks to College Republicans
Sally Kern: Out of Context? The Complete Transcript
We Be Jammin'
Muslims and Gays United
OK State Rep. Sally Kern's Son is "Straight and Not Gay"
Sally Kern Exaggerates Death Threats
A Letter to Sally Kern
LaBarbera Award: Oklahoma State Rep. Sally Kern
Analysis of California Marriage Argument
Timothy Kincaid
March 8th, 2008
Manuela Albuquerque, recently retired City Attorney of the City of Berkeley, analyzed the questions of the California Supreme Court Justices and predicts that they will invalidate opposite-sex restrictions on marriage.
The opinion will likely be authored by Justice Werdegar and it will garner a minimum of three other votes from the Chief Justice, and Justices Kennard and Moreno. (It takes four votes for a majority opinion on this seven-member court.) It is quite possible that the opinion will be unanimous because the three remaining justices are having analytical difficulty finding a conceptual rationale to uphold the opposite-sex restriction even though, from their questions, it appears that they are troubled at the prospect of striking it down.
Albuquerque provides concise, easy to read definitions of the factors the judges have to consider. I hope she's right.
LA Times Article about Larry King
Timothy Kincaid
March 8th, 2008
The Times has a good article filling in a few details of the life of young Larry King, a 15 kid shot by a schoolmate because he was gay.
Larry had searched elsewhere for a safe harbor. After he landed at Casa Pacifica, he joined a youth group sponsored by the nonprofit Ventura County Rainbow Alliance, which offers social services to the gay community.

Alliance Executive Director Jay Smith would not reveal what Larry had talked about during the group's Friday night meetings. But Smith said that no teenager should have to wake up in a shelter knowing the school day ahead would bring a fresh heap of rejection and scorn. "Not having a mom or dad to run to. . . . I can't imagine what that is like," he said. "His life was tough."
While there is no part of this story that isn't tragic, it is encouraging to know that there was someone to turn to. When anti-gays and homophobes claim that youth groups or Gay-Straight Alliances are "recruiting" and "sex clubs", think of Larry King.
Why Marriage Matters
Timothy Kincaid
March 8th, 2008
Brazzil Magazine has a story about a married couple treated in an abhorrent manner:
Timothy J. Coco and Genésio J. Oliveira Jr. were forcibly separated last August when the U.S. Department of Homeland Security (DHS) ordered Oliveira to leave the country after a five-year battle to obtain legal status.
Though they are legally married in Massachusetts, the State Department treats gay couples with contempt. The Defense of Marriage Act of 1996 declared that the federal government would discard 200 years of state-defined marriage precedent and recognize only those state-sanctioned marriages that are between a man and a woman.
But anti-gays should walk cautiously.
Separation from one's loved ones is a fear that lies deep within us all. Indeed, the images of husbands and wives being driven away from each other was a powerful weapon in the hands of those who fought against the evil of American slavery. And as more people find empathy with their gay friends and neighbors, the forced separation of married couples begins to appear as the behavior of villains and a tyrants.
So I warn the bigots and homophobes: In your drive to "protect marriage", you are behaving abominably and without restraint. But some day decent people will see one of your acts of inhumanity and say, "No more!"
And it may well be the forced separation of legally married persons that tips the scales.