Former Rep. Bob Barr: DOMA "Clubs Down Rights of Law-Abiding Americans"
Jim Burroway
May 27th, 2008
Former Rep. Bob Barr (R-Ga) authored the Defense of Marriage Act (DOMA) which Pres. Bill Clinton signed into law in 1996. Today, Barr is now the Libertarian Party's presidential nominee. Speaking at the convention, Barr apologized for his role in further institutionalizing discrimination into American law: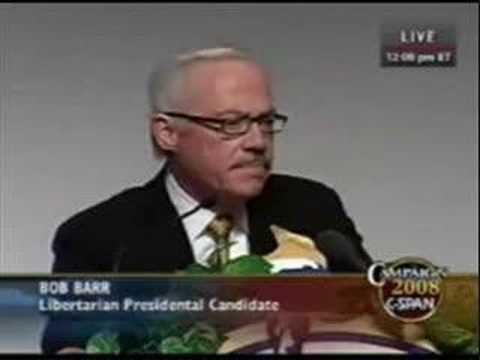 Transcript:
But many of you have also come up and said, "Barr, why did you offer the Defense of Marriage Act? If you're so set against the Patriot Act, why did you vote for it?"
Well, let me tell you. I have made mistakes. But they only way you make mistakes, the only way you get things done is by getting out there in the arena and making those mistakes, and then realizing as things go on the mistakes that you've made.
And I apologize for that. For example, as I mentioned to you all last night with the Defense of Marriage Act. … [Applause] As I mentioned to you all last night and I reiterate here today, standing before you and looking you in the eye, the Defense of Marriage Act insofar as it provided the Federal Government with a club to club down the rights of law-abiding American citizens, has been abused, misused and should be repealed. And I will work to repeal that [Applause]
Comments