Palm Center: Elaine Donnelly Not Qualified To Testify
Jim Burroway
July 23rd, 2008
The Palm Center has announced that the Duke Journal of Gender Law & Policy is set to publish a review of Elaine Donnelly's 2007 article in the review. Donnelly, who is president of the Center for Military Readiness, opposes the repeal of "Don't Ask, Don't Tell," and was one of two witnesses testifying against repealing the military's ban on gay servicemembers. According to Aaron Belkin, director of the Palm Center, Donnelly's testimony was drawn largely from her 2007 article which is "riddled with mistakes":
"It's unclear why Elaine Donnelly has a platform at all on this issue," Belkin said. "She and her organization do no research." Belkin noted, for example, that to bolster her point that the British military has been undermined by allowing gays and lesbians to serve openly, her article cites a single footnote which refers to five newspaper and radio stories, none of which have anything to do with gays in the military.

…

Donnelly's article is riddled with other errors, including misidentifying the Palm Center as a Berkeley organization, misreading the evidence on gay service during wartime and misunderstanding the statistical methodology of demographic data on the prevalence of gays in the U.S. military, as well as the research methods used in assessing polling data and the financial costs of the ban on open gays.
Here is an example of Donnelly's performance in Washington today: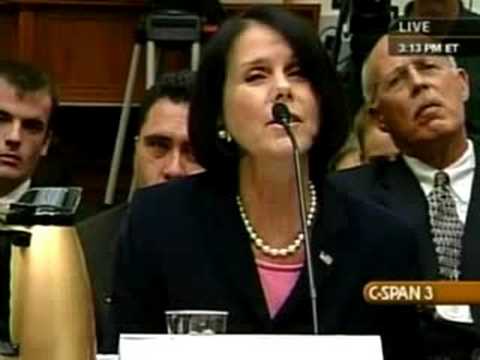 [Hat tip: Alvin McEwen]
Comments