BREAKING: Lesbian Couple Obtain Marriage License In Arizona
Jim Burroway
February 12th, 2009
In what was supposed to be a demonstration on National Freedom to Marry day yielded a surprising turn of events for one Tucson couple (KGUN9):
A demonstration to make a point about same sex marriage led to a surprise at the Pima County Courthouse Thursday.  As part of what's called Freedom to Marry day, same sex couples around the country attempted to get marriage licenses. Two men say the clerks turned them down after they crossed out female on the forms and replaced it with male, but two women walked out with license in hand.  The couple says they made it clear they were both women but did not try to cross out the word male.  Superior Court Clerk Patti Noland says she doesn't ask clerks to verify gender. She says she regards the couple's application as a fraud.
Arizona voters passed Proposition 102 last November, which added a constitutional amendment which restricts marriage to a man and a woman.
Here's some amateur video of the some reactions of disbelief: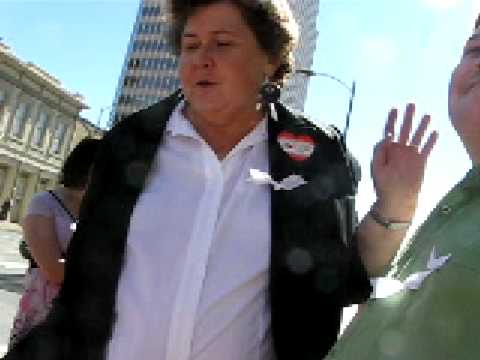 The couple have been identified only as Theresa and Sheri. They have been together for two years. According to Rainbow Footsoldiers:
Clerk of Court claims that the couple lied about both being women and that the license was issued as a result of  "fraud." This is not true. Michael and I were being denied a license at the same time two windows away. Originally the couple filled out a form with the same information we did by scratching out the gender portion. Then they returned for a second form that they filled out without the scratch out. Neither appear to be a man and they clearly told the clerk they were both female and she issued the license with her supervisor watching.

Also, Marriage Equality USA has consulted a local family lawyer who says that the license application in Pima County is not legal as the statute does not require someone to swear to their gender. Therefore, the license should be valid because the form exceeds the statute laying out how the form should be worded.
I'm no lawyer, but I doubt that "local family lawyer's" reasoning will get very far in court.
Comments