Sunday Driver: Where I Come From
Jim Burroway
August 23rd, 2009
I don't know how much of this is true, but I think I remember reading that anthropologists say that those exotic names a group of people give themselves, whether it's an American Indian tribe or an indigenous ethnic group in Africa or South Asia, often come down to just being that group's word for "us" or "our people." It's the outsiders they name, not the in-group. The in-group is just "us."
Like I said, I don't know how true that is but it somehow feels right. I grew up in Appalachia, which I guess makes me an Appalachian. I grew up in Portsmouth, Ohio, on the Ohio river right about where Ohio meets Kentucky and West Virginia. I don't think I or any of my friends really thought of ourselves as Appalachians; the word didn't really have any meaning for us until we moved away — that is, at least, among those of us who did manage move away. I mean, okay, we saw television commercials for Appalachian Power, and the mountains a hundred or so miles to the east were the Appalachian Mountains, but it was just a name to us. We were just "us," just like the anthropologists said. It wasn't until I left that I came to understand our Appalachian-ness.
Now, I know that Dolly Parton always says that when she was growing up, she didn't think she was poor. Neither did I, but then again, we really weren't poor. We were perhaps lower middle class, somewhat middle class-ish, somewhere in there. Generally better off than our neighbors, but not as well-off as middle class folks in the big cities like Columbus — which, by the way, was for us the very definition of a chic and sophisticated cosmopolitan city. Yes, Columbus. Which goes to show we really were Appalachian.
But it took me a very long time before I could own the name "Appalachian." After all, it carries a lot of baggage in the larger American culture. Hillbillies, moonshine, "Deliverance," — that's just barely scratching the surface, and none of it was relevant to my growing up there. All of those images are grossly unfair to the good people who live there, including most of my own family who still make Southern Ohio, Kentucky, and West Virginia their home.
But over time I have come to embrace where I came from, although I have to admit that it is much easier being from there than it would be had I remained there. The further away I've moved, the easier it has become for me to be Appalachian. Maybe it's the safety of distance that allows me to do this, but I doubt it. I think it's more a matter of the perspective that that distance provides. I mean, think of it this way: we all come from somewhere, but so few of us come from a place so unique that outsiders had to give it a special name. So why not own that?
I was reminded again of where I come from when I saw this article posted on my hometown newspaper's web site. It appears that there are a couple of people there who are still looking for Bigfoot. You know, Sasquatch, the legendary man-beast of the forests. And someone else made a documentary about them, which debuted at SXSW in Austin last year. But according to filmmaker and Portsmouth native Jay Delaney, the movie's not really about Bigfoot, but "the trials and triumphs of life in Appalachian Ohio. It's not only their research, but also the struggles they face in trying to hold on to this dream they have." This trailer gives you a very good idea of what my hometown looks like and what the people there sound like.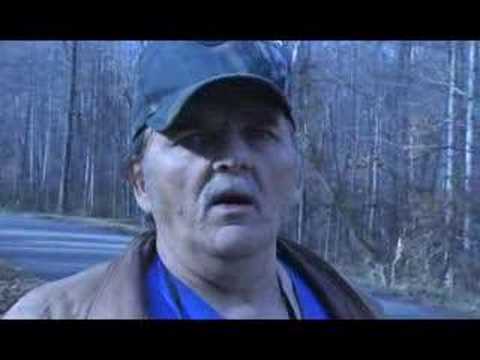 Watching that made me just a little homesick. I know you won't understand that, but there it is. I'm looking forward to the DVD coming out next month.
Sometime when I was in middle school, there was a huge local Bigfoot rage going on. We suddenly heard all these stories about Bigfoot sightings in the forests and hills out in the county, but no one ever got a good, clear picture of whatever it was they thought they saw. That's why few people took these sightings seriously. In fact, someone or someones unknown decided to have a little fun with all the talk by creating three-foot long stencils of bare footprints and spray-painting huge white Bigfoot-prints on the sidewalks all over town. To paraphrase Loretta Lynn in Coal Miner's Daughter, we may have been hicks but that didn't mean we were stupid.
I never saw Bigfoot, at least not in real life. But they did come to me once in a dream. I dreamed I was hiking in the woods out by Turkey Creek Lake where I came across a family of Bigfoots — a father, a mother, and a couple of, I guess, Littlefoots? Anyway, they were in a cave sitting around a stone table about to have dinner. Daddy Bigfoot saw me and gruffly hustled the kids away, but Mamma Bigfoot stayed behind so we could talk. "You'll have to excuse him," she said. "He's really very nice once you get to know him, but he just doesn't trust people. You see, we've been hunted down, chased, and treated very badly by them. Humans just won't leave us alone."
I nodded, and felt a little bit ashamed for having encroached on their home. But she reassured me that everything was okay with a gentleness that I found very touching. I was then overwhelmed by a desire to prove that at least one human could treat a family of Bigfoots with dignity and respect. But in order to do that, there was one point on Bigfoot etiquette that I really needed to know. So I decided to broach what seemed to me a delicate subject.
"May I ask you something?"
"Of course," she said, raising her furry eyebrows ever so slightly.
"If you don't mind my asking, what do you call yourselves?"
She looked at me with a look of gratitude that I would ask such a question. "Why, we call ourselves 'Our-Its.'" Wow, I thought, just as anthropologists observed so many times before. And then she reached out and put her hand on my arm, leaned in ever so slightly, and said, "You know, we really hate the name 'Bigfoot.' It's so… " she paused, then whispered, "demeaning."
Yeah, I know just what she means.
Comments