Poll Shows Maine's Q1 Losing, Yes Side Shifts Gears
Jim Burroway
October 27th, 2009
We have more details on that poll on Maine's Question 1. The poll is the Pan-Atlantic SMS Group's final 2009 tracking poll (PDF: 227 KB/13 pages) on questions being put before Maine voters next week, and the news is very encouraging. Compared to a similar poll conducted two weeks ago, their statewide sample of 400 likely Maine voters on Question 1 breaks down this way:
 
October 14
October 26
Vote YES
40.9%
40.0%
Lean YES
2.0%
1.5%
Vote NO
50.6%
51.8%
Lean NO
1.2%
0.8%
Undecided
5.2%
6.0%
Margin of error: 4.9%
Given the large margin of error, this shows things to be relatively stable. Despite all the fearmongering attack adds the YES side have been throwing at Maine voters, the NO side continues to hold a significant lead. Maybe that's why Stand for Marriage Maine has decided to shift their tone with their latest television ad: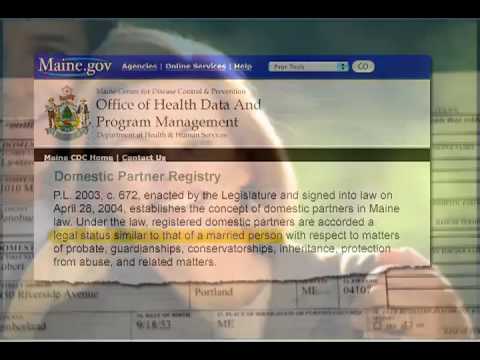 The tone is much less menacing, but the message is still there, softened with the assurance that "we want to be tolerant of gays." Calling Maine's second-class domestic partnerships adequate for LGBT couples, this ad claims that "it's possible to support the civil rights of all citizens and protect traditional marriage at the same time."
The ad includes text from Maine's Office of Health Data and Program Management, which administers Maine's Domestic Partnership Registry, which states that "registered domestic partners are accorded a legal status similar to that of a married person with respect to matters of probate, guardianships, conservatorships, inheritance, protection from abuse, and related matters."
But the act is actually very limited. Click on either of the links for "Instructions and Information for the Domestic Partnership Registry," and you'll find this notice:
It is important to remember that a registered domestic partnership is NOT the same as a marriage and does not entitle partners to rights other than those for which the registry was intended. This registry is intended to allow individuals to have rights of inheritance as well as the rights to make decisions regarding disposal of their deceased partners remains.
In other words, most of these these so-called "benefits" only kick in when one of the partners is seriously ill or dead. And somehow I get the impression that this is exactly the way they want it.
Comments