Michigan Assistant DA Andrew Shirvell: raging homophobe, stalker, dumb as a box of rocks
Timothy Kincaid
September 29th, 2010
When Thomas Monaghan, the founder of the Dominos Pizza Chain, sold his business for $1 billion in 1998, he decided to dedicate the rest of his life to advancing his faith.
Unfortunately his faith is Catholicism of the Papa Ratzi / Mel Gibson variety, strong on bronze age moralism and devoted to making you follow the rules that Monaghan is sure that God wants you to follow. He is passionate about abortion issues and believes that one of the best ways to achieve a nation that obeys the Church is to create an army of lawyers who will fight for the views of the Church.
So Monaghan founded the Thomas More Law Center, an anti-gay, anti-abortion activist organization. He also funded the Ave Maria School of Law, a Catholic law school with teachings that are "in fidelity to the Catholic Faith as expressed through Sacred Tradition, Sacred Scripture, and the teaching authority of the Church" and which would send out graduates "equipped for leading positions in law firms, corporate legal offices, the judiciary, and national, state, and local government."
As Ave Maria is fairly young and is among what is generously referred to as "second tier law schools", I haven't learned that much about them. While I knew that they included as friends and supporters Justices Antonin Scalia and Clarence Thomas, I've not yet had much opportunity to see what caliber of person they are unleashing on the nation. Until now.
The public has recently been introduced to what must be among Ave Maria's highest profile alumni, Michigan Assistant Attorney General Andrew Shirvell. Now how Shirvell came to be qualified for his position can be debated, but as Attorney General Mike Cox is also a conservative Republican Catholic, I suspect that Shirvell's hard-core extremist Catholic ideology did not count as a liability.
And Shirvell has made his mark, though for work performed outside of his job qualification. And quite a mark it is.
You see, Andrew Shirvell has been, in his off time, writing a blog. And this blog is dedicated to one subject: exposing the "radical homosexual agenda" of the University of Michigan student body president Chris Armstrong. And let me tell ya, it's quite the blog.
Welcome to "Chris Armstrong Watch." This is a site for concerned University of Michigan alumni, students, and others who oppose the recent election of Chris Armstrong – a RADICAL HOMOSEXUAL ACTIVIST, RACIST, ELITIST, & LIAR – as the new head of student government.

Prior to Armstrong's March, 2010, election as president of the Michigan Student Assembly (MSA), Armstrong served as chairman of MSA's LGBT commission – a commission that solely focused on utilizing the student government to promote the radical homosexual agenda, including gay "marriage" and adoption "rights." As chair, Armstrong also succeeded in lobbying for the annual Midwest LGBT College Conference to take place at U of M in 2011. This conference has a notorious reputation for promoting decadence, including illegal drug use and public sex acts.
Andrew Shirvell is like Peter LaBarbera, but with a real job. A very powerful job. And one that his boss, Mike Cox, seems to have no interest in rethinking. (Detroit Free Press)
"All state employees have a right to free speech outside working hours," Cox said in a statement today. "But Mr. Shirvell's immaturity and lack of judgment outside the office are clear."
But this goes beyond "lack of judgment". It is obsessive, abusive, and perhaps illegal – though when you work for the state Attorney General, "illegal" is a subjective term.
But while Cox's lack of judgment in hiring an extremist wackadoodle is disconcerting, it is also troubling that he hired – with taxpayer funds – a bumbling fool. Now having been exposed to just what kind of lawyer that Monaghan is making, we can see that his business model hasn't changed: put out the lowest quality in town.
I mean, if Shirvell was a pizza, there would be no detectable meat-product in his pepperoni. I'm talking cheese so processed that Shirvell was willing to go on Anderson Cooper's 360 and show the world just what kind of sauceless crust he is: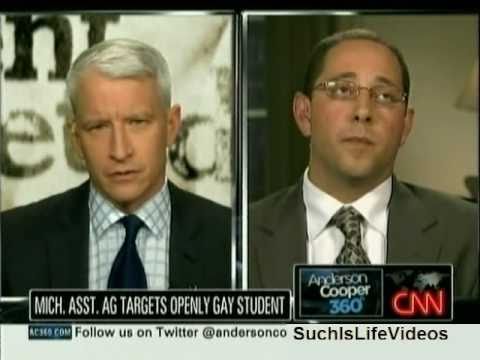 Well I guess the good news is that we have less to fear from an army of idiots.
Comments