Lutheran Leader joins It Gets Better campaign
Timothy Kincaid
October 29th, 2010
Some conservative Christians are dismissive of the notion that their campaign against "the normalization of homosexuality" contributes negatively to the mental health of young people. They may say "no one should be bullied," but this brief aside is quickly drowned out by protestations of innocence and further denunciation of gay people. Take, for example, the statement released by a coalition of some anti-gay activists led by Linda Harvey:
"Gay" activists nationwide are fueling an effort to indict traditional moral values as "guilty until proven innocent" in some bullying incidents involving teens. Their proposed solutions end up sexualizing teens at young ages into known high-risk behaviors and silencing concerned parents.
In debate, they loudly insist that those children who go to church are taught not to bully, and that the guilty parties in most of the cases were not regular church attendees. We do not have any way of knowing the extent to which bullies do or do not attend regular services, but considering that anti-gay activist have taken their culture of condemnation of homosexuality outside of the boundaries of their sanctuary and into the public square, it really doesn't matter.
It is, one would assume, incontrovertible that statements which rail against "homosexual activists" (defined as any self-identified gay person) in terms of contempt and loathing would have some impact on kids who recognize within themselves same-sex attraction. Any person working from logic would have to recognize that national organizations who claim that God doesn't want a same-sex attracted kid to be able to have a support group in school has to play havoc on that kid's self-worth.
Yet, the loudest voices who claim to speak for Christianity deny any fault. They are only speaking "the truth in love."
We are not fooled by this, but they really don't believe it themselves. They know – though they may not admit it – that bullied children are a victim in their war on our lives, freedoms, and civil rights. They know that those kids who commit suicide as a result of anti-gay bullying are a direct consequence of their political and social endeavors.
They simply believe it to be a sad but acceptable collateral damage. Yes, it's a tragedy, but it's better that that some kids be dead than that others think it is okay to be gay. As one anti-gay activist (who, to their credit, did not sign on to Linda Harvey's statement) responded in private correspondence to my concern, "You are willing to put children through suffering in the assumption that your understanding of scripture is correct. Because of what you believe, others get to suffer."
Timothy, you are affirming homosexuality to children based on your assumption that your understanding of Scripture is correct, and if it's not, your facilitating their eternal suffering and separation from God. Eternity is a very long time.
But the blame does not lie solely with those who come bringing accusations of "abomination" and fears about the destruction of society. It also lies with those who let such statements be credited as holy. And for far too long, those less hostile within the Christian faith have been complicit in this message; they have stood aside lamenting the pain that was being caused, but doing little to counter-act it.
Those who read here regularly know that I defend Christians and others of faith from blanket accusations. But let me be bold to say that the Christian Church in America, collectively, is the primary facilitator of the message of condemnation that young gay kids hear, be it by active denunciation or by failure to counterbalance those who do.
So it was with a great deal of joy that I watched the contribution of Mark Hanson, the Presiding Bishop of the Evangelical Lutheran Church in America to the It Gets Better campaign.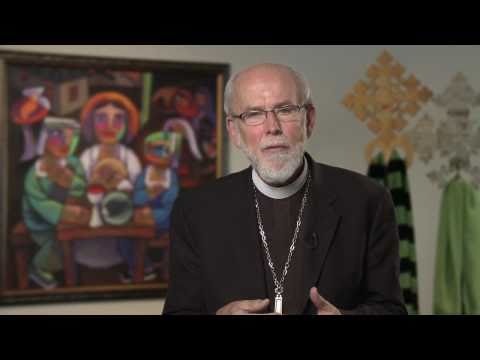 Hanson speaks of love, he speaks of being the person God created you to be, he speaks of nothing being able to come between you and God. And at no point does he feel compelled to temper his comments with denunciation of "homosexual acts" or rants about agendas. He even acknowledges the hurt caused by some Christians and takes ownership for the pain caused by the silence of others.
I truly hope that every gay kid out there who is being raised in a Christian family and has equated their own person as being immoral or vile or ungodly will hear this message.
It is of tremendous importance that the inclusive Christian denominations find their voice in the debate over the place of gay men and women in society and the church. I welcome Hanson's contribution, and hope that it is but the first of many positions on which the Lutherans, along with the other mainline churches, will be willing to speak out in favor of love and inclusion and in opposition to those who would usurp the authority of Christendom to engage in evil against our community.
Comments