McCain shifts support from military leadership
Timothy Kincaid
November 28th, 2010
Remember when Sen. John McCain was the champion of military leadership, when the Defense Secretary of Chairman of the Joint Chiefs of Staff of most any administration knew they had a friend in the Senate?
Well, until Mullen and Gates wanted to repeal Don't Ask, Don't Tell. Then McCain stood for the Service Chiefs, seeking to protect their concerns from the politics of Washington.
Well now that it seems that at least a few of the Service Chiefs will be content with the Survey, McCain has found someone new to defend.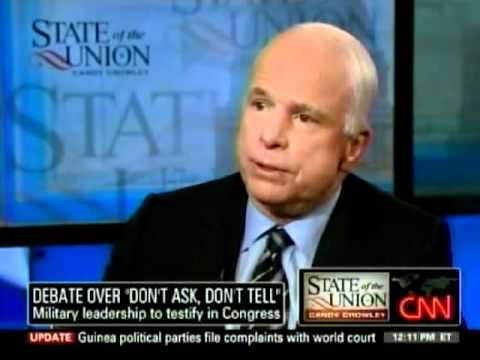 Now I have great respect for the Secretary of Defense and I have great respect for the Chairman of the Joint Chiefs of Staff. I have great respect for the Service Chiefs and I have great respect for the men and women who are serving, particularly the sergeants and chief petty officers, who are the ones who make the military work.
Once John McCain was seen as a defender in Congress of those who fight to defend us on the battlefield. He held disdain for those who claimed to "support our troops, but not the military leaders" and who sought to second guess the goals and plans of the Pentagon.
And his support for DADT was, in that context, consistent. His opposition to open service was a deference to military leadership and was presented as patriotic.
But as more and more in the military family are coming to see this policy as unnecessarily exclusionary and cruel, McCain is finding fewer and fewer soldiers to defend. And before it's over – likely before the year is out – McCain will find himself, for the first time in his political career, as the enemy of the Military, seeking to oppose the plans and goals of the military leadership.
Comments