"86 Percent" of Tony Perkins's Statistics Are Rubbish
Jim Burroway
November 29th, 2010
[Update: A couple of eagle-eyed commenters noticed something we all should have caught. This post has been revised accordingly. I love BTB readers.]
The Family "Research" Council's Tony Perkins appeared on Chris Matthew's Hardball on MSNBC today to demonstrate his outrage over the Southern Poverty Law Center's adding his organization to their very small list of anti-gay hate groups.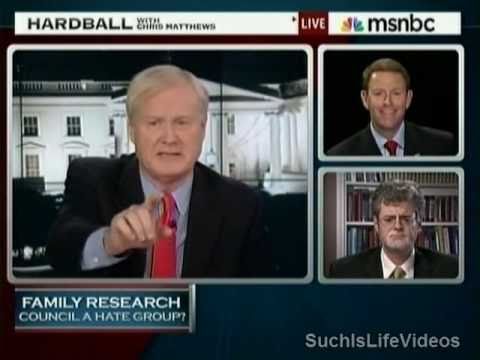 SPLC's Mark Potok explained that the FRC earned its Hate Group designation due to the FRC's persistent acts in demonizing LGBT Americans with false research and statistics. Perkins then set out to defend his group by demonizing LGBT Americans with false research in statistics:
If you go back to the Archives of Sexual Behavior, a peer-reviewed reviewed journal, that stated that in self-identified… 86% of men, homosexual men, or who engage… or men who engage in molestation of children, 86% of them identified as homosexual or bisexual. That study has not been refuted.
The study was not "refuted," in Perkins' terminology, simply because the finding was not considered to be significant, not even by its authors. The study, "Behavior patterns of child molesters" by W.D. Erickson, N.H. Walbek, and R.K. Seely which appeared more than twenty years ago (1988, to be exact), didn't set out to determine the sexual orientation of child molesters. The study, of 229 convicted child molesters in Minnesota, (which, by the way, was never intended to be nationally representative in any way) was focused on the types of sexual contact the men engaged in with their victims — vaginal or anal penetration, oral contact, and so forth. In this particular sample, 63 victims were male, and 166 victims were female.
But the "finding" that Perkins and company found so exciting is encapsulated in just one sentence: "Eighty-six percent of offenders against males described themselves as homosexual or bisexual." (emphasis mine.)
That's right, one lone sentence out of a ten page document, buried deeply within the text. [Update: — and Perkins completely misquoted it. Perkins said that 86% of men who abused children — without regard to gender — said they were gay or bisexual, a claim that the authors specifically did not make.]
The authors themselves didn't see it as a significant finding, and there are other good reasons for it. The authors didn't delve into the adult relationship makeup of these offenders, nor did they disclose what criteria the offenders used in their self-labeling. The authors also didn't try to investigate whether there was any validity to their self-labeling.
And this, too, is important, because child sexual abuse experts understand that abusers often have little to no sexual attraction to other adults of any gender, which means that in clinical terms they are actually pedophiles rather than homosexual or bisexual. And while many pedophiles will identify themselves using the language of heterosexual/homosexual/bisexual, their crimes are no more relevant to LGBT equality than the prevalence of heterosexuals among rapists are relevant to straight people.
This study did not investigate sexual orientation. It did set out to answer the questions that the investigators sought to answer, which was what kind of sexual contact did offenders initiate with their victims? FRC, however, took a single sentence from a study that did not try to investigate the sexual orientation of offenders, and amplified a throw-away line as though it were the entire study's reason for being. And because it didn't investigate sexual orientation, it's illegitimate to to amplify one lone throw-away sentence into "overwhelming scientific evidence" — those are Tony Perkin's words — that gays are a threat to children.
The reason the FRC is legitimately a part of the SPLC's list of hate groups is their penchant for taking one line from a study out of context, and present that single sentence as being somehow more significant than the tons of studies that experts in the field of child sexual abuse have conducted through the ages. We have summarized many of those findings in our report, Testing the Premise: Are Gays a Threat To Our Children? Interestingly, that report was prompted, in part, by a specious tract put out by the FRC a few years earlier. That specific tract has been withdrawn, but not because they woke up and realized their so-called "research" was bogus. They still hold to their false linkages between homosexuality and child sexual abuse here and, more significantly, here (PDF: 312KB/22 pages).
Oh, and nice touch there, when Tony Perkins adds, "If you look at the American College of Pediatricians, they say the research is overwhelming that homosexuality poses a risk to children."
The American College of Pediatricians is a rump political group formed in 2002 in response to the much, much larger American Academy of Pediatrics' statement in support for LGBT parental rights. The AAP is made up of some 60,000 members who know more than just about anyone what's best for children. The American College of Pediatricians, on the other hand, is made up of a couple hundred dissenters who, by judging from their web site, are mainly concerned with homosexuality more than the plethora of childhood health issues that your average pediatrician is much more likely to care about.
When the SPLC announced that they were adding the FRC to their small list of anti-gay hate groups, they cited the FRC's "propagation of known falsehoods — claims about LGBT people that have been thoroughly discredited by scientific authorities — and repeated, groundless name-calling." Tony Perkins responded by providing convincing proof of the SPLC's allegations. And he did it with the slightest hint of embarrassment.
Comments