The Politician and the Statesman
Jim Burroway
June 26th, 2011
Two New York Senators who had previously opposed marriage equality in New York voted ended up voting for it when the chips were down Friday night. They both explained their change of votes during the roll call, and their explanations provide a textbook illustation of the difference between a politician and a statesman.
One was Sen. Carl Kruger (D-Kings Co) who had been one of three Senate Democrats who blocked a vote on same-sex marriage in 2009 when Democrats controlled the chamber. His change of heart, chronologically at least, came after he was accused last March of accepting $1 million in bribes in return for political favors. Along with that scandal came allegations from the The New York Post — and one must always consider the source whenever the Post is involved — that Kruger laundered at least some of that money through his reportedly unacknowledged gay lover with whom he shares a house with along with the identified lover's mother. Sidestepping the possible outing, The New York Times merely said, "The gay nephew of the woman he lives with, Dorothy Turano, was so furious at Mr. Kruger for opposing same-sex marriage two years ago that he had cut off contact with both of them, devastating Ms. Turano."
Whatever the truth may be, Kruger certainly had a change of heart by the time he cast his vote last Friday. And in explaining his vote before the Senate, Kruger defended himself by giving a long list of gay-rights legislation he had supported — hate crimes legislation, anti-dissemination bills, anti-bullying bills — and more incredibly, even tried to explain his change as not being a change at all. He was with us all along, he says. Except, of course, for when he wasn't.
Oh well, a yes vote is a yes vote, and every yes vote is vital when the margins are so thin like this. But Kruger's statement was especially memorable because moments before, freshman Senator Mark Grisanti (R-Erie and Niagara Co), who had campaigned against same-sex marriage leading up the the November 2011 elections, explained his vote this way: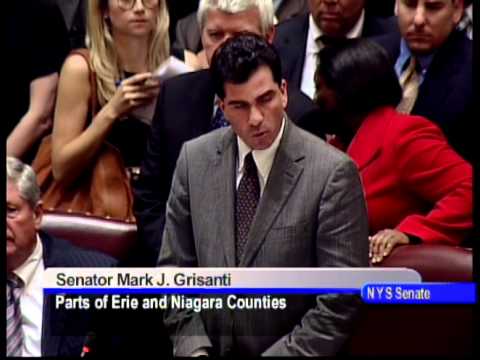 As you may know, prior to me coming here, it's only been about six months and the issue of same-sex marriage has never been a strong topic of discussion among family and friends. I simply opposed it in the Catholic sense of my upbringing. And I have stated that I have a problem with the term "marriage." But at the same time, I have also said that I have a problem with the rights that are involved that are being overlooked. I have never, in the past four months, researched an issue or met with so many people and groups on a single issue such as this. I have struggled with this immensely, I can tell you that. I have read numerous documents, independent studies, and talked with a lot of people on both sides of this issue. As a Catholic I was raised to believe that marriage is between a man and a woman.

I'm not here however as a Senator who is just Catholic. I'm also here with a background also as an attorney, to which I look at things and I apply reason. I know with this decision, many people who voted for me will question my integrity a short time ago. I tell you though that I have studied this issue. To those who know me, they know that I have struggled with it. To those whose support I may lose, please know that in the past what I was telling you and what I believed at that time was the truth. But by doing the research, and ultimately doing what I believe to be the right thing, to me, shows integrity. I would not respect myself if I didn't do the research with an open mind and make a decision, an informed decision, based on the information before me.

A man can be wiser today than yesterday, but there will be no respect for that man if he has failed in his duty to do the work. I cannot legally come up with an argument against same-sex marriage. Who am I to day that someone doesn't have the same rights that I have with my wife that I love, or have the thirteen hundred-plus rights that I share with her?

But there's another important point here that this bill brings up, and that's its religious protections. Because I am Catholic. Under this bill the religious aspects and belief are protected as well as for not-for-profits. There's no mandate that the Catholic Church or any other religious organization perform ceremonies or rent halls. There cannot be a civil claim or an action against the church. It protects benevolent organizations such as the Knights of Columbus and many others. And as a lawyer I feel confident that the religious organizations and the others are protected.

We in this state have recognized same-sex couples who are married in other states and are now in New York. I have read studies about civil unions that show that they do not work, and causes chaos. I believe this state needs to provide equal rights and protection to all of its residents.

I struggled with the word marriage as between a man and a woman — that's how I'm raised. But I also struggle with the rights that are lacking for same-sex couples, and I've stated this numerous times. I cannot deny that right or opportunity for someone nor stand in the way of allowing them to obtain the rights that I have.

I'm not going to get into the philosophical arguments, because I've heard them all. But for me, the issue boils down to this: I've done the research, and I believe that a person can be wiser today than yesterday. I apologize to those who feel offended, to those I have hurt with the votes that I had six months ago. But I believe you can be wiser today than yesterday when you do the work. I cannot deny a person, a human being, a taxpayer, a worker, of people of my district and across this state, the state of New York and those people who make this the great state that it is, the same rights that I have with my wife…
That is a long, long way from where Grisanti was just last March, when he told a Buffalo radio station, "To me, marriage is between a man and a woman. It's been a term, a term of ours for years that has been around for thousands of years. It's like calling a cat, a dog."
Like I said, every vote is important. Kruger's "yes" vote, however it came about and however he tried to explain away his prior opposition, is every bit as important as Grisanti's. But in the end, the events of Friday night clearly showed that there is a huge difference between political posturing and statesmanship.
Comments