Anti-Gay Extremist Sues Rachel Maddow for Quoting Him
Jim Burroway
July 27th, 2011
Minnesota extremist Bradlee Dean, who spoke favorably of Muslims because Muslims call for the execution of gay people, is suing MSNBC's Rachel Maddow for playing his quotes over the air. That's the only reason I can think of for his suing her. That and her deep pockets; he's suing for $50 million.
According to a press release from Dean's attorney:
In the course of his ministry, Dean once made a statement on radio criticizing his fellow Christians for not taking a stronger stand about the gay rights lobby promoting homosexuality in the schools. He made a strong reference to Muslims taking the issue more seriously in the context of Shariah law, but did not condone their practices. It was Bradlee's intent to focus attention on the issue, not to advocate harm to anyone.

Despite the very clear disclaimer by Bradlee Dean on his ministries website and elsewhere regarding the false accusation that he was calling for the execution of homosexuals, MSNBC's Rachel Maddow and others seized on and accused Dean on her show of supporting the killing of homosexuals, as is the practice in some radical Islamic countries. This seriously has harmed Dean and the ministry, who pride themselves on respect and love for all people.
Here's the clip that Dean is upset about, in which Dean clearly shows his respect and love for all people: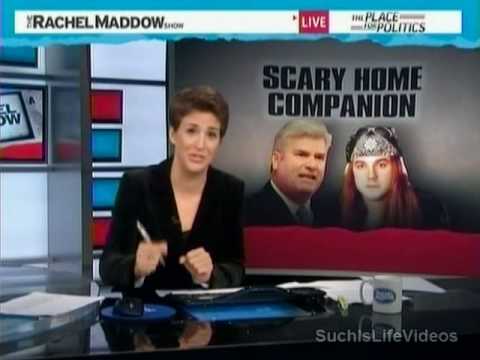 Actually, Maddow's comment is rather minimal. She basically let Dean do the talking, although she did read Dean's disclaimer. It's a sad commentary on the integrity of those who claim to proclaim the "truth" when all you have to do to be called a liar is to play a recording of their own words. Just replay his tape, and you've engaged in a "malicious attack" on Dean:
This explains the malicious attacks on Bradlee Dean and his ministry, which are being used to harm the presidential campaign of Congresswoman Michele Bachmann, who is a conservative Christian.

In the past, Dean and his ministry have been complemented by presidential candidate Michele Bachmann (who prayed for the ministry) for their work in promoting values for the nation's youth. The left wing media's effort to defame Dean is an obvious way to try to harm Bachmann's presidential prospects, who they fear and despise. Other left wing media outlets have followed MSNBC and Maddow in their slanderous efforts. This suit may just be the first in a series of cases meant to protect the fine reputation of Dean and his ministry.
You can hear Dean's full remarks and judge his reputation for yourself here:
And here's his defense here, if you care to hear it. In essence, he's upset that we're not all thanking him.
Update: The Dump Bachmann Blog has more:
"Justice is coming in Jesus' name," he says. Thank you Bradlee.
Comments