Rick Santorum: "States Do Not Have The Right To Destroy The American Family"
Jim Burroway
July 30th, 2011
No one can accuse former Pennsylvania Senator and GOP presidential hopeful Rick Santorum of "tenther" tenancies. On Friday, evening Santorum spoke at the Western Summit outside of Denver and delivered this attack on Texas Governor Rick Perry, who had earlier cited the Tenth Amendment and said that New York's granting of marriage equality to same-sex couples was "their business, and that's fine with me."
Santorum lashed out at that remark, and in the process tried to deny that he had ever compared gay relationships to sex with dogs or your sister.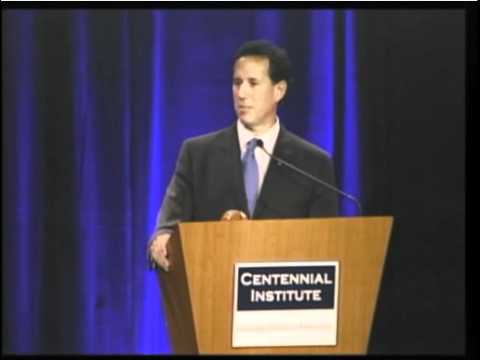 I think it was the year of my election, in the Atlantic Monthly there was a profile on Tim Gill and what he had accomplished here in Colorado, the Colorado Plan. And in the first paragraph of that article, he said, "Our plan is to make sure there is never another Rick Santorum elected to a national office." My opponent spoke at the Human Rights Campaign. My opponent was a pro-life Democrat, son of Bob Casey, one of the great social conservative leaders, maybe last social conservative leader of the Democratic Party. And he had wrapped himself in his father, but he embraced the gay and lesbian community like no other candidate had. He went out and spoke and did fundraisers, estimates… millions, and certainly millions in direct contribution, and I believe over ten million in indirect contributions starting, in my race, eighteen months. Why?

Because I had the temerity to stand up in 2003 before any of this started to roll. Before Lawrence versus Texas was even decided, and I fired across the bow of the United States Supreme Court and said, "Supreme Court you can decide this case the right way and say the sodomy statute is voilate [sic] of equal protection and everything will be fine. But if you say there is a constitutional right to consensual sexual activity, Katie bar the door."

And that's what they did. And when I said that, I compared… I said… I didn't compare anything… I said if the Supreme Court gives the right of individuals.. the constitutional right to consensual sexual activity, then you have the right to incest, you have the right to all sorts… polygamy, you name it. You have the right to anything if it's consent.

When I said that, the gay community went ballistic and they came after me. Mainstream media called for me to resign because I was comparing homosexuality with incest and other things. No I wasn't. I was saying if the standard was consent, then how do you rationally draw the line? You can't. And they aren't. And subsequent to that, the Massachusetts decisions and others came down, and I stood for marriage. I was the one, with Wayne Allard, Marilyn Muscgrave, two great warriors here in Colorado (applause) who stood… and we forced a vote on the Federal Marriage Amendment.

But ladies and gentlemen, we have this issue before us again today, and it's within our party. And we need to talk about it. There's some in our party who say, well if New York wants to pass same-sex marriage, that's fine with me. Some who say, well I'm not going to get involved in what states do. It's their business. Abraham Lincoln said it best: we do not have the right to do wrong. (applause) States do not have the right to destroy the American family. It is your business. It is not and should not… It is not fine with me that New York has destroyed marriage. It is not fine with me that New York is setting the template that will cause great division in this country. There is not fifty definitions of marriage.
And in the process, he denied that he ever compared gay relationships with incest and bestiality. In his clarification, he said that he didn't make a comparison, but just said that they met the same standard. As if that were a big difference. Also, as if that were true. What he actually said in 2003 was this:
In every society, the definition of marriage has not ever to my knowledge included homosexuality. That's not to pick on homosexuality. It's not, you know, man on child, man on dog, or whatever the case may be.
It looks like a duck to me.
Gov. Perry, who had to backtrack somewhat from his earlier support of New York's Tenth Amendment right to enact marriage equality, also gave a keynote address at the Western Conservative Summit. Speaking after Santurom's address, Perry sought once again to burnish his social conservative credentials, saying, "The traditional definition of marriage suits Texas and this Governor just fine." But, he added, "Washington needs a refresher course on the Tenth Amendment."
Perry, who is expected to announce his own presidential bid soon, today reiterated his support for a constitutional amendment which would rescind the Tenth Amendment when it comes to marriage. "Yes, sir, I would. I am for the federal marriage amendment," he told reporters. "And that's about as sharp a point as I could put on it."
Comments