Michele Bachmann Doesn't Judge Gays
Jim Burroway
August 15th, 2011
Fresh off of her victory in Iowa's Straw Poll Saturday, Rep. Muchele Bachmann made the rounds of the Sunday morning talk shows to talk about her run for the GOP's presidential nomination. Her positions on LGBT issues came up, when she appeared on NBC's Meet the Press: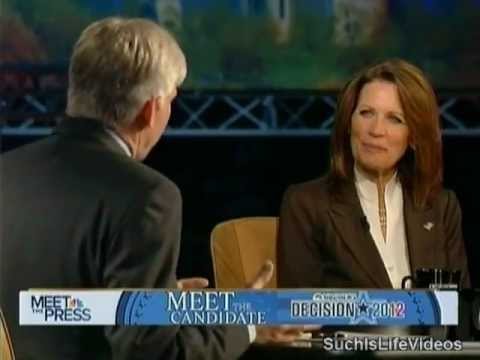 David Gregory: I also want to ask you about your interpretation of the Bible, and your feelings about gays and lesbians. You have said in recent years that opposition to same-sex marriage is a defining political debate in this country, you're opposed to it, you'd like to see a constitutional ban against it in this country. And during a speech you gave in 2004 at an education conference you spoke openly and in detail about gays and lesbians. And I want to play a portion of that speech and have you react to it.

Michele Bachmann: It's a very sad life. It's part of Satan, I think, to say that this is "gay." … It's anything but gay. I leads to the personal enslavement of individuals. Because if you're involved in the gay and lesbian lifestyle, it's bondage. It is personal bondage, personal despair, and personal enslavement. And that's why this is so dangerous. We need to have profound compassion for people who are dealing with the very real issue of sexual dysfunction in their life and sexual identity disorders.

Gregory: That is the view that President Bachmann would have of gay Americans?

Bachmann: Well I am running for the Presidency of the United States. I'm not running to be anyone's judge….

Gregory: But you have judged them.

Bachmann: I don't judge them. I don't judge them.  I am running for presidency of the United States.

Gregory. Is that the view of gay Americans that President Bachmann would have?

Bachmann: My view on marriage is that I believe that marriage is between a man and a woman, and that's what I stand for. But I ascribe honor and dignity to every person no matter what their background. They have honor and they have dignity.

Gregory: Do you think gay Americans hearing quotes like that from you would think that that's honor and dignity coming from you about their circumstance?

Bachmann: I am not anyone's judge and I am not standing as anyone's judge.

Gregory: Congresswoman, do you think anybody hears that thinks you haven't made a judgment about gays and lesbians?

Bachmann: That's all I can tell you is that I'm not judging.

Gregory: So your words should stand for themselves.

Bachmann: I'm running for the presidency of the United States. That's what's important.

Gregory: Would you appoint an openly gay person to your administration? To your cabinet or name them as a judge?

Bachmann: My criteria would be the same, which would be where you stand on the Constitution, are you competent, and do you share my views. That's my criteria.

Gregory: But those views are pretty clear. As far as a judge you talked about that. An openly gay person is acceptable as matter of your administration? As a member of your administration?

Bachmann: I have my criteria as what my appointments would be based on, it's whether you uphold the Constitution, if you're competent and if you share my views.

Gregory: So it would not be a factor?

Bachmann: I am not out asking any other questions.

Gregory: One last one on this. Can a gay couple who adopt children in your mind be considered a family?

Bachmann: When it comes to marriage and family, my opinion is that marriage is between a man and a woman. And I think that's been my view and…

Gregory: So a gay couple with kids would not be considered a family to you?

Bachmann: You know, all of these kinds of questions really aren't about what people are concerned about right now.

Gregory: Congresswoman, you said that any candidate for President should be asked about his or her views and their record. This is a record of your statements. These are the defining political issues for you as your political career advanced. You're the one who said same-sex marriage was a defining political issue of our time. Those were your words back in 2004, so I'm just asking about your views on something that has animated your political life.

Bachmann: I think my views are clear.
Her views are perfectly clear. She believes gays are of Satan and that gay families are not to be discussed. And she believes that she isn't judging anyone when she says that. And you know what? She really does believe she's not judging anyone. Bachmann believes that God has rendered that judgment, not her. In her mind, she is simply informing everyone else what she believes to be unshakable proof. Saying that gays are "of Satan," to her, is no more opinion than observing that the sky is blue on a clear day. o her, these are facts and not judgments. And that's why she keeps repeating that she is running for the presidency, not for arbiter of the sky's color.
And with these "facts," it should come as no surprise that she would tell CNN that she would reimpose "Don't Ask, Don't Tell," which a President Bachmann could very easily do under an Executive Order without Congressional approval.
Comments