Ex-Gay Survivor To Former Leader: "This Is What An Apology Looks Like"
Jim Burroway
October 13th, 2011
The recent statements from John Smid, the former director of the Memphis-based Love In Action ex-gay ministry, in which he says that he has never met an actual ex-gay who has changed his sexual orientation, and that gay relationships can be incorporated into "an authentic relationship with Christ," has been hailed throughout the LGBT blogosphere as a startling and welcome change. It certainly gives new meaning to Exodus International's slogan, "Change Is Possible!" Smid has followed up his previous post with a new one expressing his gratitude for the response and announcing that he will be undergoing an "I'm Sorry Campaign" as part of this weekend's Memphis Pride.
There are a couple of problems with all of that though. While it's well and good for Smid to announce a public "I'm Sorry Campaign," he needs to be very careful of two things. First, the announcement of the campaign with Chicago-based Andrew Marin skirts dangerously close to becoming a hey-everyone-look-how-sorry-I-am self-promotional bandwagon. If Smid's goal is to truly demonstrate how sorry he is for all that he has done in the two decades he headed the ex-gay residential ministry, a parade (whether it be literal or figurative) strikes me as an unseemly and inappropriate setting for that.
But the greater problem could be with who he's apologizing to. Sure, Memphis's LGBT community deserves an apology. But as ex-gay survivor and former Love In Action client Peterson Toscano pointed out in a comment he left here at BTB, he has a lot more work to do with those he harmed directly before forgiveness can be granted and healing can begin:
I believe there is an important difference between "hating on John Smid" and critically considering his transformation, what he has said, what he has not said, and his entry into spaces among the very people he previously reviled. It is more than a simple matter of someone "doing something stupid," offering an apology, and then being berated. There is history that cannot be ignored. There are people who have been harmed who are "in the room."

These are big changes for Smid, perhaps part of an on-going evolution in his beliefs, perhaps first steps before many, but after years of devising and practicing psychological torture to the many men and women who suffered under his treatments and theories, he should not be just given a free pass and a full, cheerful welcome into LGBT spaces and particularly "gay Christian" spaces inhabited by many people directly harmed by ex-gay treatment. Thoughtfulness for the victims needs to be considered.

It is a complicated and delicate matter when a former abuser admits wrong and seeks to rebuild relationship.

John Smid and his staff are responsible for the pain and suffering of hundreds if not thousands of people. For over two decades he has spoken passionately in public, in the media, at conferences and churches, spreading harmful and inaccurate teaching that has set parents against children and fueled the self-hatred of LGBT people.

As a former client, I understand that John Smid provided me with weapons to go to war against my sexuality and personality. His program was abusive, cruel, and damaging to me and others. People have suffered and still suffer and have needed to spend time and money seeking recovery from the treatment Love in Action inflicted upon us. Many of us went to John Smid and LIA seeking help. We ended up harmed. Some were even forced against their will to endure these treatments.

John Smid, like all of us, needs community, and it is likely that his former friends and colleagues in the ex-gay world and conservative anti-gay church will want nothing to do with him. But his entry into the LGBT world is complicated for some ex-gay survivors.

And while his statement is yet another brick to fall off the crumbling ex-gay edifice, I believe he needs to do much more to demonstrate his regret and new found understanding. It is proper justice for John Smid to acknowledge what many of us already discovered for ourselves. It is proper justice for John Smid to begin to set the record straight. It is proper justice for John Smid to seriously and deeply consider the harm he has caused. And before people forgive John Smid and welcome him into the fold on the behalf of all of us, I believe it is essential to ask critical questions and expect much much more from someone who has done much much harm.

What will that much much more look like? How can John, if he is willing, begin to make amends for his destructive actions?
For just a small taste of those destructive actions, listen to former LIA client Jacob Wilson describe one component of the "treatment" — LIA's "Friends and Family Weekend: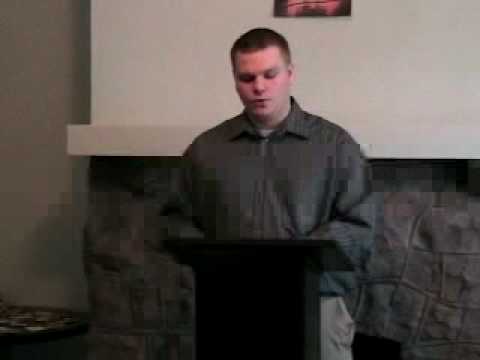 I've had other LIA clients corroborate Jacob's experience. Peterson wrote about the destructive impact that weekend had on his parents, with damage that haunted his mother right up until the day she died.
And so you can well imagine that while those of us who haven't been personally affected by Smid's two decades of abuse at LIA might be inclined to accept his apologies, we are not the ones in a position to do so. I do not want to diminish the tremendous and welcome journey that Smid has undertaken since leaving Love In Action, and I do not think we should dismiss the importance of his change of heart. I do believe it is worthy of encouragement and praise.
But we cannot offer absolution. We are not the ones in a position to forgive him. That can only come from the thousands who crossed his path at Love In Action. And I believe it will only come about through one personal apology at a time. Just as Smid forced everyone to undergo exhaustive personal assessments and stand up before a stage in front of their parents and loved ones to reveal each and every deep, darkest secret they can uncover, Smid will now have to demonstrate his willingness to undergo the same humiliating experience himself. When you consider the foundations of his Christian faith, it is not without precedent. Christian theology holds that Christ's "humbling upon the cross" is the very cornerstone of forgiveness.
Which means that the act of repentance will likely end up being a lifetime of work for Smid, just as he originally saw his leadership in the ex-gay ministry as his life's calling. And you can also imagine that it is going to take much, much more work (and I would suggest, probably much more humility on John's part) for those thousands who walked through Smid's door to let bygones be bygones.
Peterson has posted what he thinks an appropriate apology might look like. But by ending his re-working of Smid's apology with questions, he shows how difficult the task remains: "What can I do further to address the wrongs I have done? How can I demonstrate just how much I regret my actions and the consequences they brought to you and to others?"
Comments