Missouri GOP Lawmaker Comes Out, Denounces "Don't Say Gay" Bill
Jim Burroway
May 2nd, 2012
GOP Missouri state Representative Zach Wyatt has come out as gay, and he is calling on fellow Republicans to withdraw their support of a "Don't Say Gay" bill that has been introduced in that state's legislature. The "Don't Say Gay" bill, otherwise known as HB 2051, says simply:
Notwithstanding any other law to the contrary, no instruction, material, or extracurricular activity sponsored by a public school that discusses sexual orientation other than in scientific instruction concerning human reproduction shall be provided in any public school.
The bill would not only ban any discussion of sexual orientation with regard to anti-bullying efforts, but it would also eliminate all gay-straight alliances in public schools. The bill was sponsored by GOP state Rep. Steve Cookson and co-sponsored by 19 other Republican lawmakers, including the House Majority Leader Tim Jones. Rep. Wyatt, who become the fourth openly gay lawmakers in the Missouri legislature, has called on his fellow twenty Republicans to withdraw the bill:
"Today I ask you to stand with me as a proud Republican, a proud veteran, and a proud gay man who wants to protect all kids, addressing bullying in our schools," Wyatt said.
As for his own personal decision to come out:
"I will not lie to myself anymore about my own sexuality. It has probably been the hardest thing to come to terms with. I have always ignored it. I didn't even think about it or want to talk about it. I've not been immune to it. I hear the comments, usually snide ones, about me," Wyatt said.

"I am not the first or last Republican to come out. I have just gotten tired of the bigotry being shown on both sides of the aisle on gay issues. Being gay has never been a Republican or Democrat issue, and it should never be."
Wyatt also expressed his regrets over his no vote last year on a non-discrimination bill. News reports also say that he "regrets of taking the GOP stance rather than expressing his own views when interviewed two years ago on school bullying." Wyatt has announced that he is not running for re-election so that he can study marine biology.
According to Politico, House Education Committee Chairman Scott Dieckhaus (R) said earlier this week that the legislation will likely not make it out of his committee.
Update: Here is video of Wyatt's coming out press conference: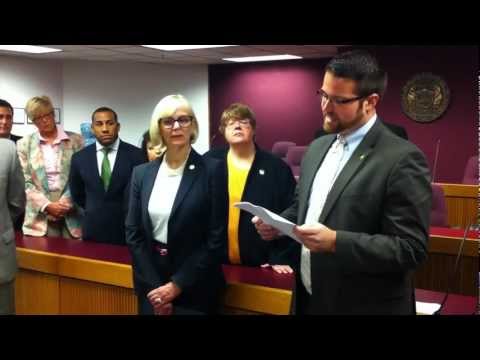 Comments