So Who's Crazy Now?
Jim Burroway
May 14th, 2012
Last week, I posted video of a woman from Lincoln, Nebraska, who testified before the city council against a proposed anti-discrimination ordinance. It had all of the hallmarks of a an anti-gay extremist's diatribe, but little did I know (and I probably should have caught it), the poor woman was actually schizophrenic.
But as many of you pointed out in the comments section, it's sometimes hard to tell who's crazy and who isn't when it comes to anti-gay rhetoric. Exhibit A is Paul Cameron of the Family Research Institute, who we haven't heard from in a while. He is a discredited "researcher" who has been cited by a large number of other anti-gay activists and writers, despite having been denounced by the American Psychological Association in 1983, by the Nebraska Psychological Association in 1984, the American Sociological Association in 1985 and 1986, and, more recently, the Eastern Psychological Association in 2007. Oh, and he believes that the Nazis did a swell job in "dealing with" homosexuals during World War II.
Last week, Cameron appeared on VCY America (Voice of Christian Youth). You tell me: is he any saner than the lady from Lincoln?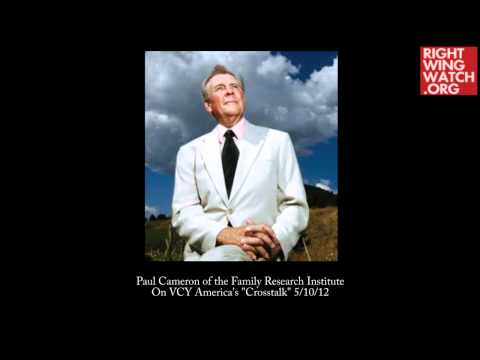 Well, the timing is I think miserable for his re-election. I would have expected him, as you did, to wait until he was the new president and say, "Guess what? I've changed my mind," or, "I've evolved." But homosexuality is the one sin, or the one habit, that is 24/7. It is homosexuality all the time. And actually, while I'm not sure about the claims by the various people who have reported that Obama has at least participated at times with them in homosexual acts, this certainly lends some credence.

…Mark my words clearly: the long term goal of the homosexual movement is to get every little boy to grab his ankles and every little girl to give it a try. They will not rest until every one of our children at least gets to try, has the opportunity and maybe is forced to at least once experience homosexual acts. There is no retreating from that, they made it very clear earlier on — now they don't take about it — but that's what they want, they will not be happy until they get it, marriage is just a step along the way.
According to Right Wing Watch:
Cameron later said he "partially agreed" with a caller who said, "they gave blacks equal rights and that was a bad path and now look where we are, if I don't feel like I want to hire a black man for my business I'm in all sorts of trouble and now it's going to be some homo who is gonna have to get a job because I can't do nothing about it." Cameron claimed the push for LGBT equality "brings into question the civil rights mentality" because it created "special rights on the basis of certain characteristics," calling gays and lesbians "mentally deranged" and transgender people "people that are really strange."
Right Wing Watch has more here, including Cameron's repeating his demand that gays be rounded up an imprisoned.
Comments