The Daily Agenda for Saturday, June 23
Jim Burroway
June 23rd, 2012
TODAY'S AGENDA (Ours):

BBC Marks Centenary of Alan Turing's Birth: BBC Online. Today is the 100th anniversary of the birth if Alan Turing, the man who nearly single-handedly invented the entire field of computer science. (See my write-up below.) The BBC has a major series of articles and videos to mark the centenary, including:
A contrarian's view of Turing's life by his unsympathetic brother, written in the 1960s and 1970s but which remained undiscovered until after his death, has been published in The Daily Beast.
And Google has a Google Doodle of a Turing Machine, containing six puzzles in which the use spells out the name "Google" using machine code. Here's a video of how to solve the puzzle: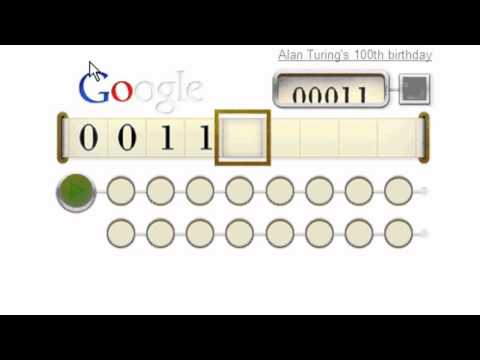 Suze Orman Discusses LGBT Financial Inequality: CNBC. In recognition of Gay Pride month, CNBC financial guru Suze Orman will discuss the financial inequalities that LGBT couples face due to the Defense of Marriage act. Tonight's program is at 9:00 p.m. and 12:00 midnight EDT on CNBC. You can catch a brief preview here.
Pride Celebrations This Weekend: Augusta, GA; Baton Rouge, LA; Berlin, Germany; Chicago, IL; Cleveland, OH; Columbia, SC (Black Pride); Durango, CO; Harlem, NY; Houston, TX; Knoxville, TN; Lisbon, Portugal; London, UK (World Pride); Minneapolis, MN; New Orleans, LA; New York, NY; Palermo, Italy; Regina, SK; Rome, Italy; Shreveport, LA; St. Louis, MO; San Francisco, CA; Santa Fe, NM; Seattle, WA; Shanghai, China; Valencia, Spain; Wilton Manors, FL and Worcester, UK.
Other Events This Weekend: Life Out Loud, Los Angeles, CA; Frameline36 LGBT Film Festival, San Francisco, CA.
TODAY'S AGENDA (Theirs):
Family "Research" Council's Values Bus Tour: Sheboygan, WI. The Family "Research" Council, an SPLC-certified hate group, continues its Values Bus Tour with the Heritage Foundation today. The tour is part voter registration drive and part propaganda tour where they will disseminate "materials on defending life, marriage and religious liberty." Today, the tour is scheduled to stop in Sheboygan for a "Your Money, Your Values, Your Vote Rally" with local tea party groups. The rally will take place at the Jaycee Park Swimming Quarry near 3401 Calumet Drive from 11:00 a.m. to 12:00 noon.
Tomorrow, the bus is scheduled to stop in Kenosha before heading off to Ohio for appearances next weekend.
TODAY IN HISTORY:
"5 Beastly Sodomiticall boyes": 1629. The Puritans were having a particularly rough time of it in Old England in the 1620's, leading to the first batch of them to board the Mayflower and establish the colony of Plymouth in New England in 1620. For those who remained behind, things only got worse when Charles I became King in 1623. The Rev. Francis Higginson, who was a preacher with a Puritan bent in the Church of England, left his parish and, in 1628, accepted an offer to join the Massachusetts Bay Company. In 1629, the Company was granted a Royal Charter to establish a "plantation" in New England, and Higginson and several of his Puritan followers were given permission to establish a colony — and in the process, remove their troublesome lot from England.
Higginson obtained six ships, each armed with cannons to protect against pirates. The fleet set sail on May 1, 1629, with 350 Puritan settlers, 115 head of cattle, 41 goats and, apparently, five "beastly Sodomiticall boys." An entry in his diary for June 23, 1629, reads:
Tewsday the wind n:E: a fayre gale. This day we examined 5 beastly Sodomiticall boyes, which confessed their wickedness not to bee named. The fact was so fowl we reserved them to bee punished by the governor when we came to new England, who afterward sent them backe to the company to bee punished in old England, as the crime deserved.
The laws of England held that the crime deserved death by hanging. We don't know the fate of the "beastly boyes."
Dale Jennings Cleared of Morals Charge: 1952. The nightmare began as many such nightmares did in Los Angeles in the 1950s. In February of 1952, he was in a public men's room at Westlake Park (now MacArthur Park) when a man walked up to him with his hand on his crotch. Jennings wasn't interested. "Having done nothing that the city architect didn't have in mind when he designed the place, I left," Jennings later explained. The man, however, insisted on striking up a conversation and following Jennings home. When they arrived at Jennings's house, Jennings said good-bye and went inside, but the man decided to invite himself inside. The stranger continued to make sexual advance to Jennings — in Jennings's own home — but Jennings refused. "At last he grabbed my hand and tried to force it down the front of his trousers. I jumped up and away. Then there was the badge and he was snapping the handcuffs on with the remark, 'Maybe you'll talk better with my partner outside'."
As Jennings continued the story:
"I was forced to sit in the rear of a car on a dark street for almost an hour while three officers questioned me. It was a particularly effective type of grilling. They laughed a lot among themselves. Then, in a sudden silence, one would ask, 'How long have you been this way?' I sat on my hands and wondered what would happen each time I refused to answer. Yes, I was scared stiff. … At last the driver started the car up. Having expected the usual beating before, now I was positive it was coming–out in the country somewhere. They drove over a mile past the suburb of Lincoln Heights, then slowly doubled back. During this time they repeatedly made jokes about police brutality, and each of the three instructed me to plead guilty and everything would be all right."
Jennings was formally arrested and charged with solicitation. While in jail, he called his friend Harry Hay. The two of them, along with several others, had founded the Mattachine Society two years earlier. Jennings troubles would soon become the fledgling organization's first gay rights victory. Hay bailed Jennings out and the two set about devising a strategy for Jennings's trial. Jennings would admit to being gay, but he would refuse to plead guilty and would forcefully defend himself against police witnesses. Meanwhile, the Mattachine Society would support Jennings's legal fight through its Citizens Committee to Outlaw Entrapment, which raised money for Jennings's defense. They hired George Shibley, an Arab-American lawyer who was well known for taking on controversial civil rights and union causes in the 1930s and '40s. As Jennings later wrote:
The attorney, engaged by the Mattachine Foundation, made a brilliant opening statement to the jury in which he pointed out that homosexuality and lasciviousness are not identical after stating that his client was admittedly homosexual, that no fine line separates the variations of sexual inclinations and the only true pervert in the courtroom was the arresting officer. …

…The Jury deliberated for forty hours and asked to be dismissed when one of their number said he'd hold out for guilty till hell froze over. The rest voted straight acquittal. Later the city moved for dismissal of the case and it was granted.
News of that victory spread throughout the Mattachine Society. The following year, Jennings became the first managing editor of ONE magazine, the first nationally distributed publication for a gay audience. His account of his arrest and trial appeared in the magazine's first issue, which helped to spread the news further. The case didn't bring an end to official harassment of gay men by the Los Angeles police. That would continue for nearly two more decades. But it did signal to the nation's fearful gay community that false charges could be fought and defeated. Sixty years ago today, that was big news indeed.
Lawrence v. Texas: 2003. One of the most important gay rights cases to reach the Supreme Court had its beginnings under very unusual circumstances. In 1998, Houston police were called to the apartment of John Geddes Lawrence over what was supposed to be some kind of a"weapons disturbance." As the story went, police arrived and caught Lawrence and Tyrone Garner having oral sex, or anal sex, or no sex at all, depending on which eyewitness you want to believe. If they were having sex, then that meant that they were breaking Texas's anti-sodomy law. They were held overnight in jail and charged with violating Chapter 21, Sec. 21.06 of the Texas Penal code, a class C misdemeanor for engaging "in deviate sexual intercourse with an individual of the same sex."
But in reality, Lawrence and Garner hadn't had a sexual relationship, as author Dale Carpenter revealed in his 2012 book, Flagrant Conduct: The Story of Lawrence v. Texas
. But gay rights advocates were looking for a test case to try to overturn the state's sodomy law. This case wasn't perfect, but it was good enough. They convinced Lawrence and Garner to plead no contest. After they were convicted by a Justice of the Peace, they exercised their right to a full trial before the Texas Criminal Court, where they also asked for the case to be dismissed on Fourteenth Amendment grounds. When the court rejected that argument, they pleaded no contest again and were fined $200 each. Lawyers appealed on their behalf to a three-judge panel of the Texas Fourteenth Court of Appeals, which ruled in their favor. That decision was then overturned by the full Appeals court, and The case was appealed to the Texas Court of Criminal Appeals, which operates as the state's supreme court for criminal matters. After that court declined to hear the case, it went to the U.S. Supreme Court.
On June 23, the U.S. Supreme Court issued its landmark ruling striking down Texas's sodomy law, and laws like it in thirteen other states. In the 6-3 decision, Justice Anthony Kennedy wrote for the majority that the decision specifically overruled the 1986 Bowers v. Hardwick decision which upheld Georgia's sodomy law. "Bowers was not correct when it was decided, and it is not correct today. It ought not to remain binding precedent. Bowers v. Hardwick should be and now is overruled." Antonin Scalia wrote a scathing dissent, one part of which is very prescient given current court challenges to the Defense of Marriage Act:
If moral disapprobation of homosexual conduct is "no legitimate state interest" for purposes of proscribing that conduct…what justification could there possibly be for denying the benefits of marriage to homosexual couples exercising "the liberty protected by the Constitution"? Surely not the encouragement of procreation, since the sterile and the elderly are allowed to marry.
TODAY'S BIRTHDAY:
Alan Turing: 1912. Today is the centenary of Alan Turing's birth and it's hard to imagine what the 21st century would have looked like without him. The English mathematician, logician, and cryptanalyst practically invented computer science when he formalized the idea of "algorithm" and "computation" with the what became known as the Turing machine. It was a conceptual device, imagined to consist of an infinitely long tape which would be capable of write, read and changing arbitrary symbols, much as a hard drive can do so today. With that concept defined, he proved that relatively simple Turing machines would be capable of making computations — hence the very term computer that we use today.
Turing became a Fellow at the University of Cambridge just four years after entering as an undergrad. He earned his Ph.D. at Princeton in just two years, just in time to head home to Britain before World War II. After a brief stint at Cambridge, he joined the famous Government Code and Cypher School at Bletchley Park, where he headed the section responsible for German naval cryptanalysis. He devised a number of techniques for breaking German ciphers, the most important of which was the BOMBE, an electromechanical machine that could determine the settings for Germany's "unbreakable" Enigma machine. Turing's Bombes were instrumental in Germany's ultimate defeat when the Enigma code was cracked.
Following the war, Turing worked at the National Physical Lab (NPL) in London on the design of the Automatic Computing Engine (ACE). In 1946, he presented the design for the first stored-program computer. But because his work at Bletchley Park was classified, he found it difficult to translate what he invented there to the NPL. He left NPL in frustration and returned to academia at the University of Manchester, where he devised what is now known as the Turing Test. The Turing Test still serves as a standard for whether a computer could be considered "intelligent." The test was simple: a computer could be considered a "thinking machine" if a human, through ordinary conversation, could not tell its responses apart from those of another human being. He then set about writing a program to play chess, but he was frustrated by the fact that there was no computer powerful enough to execute it.
It was in Manchester where, in 1952, he met Arnold Murray outside a theater and asked him for a lunch date. After a few weeks, the man spent the night at Turing's house. Sometime later, Murray stole a gold watch and some other items from Turing's home. Turing reported the crime to police. When police investigated, they asked Turing how he knew Murray. Turing, who had become relatively open about his homosexuality by that time, acknowledged the sexual relationship.
But with homosexuality being illegal in England, Turing was charged with gross indecency, the same crime for which Oscar Wilde was convicted more than half a century earlier. Turing was given a choice between imprisonment or probation on the condition he underwent chemical castration via estrogen hormone injections. Turing chose the latter, but his conviction led to his security clearance being revoked, which seriously damage both his career and reputation. And as the Red Scare rose its ugly head in the early 1950s, and with gay men coming under growing suspicion for being a danger to national security, Turing found himself under increasing surveillance. His estrogen injections themselves may have added to his feelings of hopelessness; one of the side effects of the synthetic estrogen he was prescribed was depression. Finally on June 7, 1954, Turing's cleaning woman found him dead in his bedroom with a half-eaten apple laying beside his bed. An autopsy revealed that he died of cyanide poisoning. That apple was never tested for cyanide, but it is believed that this was how he ingested the fatal dose.
After the secrets of Bletchley Park were declassified, Turing's posthumous reputation as a war hero only added to growing recognition of his impressive contributions to computer science. In 1966, the Association for Computing Machinery (ACM) began awarding the Turing Prize for outstanding technical contributions to computing. His childhood home in London has been designated a English Heritage site with an official Blue Plaque. Another Blue Plaque was placed at his home in Wilmslow where he died, and today a third will be unveiled in front of King's College at Cambridge. In 2009, Prime Minister Gordon Brown formally apologized: "On behalf of the British government, and all those who live freely thanks to Alan's work I am very proud to say: we're sorry, you deserved so much better." A petition to have him formally pardon, however was denied by Justice Minister Lord McNally in 2012, who said:
A posthumous pardon was not considered appropriate as Alan Turing was properly convicted of what at the time was a criminal offence. He would have known that his offence was against the law and that he would be prosecuted. It is tragic that Alan Turing was convicted of an offence which now seems both cruel and absurd—particularly poignant given his outstanding contribution to the war effort. However, the law at the time required a prosecution and, as such, long-standing policy has been to accept that such convictions took place and, rather than trying to alter the historical context and to put right what cannot be put right, ensure instead that we never again return to those times.
If you know of something that belongs on the agenda, please send it here. Don't forget to include the basics: who, what, when, where, and URL (if available).
And feel free to consider this your open thread for the day. What's happening in your world?
Comments