The Daily Agenda for Tuesday, April 30
Jim Burroway
April 30th, 2013
TODAY IN HISTORY:
"Ellen" Comes Out: 1997. Ellen DeGeneres had already come out as a lesbian publicly two weeks earlier with a Time magazine cover story titled, "Yep, I'm Gay." But Ellen Morgan, her clumsy, nervous, and eager-to-please character on her weekly sitcom, Ellen was as closeted as ever, although hints were dripping out throughout season four. Ellen's character finally came tumbling out in her characteristically awkward fashion when she met Susan, a lesbian television producer who assumed that Ellen was also gay. Although Ellen denied it, much of the episode dwelled on her trying to come to terms with the fact that she really, really liked Susan — in that way. When Ellen was told that Susan was about to leave town, Ellen rushed to the airport and, after much hemming and hawing, finally said it: "I'm gay" — while inadvertently saying it directly into the public address microphone that carried her announcement throughout the terminal.
Getting the episode to air was easier than you might think. Network executives had become antsy about the series' lackluster ratings and lack of focus, and DeGeneres wasn't much interested in fixing the problem by relying on the standard sitcom formulas of dating and relationships. One producer suggested that maybe Ellen could get a puppy, an indication of how desperate the producers were to think that a puppy was all that was missing. That plot element was discarded, but the suggestion lived on in the episode's title, "The Puppy Episode." ABC and Disney agreed to their next plan, which was for Ellen to come out as lesbian. After rejecting the first script for not going far enough — "If we're going to do it, let's do it," Disney executive Dean Valentine reportedly said — they began production on the episode on March 7.
Word spread, and the backlash soon followed. The studio received one bomb threat, and DeGeneres was followed to work by a "suspicious man" at least once. The American Family Association called for an advertiser boycott, as they always do, leading Chrysler to refuse to buy advertising time for the "Puppy Episode," along with did J.C. Penney. (DeGeneres would become the advertising face for J.C. Penney in 2012, prompting yet another AFA boycott.) Wendy's dropped Ellen from its sponsorship altogether, and ABC affiliate WBMA in Birmingham, Alabama refused to air the episode. Jerry Falwell displayed his monumental ingenuity by calling DeGeneres "Ellen Degenerate," to which DeGeneris responded, "I've been getting that since the fourth grade." Laura Dern, who played Susan, was unable to find work for a year and a half because of the episode.
"The Puppy Episode" however was the highest-rated episode of Ellen ever, drawing some 42 million viewers. It won two Emmys, a Peabody, and a GLAAD Media Award. Ellen was renewed for another season, but each subsequent episode was prefaced with a parental warning. Ratings dropped, perhaps because of the backlash, perhaps because of the warning, but also perhaps because so many episodes wound up dealing with gay-specific issues which were of little interest to the larger audience. At any rate, Ellen was cancelled after the end of Season 5.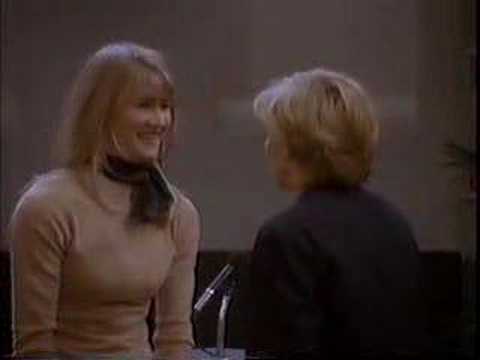 London Gay Pub Bombed: 1999. It was the start of a bank holiday weekend in Britain, and the venerable Admiral Duncan pub in Soho was packed with people getting an early start. Londoners that Friday evening were only somewhat wary following two unsolved bombings earlier that month in Brixton (April 17) and East London (April 24). Fortunately, nobody died in those two bombings, although sixty one were injured, including a two year old toddler with a four inch nail embedded in his brain. Police narrowed the search to neo-Nazi David Copeland based on a CCTV image from the Brixton blast. Brixton was targeted because of its black population, while the East London neighborhood was largely inhabited by South Asian immigrants. Some feared that the next target might be Jewish, or possibly gay. One gay pub in Soho had put up a poster warning customers to be vigilant for any suspicious activity, but most people thought that his motivations were more racist than homophobic. That theory was quickly dispelled at 6:37 p.m. when a nail bomb that had been left in a bag at the Pub's entrance went off. Jonathan Cash, who would later write a play about the bombing, described it this way:
"The loudest, most alien sound I have ever heard ripped through the pub and smashed into my head. I don't know how long it went on – a couple of seconds, perhaps – then the most enormous crunch of something structural and solid. I felt no pain, just terror. My eyes were ringing, my nose filled with sulphurous dust and, in the blink of an eye, I saw unrecognisable shapes flying past towards the doors. With the dust and smoke, I could see little more than six inches in front of me. Somehow I was on the floor. Then I heard the screaming. I didn't make any sound. Or perhaps I did. I can't remember."
Four people were killed that night. Andrea Dykes, 27, who was four months pregnant, was killed instantly, along with two friends, Nick More, 31 and John Light, 32. About seventy were injured, including Dykes's husband, Julian, who remained in a coma for three weeks. Four of the injured required amputations.
Police tracked down Copeland later that night and arrested him. He told them that he had hoped that his bombings would inflame racial tensions, resulting in a backlash that would bring about increased popular support for the radical-right British National Party. On June 30, 2000, a court sentenced Copeland to six life sentences, and in 2007 High Court ruled that he should remain in prison for at least 50 years, guaranteeing that he will remain imprisoned until at least the age of 73. There is now a memorial chandelier with an inscription and a plaque at the Admiral Duncan to remember those where were killed and injured.
TODAY'S BIRTHDAY:
Alice B. Toklas: 1877.Born in San Francisco, she met Gertrude Stein on the very first day that she arrived in Paris, on September 8, 1907. They remained inseparable for the next thirty-nine ears, until Stein's death in 1946. Together, they hosted on of the more illustrious salons that attracted the best writers and painters of the Paris avant-garde, including American expats Ernest Hemingway, Thorton Wilder, and Paul Bowles. Stein and Toklas also became early patrons of Pablo Picasso and Henri Matisse. They also became patrons of some rather unsavory characters before and during World War II — their support for the Vichy government went far beyond considerations of wartime survival. They could have easily escaped to Switzerland, but their friendship with the anti-Semitic Bernard Faÿ and open admiration for Vichy leader Marshal Philippe Pétain (Stein translated a collection of Pétain's speeches into English to bring them to a wider audience) gave them privileges denied ordinary French citizens, let alone those who were both Jewish and gay.
Toklas was Stein's partner in every way: cook, lover, editor, critic and muse. Stein gave her own autobiography the tongue-in-cheek title of The Autobiography of Alice B Toklas, while Toklas's 1954 memoir was titled The Alice Be Toklas Cookbook. It was, technically I suppose, a cookbook — there are three hundred recipes, including the famous brownie recipe titled "Haschich Fudge" — but is was more accurately a memoir of the many dinners that Toklas and Stein hosted for their famous friends over the years. In 1963, Toklas actually did write an autobiography, What Is Remembered, but it ends abruptly with Stein's death in 1946, much as Toklas's own life did in many ways. Their relationship being legally unrecognized, Stein's relatives plundered the couples' art collection and left Toklas in poor financial and physical health. She died in poverty in 1967 at the age of 89, and is buried next to Stein in the Peré Lachaise Cemetery in Paris.
If you know of something that belongs on the agenda, please send it here. Don't forget to include the basics: who, what, when, where, and URL (if available).
And feel free to consider this your open thread for the day. What's happening in your world?
Comments