The Daily Agenda for Friday, September 13
Jim Burroway
September 13th, 2013
TODAY'S AGENDA:
Affirmation Annual Conference: Salt Lake City. Affirmation, the LGBT-affirming group for members and former members of the Mormon faith, will begins its annual conference today. This year's theme is "New Frontiers," which is "about expanding our vision around the unknown possibilities and opportunities for LGBT Mormons… We will discuss how we can support each other in realizing our full potential as children of God, be empowered to make valuable contributions within and outside of the Church, and find purpose and integrity in our unique journeys." The conference opens tonight with a reception and a screening of Families are Forever, about a Mormon family with a 14-year-old gay son. The special guest speaker for Saturday night will be Steve Young, the Hall of Fame Quarterback for San Francisco 49ers who was awarded MVP honors when he took the team to a Super Bowl victory in 1994. The conference will take place at the University of Utah Guest House and Conference Center, and will continue through Sunday.
Pride Celebrations This Weekend: Boulder, CO; Burlington, VT; Cherry Hill, NJ; Dallas, TX; Derby, UK; Humboldt/Eureka CA; Outer Banks, NC; Savannah, GA; Spartansburg, SC.
AIDS Walks This Weekend: Amherst, NS; Chatham, ON; London, ON; Ottawa, ON; Peterborough, ON; Prince George, BC; Regina, SK; San Antonio, TX; Springhill, NS; Sydney, NS; Yorkton, SK.
Other Celebrations This Weekend: Folsom Europe, Berlin, Germany; Out in the Park Six Flags, Gurnee, IL; BUPA Great North Run, Newcastle, UK; International Bears Week, Sitges, Spain; Out in the Park Six Flags, Springfield, MA.
TODAY IN HISTORY:
"Inter Christianos Non Nominandum": 1892. Talking about homosexuality in the nineteenth century was extremely difficult for one simple reason: if you wanted to talk about it in English, words literally failed. In other words, there was no such word as "homosexuality" or anything else resembling it. Sure, words like "buggery" and "sodomy" were available, but they suggested a criminal or sinful view of homosexuality. And because the emerging medical and psychological professions wanted to approach the subject from an objective, scientific standpoint (or, more precisely, a ninetheenth-century approximation of an objective, scientific standpoint), they avoided those words as much as possible. The problem though was that there were no other words to turn to. Where English failed, sometimes Latin would suffice: "peccatum illud horribile, inter christianos non nominandum, or "that horrible crime not to be named among Christians." But even that was unacceptable, since it still referred to that thing as a "horrible crime." What they really wanted was something that would uphold the illness model that was beginning to gain acceptance among the more enightened elements of learned society. But nothing came, at least not in English. And so or the better part of a century, it remained unnamed — or at best, awkwardly named — among clinicians, doctors, sociologists or anthropologists either.
During a meeting of the Medical Society of Virginia held at Alleghany Springs on September 13, 1892, Dr. Irving C. Rosse, professor of Nervous Diseases at Georgetown University took his stab at this problem during his lecture, "Sexual Hypochondriasis and Perversion of the Genesic [procreative] Instinct." Those listed perversions included many things, including what he called, "the superannuated subjects of spermatorrhÅ"a (nocturnal emission) and venereal excesses now relegated to quacks and the advertisements of religious newspapers." It was those quacks and advertisements which, he felt was the real cause of the "sexual hypochondria" he was seeing. Through much of the nineteenth century, non-procreative sex (and any discharge of semen in non-procreative activity, including nocturnal emissions) was widely beleived to be the cause of all sorts of mental and physical ills. These beliefs came from many sources, but in the minds of many in the medical and mental health fields, those beliefs were confirmed by observing that a lot of people in insame asylums masturbated. Because this belief was so widespread, doctors saw all kinds of people in their offices who feared that they may go mad unless their impulses were cured (see Sep 4, for example).
Hence the unnecessary "sexual hypochondria" that Rosse believe that was increasing in the population, and he laid the blame for the hypochondria on ignorance and sexual superstitions that plagued society. Rosse contended that leaving the entire field of discussion to nonscientists set a dangerous course. "The ManÅ"uvers of either sex to produce the venereal orgasm independently of the conditions of normal coitus, and known comprehensively as genital abuse, merit the scientific study of the psychiatrist and neurologist, owing to the prevalence and spread of sexual crime and the fact that legal medicine calls for clearer knowledge upon this point." Rosse tried to add to that "clearer knowledge," although he too was hobbled by a number of superstitions that were accepted as scientific fact. He described several case studies, personal observations and newspaper accounts, including several accounts of homosexuality among various tribes, cultures, a few infamous clubs in New York City. He even described two male elephants in a zoo which he observed caressing each other in a manner "prohibited by the rules of at least one Christian denomination." But Rosse lamented that medical professions, who were "clearly the only persons qualified to give trustworthy information in regard to sexual matters," were hobbled by their timidity in addressing the topic in plain English.
So squeamish are some English-speaking people on this point that they have no terms to designate the "nameless crime" that moves in the dark. Many of the Continental writers, however, make no attempt to hide the matter under a symbolic veil, and deal with it in terms as naked and unequivocal as those used by the old historians, from whom hundreds of citations might be made, and this too without incurring the reproach of pedantry.
In fact, it would be Continental writers who would eventually provide the English language with the words that we would eventually use to talk about all sorts of sexual matters. The German word "Homosexualität" finally made its English appearance at around 1894, but it was slow to catch on as the anglicized "homosexuality" (see May 6). Rosse pointed to other words which he felt might be useful: "irrumation" and "fellatrice," as he rendered them in a quasi-English form. I don't know whether he paused during his talk to define them, but when Rosse's lecture was published in the November 1892 edition of the Journal of Nervous and Mental Disease, he helpfully provided these definitions in the footnotes:
These terms not being Englished the following definitions are given:
Irrumare: penem in os arrigere.

Fellatrix: dicitur ea quæ vel labris vel lingua perfricandi atque exsugendi officium peni præstat.
That's right, like the peccatum illud horribile, Rosse reverted to Latin for his definitions of what we now know as active and passive fellatio. Rosse's protestations notwithstanding, the lifting of the symbolic veil among English language writers would have to wait another generation before sexuality would cease to be inter christianos non nominandum.
[Source. Irvine C. Rosse. "Sexual hypocondriasis and perversion of the genesic instinct." Journal of Nervous and Mental Disease 17, no. 11 (November 1892): 795-811. You can find contemporary discussions of his lectures published in other medical journals here, here and here.]
FBI Memorandum Calls for Information on Gay Government Employees: 1951. As Sen. Joseph McCarthy's (R-WI) twinned Red and Lavender Scares continued to wreck havoc with thousands of innocent lives across America, Herbert Hoover's FBI was determined not to be left behind in the contest to see who could be more anti-Communist or anti-homosexual. On September 13, 1951, the FBI issued another of its many regular Bureau Bulletins to its field offices with that week's set of instructions. Bulletin Number 38 touched on a number of topics: the interstate transportation of stolen cattle, new rules on intra-bureau correspondence, changes to travel regulations, charges for long distance calls, a request to provide information "on any Communist Party member or sympathizer (who) is contemplating travel abroad," and a lengthy request for information on any known or suspected homosexuals among government employees:
(F) SEX DEVIATES IN UNITED STATES GOVERNMENT SERVICE — The Seat of Government has been receiving an increasing number of reports, arrest records, and allegations concerning present and past employees of the United States Government, who assertedly are sex deviates. The Bureau has no investigative jurisdiction over sex deviates, but when an allegation is received that a present or former civilian employee of any branch of the United States Government is a sex deviate, such information is furnished to the Un1ted States Civil Service Commission. If the person is presently employed by the United States Government, the employing agency is likewise furnished a summary of the information. Information concerning members of the National Military Establishment 1s furnished to the Intelligence Unit of that particular agency.

All of the police departments throughout the country were notified in the May, 1950,issue of the FBI Law Enforcement Bulletin and again by letter dated July 26, 1950, to place a notation on the arrest fingerprint card that the subject was an employee of the Federal Government. They were also requested to set forth the name of the Department or Agency and the position occupied. Hence, it will be unnecessary to solicit this information from the police departments. Normally, a fingerprint card with the above-described data on it will suffice if the fingerprint card has been furnished to the Bureau's Identification Division.

Whenever information is received in the field, either from the police, a complainant, or through any other sources of information, it w111 be necessary to consolidate the information and transmit it to the Bureau by letter captioned as above. This letter should include (1) the name of the alleged sex deviate as well as the name of any other alleged deviates with whom he assocIated, (2) the date and place that the alleged act of sexual perversion occurred, (3) the identity of the individual's United States Government employment, (4) any other pertinent facts, including the [illegible] where the person 1s arrested.

Your letter should specifically point out the source of the information, whether or not that information should be treated as confidential, or whether the name of the source may be used by the Bureau in disseminating the information to the United States Civil Service Commission and the employing agency.

Whenever information of this nature is received during the course of a regular Bureau investigation, such should, of course, be incorporated in the regular investigative report and it will be unnecessary to furnish the information to the Bureau by supplemental cover letter.

With specific reference to Loyalty of Government Employees cases, it has been the Bureau policy to accept information of a derogatory nature relating to the character and personal habits of an employee if volunteered. Such information has been reflected in an investigative report as information volunteered and no attempt has been made to develop this data by supplemental inquiry. This policy is now changed to the following extent: when information is received during the course of a full field loyalty investigation or a preliminary inquiry indicating the person under investigation is a sex deviate, this allegation should be completely and fully developed and the facts reported. This procedure must be placed in effect immediately and followed closely.
[Source: "FBI records regarding Sex Offenders Foreign Intelligence; Sex Degenerates and Sex Offenders; Sex Perverts in Government Service, 1950 – 1966." Response to a Freedom of Information Act request from GovernmentAttic.org (Dated May 6, 2009, posted Aug 21, 2009): 28-29. Posted online here (PDF: 2MB/42 pages).]
Broward County Fires Employee with AIDS: 1984. In January 1984, Todd Shuttleworth learned that he had AIDS. Eight months later, he was fired from his job as budget analyst for Broward County, Florida. News reports at that time indicate that it was already well known that AIDS could not be casually transmitted, but his boss, John Canada, defended the firing, saying, "We just couldn't take the chance of anything happening to employees or to anyone visiting the office." The following January, Broward County fired a second employee, mail clerk Donald Fanus. County Administrator Floyd Johnson defended that firing on the same grounds: "I have wrestled with it. I have a responsibility to protect all of Broward County's workforce, and the general public that is served by the workforce."
Fanus, who had developed Kaposi's sarcoma, declined to appeal his firing, but Shuttleworth chose to fight. As he explained in a 1986 op-ed published in the Sun-Sentinel, he had nothing to lose:
Every young gay who learns to accept him or herself has more guts, courage and moral strength that all the Bible-thumping bigots and fag-bashing punks combined.

One does not choose to be gay or, I presume, "choose" to be straight. But there are many choices that have been made by many people during the AIDS crisis. Broward County officials chose to ignore their own doctor`s advice and decided to fire me. They chose not to bother to contact the acknowledged AIDS experts at the AIDS clinic in Miami, at the Centers for Disease Control, or at state or national public health departments. They denied my request for a hearing to present medical and scientific evidence to show that my dismissal was based on their irrational fear rather than rational decision-making, or the facts.

A few months ago, when the Human Relations Board first ruled that my firing as a budget analyst due to AIDS was unwarranted, County Administrator Floyd Johnson responded by saying that he had always tried to be fair to employees with AIDS. The choices he`s made in this effort included immediately terminating my health insurance and firing me without severance pay. The educational benefits I needed to complete the few hours left for my master`s degree were discontinued and it took my former employers more than a year to replace a lost paycheck despite numerous letters and phone calls and an obviously desperate need.

My life insurance was cut off and I was informed by the insurance company that in order to be eligible for extended coverage my former employer would have to initiate the required paperwork. Twenty-six months, and several phone calls and letters later, my former employers never displayed the common decency of even acknowledging my request. Only recently, nearly a year after the Human Relations Board first ruled against the county and county officials were forced to change their AIDS policy, did I receive an offer of back pay and reinstatement.

Surely that is not fair.
With the help of the American Civil Liberties Union, Shuttleworth sued the county, which was the only known public employer in a major metropolitan area to declare an official policy to fire people with AIDS. Nancy Langer, spokesperson for Lambda Legal, remarked, "This is the first time I've ever heard of a government being so stupid as to put down in black and white a policy of discrimination." Noel Pfeffer, Broward's deputy general council and author of the policy, countered, "The chances of transmission to other county employees appear to be somewhat remote. On the other hand, you're not transmitting a common cold."
More than two years later, and just before the case was to go to trial, Broward County offered Shuttleworth his job back. But the window to accept the offer was exceptionally brief. Shuttleworth was in San Francisco undergoing treatment, and could not make it back to Fort Lauderdale in time to answer the offer. ACLU lawyer Larry Corman told reporters that the job offer shows that the county realizes it made a mistake. "Everybody recognizes the county is acknowledging that Todd doesn`t represent a health risk to the people with whom he has casual contact," he said. "I will never understand why it took so long for them to recognize this and try to minimize their losses." But the county's attorney, Gordon Rogers, admitted that the offer was a cynical ploy to "(cut) off any obligations to him" for any future insurance claims. With his AIDS being a pre-existing condition, he would not have been reinstated.  Shuttleworth
In December 1986, just three days before Shuttleworth's $15 million lawsuit was to go to trial, he and Broward county settled out of court. Shuttleworth got his job back along with $190,000 in compensation, medical costs and legal  fees. Broward county refused to admit wrongdoing, but agreed to follow federal regulations barring discrimination in future cases. Unfortunately, Shuttleworth's health had deteriorated in the intervening two years. After a week at work, he became ill again and returned to San Francisco for treatment. On July 25, 1987, Shuttleworth died at the age of 34.
Jerry Falwell Blames Gays For 9/11: 2001. The ashes were still smoldering at the site of the World Trade Center, the western facade of the Pentagon, and an abandoned strip mine in rural Pennsylvania. The relatives, friends and co-workers of three thousand dead were still grappling with their loss, and three hundred million Americans were still numb from shock. The search for victims had just barely begun, the search for heroes led to the first responders in New York and Washington, D.C. and the 33 brave passengers of United Airlines Flight 93, and the search for the guilty case a glare on Islamists extremists. At least that's the reaction of normal people. For others obsessed with a wider net of enemies, that wasn't enough. On Thursday, September 13, 2001, Jerry Falwell appeared on Pat Robertson's 700 Club, and together they accused a wide assortment of enemies responsible for the worst tragedy to strike American soil since Pearl Harbor: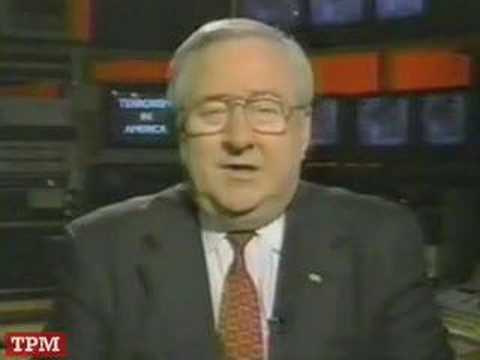 Falwell: What we saw on Tuesday, as terrible as it is, could be miniscule if in fact God continues to lift the curtain and allow the enemies of America to give us probably what we deserve.

Robertson: Well Jerry, that's my feeling. I think we've just seen the antechamber to terror. We haven't even begun to see what they can do to the major population.

Falwell: The ACLU's got to take a lot of blame for this.

Robertson: Oh, yes.

Falwell: And I know I'll hear from them for this but throwing God out successfully with the help of the court system, throwing God out of the public square, out of the schools… The abortionists have got to bear some burden for this because God will not be mocked. And when we destroy 40 million little innocent babies, we make God mad. I really believe that the pagans and the abortionists and the feminists and the gays and the lesbians who are actively trying to make that an alternative lifestyle, the ACLU, People For the American Way — all of them who have tried to secularize America — I point the finger in their face and say, "you helped this happen."

Robertson: Well I totally concur.
The next day, Falwell reportedly apologized in a phone call to CNN, but it wasn't much of an apology. "I would never blame any human being except the terrorists, and if I left that impression with gays or lesbians or anyone else, I apologize," he told CNN, before citing scripture to back up what he originally said. "I do believe, as a theologian, based upon many Scriptures and particularly Proverbs 14:23, which says 'living by God's principles promotes a nation to greatness, violating those principles brings a nation to shame," he said.
TODAY'S BIRTHDAY:
Randy Jones: 1952. The Village People's original cowboy, Jones grew up in Raleigh, North Carolina where he was the founder of his high school's drama club. It was his exposure to theater which gave Jones a leg up with Jacques Morali decided to hastily assemble a permanent group of singers to tour in support pf a surprise hit for what was, until then, a non-existant band of disco singers. Until then, the Village People were simply Victor Willis (the cop) and five dancers in costumes. Jones replaced Dave Forrest in 1978 (two others were replaced with more seasoned performers at the same time) and the Village People was born. Jones remained with the Village People from 1978 to 1980, and then rejoined the group in 1987 through 1991. Since then he has recorded several solo albums and continues to perform in New York and elsewhere. Today Jones will be gettin' hitched to his podner of 29 years, Will Grega, as part of a three-day celebration in New York City.
If you know of something that belongs on the agenda, please send it here. Don't forget to include the basics: who, what, when, where, and URL (if available).
And feel free to consider this your open thread for the day. What's happening in your world?
Comments