The Daily Agenda for Thursday, October 3
Jim Burroway
October 3rd, 2013
TODAY'S AGENDA:
Pride Celebrations This Weekend: Asheville, NC; Cumbria, UK; Dallas, TX (Black Pride); Ft. Worth, TX; Little Rock, AR; Miami Beach, FL (Hispanic Pride); Orlando, FL.
Other Events This Weekend: Gay Days Disneyland, Anaheim, CA; Out on Film, Atlanta, GA; MIX Copenhagen Film Festival, Copenhagen, Denmark; AIDS Walk, Dallas, TX; Key West Bear Fest, Key West, FL; AIDS Walk, New Hope, PA; Tampa International Gay and Lesbian Film Festival, Tampa, FL.
TODAY IN HISTORY:
Hollywood Production Code Changed to Allow Films Dealing with Homosexuality: 1961. There were a number of rather risque films coming out of Hollywood in the early days, risque, at least, according to Catholic clergy and middle-American sensibilities. To counter the growing noises coming from the country's moral finger-waggers (not to mention legislators in 37 states who were busy introducing a patchwork of movie censorship bills) Hollywood enlisted a moral finger-wagger of its own, William H. Hays, to head the Motion Picture Producers and Distributors of America (MPPDA). Hays promptly promulgated what came to known as "The Hays Code" which, for the next thirty years, more or less dictated what would and most certainly would not be displayed on America's movie screens. Number four on Hays's list of "Don'ts" was "any inference of sex perversion," which, when strictly enforced, meant absolutely no portrayal of gay men or women, or even any hint of any bending of gender roles. (Also banned by the code: "Miscegenation" (at number six) and "Ridicule of clergy" (number ten). "Willful offense to any nation, race or creed" came in last at number eleven, even though the race stipulation rarely enforced.)
If the MPPDA certified that a film met the standard, it was given an MPPDA seal of approval, which assured theater owners that the film would pass muster with squeamish audiences. If it failed, it was sent back to the studios for edits or canned altogether. Some films were produced outside the studio system and beyond the reach of the MPPDA, but their distribution tended to be severely lmited. But by the 1950s, studios began to test the code's limits, and by the end of the decade, Billy Wilder's Some Like It Hot became a smash hit even though United Artists didn't bother to obtain the MPPDA seal. Between 1958 and 1961, several popular films (Pit of Loneliness, Suddenly Last Summer, Devil's Advocate, Victim and A Taste of Honey are just a few) dealt with anti-gay prejudices or had gay characters.
As the sixties opened, with Elvis appearing on Ed Sullivan and the sexual revolution just around the corner, it was obvious that the MPPDA either needed to adapt its aging code to modern sensibilities or fade into complete irrelevancy. And so on October 3, 1961, the MPPDA announced a revision to its three decade old code: "In keeping with the culture, the mores and the values of our time, homosexuality and other sexual aberrations may now be treated with care, discretion and restraint," the MPPDA announced. To which Hollywood gossip columnist Hedda Hopper replied, "Well, all I've got to say is that our producers shouldn't have any trouble with casting." Children's Hour and Advise and Consent were released soon after the change was announced.
Congressman Pleads No Contest For Soliciting a Teen Male Prostitute: 1980. Rep. Bob Bauman (R-MD) had a history of voting for anti-gay bills in Congress. He voted twice to deny federal funds to lawyers dealing with gay rights itsues, and he backed a "family protection bill" that would have explicitly legalized discrimination in housing and employment based on sexual orientation. He was one of the brightest stars of the far right, serving as chairman for the American Conservative Union. But on this date in history, Bauman was charged by D.C. police for "soliciting sex from a sixteen-year old boy." It turns out he had a habit of cruising gay bars in Washington, D.C., a habit he blamed entirely on alcohol. A judge bought his story and accepted his not guilty plea in exchange for entering a six-month alcohol rehabilitation course. Voters in his district didn't buy it though. Despite the Ronald Reagan-led Republican landslide in November, Bauman lost his Congressional seat, and his wife walked out the following June.
In 1986, he wrote his memoir, The Gentleman from Maryland, not because he wanted to tell his story but because he was broke. He wrote that his downfall was orchestrated by the Carter administration, House Speaker "Tip" O'Neill and a Maryland senator who considered him a potential rival. As for himself, he told one interviewer, "I still don't like being gay. If I had my druthers, I wouldn't be gay." But he did begin to accept himself and, for a while in the mid-1080s, tried to organize a conservative gay rights organization. That effort fell apart when other gay Republicans refused to go public or write checks to support the group. (Some would, however, donate smaller amounts in cash because it couldn't be traced.) Bauman is now an attorney for the Sovereign Society, a group which provides expatriation services for Americans looking for offshore tax havens.
TODAY'S BIRTHDAY:
Gore Vidal: 1925-2012. Okay, I mean seriously. Where does one begin? I guess you can start with his writing: his 1946 novel Williwaw
, written when he was 21, was a a success, but not nearly as notorious as his second one two year later. The City and the Pillar
(dedicated to "J.T." in an oblique reference to James Trimble III, Gore's first love why died on Iwo Jima) was the first major novel to deal directly with male homosexuality — so directly that Orville Prescott, The New York Times book critic, refused to allow the Times to review Vidal's next five books. Vidal managed to work around the Times's boycott by publishing several mysteries under the pseudonym of Edgar Box. He worked on the script for the film Ben-Hur
, including adding a gay subtext to the relationship between Messala and Ben-Hur (played by Charlton Heston, who was oblivious to the gay references). Over the course of his life, Vidal published thirty-one novels and story collections, eight plays, fourteen screen-plays (including the infamous 1979 cult classic Caligula
), and countless essays on whatever subject that struck his fancy — and his fancy was struck by an unusually wide variety of topics.
But as famous as he was for his writing, he was probably just as famous — and maybe even moreso — for his public appearances, for which Gore could always be counted on to say something shocking. Most famous of his public appearances, perhaps, came in 1968 when ABC Nes invited Gore and William F. Buckley, Hr. to provide political analysis during the Republican and Democratic conventions. It was during one of those discussions, carried live on national TV, that Gore responded to Buckley's complaint about "pro-Nazi" protesters with, "As far as I'm concerned, the only sort of pro-crypto-Nazi I can think of is yourself." An obviously livid Buckley then replied, "Now listen, you queer. Stop calling me a crypto-Nazi, or I'll sock you in the goddamn face and you'll stay plastered." The Gore and Buckley feud continued to play out in competing essays in Esquire and in court where they sued each other for libel.
When Gore died in 2012, many obituaries identified him as either gay or bisexual. If he were alive, he would have loudly railed against pinning an identity on him. He hated the very idea of identity, particularly a gay one, believing that they were inherently false. He believed more in the ninetheenth-century concept which saw sex and sexuality as simply something one does, and he had no patience whatsoever for those who sought to build an identity — let alone a movement — over something called gay. In that way, he had much in common with anti-gay activists who believe that the very concept of "orientation" is some sort of a homosexual plot to change the world. And yet, Gore's own promiscuous pansexuality — he said that he had had more than a thousand liaisons before the age of 25 — underscored his own comfort with ignoring the constraints that others would put on him. And yet, he was also an iconoclast's iconoclast: he maintained a loving, loyal and long-term relationship with his partner, Howard Austen, for fifty-two years until Austen died in 2003. Gore said that the secret to their longevity was that they only had sex once, in the beginning, and then no more. He explained it this way: "It's easy to sustain a relationship when sex plays no part & impossible, I have observed, when it does."
35 YEARS AGO: Jake Shears: 1978. He was born in Arizona, but grew up north of Seattle on San Juan Island. When he turned fifteen, he sought out Dan Savage for advice on whether he should come out to his parents. Savage gave him what he later called the worst advice he has ever given:
And after he told me everything I was like: "Oh, they know. They're just waiting for you to tell them. You should tell them. Just come out to them. They're waiting. They're ready." And he came out to them and they didn't know and it was a big disaster and they threatened to pull him out of school and they were really angry and so he called me. I had a radio show and he called me and I got him off the air and got his mother's phone number and called my mother and gave my mother Jake's mother's phone number and had my mom call him mom and yell at her. And it helped, but yeah, I gave him so really shitty advice.
(Savage now says that "not everybody is in a position where that is wise or safe and we have to tell these gay teenagers to take a cold, hard look at who their families are and where they live before they take that step." But this isn't about Savage, it's about Shears.)
When Jake was nineteen, he traveled to Lexington, Kentucky to meet up with a former classmate, and that's where he met Scott Hoffman (better known by his stage name, Babydaddy). They hit it off immediately, and that turned into Shears's second great turning point in his life. They move to New York the following year, where they immediately immersed themselves into the city's gay nightlife. In 2000, they formed the Fibrillating Scissor Sisters and began performing in underground clubs. When Ana "Ana Matronic" Lynch joined the duo in 2001, they dropped the word "Fibrillating" from their name and began performing as the Scissor Sisters. They were soon joined by Derik "Del Marquis" Gruen (see Aug 31) on lead guitar and Patrick "Paddy Boom" Seacor on drums, the band's token male heterosexual. In 2002, the Sisters cut a single, "Electrobix" which proved to be less popular than its B-side, a cover of Pink Floyd's "Comfortably Numb."
That got the attention of major record labels, and by 2003 they were recording for Polydor. They proved popular in Britain, but their success in America was thwarted by conservative radio programmers and Wal-Mart, then the largest music seller in the country. Wal-Mart, in particular, objected to the song "Tits On the Radio," which they described as a "snarling, swaggering attack on conservatism," and demanded the band record a "clean" version. The band refused.
In 2010, Shears contributed a video to Dan Savage's "It Gets Better" project, where he talked about the abuse he suffered in high school after coming out, and how he channels those memories into his energetic performances today. Last year, Scissor Sisters went on a world tour in support of their latest album, Magic Hour. While performing in North London in October, the Sisters announced that they would be taking an indefinite hiatus.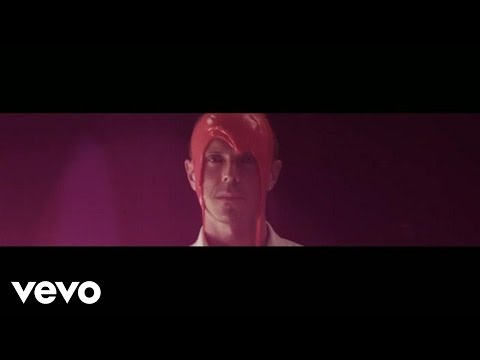 If you know of something that belongs on the agenda, please send it here. Don't forget to include the basics: who, what, when, where, and URL (if available).
And feel free to consider this your open thread for the day. What's happening in your world?
Comments