The Secret Plan to Pass Uganda's Anti-Homosexuality Bill by Stealth
Jim Burroway
December 27th, 2013
Last Friday's passage of the draconian Anti-Homosexuality Bill by Uganda's Parliament caught quite a lot of people by surprise including, it would appear, members of President Yoweri Museveni's government. The bill was nowhere to be found on Parliament's Order Paper for the day (RTF: 131KB/5 pages), and there is still some question of whether Parliament actually had a proper quorum when Speaker Rebecca Kadaga (who is among the bill's more vigorous defenders) called for a snap vote. Warren Throckmorton points to this article  by Uganda's Observer which gives us a few clues about the plan to bring the bill up by stealth:
But promoters of the bill were encouraged by the recent passage of similar laws in Russia and Nigeria. Sources said the final onslaught was planned mid last week, and on Thursday evening. The bill's promoters sent out messages to supportive MPs from both NRM and opposition.

"I went to bed knowing that this bill was coming up, they sent me a message yesterday [Thursday]," Dr Lulume Bayigga (DP, Buikwe South) told The Observer.

At least four MPs: Fox Odoi (West Budama North), Sam Otada (Kibanda), Krispus Ayena (Oyam North) and Abdul Katuntu (Bugweri) were known to be against the bill, having dissented from the position of the Legal and Parliamentary Affairs committee, and wrote a minority report against the bill. The minority report was, however, signed only by Odoi and Otada, who were not in the House to defend their position.

"I was not aware that it was coming because it [was] not reflected on the [hard] copy and the electronic copy of the order paper that was sent to my email," Odoi said when contacted.

As Parliament voted to pass the bill, (M.P. David) Bahati, the promoter, paced the corridors, following proceedings on TV, and only appeared after it was passed to join his colleagues in celebration.

"This is the perfect Christmas gift we could give Ugandans, I want to thank the speaker for her courage that led to the passing of this bill," Bahati told journalists.

He later told The Observer that it was tactical not to include the bill on the order paper because they feared government would block it.

"We knew that if it were to be included on the order paper, they [government] would scheme against it, it was in our plan that members request for it and the speaker uses her prerogative to have it included on the order paper," Bahati told us on Friday.

…(Pentecostal pastor Martin) Ssempa was part of the group that planned the final onslaught. He said the plot was hatched on Wednesday, but they agreed to keep it secret.

"If we had let it out, we couldn't have handled the resistance of gay activists; by this time, this place [Parliament] would be flooded by whites resisting the law," he said.
Journalist Andrew Mwenda, founder of Uganda's Independent newspaper, appeared on NTV to give his thoughts on Parliament's move on what he calls "a very primitive law":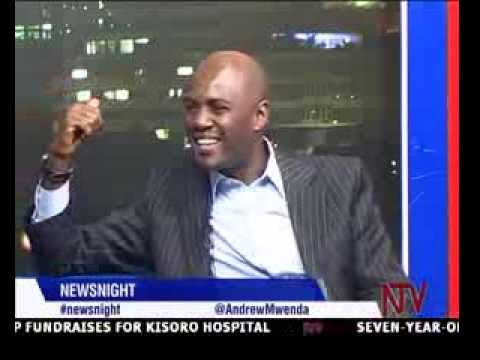 Comments